SEC
Monday Down South: Alabama is on cruise control. Now its real season begins
If we've learned anything over the course of Alabama's decade-long reign over the SEC, it's that the moment when the Tide begin to look unbeatable — not just dominant, but on a different level than the rest of college football — is often the moment when they prove to be their most vulnerable.
When Nick Saban chafes against the air of inevitability that usually surrounds his team as "rat poison," he's speaking from experience: Since his only undefeated season, in 2009, half of Bama's dozen losses have come with the Tide holding down the top spot in the AP poll, and almost all of the others in weeks they were ranked No. 2 or 3. The vast majority unfolded as monumental upsets with ripple effects across the country. And no time of year has produced more shockwaves than November.
The late lapse is almost an annual rite. The 2010 team, which opened the season at No. 1, lost twice in November, to LSU and Auburn. The 2011 and 2012 teams both lost in November, temporarily knocking them from the championship race that they would go on to win. The 2013 Tide went wire-to-wire at the top before being waylaid by the Kick Six. The 2014 and 2016 teams survived November, only to go down in the Playoff as the top seed. Last year's team was unchallenged en route to an 8-0 start, began to show some cracks in down-to-the-wire wins over LSU and Mississippi State, and limped into another ambush in the Iron Bowl. Even with Bama, a program built specifically to snuff out every last flickering chance of unpredictability, chaos seems to find a way.
At first glance, of course, the 2018 Tide look about as impervious to chaos as it's possible for an outfit of 18-to-21-year olds to be: By all appearances, they're a standard-issue Saban-era contender that has seamlessly incorporated the best quarterback in college football, with predictable results. Eight weeks in, Alabama leads the nation in scoring and scoring margin and hasn't won by fewer than three touchdowns. Saturday's 58-21 romp at Tennessee was par for the course — Tua Tagovailoa took the offense for a spin, the defense forced an early turnover, Bama staked out a demoralizing, effectively insurmountable lead, and throttled down at halftime. Every Alabama game this year has played out as casual dismissal of the opponent in the same fashion, by a team that's as deep, versatile, explosive, and fully entrenched at the top of the polls as any in recent memory.
Then again, all of the above has been true of most of its predecessors under Saban, too — five of which went on to fulfill their potential as national champions, some of which didn't, but almost all of which had taken their licks in one sense or another beyond this point on the calendar. Unlike most of the others, the current group is not "battle tested" in any meaningful sense heading into the stretch run: Its only ranked opponent to date is Texas A&M (No. 22 at the time, No. 17 now), in Tuscaloosa. Nor will it be entering the postseason: Beyond its annual collision with No. 4 LSU, Alabama's toughest regular-season opponents last year, Mississippi State and Auburn, are both unranked and in various states of disarray.
That leaves the upcoming trip to Baton Rouge to carry an inordinate amount of the weight when it comes to assessing just how far along the 2018 Tide are relative to one of the small handful of teams nationally that can match up with them athletically. The LSU game is a different beast: Even in the course of Alabama's 7-game winning streak in the series, Bama has topped 30 points just once, and the past four have all been slugfests decided by 14 points or fewer. It's been a long time since LSU has actually beaten the Tide, but it has frequently succeeded (the past two years, especially) in humanizing them. The 2016 and 2017 teams both outlasted a mediocre-but-game version of LSU and came away looking more vulnerable for it.
So far, the 2018 edition is the first in the Saban era that's carried itself as if it has no interest in locking horns in a 3-hour punt-fest, which is not to say it can't win one if necessary. But that's not the team Bama and its once-in-a-generation quarterback are content to be anymore, and if an ambitious, top-5 version of LSU can't change that, then it will be time to seriously begin entertaining the possibility that no one will.
Notebook
Around the conference.
Michael Divinity said he simply read Nick Fitzgerald's eyes on this pick. The ref nearly messed up the shot at his first carer pick. pic.twitter.com/76D7cSIZxf

— Cody Worsham (@CodyWorsham) October 21, 2018
LSU 19, Mississippi State 3
How Nick Fitzgerald remained in this game from start to finish is mind-boggling. Beforehand, there was still an argument to be made — not a good argument, necessarily, but a coherent one — that his production on the ground could continue to offset his increasingly dismal results as a passer. That was the case two weeks ago, when Fitzgerald ran for 195 yards and 2 TDs in a defensively-driven, 23-6 win over Auburn, good enough to earn him a temporary reprieve from critics of his erratic arm. But it absolutely was not the case in Baton Rouge, and MSU fans might openly revolt if they're asked to swallow that line again. They should.
LSU's defense is LSU's defense; the Tigers have been stuffing Mississippi State offenses into burlap sacks and throwing them in the river for decades. This year was supposed to be different, though, and Fitzgerald's performance on Saturday night was abysmal under any circumstances: 8-of-24 passing, 59 yards, 4 interceptions, zero hope. (Considering the majority of those yards came on a meaningless, last-gasp drive with time winding down in the fourth quarter, the reality was even worse than the numbers suggest.) It didn't unfold in a vacuum, either: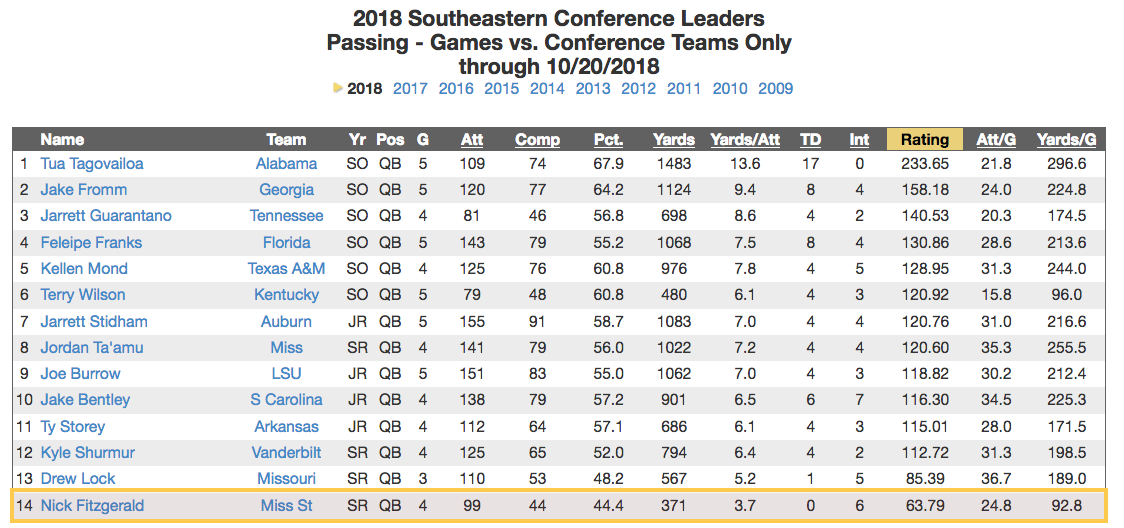 You can't play around that. It's true those numbers don't account for Fitzgerald's impact in the running game, but then, neither has the scoreboard. His 131-yard rushing effort against LSU was a huge improvement over his output in September losses to Kentucky (20 yards) and Florida (32 yards), and still yielded a single field goal — the third time in four SEC games the Bulldogs have been held to single digits. Dave Aranda's defense played like Fitzgerald and his receivers posed no threat whatsoever to make plays downfield, and Joe Moorhead called the game as if he could not have agreed more.
A big part of the optimism at Mississippi State coming into this season was the promise of a senior quarterback arriving at the end of the growth curve, and a big part of the disappointment is that most other respects this team has lived up to the hype. The defense remains the conference's best in terms of yards allowed per game and per play, and ranks fourth nationally in scoring; LSU's only touchdown on Saturday came as a direct result of an interception that set up the Tigers' offense on the 3-yard line on its first series. Front-seven anchors Jeffery Simmons and Montez Sweat are legitimate All-America candidates, as advertised, with more tackles for loss between them (21) than any other SEC duo.
Offensively, the ground game is somehow the conference's best in terms of yards per game and per carry in spite of its predictability; the o-line continues to open running lanes against stacked fronts. Fitzgerald remains a legitimate, 20-carry-per-game workhorse, and backs Kylin Hill and Aeris Williams are collectively averaging 6.7 yards per carry — again, the best any other SEC duo with at least 100 attempts.
None of which, it turns out, counts for much next to the comprehensive failure of the passing game. The line and an anonymous group of wide outs share some of the blame for that, as does (presumably) a coaching staff that's yet to figure out a way to get them involved. But Fitzgerald is a fifth-year player who is not only not fulfilling his potential in the stretch run of his career, he's clearly and rapidly regressing. Meanwhile, heir apparent Keytaon Thompson is looking on, wondering just how bad things have to get for him to get off the bench.
Thompson is a similarly big (6-4, 222 pounds), athletic sophomore who projects as ideal fit for Mississippi State's scheme, occupying the same dual-threat role as Fitzgerald.
Early returns are positive: Last year, Thompson more than held his own in his first career start, a bowl win over Louisville; this year, he went through spring practice with the first string and accounted for 473 total yards and seven touchdowns in a Week 1 win over Stephen F. Austin, his only extended action of the season. He arguably matches Fitzgerald as a runner and, let's be real, cannot possibly be worse when he has to put the ball in the air. He's the future. If the Bulldogs are resigned to slogging their way to bowl eligibility — they're 4-3 with Texas A&M, Alabama, and Ole Miss still on deck — at least with Thompson the slog can double as an investment.
LSU vs. Miss. State, Part 2: Is this really targeting?
The play that got Devin White ejected for targeting and suspended for the first half of Bama vs LSU pic.twitter.com/aKnhLcD6KR

— CFB Gif'er (@CFBgifer) October 21, 2018
No, according to all 4.7 million residents of the state of Louisiana, up to and including the governor. Yes, according to the back judge who threw the flag on the field and the replay officials who upheld it. Guess whose judgment counts.
Irate LSU officials are attempting to appeal the call — apparently in vain; the SEC released a statement on Sunday affirming it — while irate LSU fans have already descended down a wormhole of pro-Bama conspiracies in an attempt to bring some kind of logic to a random calamity. Targeting carries an automatic ejection and, because the call against Devin White came in the fourth quarter, a suspension for the first half of the next game, as well, meaning the Tigers will be without their bellwether middle 'backer for the first two quarters against Alabama. White's absence against the Tide might be the single most notable suspension since the targeting rule was introduced, and it's certainly the one that's provoked the most outrage. (Which, when it comes to the administration of targeting, is really saying something.)
I don't have a beef with the result, personally, but if the backlash provokes some kind of reassessment of the automatic ejection/suspension that comes with a targeting flag then more power to them. Summarily booting a player from a game is an extremely high-stakes move to place at the mercy of a rule that, as everyone knows, tends to be in the eye of the beholder. One obvious solution would be the football equivalent of "Flagrant 1" and "Flagrant 2" fouls in basketball, with the lesser call (1) coming with a standard 15-yard penalty and the more severe cases (2) tacking on the ejection/suspension.
In a borderline case like White's, which might have technically fit the definition for targeting but didn't expose the quarterback to a greater risk of injury than an ordinary legal hit, a "Flagrant 1" call might still elicit a round of boos from the crowd but wouldn't send the offender packing.
The sport wouldn't have to bench one of its best players for half of one of its biggest games on a technicality. Only the most relentlessly online of the online hoards would still feel compelled to conduct forensic analysis of which hits happen to get singled out as targeting and which ones don't. The rest of us could whine for a few minutes and move on, like we do about everything else. It will never be perfect, but lowering the temperature for routine violations is just common sense.
Kentucky 14, Vanderbilt 7
Kentucky is in a nearly identical place to Mississippi State offensively, with the notable distinction that a) the Wildcats started the season with more uncertainty and lower expectations, and b) their defense and running game are still getting them over in a series of close, grueling games. On Saturday, Vanderbilt managed just 11 offensive possessions, nine of which ended in a punt or a turnover, while Kentucky churned out 280 yards rushing on 5.3 per carry. For the season, UK continues to pace the conference in scoring D while asking Benny Snell Jr. to carry as heavy a load on offense as any running back in the nation.
Benny Snell finishes off this Benny Snell touchdown drive rushing for 74 of the 80 yards. pic.twitter.com/EmBOUdD4pg

— Scott Charlton (@Scott_Charlton) October 21, 2018
Still, with Georgia looming in Week 10, it's hard to take an accept this one-dimensional seriously as a contender in the SEC East. QB Terry Wilson might be an effective complement to Snell in the zone-read game, but as a passer he's a nonentity, attempting fewer passes for fewer yards than any other QB in the conference; only Fitzgerald has posted a lower efficiency rating, and only Arkansas' Ty Storey has fared worse according to ESPN's Total QBR. Against Vanderbilt, Wilson finished just 3-of-9 passing for 18 yards, good for a whopping 2.0 yards per attempt. In the Wildcats' overtime loss at Texas A&M, he was 12-of-19 for 54 yards, or 2.8 per attempt. (That's excluding a "tap pass" that went 54 yards for UK's only offensive touchdown vs. the Aggies, heavily distorting Wilson's actual passing line.) Since stunning Florida with his arm in Week 2, his production has steadily declined by the week.
It's a testament to the defense and ground game that Kentucky is 6-1, anyway, and just a play or two in College Station from joining Alabama as the SEC's only undefeated team. A win this weekend at Missouri could set up a winner-take-all for the East against Georgia, in Lexington, which would be the biggest football game in modern Kentucky history, by far. As it stands, though, FPI gives the Wildcats just a 21.6-percent chance of winning that game, and without more from the passing game than they've gotten over the past month those odds drop to around zero. Even a fleeting glimpse of downfield life vs. Mizzou would be a welcome development.
Auburn 31, Ole Miss 16
It's no great feat to put the pedal down against Ole Miss, which remains the SEC's most generous defense by a considerable margin. But beggars can't be choosers: Auburn came into Oxford riding a month-long slump on offense and left looking like, well, Auburn, for the first time since an opening-day win over Washington that now seems like ages ago.
Boobee Whitlow takes a screen 26 yards pic.twitter.com/A1W0scFEgg

— Power of Dixieland (@PwrofDixieland) October 20, 2018
Amid speculation over his future, Jarrett Stidham delivered his best game since the opener, connecting on 13-of-22 attempts for 215 yards, a touchdown and zero interceptions, a week after being picked twice in the Tigers' loss to Tennessee. The real sigh of relief, though, came via the running game, specifically redshirt freshman JaTarvious "Boobee" Whitlow, who singlehandedly revived their hopes of producing a 1,000-yard rusher for the 10th year in a row. Whitlow's 170-yard effort against the Rebels snapped a dismal streak that, before Saturday, had left Auburn ranked dead last in the SEC in rushing offense vs. FBS offense. The fact that he did it while nursing multiple injuries, and sustaining another on his final carry of the day, only added to the sense that the Tigers have finally found this year's workhorse in the Peyton Barber mold.
That's the good news; the bad is that, at 5-3, Auburn is still facing underdog trips to Georgia and Alabama down the stretch, as well as a visit from Texas A&M on the other side of an open date. A cupcake date with Liberty should provide the sixth win for bowl eligibility. But beyond that, the Tigers are still looking at an uphill battle to eclipse .500, much less rip off the kind of late-season surge that carried them to upsets over Georgia and Alabama last year. How much of Saturday's success carries over to the A&M game in two weeks will be a gauge of how much this team actually has left in the tank.
Superlatives
The best of Week 8, non-Tagovailoa division …
1. LSU DB Grant Delpit. Delpit landed on a handful of the mid-season All-America teams that made the rounds last week, deservedly, and backed up the accolades against Mississippi State with 10 tackles, a fourth-down sack, and 2 interceptions in a dominant effort for the LSU defense as a whole. (Per Pro Football Focus, he was also 3-for-3 when targeted in coverage.)
Grant Delpit off the edge unblocked for the sack on 4th down for LSU #LSU #GeauxTigers pic.twitter.com/yr5kaLRwlA

— Jimmy Clarke (@JimmyClarke) October 21, 2018
As a sophomore Delpit is emerging as arguably the most versatile defender in the nation, a roving nickel type in the Jamal Adams/Minkah Fitzpatrick mold with ball skills and blitz skills to match: The picks against MSU moved him into the national lead with 5 INTs on the season, at the same time he also leads the team in tackles for loss.
2. Kentucky LB Josh Allen. Allen is running neck-and-neck with Delpit and Alabama's Quinnen Williams for the title of "Most Decorated SEC Defender," and kept pace against Vanderbilt with 8 tackles, a deflected pass in coverage, and 2 sacks — the latter of the two coming on a textbook strip sack that clinched the UK win and might have earned Allen even more money at the next level than he's already made for himself over the first half of the season. He's back in the SEC lead this week in TFLs, with 12.5, good for 10th nationally.
3. Arkansas DL McTelvin "Sosa" Agim. A 23-0 win over Tulsa isn't exactly a stop-the-presses moment in Arkansas history. But given how the season has gone up to this point it will have to suffice for a good time, and no one played a bigger role than the Hogs' only active 5-star recruit: Agim was credited with career highs for TFLs (3.5), sacks (2), and QB hurries (3) to go with a season-high 7 total tackles. The shutout was Arkansas' first since 2014.
4. Missouri QB Drew Lock. With Lock, Missouri fans know by now exactly what they're going to get: Gonzo numbers against the bottom half of the schedule, offset by a consistent pattern of frustration against the top. The first three games of the season (high-scoring wins over UT-Martin, Wyoming, and Purdue) fell into the first category. The next three (losses to Georgia, South Carolina, and Alabama) brought him to earth. So it goes.
When the pendulum swung back in Saturday's win over Memphis, it swung all the way back: Lock hit 23-of-29 attempts for 350 yards and 4 TDs en route to a 65-33 massacre, in a game Mizzou was only favored to win by a little more than a touchdown. Three of the four scoring passes went to TE Albert Okwuegbunam, covering 58, 47, and 23 yards, respectively; the fourth was a 44-yard strike to true freshman Jalen Knox.
5. Ole Miss WR A.J. Brown. Brown is an all-time "…In a Losing Effort" player, so maybe it was fitting that one of his best games came in one: The loss at Auburn yielded career highs for catches (10) and yards (155) vs. an SEC opponent, as well as, incredibly, his first TD catch vs. an SEC opponent this season. (His frustration on that last point was palpable earlier in the game.)
A.J. Brown! #NWO #OleMiss pic.twitter.com/IpVxAspc2A

— New Account (@ftbeard_17) October 20, 2018
Brown ended the day where he finished last year, as the league leader in both main categories; with Ole Miss' defense and blue-chip running mate D.K. Metcalf done for the season, his opportunities should only continue to increase.
Honorable Mention: Alabama DB Xavier McKinney, who set the tone for the Tide's beatdown of Tennessee with a strip sack on the Vols' third snap of the game, the first of his 2 TFLs on the day. … Kentucky RB Benny Snell Jr., who carried the Wildcats' one-dimensional win over Vanderbilt with 169 yards on 5.3 per carry. … Vanderbilt LB Jordan Griffin, who was credited with a team-high 18 tackles, 2 PBUs, and a pair of fumble recoveries vs. Kentucky. … The Missouri band member who proposed to his girlfriend during pregame festivities. … Auburn DEs Nick Coe, who registered 3 sacks vs. Ole Miss despite frequent double teams, and Marlon Davidson, who (in addition to a sack on defense) blocked an opposing field goal attempt for third consecutive week. … LSU LBs Devin White, Jacob Phillips, and Michael Divinity Jr., who combined for 34 tackles, 2 PBUs, and an interception by Divinity that set up the Tigers' first and only touchdown against Mississippi State. … And LSU kicker Cole Tracy, who connected on all 4 of his field goal attempts against MSU and thoroughly enjoyed the atmosphere in Tiger Stadium.
Demerits
… and the worst.
Ain't no throwing ice on Rocky Top. Alabama led Tennessee at the half by four touchdowns, 42-14, which was indignity enough for at least one Vol fan to hurl what was left of his drink at Nick Saban as Saban left the field at the end of the second quarter. Not smart!
Caught this at the end of the half. As Nick Saban goes into the tunnel, a Tennessee fan threw what appeared to be a cup full of ice in Saban's direction. Shortly after, a sheriff entered the stands and looked to have escorted the fan out of Neyland Stadium. pic.twitter.com/A8lZsyNLZl

— Rocco DiSangro (@RoccoDiSangro) October 20, 2018
Tennessee responded to the intensity of the home crowd by botching the second-half kickoff, then stumbling into its own end zone for an unforced safety on the first play from scrimmage. Bama followed up immediately with Tagovailoa's fourth TD pass of the day, for which I'd like to believe the Vols have the Ice Man to thank.