SEC
QB Curve: Jarrett Stidham can still salvage Auburn's fading season, but time is running out
Quarterbacks: There are a lot of them! Each week, QB Curve will keep you up to speed on the game's most important position by putting a different SEC signal-caller in the spotlight and putting the rest of the field in perspective. Previously: Tua Tagovailoa vs. Jalen Hurts … Jake Bentley … Jordan Ta'amu … Drew Lock … Jarrett Guarantano … Joe Burrow.
QB of the Week: Jarrett Stidham
Typecast: Heisman candidate to Scapegoat
Saturday's 23-9 loss at Mississippi State was Auburn's second in SEC play, all but officially eliminating the Tigers in the SEC West race at midseason, and for the offense the picture is even bleaker than the standings suggest: Their failure to reach the end zone in Starkville was only the continuation of their struggles in ugly, uninspiring wins over Arkansas and Southern Miss. Behind center, Stidham's stock has nosedived from Heisman candidate to scapegoat in the span of just a few weeks. With his team and individual goals rapidly fading, we're going to scrap the usual format today to size up one of the league's most hyped passers and where he goes from here.
1. It's as bad as it seems
Worse, maybe. Through six games, Auburn is on pace for its worst season under Gus Malzahn in almost every major offensive category — total offense, scoring offense, rushing offense, pass efficiency, yards per play, first downs, third-down conversions, name the stat and the Tigers are faring as bad or worse right now than at any point since the last-place debacle of 2012, the year before Malzahn's return to The Plains as head coach. (That goes for the more advanced stats, too; Auburn currently ranks 93rd in Offensive S&P+, more than 40 spots back of its previous Malzahn-era low.)
As for Stidham, specifically, not only has he yet to turn the corner in his second full year in the system, compared to 2017, his output is going decidedly in the wrong direction, especially as it relates to big plays: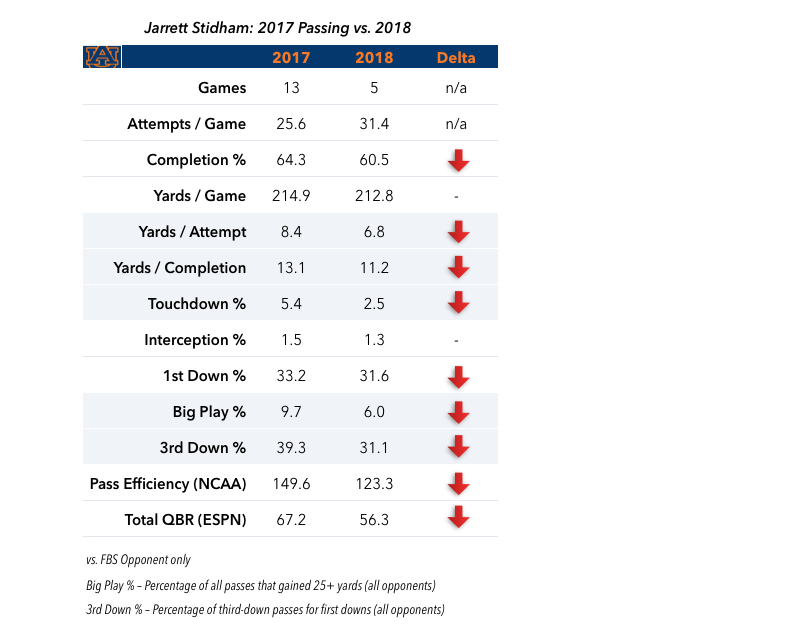 The one promising indicator there is the flat line next to the interception column — like last year, Stidham has mostly avoided the kind of big, potentially game-changing mistakes that undermine the defense. (Mostly: The first of his two picks against LSU did set up a short-field touchdown drive for LSU's offense on the opening series of the game.) At the same time, though, the rate of positive plays has plummeted. Last year, his 8.4 yards per attempt against FBS opponents tied for 15th nationally, and he topped that number by at least a full yard per attempt in six games. This year, his 6.8 ypa ranks 84th, and he's yet to match last year's average even once.
If the current numbers hold the rest of the year, Stidham's career efficiency at Auburn will be almost indistinguishable from Sean White's, the guy he was implicitly brought in to replace.
2. It's not all or even mainly Stidham's fault …
The offense badly misses Kerryon Johnson in the backfield. In 2017 Johnson averaged 24 carries per game and became the ninth Auburn back to go over 1,000 yards rushing in as many years, a streak that's almost certainly about to end with him. So far, neither of the top two backs, junior Kam Martin and redshirt freshman JaTarvious "Boobee" Whitlow, has emerged as the kind of every-down workhorse the Tigers typically take for granted.
At this point, the overall rushing stats are still being distorted by a 429-yard, 6-TD romp over Alabama State, a doormat even compared to other FCS doormats; remove those games from the ledger, and Auburn's ground game ranks dead last in the SEC, averaging fewer yards as a team vs. FBS opponents than Johnson averaged in 2017 by himself.
The wins over Arkansas and Southern Miss marked the first time in Malzahn's tenure the Tigers finished with fewer than 100 yards rushing (including sacks) in consecutive games, and the loss to Mississippi State made it three in a row.
Auburn has gone 3 consecutive games with under 100 yards rushing.

The last Time Auburn went 3 straight games with less than 100 rushing yards as a team was in 1999.

WE actually rushed for fewer than 100 yards as a team in 10 of OUR 11 games that season.

— Cole Cubelic (@colecubelic) October 7, 2018
That makes Stidham's life harder in myriad ways, not the least of which is an increase in the number of second- and third-and-long situations in which defenses are zeroed in on the quarterback: Of the 10 sacks Stidham has endured over the past three weeks, 7 of them have come on obvious passing downs, 5 on 3rd-and-8 or longer.
Read More
Online sports betting has come or is coming to a number of SEC states down south. Residents of states where legalized sports betting exists can bet on things like the Heisman race, SEC football games each week and more... all right from their mobile device.
It hasn't helped, either, that the Tigers have played much of that stretch without one or both of their starting tackles due to injuries, which has had a deteriorating effect on both the game plan and Stidham's trust. The backup on the right side, redshirt freshman Calvin Ashley, had a particularly rough go of it Saturday in his first career start, giving up 3 sacks to Mississippi State's edge-rushing ace Montez Sweat, including a strip sack on a 1st-and-10 play in the third quarter. On Auburn's last-gasp, must-pass drive of the night, he barely stood a chance.
3. … but Stidham is struggling
The lack of big plays isn't for lack of trying: Stidham was recruited specifically to bring a downfield element to the offense that had been sorely missing, largely succeeded in that mission in 2017, and has continued to take his shots this year. It's just that too many of them have flatly missed their mark.
10/6/18—Auburn's Jarrett Stidham overthrows wide-open Darius Slayton vs. Mississippi State pic.twitter.com/nQH38TnAJ0

— College Football Clips (@CFB_Clips) October 10, 2018
By my count, Stidham overshot his target on at least five occasions in the losses to LSU and Mississippi State alone, sometimes egregiously — in addition to the head-slapping misfire above, he also overthrew potential touchdowns in those games to Ryan Davis and blazing-fast freshman Anthony Schwartz. His inability to connect with Darius Slayton, arguably the league's most lethal deep-ball specialist in 2017, is especially frustrating. Last year, Slayton averaged 22.2 yards per catch, including 10 receptions of 25 yards or longer, and accounted for at least one big play in seven games. This year, he has just one.
Stidham remains imminently capable of challenging defenses deep, and when he hits a shot it's often a thing of beauty. (For example, see his 42-yard connection with Davis on a wheel route against MSU, a perfectly placed ball with touch that Stidham delivered with a free rusher bearing down.) But for an attack that's struggling to generate any kind of consistency on the ground they've been too few and far between to make much difference on the scoreboard. No offense can live by screen passes alone.
4. Stidham's job is safe (for now)
Predictably, the flop in Starkville led to some minor speculation about the possibility of backup Malik Willis making his move in the coming weeks; predictably, offensive coordinator Chip Lindsey shot that idea down, as did Willis himself on social media. There might be something to the idea that Malzahn's system is at its best when it's built around a legitimate option threat, and for a guy who was billed as a "dual threat" out of high school, Stidham has barely registered in the zone read game. (Subtracting for sacks, he has negative rushing yards for the season, a first for a Malzahn starter.) But quarterback is arguably the least of the offense's issues, and Auburn has too much invested in Stidham to panic over a dry spell.
On that note, it's worth keeping in mind that the Tigers have found themselves in almost exactly the same situation each of the past two years and both times managed to hit their stride down the stretch.
The 2016 team started 1-2 with low-scoring losses to Clemson and Texas A&M, briefly raising the temperature on Malzahn to extreme levels before embarking on a 6-game winning streak and a bid to the Sugar Bowl. Last year, the season looked lost after a second-half collapse at LSU, from which Auburn recovered to win five straight with decisive upsets over Georgia and Alabama and advanced to the SEC title game with an all-but-automatic Playoff ticket on the line. The West is almost certainly out of reach this year, but a similar surge over the second half of the schedule doesn't have to be. If nothing else, you couldn't ask for two better defenses the next two weeks than Tennessee and Ole Miss to get back on track and write off the past few weeks as another case of premature neuroses.
In both of those seasons, though, the turnaround was sparked by the running game, which has shown few signs of life. If the malaise lingers into November it's possible the depth chart could become more fluid. As a fourth-year junior who's a virtual lock to come off the board next year, Stidham is most likely on his way out in January regardless of what happens in the meantime.
The more the season begins to look like a lost cause, the more sense it will make for coaches to get Willis and/or touted true freshman Joey Gatewood involved with an eye toward either pushing Stidham as the 2019 starter or (more likely) taking over full-time. (Gatewood has been limited by a thumb injury and is clearly headed for a redshirt, but if he's healthy enough the new redshirt rule would allow him to play in the final four games without forfeiting a year of eligibility.) Given the expectations that accompanied Stidham into the season, that sequence of events might rank as the worst possible scenario. But given the trajectory of the offense over the first half of the season, it's not difficult to see why Auburn fans might be bracing for exactly that.
Matthew Stafford Arm of the Week: Jake Fromm
The emojis were reserved for Terry Godwin's determined run after the catch, but the throw itself on Georgia's 75-yard, first-quarter bomb against Vanderbilt might be the best of Fromm's young career to date:
Terry. Godwin. 😳 pic.twitter.com/v0VVrrtYgP

— SEC Network (@SECNetwork) October 7, 2018
Fromm made his share of big plays as a freshman, but he wasn't dropping dead-on dimes that cleared 50 yards in the air, and he certainly wasn't doing it on a regular basis. His deep arm strength this season has been a revelation and a major addition to an attack that's been much more balanced than it was last year.
QB Curve Power Hour!
Ranking the league's starting quarterbacks heading into Week 7.
1. Tua Tagovailoa, Alabama. Hypothetically, Tua could go 0-for-20 with 5 interceptions Saturday and still be on pace to set the single-season record for pass efficiency. His current rating (258.4) is nearly 60 points better than Baker Mayfield's record number in 2017. (Last Week: 1)
2. Jake Fromm, Georgia. Fromm has improved on his freshman pace in every category and clearly separated himself as the SEC's top non-Tagovailoan banana — if not for Tua's inescapable presence at the top, Fromm would likely be earning at least some token Heisman buzz. He's probably the only other player on this list who still has a chance to. (LW: 2)
3. Drew Lock, Missouri. Lock attempted 7 passes inside South Carolina's 20-yard line last weekend and missed on all of them, forcing the Tigers to settle for 4 red-zone field goal attempts in an eventual 37-35 loss. (One of the kicks missed, too.) For the season Lock's just 7-for-26 passing in the red zone, the worst rate among SEC starters. (LW: 3)
4. Jordan Ta'amu, Ole Miss. Ta'amu's rise this week has as much to do with the struggles of other second-tier QBs as it does with his absurd stat line (21-for-24 passing, 374 yards, 5 total TDs) in Ole Miss' blowout win over UL-Monroe. But helping to set the school record for total offense is a good way to make sure you're moving in the right direction. (LW: 7)
5. Nick Fitzgerald, Mississippi State. Fitzgerald is on the upswing again, too, after rushing for 195 yards and a pair of touchdowns in the Bulldogs' much-needed win over Auburn. It ought to be obvious by now that he's probably not going to turn the corner as a passer, but with that kind of output on the ground opposite the nation's No. 1 scoring defense, he can afford to be one-dimensional. (LW: 8)
6. Kellen Mond, Texas A&M. Mond turned in a par-for-the-course performance against Kentucky (18-for-29, 226 yards, 2 TDs, 1 INT) in a down-to-the-wire win — not enough to rise this week, but more than enough to keep him upwardly mobile. Arguably no other QB in the league has the potential to rise higher over the second half of the regular season. (LW: 6)
7. Jarrett Stidham, Auburn. Not surprisingly, this is Stidham's first foray into the bottom half of the rankings in two years. This weekend's visit from Tennessee would be a good time for a reminder of why he opened the season at the top. (LW: 4)
8. Feleipe Franks, Florida. In contrast with Lock, Franks has been more efficient in the red zone than anywhere else on the field: 9 of his 13 TD passes have come from 20 yards and in, most in the conference. (LW: 9)
10/6/18—Florida's Vosean Joseph sacks LSU's Joe Burrow for 9-yard loss pic.twitter.com/adDgMVsubN

— College Football Clips (@CFB_Clips) October 7, 2018
9. Joe Burrow, LSU. Burrow's gritty rep took a hit at Florida, punctuated by a game-clinching pick-6 on his first interception of the season. On the other hand, let's just say he's probably not going to be taking his o-line out for crawfish anytime soon. (LW: 5)
10. Jake Bentley, South Carolina. The Gamecocks didn't miss Bentley against Missouri, knocking off the Tigers 37-35 behind 3 TD passes from fifth-year senior Michael Scarnecchia in his first career start. Bentley is expected back this weekend against Texas A&M, but if he wanted to take another week or two to rehab his gimpy knee, here's guessing Carolina fans would be just fine with that. (LW: 10)
11. Kyle Shurmur, Vanderbilt. At 3-3, the Commodores need to split their last six to qualify for a bowl game. But the next three wins to go along with victories over Middle Tennessee, Nevada, and Tennessee State are going to be harder than the first three to come by. (LW: 11)
12. Jarrett Guarantano, Tennessee. The Vols took the weekend off to brace for back-to-back-to-back dates with Auburn, Alabama, and South Carolina, meaning this might be as high as Guarantano rises for a while. (LW: 13)
13. Terry Wilson, Kentucky. Wilson had a sobering night at Texas A&M as both a runner and passer, essentially failing to make a dent in the Aggies' defense in either capacity — he was sacked 6 times and racked up half of his 108 passing yards on a "tap pass," i.e. a glorified handoff; on downfield attempts he accomplished zip. After a string of middling passing performances it's not a foregone conclusion that Wilson will remain the unquestioned starter. (LW: 12)
14. Ty Storey, Arkansas. Storey threw for 230 yards and 2 TDs against Alabama, which against Bama is nothing to sneeze at. The Razorbacks were the first team to crack 30 points against the Tide since Clemson in the 2016 national title game, and still lost by 5 touchdowns. (LW: 14)