SEC
QB Curve: From hyped recruit to beaten-down starter, Vols' Jarrett Guarantano is at the crossroads
Quarterbacks: There are a lot of them! Each week, QB Curve will keep you up to speed on the game's most important position by putting a different SEC signal-caller in the spotlight and putting the rest of the field in perspective. Previously: Tua Tagovailoa vs. Jalen Hurts … Jake Bentley … Jordan Ta'amu … Drew Lock
QB of the Week: Jarrett Guarantano
Typecasting: The Martyr
Guarantano arrived at Tennessee on a wave of optimism. Personally, he was one of the most touted players in the 2016 recruiting class, coming in as the No. 1 dual-threat quarterback according to 247Sports' composite rating, and as a top-100 prospect overall. And the program he signed up for was, finally, on the verge of a full-blown resurgence: The 2016 Vols opened in the top 10 on the heels of a 9-4 finish in 2015, with a senior incumbent behind center and a pair of hyped recruiting classes in 2014-15 poised to bear fruit. Guarantano's addition as the heir apparent to Joshua Dobbs was just the next logical step toward becoming a perennial SEC East contender.
The subsequent two years have not gone that way, to say the least. The 2016 team failed to make good on the preseason hype, and by the time Guarantano entered the starting lineup for the first time last October, it was for an outfit that was already foundering on its way to an 0-8 finish in conference play; the Volunteers finished last or next-to-last in the SEC in total offense, scoring offense, rushing offense, passing offense, yards per play, first downs, third-down conversions, red-zone conversions, and sacks allowed.
Coach Butch Jones was shown the door, followed by the athletic director who oversaw the hapless and chaotic search for his replacement. By the third quarter of Saturday's 47-21 flop against Florida, with much of the crowd at Neyland Stadium streaming for the exits, it was hard to recall the glimmers of hope that accompanied Guarantano's arrival as anything but a cruel joke in a solid decade of dejection.
As Vols fans brace for another slog through the SEC slate, their redshirt sophomore quarterback is arguably the least of their problems. The offensive line is a makeshift unit that has allowed more tackles for loss through four games than any other SEC team. Against Florida, Guarantano was hit seven times (including one sack) and twice knocked out of the game by injury. On the ground, Tennessee has fallen short of 4 yards per carry as a team in each of Guarantano's seven losses as a starter dating to last season. In four of those Ls, Tennessee trailed by double digits in the first half.
Still, with a brutal month in front of them — the Vols are 32.5-point underdogs this weekend at Georgia, with Auburn and Alabama on deck — the focus will be less on the scoreboard than on figuring out who in the current lineup is worth continuing to invest in long-term.
While Guarantano remains entrenched as the starting QB (at least in part because there don't appear to be any other viable options behind him), it's not a foregone conclusion that coaches see him as the answer beyond this season. In his starts he's averaged just shy of 20 attempts, fewest among full-time SEC staters, with minimal involvement in the run game. The top priority over the coming weeks will be to keep Guarantano in one piece against some of the most relentless pass rushes in the country. Beyond that, it's up to him to show what he's capable of when given the chance.
The Good
At 6-4, 209 pounds, Guarantano still has room to grow into a draftable frame, but when given time to set his feet he looks the part of a competent, strong-armed pocket passer. In 2017 he completed just shy of 62 percent of his attempts with 9 completions of 25 yards or longer; in the early going this year he's bumped that rate to nearly 64 percent with 7 gains of 25-plus. He currently ranks fourth in the conference at 9.1 yards per attempt. His overall efficiency rating is respectable.
And despite a lack obvious "wow" throws downfield (even the few long balls that go for big yards are not the prettiest), when kept clean Guarantano is consistent on short and intermediate passes that keep the sticks moving. In the season opener against West Virginia he flashed good accuracy and anticipation on throws outside the numbers …
9/1/18 — Tennessee's Jarrett Guarantano 14-yard pass complete to Josh Palmer vs. West Virginia pic.twitter.com/H8KxH51Ykt

— College Football Clips (@CFB_Clips) September 26, 2018
… and between the hashes:
9/1/18 — Tennessee's Jarrett Guarantano 22-yard pass complete to Brandon Johnson vs. West Virginia pic.twitter.com/BqvO1hGz3M

— College Football Clips (@CFB_Clips) September 26, 2018
He's willing and able to throw one-on-one alley-oop balls to his best receiver, Marquez Callaway, with occasionally spectacular results — in addition to a regular diet of 10- and 15-yard throws in Callaway's direction, they connected for a 46-yard touchdown last November against LSU, and a 36-yard gain last weekend against Florida:
9/24/18 — Tennessee's Jarrett Guarantano 36-yard pass complete to Marquez Callaway vs. Florida pic.twitter.com/vHRHcbhcjC

— College Football Clips (@CFB_Clips) September 26, 2018
Under the circumstances, it also counts for something that Guarantano can generally be counted on to avoid egregious unforced errors: He was intercepted just twice last year in 139 attempts (his predecessor in the starting lineup, Quinten Dormady, threw 6 picks on 137 attempts), and in eight of his 11 career starts he's been turnover-free.
Of Guarantano's 4 career interceptions, 3 have come a) on fourth-and-goal at Alabama of his first career start; b) on a deflection of an accurate pass against Vanderbilt; and c) on an incredible play by a Florida DB nearly 50 yards downfield, all of the above coming in garbage time of games Tennessee had no realistic chance of winning. As depressing as the offense has been the past two years, at least the quarterback's is not in the habit of making a bad situation worse.
The Not-So-Good
By "bad situation," I mean the fact that Guarantano has been routinely beaten to a pulp, so much so that it's difficult to evaluate his full skill set — he hasn't flashed much downfield juice, but in fairness he hasn't had a lot of opportunities, either. Even when he's not getting hit, the threat looms large enough to limit the Vols' willingness to throw downfield out of the very legitimate fear of getting their QB crushed in the process.
In his seven starts last year Guarantano was sacked a staggering 30 times, occasionally as a result of hanging on to the ball too long; this year, the hit parade commenced literally within the first second of the first snap of the season …
9/1/18 — Tennessee's Jarrett Guarantano hit immediately by West Virginia's Kenny Bigelow pic.twitter.com/r8s51Y303F

— College Football Clips (@CFB_Clips) September 26, 2018
… and has continued at only a slightly less debilitating pace. Although Tennessee has only allowed 6 sacks, the reality is that Guarantano has been hit far more frequently than that, and some of the shots — like the blindside de-cleater that went in the books as Florida's only official sack Saturday — have been of the variety that you worry he's not going to get up from.
9/24/18 — Tennessee's Jarrett Guarantano sacked by Florida's Jachai Polite, fumble recovered by David Reese pic.twitter.com/9dMtPXp5PF

— College Football Clips (@CFB_Clips) September 26, 2018
Guarantano did come back from that one (after Florida took advantage of the short field to punch its first touchdown), but was briefly sidelined by a big shot later in the first half and forced out for good by a low blow in the third quarter. He's expected to be fine for this week's trip to Georgia, but when your starting quarterback's defining trait is "toughness" it's usually a sign things aren't going well.
It's also telling that, for a guy who was initially touted as a "dual threat," Guarantano has almost no role in the running game — including sacks, he's finished with negative rushing yards in all but one start and has only run for one touchdown.
That doesn't appear to have anything to do with his athleticism; he can run. But after watching the pounding Guarantano took in his first three starts last year (when he racked up 25 carries against South Carolina, Alabama, and Kentucky, in addition to the ridiculous 18 sacks he absorbed in those games) the coaching staff under Jones significantly curbed his designated carries down the stretch. The new staff has barely called his number at all.
Let me show you what a decade of depression looks like.#UFvsTENN pic.twitter.com/rKB6IXYNkt

— Allan Bell (@AllanBell247) September 23, 2018
The Takeaway
The general despair coming out of the Florida game had less to do with the loss in itself than with what it said about where Tennessee stands as a program. Right now, that's still at the bottom of the SEC East. Nobody was fooling themselves before Saturday that the Vols were on the cusp of some kind of breakthrough against the murderer's row that makes up the middle third of the schedule, but it was possible to imagine a team that held its own in that stretch, grew as a result, and came out the other side with a reasonable chance to finish strong in November.
Now, the upcoming stretch sets up as a series of inevitable blowouts and even the "winnable" games look like long shots: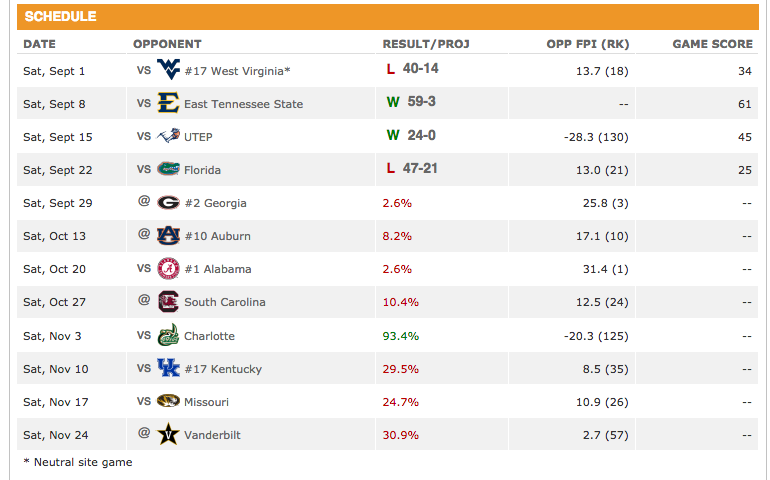 As long as he remains upright and relatively turnover-averse, it's hard to see Guarantano going anywhere. The top backup, fifth-year senior Keller Chryst, has some previous starting experience at Stanford, but lost the preseason competition after transferring in from Palo Alto and won't be around next year. Sophomore Will McBride was a pedestrian recruit who projects as a career backup; true freshman J.T. Shrout is slightly more touted but doesn't factor into the Vols' immediate plans as a redshirt. The new redshirt rule could change that calculation in November, if Guarantano is banged up or melts down. Otherwise, he's entrenched.
Long-term, though, Guarantano remains essentially a blank slate. He's still young, he's not a disaster, and on a better team he might be well on his way to becoming the player his recruiting hype predicted he'd be; on this team, he's 0-7 as a starter against Power 5 conference opponents with no particularly memorable moments and no end in sight. Shrout and 2019 commit Brian Maurer are waiting in the wings. Eventually the pendulum will swing the other way and Tennessee will find itself back on the rise. Whether Guarantano can survive as QB1 long enough to be a part of it is much less certain.
Matthew Stafford Arm of the Week: Jake Bentley
Bentley has his ups and downs, to put it mildly, but when he's on he looks like a first-rounder. In the first half of Saturday's 37-14 win over Vanderbilt, he was on:
9/22/18 — South Carolina's Jake Bentley 52-yard pass complete to Shi Smith vs. Vanderbilt pic.twitter.com/9esR8rG3XA

— College Football Clips (@CFB_Clips) September 26, 2018
That was the second of two long connections between Bentley and Shi Smith, the first coming on a very smooth 38-yard touchdown pass less than a minute into the game. Bentley finished 16-for-28 for 261 yards and looked as good doing it as he has in an SEC game in a full calendar year.
QB Curve Power Hour!
Ranking the league's starting quarterbacks heading into the Week 5.
1. Tua Tagovailoa, Alabama. Tua is operating dangerously close to Maximum Efficiency, to the extent that he turned in a near-perfect stat line against Texas A&M (22-for-30, 387 yards, 4 TDs, 0 INTs) and his passer rating for the season actually declined. (Last Week: 1)
2. Jake Fromm, Georgia. Fromm wasn't as accurate at Missouri as in Georgia's first three games, but the ones he did hit he made count: His second-half touchdown passes to Riley Ridley (33 yards), Jeremiah Holloman (61 yards), and Mecole Hardman (54 yards) accounted for a full third of Georgia's total offense on the day. Tua Mania has obscured a terrific start to the season for his counterpart in January's championship game. (LW: 3)
this is the kind of throw that will get you excited about Drew Lock on Sundays pic.twitter.com/Rai3nCdgJ9

— Jordan Zirm (@clevezirm) September 22, 2018
3. Drew Lock, Missouri. There's no way to spin Lock's 23-for-48, 221-yard outing against Georgia as anything but a disappointment — he averaged 4.8 yards per attempt and failed to throw a touchdown pass in arguably the biggest game of his college career — but it wasn't all as bleak as the box score: Lock's lone interception on the day wasn't his fault, and he still managed to raise scouts' eyebrows with a heat-seeking throw into tight coverage on a two-point conversion. (LW: 2)
4. Jarrett Stidham, Auburn. Stidham had a quiet night in the Tigers' win over Arkansas, dinking and dunking and not much else as the Razorbacks imploded in the kicking game. Auburn's only remotely big play via Stidham's arm came on a screen pass behind the line of scrimmage to freshman Anthony Schwartz, who did the rest himself en route to a 42-yard gain. (LW: 4)
5. Nick Fitzgerald, Mississippi State. Fitzgerald had a rough passing night at Kentucky — 16-of-32, 145 yards, 0 TDs, 1 INT — which was understandable given he was under consistent pressure in a downpour. (His UK counterpart Terry Wilson didn't fare very well through the air, either.) But the Wildcats bottled him up as a runner, too, holding Fitzgerald to his worst output on the ground — 20 yards on 1.3 per carry, including sacks — since Alabama in 2016, a span of 17 games. (LW: 5)
6. Kellen Mond, Texas A&M. Mond was under siege right from the start against Alabama and kept the Aggies in the game with his legs for longer than they had any right to be. If his offensive line ever comes together he remains on schedule to emerge as one of the SEC's best. (LW: 6)
7. Jordan Ta'amu, Ole Miss. Ta'amu rebounded from a ritual beatdown at the hands of Bama by throwing for 442 yards and 2 TDs against Kent State. This week: Back to the grind at LSU. (LW: 7)
8. Jake Bentley, South Carolina. Every so often Bentley likes to remind us that (Tua aside) he's on par with Lock as the league's most natural downfield arm. (LW: 8)
9. Kyle Shurmur, Vanderbilt. After an encouraging trip to Notre Dame, losing big to South Carolina was deflating even for Vandy fans, who've taken their share of punches in the gut. Shurmur was 18-of-38 for 180 yards in the loss, with his two longest completions of the day (covering 27 and 17 yards, respectively) both going to running backs. (LW: 9)
10. Joe Burrow, LSU. Burrow's efficiency rating is no longer the worst in the SEC, thanks to Arkansas' Ty Storey. But he does join Storey and Rutgers' Artur Sitkowski (a true freshman) as the only Power 5 starters completing fewer than 50 percent of their passes for the season. (LW: 10)
11. Feleipe Franks, Florida. Franks was kept mostly clean against Tennessee, got a productive effort from the running game, and delivered one of the most efficient games of his young career in a blowout win on the road. Funny how that works. (LW: 12)
12. Terry Wilson, Kentucky. Wilson has the luxury of playing alongside Benny Snell Jr., the only non-quarterback in the SEC accounting for at least a third of his team's total offense. Eventually Kentucky will need Wilson to pick up a little more of the slack to have any chance of making good on its promise as a dark horse contender in the East — just, you know, not too much more. (LW: 11)
13. Jarrett Guarantano, Tennessee. The Vols are dying to run the ball more efficiently, which would make life much easier on Guarantano as a passer. (See Franks and Wilson above.) The only way to achieve that, though, might be to involve their quarterback more in the designed run game and risk exposing him to even more hits than he's already taking. (LW: 13)
14. Ty Storey, Arkansas. Storey took every snap against Auburn, the first time this year the Razorbacks have stuck with their starter past halftime. In the process they managed just 290 total yards and failed to score a touchdown in a lopsided loss, but such is the cost of progress. (LW: 14)