SEC
QB Curve: Jake Bentley has all the tools. Can he finally put them together?
Quarterbacks: There are a lot of them! Each week, QB Curve will keep you up to speed on the game's most important position by putting a different SEC signal-caller in the spotlight and putting the rest of the field in perspective. Previously: Tua Tagovailoa vs. Jalen Hurts
QB of the Week: South Carolina's Jake Bentley
Typecasting: The Prodigy. If Bentley wasn't one of the most touted passers in the 2016 recruiting class, it's only because he wasn't supposed to be in the 2016 recruiting class: He graduated from Opelika (Ala.) High a full year early and enrolled ASAP at South Carolina, where his father, Bobby, had recently joined the staff as an assistant. By midseason, Bentley had cracked the starting lineup, relegated touted classmate Brandon McIlwain to the transfer market, and entrenched himself as the focal point of the Gamecocks' rebuilding effort under Will Muschamp. The arrow entering 2017 was pointing straight up.
A year later, the direction is wobblier. Although Carolina's record improved, Bentley's sophomore numbers were down across the board: Completion percentage, yards per attempt, touchdown-to-interception ratio, and overall efficiency all saw marked declines in his first full season as a starter. In conference games the dip was more pronounced, especially over the second half of the season. In a supposedly down year for SEC quarterbacks, Bentley's production placed him squarely in the middle of the pack; as an offense, South Carolina fared even worse, finishing 12th out of 14 teams in yards and points per game.
How much of that falls on Bentley's shoulders, as opposed to his less-than-inspiring surrounding cast, is a fair question. The southward turn on the stat sheet coincided with the exit of USC's most dynamic playmaker, Deebo Samuel, due to a broken leg, forcing true-freshman receivers into the mix earlier than expected. The ground game offered minimal support; neither Bentley nor the running backs could count on any all-conference types or future draft picks up front. At times — most notably in a bruising night at Texas A&M, where Bentley was sacked seven times — it was all he could do to emerge in one piece.
There were enough flashes of the raw talent that made him an up-and-coming prospect in the first place to keep Bentley's name on the short list of imminently draftable quarterbacks in 2018. He got off to a fine start in Saturday's blowout win over Coastal Carolina, connecting on 22 of 29 attempts against the Chanticleers with 4 TD passes and 0 picks. To make good on his first-round potential, though, scouts will need to see sustained improvement against the top half of the schedule, beginning with Saturday's SEC opener against Georgia. If a big, fully-realized junior campaign is in the works, it starts now.
The Good
Bentley is a born quarterback — at 6-4, 224 pounds, he checks every box for next-level athleticism and has clearly been groomed for the position since he birth. He's big, mobile, durable and smart. He boasts fluid footwork and a quick, compact release. He's capable of eluding pressure, making heads-up plays "off platform," and throwing with velocity to all areas of the field. When it all comes together, the results can make you sit up straight:
That play, from opening day, held up as one of a very small handful of the most impressive throws of 2017 by any SEC quarterback – 50 yards, in the air, on the run, into a Dixie cup. So did this one, with the walls closing in around him at Texas A&M…
… and this one, with pressure bearing down in his end zone at Georgia:
At some point in his first two seasons, Bentley has padded his highlight reel with just about every type of play that a high-level pro prospect is supposed to be able to make. Against Kentucky, he hit Samuel in stride on an RPO quick slant that allowed Samuel to take it the distance for a 68-yard touchdown. In the bowl game, he led a second-half comeback against Michigan that included perfectly placed, on-the-money scoring strikes to Shi Smith, on a slot fade route, and Bryan Edwards, on a skinny post that required Bentley to thread the ball between two well-positioned defenders.
Given time, he repeatedly showed the ability last year to set his feet in the pocket and deliver an accurate strike on third-and-long. He was mobile to move the sticks on designed runs, finishing with a team-high six rushing touchdowns, and as a scrambler when the pocket broke down. He's capable of hitting his mark on the run and under pressure. He's more than willing to take a hit, and sturdy enough to absorb them.
In the absence of a reliable running game, he's also willing and able to shoulder a much larger share of the offense than he'd ideally have to: Altogether Bentley accounted for nearly two-thirds of South Carolina's total offense in 2017, second in the SEC only to Vanderbilt's Kyle Shurmur. Some offenses are designed that way; given Will Muschamp's preferences it's safe to say that in Carolina's case it was strictly a matter of necessity.
The Not-So-Good
At this point, the whole of Bentley's production is significantly less than the sum of his skill set. When it all comes together, he looks the part. But so far those moments have been too few and far between.
For a gifted passer whose team relies on him so heavily, Bentley's conventional stats in 2017 were surprisingly lukewarm: He eclipsed 300 yards passing just once, in a 23-13 loss to Kentucky, and topped out at a pedestrian 8.7 yards per attempt, in a skin-of-the-teeth win over Louisiana Tech. Efficiency-wise, he was often respectable but never great. His solid completion percentage overall obscured the fact that, arm strength notwithstanding, he was one of the league's least productive downfield passers.
Some of that has to do with plain old accuracy; when Bentley misfired, it was typically high and/or long. But miscommunication with his young receivers was a recurring issue, as well, resulting in intentional grounding penalties and worse:
Only Florida's slapstick bad luck prevented that from going down as a pick-six. When Bentley and Edwards got their signals crossed again a few weeks later vs. Clemson, the Tigers made it count.
And to some extent his struggles were also situational. According to Bill Connelly's S&P+ system, which separates plays into "Standard Downs" and "Passing Downs," depending on the situation, when forced into the latter column the Gamecocks' fortunes plummeted: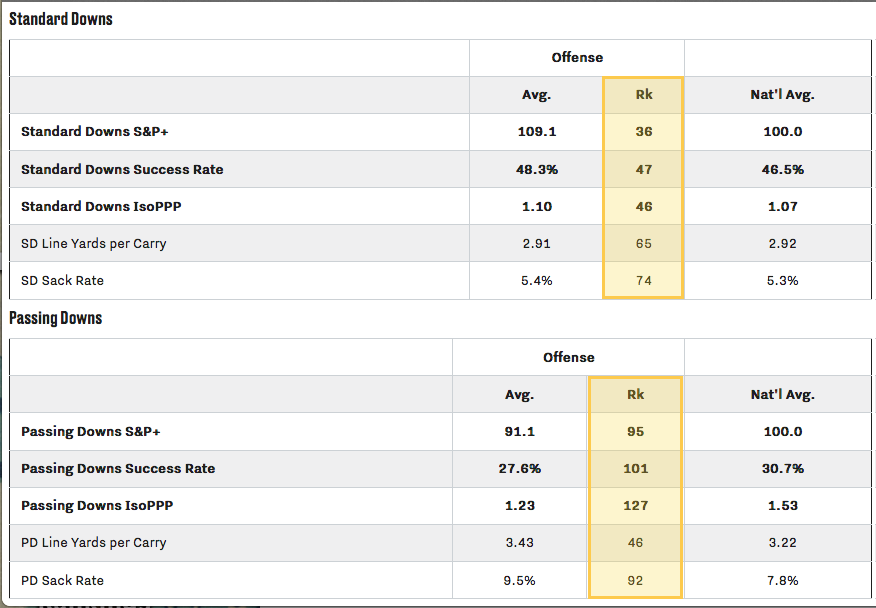 (Specifically, Passing Downs are defined as 2nd-and8 or more yards to go for a first, or 3rd/4th down and 5 or more yards to go; all other downs are Standard Downs. Success Rate is defined as 50 percent of necessary yardage on first down, 70 percent on second down, and 100 percent on third and fourth down; IsoPPP is a statistic designed to quantify explosiveness.)
That's a big, dark hole for an entire offense to fall into on passing downs, and Bentley's situational numbers tracked accordingly:

Bentley's overall efficiency on third downs (95.8) ranked 15th out of 16 qualifying SEC passers, ahead of only Kellen Mond.
That's not exclusively on the quarterback — again, the pass protection was spotty at best, and occasionally a disaster. But if there's a single, defining statistical trend that Bentley must reverse, the abysmal success rate on obvious passing downs has to be it.
The Takeaway
Year 3 should be the payoff year for NFL-caliber passers, and it's not a stretch to suggest this weekend's clash with Georgia is the biggest game of Bentley's career to date. It's one of only two Week 2 games pitting ranked teams (Stanford-USC is the other), and is slated for top billing in CBS' Saturday-afternoon time slot; win or lose, an above-the-fold performance on that stage, against a top-five opponent, has the potential to elevate Bentley into the top tier of draft-eligible quarterbacks.
After a marginal performance against Georgia in 2017, it would also be the first concrete piece of evidence that he's continuing to grow as he hits the prime of his college tenure. There's very little question about Bentley's arm strength or baseline skill set. Consistency, accuracy, and decision-making are another story. He doesn't necessarily need to light up the scoreboard to prove he belongs in the discussion of legitimate first-round hopefuls. But in the wake of last year's regression he does need to make a convincing case that his best is still to come.
Quick outs
Prospective Jalen Hurts transfer spots. Ranked
If there was any doubt after Alabama's blowout win over Louisville (there wasn't), Nick Saban made it official on Monday: Tua Tagovailoa is the starter, relegating Jalen Hurts to the part-time/closer role that Tagovailoa manned in 2017. That's not necessarily the end of the story; Saban reiterated his commitment to keeping Hurt involved as a backup and said he had no plans to allow Hurts to redshirt for the sake of preserving an extra year of eligibility. But it did confirm Hurts' second-banana status for the foreseeable future — pending Tua's health — thereby raising the odds that he'll be playing elsewhere in 2019 to somewhere in the neighborhood of 99 percent.
But where? The ideal destination will offer Hurts a chance to step immediately into a starting role as a senior and continue competing at a high level. He's expected to graduate in December, which would make him immediately eligible at another FBS school next years as a grad transfer. Before months of speculation winnows down the field, here are the top five-ish options to win what figures to be a hotly contested recruitment:
1. Texas A&M – Hurts is from the Houston suburb of Channelview, Texas, less than two hours' drive from College Station, and was seriously recruited by A&M out of high school. (The Longhorns were reportedly less enamored, declining to reciprocate Hurts' initial interest in favor of pursuing an Austinite, Shane Buechele, instead.) That was on Kevin Sumlin's watch, not Jimbo Fisher's. But barring a dramatic leap forward by sophomore Kellen Mond, the Aggies' immediate prospects behind center in 2018 aren't much better than they were three years ago, leaving the door wide open for Hurts to move closer to home without leaving the SEC West.
2. Florida – The Gators are invested in two younger players, Feleipe Franks and Emory Jones, both of whom earned significantly more recruiting hype than Hurts and may be more talented in terms of raw potential. There's no question Franks has a bigger arm. But Franks was the SEC's most vulnerable incumbent this offseason, and so far Jones has apparently failed to make a compelling push to supplant him. If he could get Hurts to Gainesville, Dan Mullen would get a study, athletic, Dak Prescott-esque QB who fits his offense like a glove, Hurts would get a coach who clearly knows how to get the most from his skill set, and Florida fans would get their most optimistic outlook on offense in years.
3a. Oklahoma – Kyler Murray is as good as gone at the end of this season, and the heir apparent in 2019, 5-star recruit Spencer Rattler, isn't even on campus yet. That leaves a nice window next year for Hurts to win the job, put up some gonzo numbers in Lincoln Riley's offense, and potentially play for another national championship while Rattler is still settling in.
3b. Oklahoma State – Hurts isn't exactly the prototypical OSU quarterback under Mike Gundy, who's tended to favor statuesque pocket types like Mason Rudolph and Brandon Weeden. The Cowboys will have a vacancy in 2019, though, after current starter Taylor Cornelius — a fifth-year senior who arrived in Stillwater as a walk-on — exhausts his eligibility. The top backup, Hawaii transfer Dru Brown, is also a senior, which gives some indication of how coaches feel about the younger options further down the depth chart. Hurts would be a lock to start with a chance in Gundy's offense to prove his arm has more juice than people give him credit for.
4. Houston – Hurts' hometown school has been a fertile source of productive, under-the-radar passers for decades, a lineage spanning multiple head coaches. The current coach, Major Applewhite, spent a year as Alabama's offensive coordinator in 2007 (Nick Saban's first season in Tuscaloosa) and still calls Saban the most influential coach he's worked for. The Cougars aren't about to compete for any national titles, but they could give Hurts a chance to dominate in the American Athletic Conference and potentially play in a major bowl game.
5. Nebraska – This one might be more wishful thinking than a realistic possibility, but the prospect of plugging Hurts into Scott Frost's offense is worth speculating over. Nebraska has just one scholarship QB on the current roster, true freshman Adrian Martinez, and if he doesn't pan out this year as the long-term answer behind center Hurts would be hailed in Lincoln as Frost's first notable recruiting coup.
And while I can't recommend it from Hurts' perspective, if I worked for LSU I'd already have a king cake on his doorstep with a set of car keys inside.
Woo Pig Storey
Outside of Alabama, the league's most fluid QB situation is at Arkansas, where the opening-day starter, Cole Kelley, was clearly outplayed by backup Ty Storey in the Razorbacks' 55-20 win over Eastern Illinois. Kelley's first three possessions behind center yielded a field goal and two punts; from that point, Storey came off the bench to lead three rapid-fire touchdown drives before halftime, capped by scoring strikes of 14, 48, and 57 yards. His final pass efficiency rating (257.8) ranked second in the nation in Week 1 against any opponent.
Kelley returned in the fourth quarter to lead a late TD drive of his own, but to no one's surprise when practiced resumed on Monday it was Storey taking the first-team reps. It's getting rare these days to see a fourth-year junior make a move this late in his career, but Storey has two more weeks to solidify his grasp on the job against Colorado State and North Texas before the SEC opener against Auburn in Week 4. If he's not entrenched by then, the Hogs should brace themselves for a turbulent year.
Matthew Stafford Arm of the Week: Drew Lock
Lock did what a potential top draft pick should do to an outmanned FCS team, torching UT-Martin for 289 yards and 4 touchdowns on just 25 attempts. Two of those scores were of the downfield variety, including an effortless, 70-yard bomb to true freshman Kam Scott, the majority of which was traversed by air:
9/1/18 — 70-yard touchdown pass from Missouri's Drew Lock to Kam Scott vs. UT-Martin. pic.twitter.com/79eNV82PXa

— College Football Clips (@CFB_Clips) September 4, 2018
That was Lock's last throw of the game, but definitely do not expect it to be his last appearance as the Arm of the Week. If anybody stands to own this spot throughout the season, he's the one.
QB CURVE POWER HOUR!
Ranking the league's starting quarterbacks heading into Week 2.
1. Tua Tagovailoa, Alabama. The bar was set unfairly high for Tua's debut as QB1 and he cleared it with ease. Now if he can just stay on the field for more than two quarters at a time. (Last Week: 4)
2. Jarrett Stidham, Auburn. Stidham delivered one "wow" throw on Auburn's first series against Washington and didn't do anything to screw things up thereafter. Against a defense as good as the Huskies', that counts as a stellar performance; with a defense as good as Auburn's it's the kind that can take the Tigers a long way. (LW: 1)
3. Drew Lock, Missouri. Lock got seven possessions against UT-Martin, put points on the board on all seven, and didn't break a sweat. If he winds up watching from the bench in the fourth quarter at any other point this year it will probably be for very different reasons. (LW: 3)
4. Jake Fromm, Georgia. The only possible quibble with Fromm's 12-of-16, 2-touchdown effort against Austin Peay is that it came against Austin Peay. Hyped freshman Justin Fields looked good off the bench, but isn't any closer to realistically pushing Fromm as the starter. (LW: 2)
5. Jake Bentley, South Carolina. Bentley's ceiling might be higher than anyone's on this list except Tagovailoa, but it's time for the productivity to match the potential. (LW: 5)
6. Jordan Ta'amu, Ole Miss. Ta'amu benefits from the best receiving corps in the country, but he more than held up his end of the bargain in the Rebels' 47-27 win over Texas Tech and continues to surpass his 3-star profile out of junior college. At this rate he's shaping up as one of the SEC's best recruiting bargains since Johnny Manziel. (LW: 7)
7. Nick Fitzgerald, Mississippi State. A warm-up would have been nice before shipping out for a road trip to Kansas State, but there was nothing in preseason camp to suggest that Fitzgerald's surgically repaired ankle is going to be an issue. If understudy Keytaon Thompson does have to make an appearance, though, it's certainly not the end of the world. (LW: 6)
8. Kyle Shurmur, Vanderbilt. Vandy scored four offensive touchdowns against Middle Tennessee State on just 55 plays from scrimmage, the final three scores coming on drives that covered 92, 80, and 80 yards, respectively, and ate up the majority of the second half. Most of that output came on the ground. But for his part Shurmur was a hyper-efficient 7-of-10 passing on the long marches, accounting for three third-down conversions, a fourth-down conversion, and a pair of touchdowns. (LW: 8)
9. Joe Burrow, LSU. The Tigers beat a top-10 opponent in Burrow's first start, so he won't be paying for any beers in Baton Rouge for a couple more weeks, at least. But the win over Miami was primarily a line-of-scrimmage affair, and beyond the final score there was nothing about Burrow's performance or his stat line (11/24, 140 yards, 0 TDs, 0 INTs) that distinguished him from the generic, play-within-the-offense quarterbacks LSU has been rolling out for the past decade. The rest of the schedule remains an uphill battle. (LW: 10)
10. Kellen Mond, Texas A&M. Mond took every relevant snap in A&M's 59-7 romp over Northwestern State before yielding to Nick Starkel in the second half. If he goes the distance this weekend against Clemson's carnivorous front seven it will be an achievement. (LW: 9)
Gators up 31-0@CoachDanMullen right now: pic.twitter.com/BZxUnvkZ8C

— SEC Network (@SECNetwork) September 2, 2018
11. Feleipe Franks, Florida. In the grand scheme of things, bombing Charleston Southern in Week 1 doesn't count for much. But it's certainly preferable to not bombing Charleston Southern in Week 1, which given Franks' depressing trajectory in 2017 was a very real possibility. The reclamation project is off to an encouraging start. (LW: 12)
12. Ty Storey, Arkansas. Although he arrived as a 4-star recruit, Storey spent his first three seasons in Fayetteville as a nondescript backup with almost no hope of seeing the field in a competitive game. Suddenly he's gearing up for his first career start, against a Colorado State defense that's already been torn to shreds in its first two games. Now or never, dude. (LW: NR)
13. Jarrett Guarantano, Tennessee. Guarantano was respectable in the Vols' lopsided loss to West Virginia, connecting on a league-high 76 percent of his attempts (19/25) with no major mistakes behind a shaky offensive line. Tennessee can live with that from a sophomore, for now; long-term, his development into a reliable downfield threat is on hold until he's confident enough that setting his feet in the pocket isn't going to get him maimed. (LW: 11)
14. Terry Wilson, Kentucky. Wilson remains on top of the depth chart heading into Saturday's SEC opener at Florida, but after a dodgy debut against Central Michigan (11/18, 78 yards, 0 TDs, 2 INTs, one lost fumble) it's not a foregone conclusion he'll still be there by this time next week. Backup Gunnar Hoak got in a handful of snaps while Wilson was temporarily sidelined by a shoulder injury and acquitted himself well. (LW: 14)