AUBURN
QB Curve: Jarrett Stidham is on the brink. Is a November breakthrough next?
Quarterbacks: There are a lot of them! Each week, QB Curve will keep you up to speed on the game's most important position by putting a different SEC signal-caller in the spotlight and putting the rest of the field in perspective. Previously: Jalen Hurts • Drew Lock • Nick Fitzgerald • Kyle Shurmur • Jake Bentley • Danny Etling • Shea Patterson • Stephen Johnson • Feleipe Franks
QB of the Week: Jarrett Stidham.
Typecasting: The Missing Link. Not that it was hard to see coming, necessarily — especially for Auburn fans, who have been down this road before — but looking back, the expectations that preceded Stidham's first season on The Plains were probably unfair. At Baylor, he'd been a blue-chip recruit who played well but sparingly as a true freshman, in 2015, before initiating the mass exodus from Waco the following summer. Based on that, plus an encouraging debut in Auburn's spring game, Stidham was touted as a bona fide Heisman candidate and All-SEC frontrunner before his first snap in a Tigers uniform. At the very least, he looked like the sturdy, draftable presence in the pocket the Tigers had been sorely missing.
Play Underdog For Heat-Celtics Game 6! Who ya got?
...
And given the hype, he has been … fine. Just fine. In a different context, arguably better than fine. Strictly as a passer, in fact, he has been quite good — two-thirds of the way through the regular season, Stidham leads the SEC in completion percentage (65.8) and comes in well above average in yards per game (216), yards per attempt (9.0), and overall efficiency (151.6). No other SEC passer has converted a higher rate of his third-down attempts into first downs. As foretold, that puts him on schedule to finish as Auburn's best sub-Heisman-level QB in each of those categories in more than a decade:
So, again: Basically fine. In a league bereft of star power behind center, that counts for a lot.
But if the goal of landing the most coveted player on the offseason transfer market was to elevate Auburn to national relevance, then the jury is still very much out. Through eight games, the Tigers' record entering November (6-2 overall, 4-1 in the SEC) is identical to last year's, and they're running slightly behind their 2016 pace in the AP poll. (The latest poll has them at no. 16; on Oct. 31 last year they ranked 11th.) Despite his success on paper, Stidham has visibly struggled in losses at Clemson and LSU; according to Pro Football Focus, which assigns grades to every player based on film review, Stidham's overall grade for the season ranks just 68th among FBS quarterbacks. The never-ending speculation over Gus Malzhan's job security continues apace.
That can change quickly: This weekend's trip to Texas A&M is the last significant test before the all-defining home dates against Georgia and Alabama to close the regular season. Technically, Auburn controls its destiny in the SEC West; in reality, both of those games at this point look like mere preludes to the inevitable Bama-UGA showdown in Atlanta toward which the entire season has been building. If Auburn has any chance of spoiling that party — much less securing the Crimson Tide's seat for itself by winning out — the coming month will have to be Stidham's best.
The Good. As expected, Stidham is clearly an upgrade athletically over the guy he ousted from the starting job, Sean White, who was booted from the team in September. The difference is most obvious when it comes to arm strength: White, listed at 6 feet and a little over 200 pounds, rarely threatened secondaries deep, connecting on just a dozen passes in 2015-16 (including screens, etc.) that gained at least 40 yards; Stidham, at 6-2, 214, already has eleven 40-yard completions this year on barely a third of the attempts. Given time to set his feet, Stidham's deep ball rivals Drew Lock's for the prettiest and most consistent in the conference.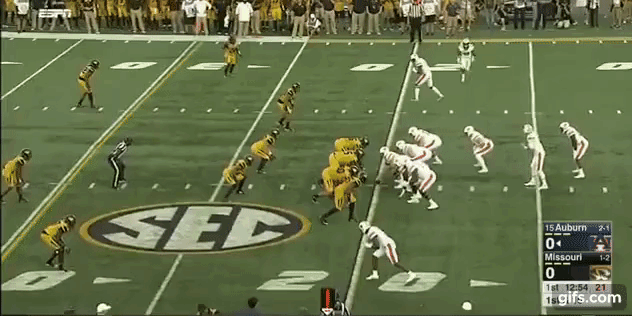 Specifically, he seems to have developed a solid downfield rapport with junior slot receiver Will Hastings, a former walk-on kicker, on a deep post route that has become Hastings' signature when the Tigers seek a quick strike on an ostensible run down. The same double move down the middle of the field has worked for a 47-yard touchdown against Mississippi State, on first and 10…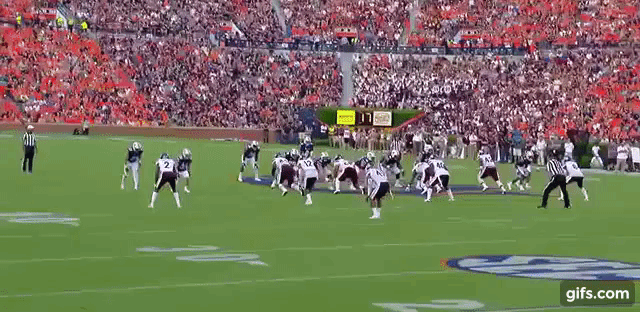 …a 52-yard touchdown against LSU, on second and 7…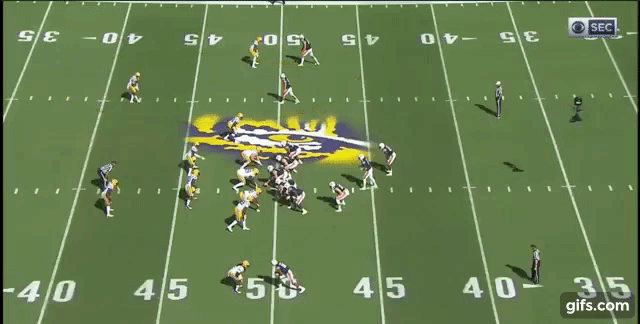 …and a 46-yard gain against Missouri, on first and 10, which led directly to a touchdown three plays later: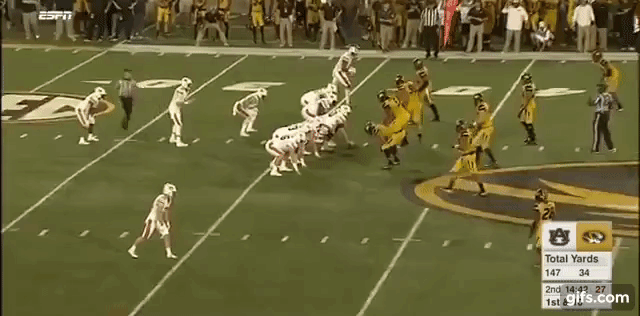 Hastings is a nifty route runner, clearly, but when his protection holds up Stidham has the kind of natural timing and anticipation that can make a 40- or 50-yard throw look almost automatic. After the past couple of years, Auburn fans (along with fans of almost every other SEC team right now) should know well that it's not.
I noted the down-and-distance on those throws for context: Auburn's offense is still essentially a run-first operation, running about twice as often against FBS opponents as it puts the ball in the air, and within that system Stidham's best asset is his efficiency on play-action passes and run-pass options. Between the losses to Clemson and LSU, he put together a quietly dominant three-game stretch against Missouri, Mississippi State, and Ole Miss in which he was 40-of-54 passing, averaged 13.3 yards per attempt, and threw for five touchdowns without an interception.
His combined efficiency rating in those games: 216.2, more than 50 points better than his rating for the season as a whole. Auburn's rushing output in those games: 278 yards per game on 5.8 per carry. That's not a coincidence.
The Not-So-Good. In both of Auburn's losses, Stidham started out fine before falling into a deep funk over the final three quarters. At Clemson, he completed a pass for 23 yards on the first series of the game, then failed to hit another that gained more than 10 yards the rest of the night. At LSU, he infamously missed on 18 of his last 20 attempts after Auburn jumped to a 17-0 lead. Much of the blame for those flops fell on the offensive line and the play-calling, respectively, and on a stagnant running game in both cases. But they also exposed Stidham's inexperience under pressure.
After the Clemson debacle, I put most of the blame for the sack-fest on Auburn's offensive line, which allowed pressure within three seconds of the snap on a majority of Clemson's 11 sacks. (That number accounts for half of the 22 sacks Auburn has allowed for the season, and is still the main reason the Tigers rank 116th nationally in Adjusted Sack Rate.) Still, Stidham did look lost on the biggest stage of his young career, did occasionally hold on to the ball too long, and has occasionally reverted to seeing ghosts in the pass rush. For my money, his worst play of the season to date — at least as bad as any of his three interceptions — was this first-quarter fumble against Mississippi State, a direct result of a young quarterback feeling pressure in the face of a blitz even when there was no actual pressure to speak of: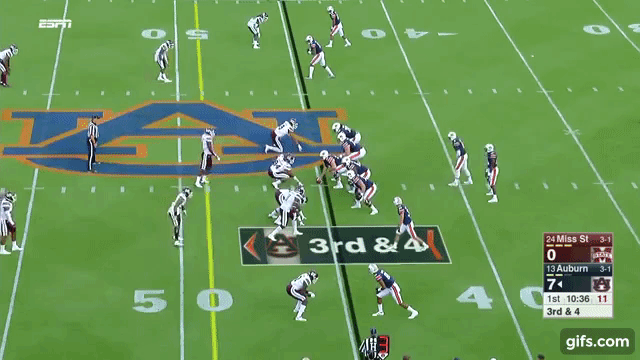 That was a case of Stidham bailing on his reads way too soon, effectively running himself into a sack despite a perfectly clean pocket that should have given him plenty of time to wait for something to develop downfield. Here's the moment he pulled the ball down to scramble: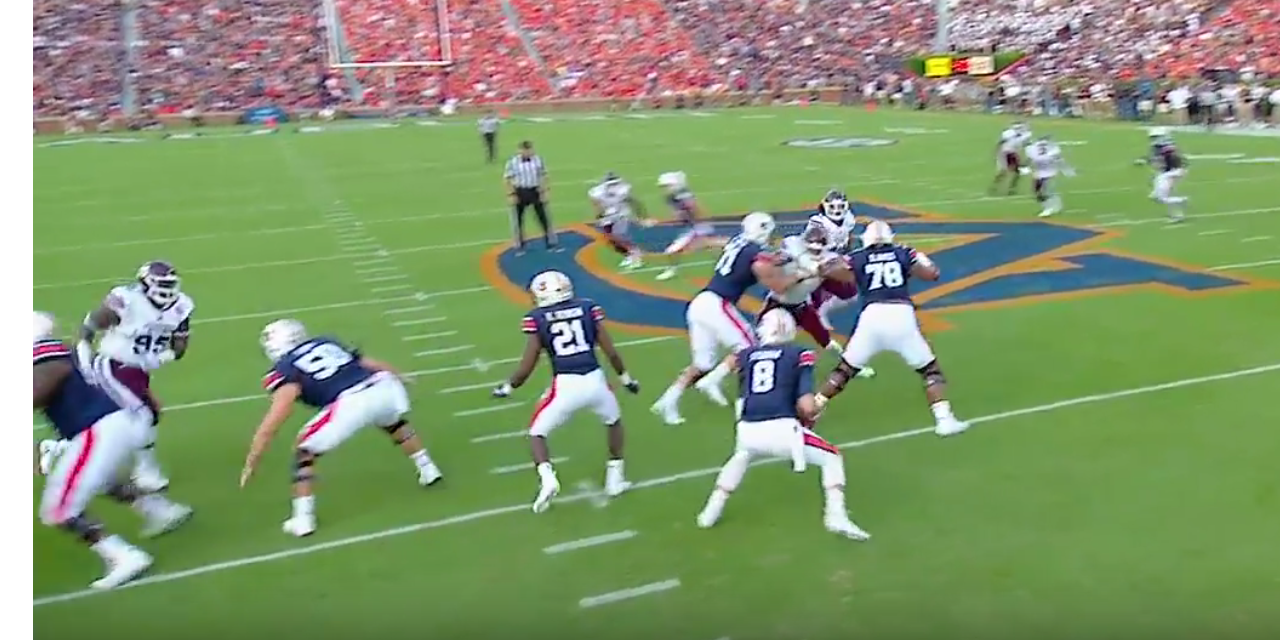 The only reason that gaffe didn't cost Auburn a touchdown is that the officials mistakenly bailed them out with a premature whistle; Mississippi State was subsequently awarded the ball on review but had to settle for a field goal.
And though he is more than capable of side-stepping oncoming rushers, if he sees them in time, Stidham's pocket presence once he's forced to move his feet off of his preferred spot leaves a lot to be desired. On multiple occasions this year he avoided an initial sack, bought enough time to make a play — or get rid of the ball, at worst — and still got sacked anyway, a tendency on display against Ole Miss…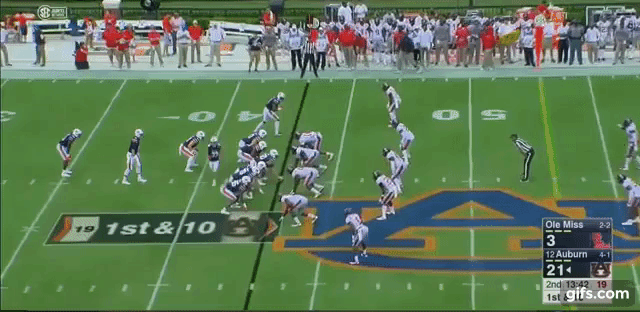 …and LSU…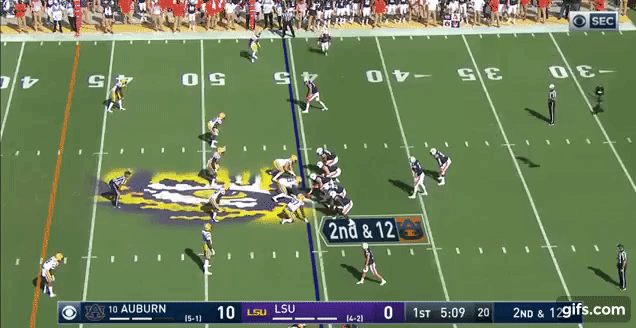 …as well as against Clemson. From the outside, it's impossible to know whether (or to what extent) his issues have anything to do with the fact that Stidham reportedly isn't allowed to audible out of plays at the line of scrimmage. That is itself a good reminder that, as familiar as he might be to Auburn fans at this point, he's still only a redshirt sophomore in his first year in a new system. But presumably it doesn't help.
The Takeaway. Pressure is a major concern this weekend at Texas A&M, which leads the SEC in sacks, and will be against Georgia and Alabama, too, for obvious reasons. At its best, Auburn's offense is about establishing the run and calling its own shots downfield in favorable circumstances. When the ground game is firing on all cylinders and the Tigers push the tempo, they can still rack up yards and points in bunches. In the face of a respectable pass rush, on the other hand, Stidham has looked predictably lost.
The best news for Auburn is that we probably haven't seen him at his best. The blowout win over Mississippi State was close (fumble notwithstanding), but it was also largely the result of the kind of production on the ground (244 yards on 6.3 per carry) that Auburn hasn't replicated against the likes of Alabama, Georgia, LSU, and Clemson post-Nick Marshall. Stidham's limited mobility isn't much help there; he's functional in the zone-read game, at best, but not remotely in the class of Marshall and never will be. At some point, Stidham making the leap from solid starter to legitimate star will mean beating a top-shelf, blue-chip defense with his arm, even when it has no reason to fear the running game. Until then, flashes of brilliance against the likes of Ole Miss, Missouri, and Arkansas are only going to leave Auburn fans wanting more.
QB CURVE POWER HOUR!
Ranking the league's starting quarterbacks heading into Week 10.
1. Jalen Hurts, Alabama. Last year's trip to Baton Rouge was Hurts' worst passing performance of the regular season, by far; this year, LSU's secondary is even better. His performance against the Tigers on Saturday will be a good measuring stick for Hurts' progress as a sophomore. (Last Week: 1)
2. Jarrett Stidham, Auburn. Stidham's not as much of a threat as a runner as Auburn fans had hoped — at least, not yet — but if he can replicate his 49-yard rushing performance against Arkansas on a regular basis it would add a dimension to the Tigers' offense that has been almost entirely missing the past two years. (LW: 2)
3. Nick Fitzgerald, Mississippi State. Fitzgerald has the zone-read dimension mastered, having ripped off three straight 100-yard games. But his limitations as a passer remain obvious and aren't going away. (LW: 3)
4. Jake Bentley, South Carolina. The irony of the Gamecocks' three-game winning streak is that, on paper, those are arguably Bentley's three worst games of the season. In general he hasn't looked the same since losing Deebo Samuel, but for now it's enough that he's managing to stay out of the defense's way. (LW: 4)
5. Jake Fromm, Georgia. I've been teasing a big move from Fromm following the Florida game; instead, he finished 4-of-7 passing on a day when UGA had no real reason to put the ball in the air at all. It's hard to elevate a guy whose only 20-plus-yard completion came on a screen pass to a running back. (LW: 5)
6. Drew Lock, Missouri. Lock, on the other hand, has risen quickly from the depths and might actually be underrated here after a blistering October. At 3-5, the Tigers need to win three of their last four to reach a bowl game and have at least a 44 percent chance in each of them, according to ESPN's Football Power Index. (LW: 6)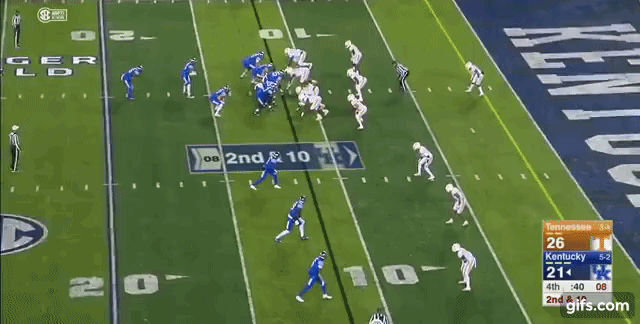 7. Stephen Johnson, Kentucky. Johnson could barely lift his shoulder against Tennessee, managing just 46 yards passing. He also gutted out 86 yards rushing against the Vols and leapt in for the winning touchdown in the final minute, bad shoulder and all, so he's not going anywhere. (LW: 7)
8. Danny Etling, LSU. Etling fended off true freshman Myles Brennan through the most brutal stretch of LSU's schedule, but if things go poorly against Alabama there won't be nearly as much incentive to hold the freshman back down the stretch. (LW: 9)
9. Kellen Mond, Texas A&M. Mond still gets credit for his athleticism, but after a couple of encouraging turns at midseason he is entrenched at this point as the league's most overmatched passer. In his defense, his receiver's aren't giving him a whole lot of help: Against Mississippi State, Damion Ratley let a certain touchdown go right through his hands on A&M's first series, and both of Monds' interceptions were deflections off the hands of his intended target. (LW: 8)
10. Kyle Shurmur, Vanderbilt. Against South Carolina, Shurmur turned in easily his best game of the season vs. an SEC defense, finishing 27-of-49 for 333 yards and four touchdowns; the Commodores still lost, 34-27, dropping his career record as a starter in SEC games to 5-13. (LW: 11)
11. Jarrett Guarantano, Tennessee. Guarantano delivered Tennessee's first remotely promising QB performance of the season in the loss at Kentucky, likely solidifying his status as the Vols' starter through at least the end of the season. If only his head coach could say the same. (LW: 12)
12. Jordan Ta'amu, Ole Miss. Ta'amu accounted for 444 yards and two touchdowns in his first career start, including a 51-yard scoring run right down the heart of Arkansas' defense. He might have moved even higher this week if he hadn't also gifted the Razorbacks a late, crucial touchdown on one of the worst turnovers by an SEC quarterback this year, which is really saying something. Earlier, he threw a very bad interception at a very inopportune moment to help kickstart the Razorbacks' comeback. (LW: 14)
13. Cole Kelley, Arkansas. Kelley didn't do as much as his counterpart statistically, accounting for 211 yards, and a had a couple of ugly giveaways of his own. But the win kept Arkansas (3-5 overall) theoretically alive for a bowl game, which could theoretically turn out to be enough to earn Bret Bielema an improbable lifeline to 2018. (LW: 13)
14. Feleipe Franks, Florida. Georgia teed off on Franks in a soul-crushing, coach-killing blowout, the worst yet in a season full of setbacks. The next coaching staff will have to be prepared for the possibility that one of the gems of Florida's 2016 recruiting class is already broken beyond repair. (LW: 10)