SEC
Monday Down South: Mark Stoops breaks Kentucky's cycle of futility on his own terms
In this column's 2-and-a-half-year existence Kentucky has headlined it exactly once, under the worst possible circumstances: In September 2016, in the wake of a 45-7 massacre at Florida, at the lowest point of Mark Stoops' tenure as head coach. At the time, in fact, describing it as the "lowest point" might have sounded almost optimistic; it would have implied that the situation would get better, that it probably would, that there's nowhere to go but up. The team that limped out of The Swamp that weekend was decidedly not gazing toward some distant light at the end of the tunnel. It was staring down another hopeless slog of a season that ended, inevitably, with Stoops taking his place in the Kentucky coaching graveyard.
In Lexington, that's the circle of life. Stoops, then at the start of his fourth season at UK, had already suffered through losing campaigns in each of his first three, turning in a 4-20 record in SEC play — the exact same record as his doomed predecessor, Joker Phillips, the ninth consecutive head coach to leave Kentucky with a losing mark overall. By early 2016, any hints of forward momentum were immediately wiped out by an ugly, 0-2 start, and Stoops was well on his way to extending the streak to 10. Doubts about his future had less to with wins and losses, of which there promised to be many more, than with how the school would contend with the buyout clause in Stoops' contract.
That was Kentucky football then. This is Kentucky football now:
https://twitter.com/SECNetwork/status/1046239324856111105
That is a bona fide Heisman candidate in a Wildcats uniform, and if you're just tuning in the full scope of how far Stoops' program has come since hitting rock bottom two years ago might leave you even more disoriented than that implies. After fighting its way to a pair of 7-6 finishes in 2016 and 2017, Kentucky is 5-0 this year for the first time since 2007, all five wins coming by double digits, and ranked in the AP Top 25 for the first time since November of that season. (The Wildcats improved four spots after Saturday's more-lopsided-than-it-looks, 24-10 win over South Carolina, rising to No. 13.) Their only other poll appearance in the past 40 years came in 1984, the last time they finished there. They snapped a three-decade losing streak to Florida in decisive fashion and pummeled No. 14 Mississippi State, their highest-ranked victim since the 2010 team upset No. 10 South Carolina.
As of Saturday night they're 3-0 in SEC games for the first time since 1977, which is also the last time Kentucky finished above .500 in conference play. Pause for a second and read that sentence again.
Underlying the record itself, though, is the simple, slightly shocking fact that it's still Stoops' team, which is worth a double take all on its own. In Year 6 he's safely entrenched and, just as improbably, enjoying the fruits of a team built to win in his own image: In contrast to the high-flying, shootout-friendly Kentucky teams that made short-lived bids for relevance under Hal Mumme and Rich Brooks, Stoops' Wildcats are a thoroughly salt-of-the-earth outfit that has thrived by commanding the line of scrimmage on both sides of the ball.
Offensively, Kentucky is the most run-oriented attack in the SEC — more so through five games than Alabama, Auburn, Georgia, LSU, or Mississippi State — and with Snell as the engine leads the league in team rushing yards per game; only Georgia is averaging more yards per carry. Defensively, UK is tied for third nationally in scoring D — alongside Auburn, just ahead of Alabama — after limiting its three SEC victims so far to a grand total of 4 touchdowns between them. The Wildcats rank second nationally against the pass, having just hounded both Nick Fitzgerald and Jake Bentley into one of the worst outings of their respective careers; they're among the top 15 in total defense (12th) and yards per play allowed (14th), ranking among the SEC's best on both counts. Snell's counterpart on defense, unsung edge rusher Josh Allen, is tied for the national lead in tackles for loss.
There's no precedent in the recent history of Kentucky football for any of the above. Given the solid level of competition so far, there's also no sign that any of it is unsustainable over the second half of the schedule.
Unlike the more notable Kentucky teams of the past couple decades, the one piece the current Wildcats aren't sure about yet is quarterback: They haven't asked JUCO transfer Terry Wilson to do much as passer and he hasn't been great when they have. (I'll have more on Wilson in this week's edition of QB Curve.) He is a legitimate threat as a runner, though, and in the context of Kentucky's run-first, Snell-driven philosophy that might be good enough to fulfill the promise of this team's raucous start. The Wildcats have already passed two of their toughest tests in the East and don't have to play Alabama, LSU, or Auburn from the West. ESPN's Football Power Index pegs the Wildcats as heavy favorites in four of their last seven games, projecting a 9-win regular season that would rank as the best in Kentucky that anyone but the most devoted old-timers can remember.
None of which, it must be said, makes Kentucky an imminent threat to Georgia's perch at the top of the SEC East. But the Bulldogs do have to come to Lexington in early November, in between their annual showdowns with Florida and Auburn, and if the Wildcats can take two of their next three against Texas A&M, Vanderbilt, and Missouri, then UGA-Kentucky will carry immediate implications in the conference standings. At that point, the chance to host a meaningful game after the weather turns and basketball season is in full swing would feel like a victory in itself. Given how close the program was to starting over from scratch (again) just a few years ago, it would be a victory. The investment the university made in Stoops' program is beginning to pay off, and suddenly the immediate future is looking unusually bright.
Notebook
Around the conference.
Alabama 56, UL-Lafayette 14: Rat Poison Watch: Yes, Bama completely annihilated the Ragin' Cajuns on a biblical level, cruising to touchdowns on all 6 of its first-half possessions while holding ULL's offense to two first downs in the half and returning a punt for a TD, for good measure. And Jalen Hurts played, thereby silencing all of the imminent transfer hot takes.
More important, in the second the Tide went on to (minor key; a woman screams) miss two field goals, chip shots from 24 and 31 yards out, respectively, the first of which kicker Joseph Bulovas pushed wide right and latter of which he clanged off the upright. Those were the only Alabama possessions that didn't result in points.
Bulovas, a true freshman, came into the game 4-of-5 on field goal attempts after taking over for grad transfer Austin Jones, who missed one of his two field-goal attempts as well as three PATs before ceding the job. Against UL-Lafayette and Western Kentucky, those points hardly matter. Eventually, as Bama fans know better than anyone, they probably will. On an otherwise perfect team, the way this situation has unfolded over the first third of the season is the worst-case scenario.
https://www.instagram.com/p/BoVQss3Dnlz/?utm_source=ig_web_button_share_sheet
Florida 13, Mississippi State 6: For Mississippi State, the sting of losing to Dan Mullen in his return trip to Starkville will fade. Failing to score a touchdown, on the other hand, looks like deep-seated issue: On the heels of last week's offensive flop at Kentucky, the Bulldogs are on the verge of a full-blown crisis. The first two SEC games under Mullen's successor, Joe Moorhead, are two of the worst by any MSU offense in the past decade.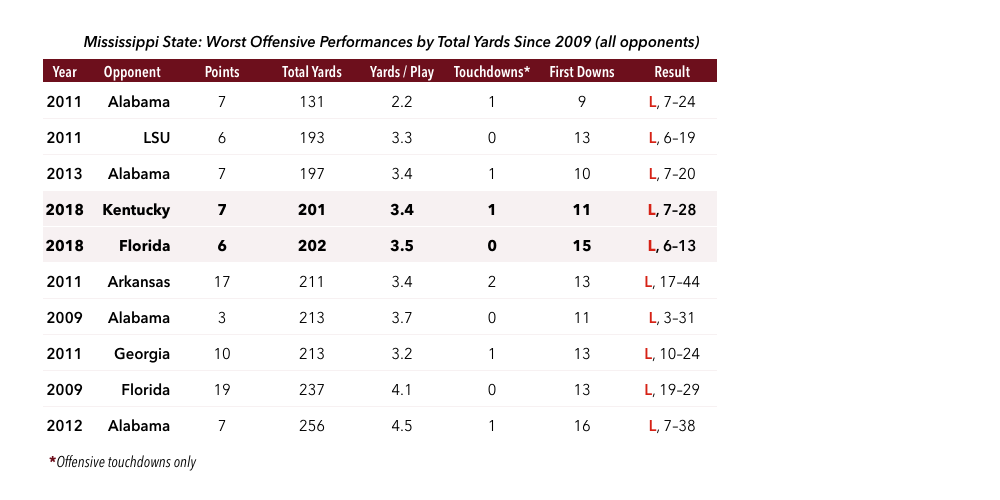 That brand of outright flop grew increasingly rare on Mullen's watch — Mississippi State has easily eclipsed 400 yards per game every year since 2013 — and when it did happen it was at the hands of an elite opponent: Excluding the most recent two, five of the other eight teams on that list went on to play for the national championship and two others (Arkansas in 2011 and Alabama in 2013) finished in the top five. Kentucky's better than usual; it's not that much better.
The slump is particularly disappointing considering the Bulldogs got off to a roaring start offensively in Moorhead's first three games, including a 538-yard, 31-point effort at Kansas State in Week 2 that seemed to reaffirm the preseason hype surrounding this team. Moorhead himself came with a stellar offensive reputation after reviving a moribund attack as Penn State's offensive coordinator. After a second half against Florida that yielded 5 punts, 4 3-and-outs, and one desperate turnover on downs to close the game, the good vibes seems like ancient history.
9/29/18 — Mississippi State's offense goes 3-and-out on three consecutive fourth-quarter possessions vs. Florida pic.twitter.com/zZ0jVS8iHf

— College Football Clips (@CFB_Clips) October 1, 2018
There's a chicken-or-egg quality to the malaise. That starts with QB Nick Fitzgerald, who's handled an extreme workload in the losses, rushing or passing on 96 of the Bulldogs' 118 plays from scrimmage. But it's hard to separate Fitzgerald's issues from the offensive line's inability to open its usual lanes against 7- and 8-man fronts, or to protect him when he drops back to pass: Florida sacked Fitzgerald 6 times and consistently disrupted his throwing lanes, a week after Kentucky hounded him into 3 sacks and a half-dozen hits.
An anonymous group of receivers hasn't been much help, either. Fitzgerald's favorite target over the past two weeks, sophomore Osirus Mitchell, has nine receptions in that span, but none as big as the likely touchdown pass he dropped against the Gators early in the second half. The rest of the receiving corps has been M.I.A., either because they're unable to create separation, Fitzgerald is unable to buy enough to get the ball to them accurately, or some combination thereof.
There's way too much talent on this team for the Bulldogs to keep on averaging 200 yards per game indefinitely. (What happened to Kylin Hill? Hello?) But it's not like the schedule is getting any easier: Four of the next five games are against Auburn, LSU, Texas A&M, and Alabama, against whom Mississippi State's best chance at this rate may be to drag them into a vintage SEC Defense-era punt-fest circa 2011. That's not the direction MSU thought it was headed when it hired Moorhead, and given the expectations he inherited from Mullen his debut is shaping up as a significant disappointment.
Georgia 38, Tennessee 12: I have no emotional investment whatsoever in the outcome of Tennessee games, so it's been fascinating to watch plays unfold the past two weeks that seemed specifically designed to mock whatever vestigial shreds of optimism Vols fans have left.
Last week, tight end Austin Pope capped a critical reception against Florida — on fourth down, no less, in a game Tennessee already trailed by 20 points — by fumbling the ball out of the end zone just before he crossed the goal line, abruptly turning a would-be touchdown into a crippling turnover. On Saturday, the universe phoned in early to remind the Vols exactly where they stood, courtesy of a 3rd-and-9 strip sack of Georgia's Jake Fromm that turned a would-be takeaway on the game's opening drive — or, at worst, a loss that would have knocked the Bulldogs out of field-goal range — into one of the most random, slapstick touchdowns on record.
Touchdown of the year. pic.twitter.com/hYmBmuNJis

— CBS Sports (@CBSSports) September 29, 2018
And so on from there. While this one was a far cry from the collapse in Gainesville, the overall talent gap was on full display and the result was never in doubt: Georgia outgained Tennessee more than two-to-one, 441 yards to 209, nearly identical to the margin in last year's 41-0 beatdown in Knoxville. UT's offense didn't cross midfield until early in the third quarter, by which point the Vols already trailed 24-0. The only solace was that they put enough of a fight from that point on to cover the spread.
There was a brief moment in the fourth quarter, after Tennessee scored to cut Georgia's lead to 24-12 with a little over 11 minutes to go, that the home crowd might have glanced nervously at the clock. But the ensuing drive, a 13-play, 75-yard epic that ate up more than seven-and-a-half minutes en route to a game-clinching TD run by D'Andre Swift, was the most reassuring of the day, mostly because it took place almost entirely on the ground at a point in the game when everyone and their mother knew the Bulldogs had no intention of putting the ball in the air.
Prior to that march, Georgia had run 36 times (including sacks) for 155 yards, or 4.3 per carry; on the clinching drive and the next — which covered 31 yards on just two plays following a Tennessee fumble — they rang up 96 yards rushing on 6.9 per carry, with six ball carriers getting in on the action. That's much closer to what we saw from the Bulldogs during last year's run to the national title game. And for all the talent in the passing game, those kinds of soul-crushing moments are the ones that will ultimately define Jim Chaney's offense and his mammoth o-line as a championship unit.
And Justin Fields with his second TD rush #UGA #UGAvsTENN pic.twitter.com/ylHAGNfQE2

— Gil Pound @U-R News (@GilPound_URNews) September 29, 2018
UGA's fourth-quarter possessions also gave most of us our first extended look at its 5-star freshman quarterback, Justin Fields, who briefly took over on the two scoring drives and made a strong case for a regular, Tebow-esque role in the offense going forward. Earlier in the second half, Fields replaced Fromm in the red zone and proceeded to score on a 12-yard run on which he simply outran Tennessee's pursuit to the corner and shook off a tackle on his way to the end zone. Later, he capped Georgia's final drive with a 15-yard run on a simple zone read look. For just a handful of snaps, he looked the part.
Although Fields has acquitted himself well as a passer in blowout wins over Austin Peay and Middle Tennessee State, coaches haven't trusted him yet to put the ball in the air against SEC defenses; in wins over South Carolina, Missouri, and Tennessee, he's just 2-of-3 for 13 yards. That doesn't mean they won't be willing to take the reins off at some point in the near future, though, and in the meantime Fields is clearly a useful addition to a backfield that prefers to share the wealth rather than lean on individual workhorse. Until now the prospect of a dynamic runner in the zone read game was just about the only threat opposing defensive coordinator didn't have to worry about during Georgia week; with Fields, it's just one more lethal option at Cheney's disposal.
Texas A&M 24, Arkansas 17: The Aggies led the SEC in sacks last year under then-defensive coordinator John Chavis, and after a slow start this year they finally brought the heat Saturday for Chavis' successor, Mike Elko: A&M's 5 sacks against the Razorbacks matched its season total through the first four games combined. A couple of Aggies, seniors Landis Durham and Kingsley Keke, got on the board twice.
Even against Arkansas, that's an encouraging step for a unit that's still unsure where it falls in the conference pecking order: The Razorbacks' final output in terms of total yards (248) was the second-lowest A&M has allowed to an SEC opponent since joining the league, coming in ahead of only a 2015 shutout over Vanderbilt. Altogether, the Hogs' 12 possessions for the game yielded 8 punts, 7 3-and-outs, and an interception to bring the proceedings to an end. For what they're paying Elko, maybe that should be the baseline.
Superlatives
The best of Week 5 …
1. Kentucky LB Josh Allen. Allen, a former 2-star recruit form Montclair, N.J., continued to assert himself as the face of Kentucky's defensive surge with a career night against South Carolina: 8 tackles, 6 solo, 4 behind the line of scrimmage, 3 of them sacks. Beyond the official takedowns, he also logged a QB hurry, supplied the pressure that led to one of the Wildcats' three interceptions, and forced a fumble on the Gamecocks' final possession — thus wrapping up arguably the best September of any SEC player not named "Tagovailoa."
Your Josh Allen supercut.

Monster. pic.twitter.com/2bXqROacHa

— Scott Charlton (@Scott_Charlton) September 30, 2018
2. LSU QB Joe Burrow. Look, Ole Miss' defense is bad. (How bad is it?) It's so bad that LSU's eye-opening output on Saturday night's blowout win over the Rebels — 573 total yards on 7.6 per play — actually came in slightly below their eye-opening output in last year's blowout win over the Rebels in Oxford; it marked the fourth year in a row the Tigers have topped 500 yards in the series. In that sense, Burrow has still yet to do anything on paper this season that his perennially middle-of-the-pack predecessor, Danny Etling, didn't.
Still, if Burrow is on his way to becoming a first-tier quarterback then his stat line vs. a rock-bottom D was exactly what it should have been: 18-of-25 passing for 292 yards, 3 touchdowns, and 0 turnovers, good for the best efficiency rating of any SEC passer on Saturday with at least 10 attempts. Surprisingly, he also added a team-high 96 yards on the ground, including a late, 35-yard TD run to cap the scoring. (His previous long run this season covered just 13 yards.) Not that anybody is about to mistake Burrow for Cam Newton, but the mere concept of a running threat from LSU's quarterback is a new element for opposing defenses to contend with. The Tigers still have a formidable stretch ahead, but their outlook is looking a little better by the week.
3. LSU DB Grant Delpit. On the defensive side, Delpit was his usual ubiquitous self against Ole Miss, finishing with 5 tackles (3 of them for loss, 1 them a sack), a QB hurry, and a PBU to go with his highlight-reel interception on the game's opening series:
Grant Delpit, ladies and gentlemen. pic.twitter.com/7vLc8emCVf

— Cody Worsham (@CodyWorsham) September 30, 2018
On top of his cover skills, Delpit actually leads the team in TFLs from his roving safety/nickel role, a testament to his Jamal Adams-like versatility on every level of the defense. He belongs in the thick of the midseason All-America mix along with his more hight-profile teammates Devin White and Greedy Williams.
4. Alabama WR/PR Jaylen Waddle. The youngest member of Bama's explosive receiving corps touched the ball just four times against UL-Lafayette but scored on three of them: In the first quarter, on 63-yard punt return; in the second, on an easy, 20-yard lob from Tua Tagovailoa; and in the third, on a 94-yard catch-and-run from third-stringer Mac Jones. Altogether that comes out to 201 yards on 50.3 yards per touch, vaulting Waddle (for now) all the way to the top of the Tide's all-purpose leaderboard on the season.
As a group, Bama's top three receivers against the Ragin' Cajuns — Waddle, Henry Ruggs III, and Jerry Jeudy — combined for 312 yards and 4 touchdowns on 10 receptions, 7 of which went for gains of at least 20 yards.
5. Tennessee LB Darrell Taylor. Before Saturday, Taylor, a redshirt junior, had recorded a grand total of 3 sacks in his first 3 years on campus. Against Georgia, he recorded 3 sacks in the first 3 quarters, emerging as one of the few bright spots on a team in desperate search of playmakers. Two of his takedowns resulted in fumbles, both of which were (of course) recovered by Georgia and converted immediately into points, which is just the way it's breaking for Tennessee right now. But going forward a reliable pass rush off the edge would be something for the defense to hang its hat on, at least.
Honorable Mention: Texas A&M RB Trayveon Williams, who churned out 152 yards and 2 TDs on a career-high 29 carries in the Aggies' win over Arkansas. … Arkansas LBs Dre Greenlaw and De'Jon Harris, who combined for a whopping 29 tackles against the Aggies — roughly half the total for the entire team — plus 2 interceptions (both by Greenlaw) and two TFLs (both by Harris) in a losing effort. … Auburn LBs Deshaun Davis and Darrell Williams, who combined for 19 tackles and 5 of the Tigers' dozen TFLs against Southern Miss. … Kentucky DB Darius West, who was credited with 9 tackles and a pair of passes broken up to go with a key interception in the first half. … Alabama DB Trevon Diggs, who notched a forced fumble and an interception against UL-Lafayette. … And Vanderbilt WR Kalija Lipscomb, who hauled in 9 catches for 174 yards and 2 TDs in the Commodores' alarmingly close win over Tennessee State, including the eventual game-winner from 68 yards out in the fourth quarter.
Demerits
… and the worst.
Ole Miss' unnecessary roughness. The Rebels' loss in Baton Rouge was chippy throughout, and as LSU pulled away in the second half Ole Miss' frustration bubbled over in the form of two brazen out-of-bounds hits. The first was an inexcusably late collision by linebacker Kevontae Ruggs, who not only hit Tigers WR Justin Jefferson well past the line in the third quarter but actually launched himself with both feet to do so: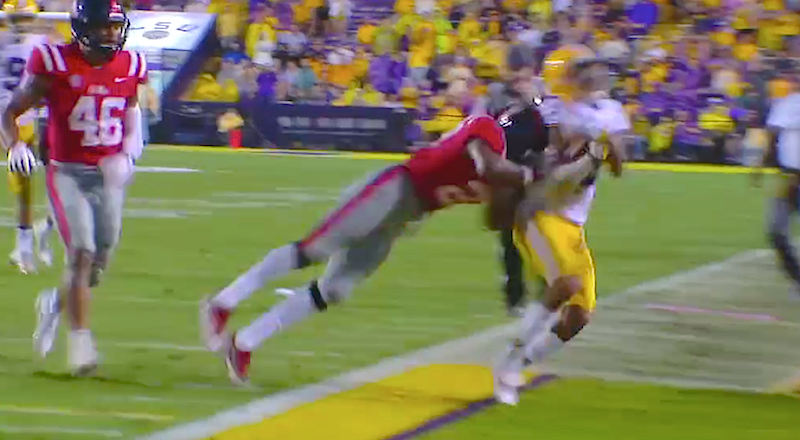 Jefferson was fine, thankfully; Ruggs was ejected, correctly. The second came on Joe Burrow's long touchdown run late in the fourth quarter, which ended with him being pointlessly shoved from behind as he crossed the goal line by Ole Miss DB Zedrick Woods, who knocked Burrow all the way into the wall surrounding the field and subsequently had to be separated from a scrum of LSU players to prevent a scuffle. (Woods was flagged for unsportsmanlike conduct.) Add in another 15-yard penalty for egregiously roughing the punter — extending an eventual touchdown drive to open the second half, the same one on which Ruggs delivered the hit that got him thrown out — and you have an all-around unsportsmanlike night.
Altogether Ole Miss was flagged a staggering 17 times (the most by an SEC team since Texas A&M drew 19 flags against Nevada in 2012) for 167 yards, the most by an SEC team this century.
Arkansas' special teams (Again). It wasn't an across-the-board meltdown on the level of last week's debacle at Auburn, or a viral embarrassment like the one North Texas inflicted on the Razorbacks the week before that. But Arkansas' long-suffering kicking game was victimized on the opening kickoff Saturday by Texas A&M freshman Jashaun Corbin — the third consecutive week the Hogs have allowed a kickoff or punt return to go the distance. In this case it was the only notable infraction, but also turned out to be the difference in a 24-17 final.
Texas A&M freshman Jashaun Corbin's first collegiate kick return goes for six. pic.twitter.com/pkHx3rrWN5

— Ben Baby (@Ben_Baby) September 29, 2018
Jimbo gets physical. Fisher's hardly the first coach to lay his hands on a player in a moment of frustration, and he surely won't be the last. But he is the first in a good long while to be caught doing it on camera, when he briefly grabbed linebacker Tyrel Dodson by the facemask on Saturday while separating Dodson and an Arkansas player late in the third quarter.
Jimbo about to called for targeting in Dallas….pic.twitter.com/Wcot63kG5B

— Saturday Down South (@SDS) September 29, 2018
Fisher said after the game he was only trying to prevent one of his best defenders from being ejected from a close game — "There ain't no sense to go out there and push and shove and do dumb things out there when you're locked in on a game. … I don't need (Dodson) pushing and shoving out there and getting thrown out of the game. (I told him), 'I need you, partner.' If I'm gonna win this game, I need Dodson." — and for his part Dodson went out of his way to stand up for his coach:
https://twitter.com/tdots25/status/1046151752020611072
Fine. Dodson can handle himself. As a general rule, though, reacting aggressively in response to a player being too aggressive might not be the soundest managerial style, and physically grabbing a player is a line a coach should never cross. Possibly for his own good.