GEORGIA
QB Curve: Jake Fromm is still Georgia's best shot to win big. But for how much longer?
Quarterbacks: There are a lot of them! Each week, QB Curve will keep you up to speed on the game's most important position by putting a different SEC signal-caller in the spotlight and putting the rest of the field in perspective. Previously: Tua Tagovailoa vs. Jalen Hurts … Jake Bentley … Jordan Ta'amu … Drew Lock … Jarrett Guarantano … Joe Burrow … Jarrett Stidham
QB of the Week: Jake Fromm
As of last week, Fromm was riding high as the entrenched starter on the No. 2 team in the nation. This week, he's coming off the worst performance of his career in a deflating, 36-16 loss at LSU, and facing serious questions about his status as Georgia's margin for error the rest of the season drops to zero. All of the Bulldogs' larger goals are still intact, including SEC and national titles. But whether Fromm or true freshman Justin Fields is the best option to fulfill them is suddenly up for debate in a way it had not been before last weekend. How that debate is settled could be one of the most consequential decisions of the 2018 season, and for the broader trajectory of Kirby Smart's program.
1. Same, yet different
When you're already one of the most efficient passers in the nation, that's just fine. Fromm was steady enough last year to deliver the Bulldogs within one play of a national title, and so far this year he's picked up pretty much right where he left off: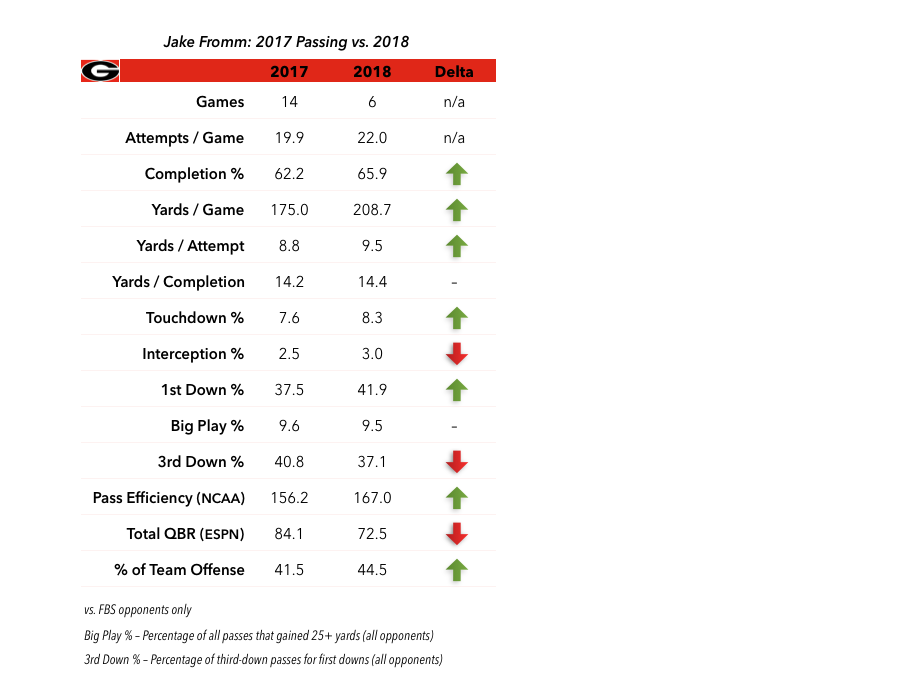 That's not the sort of overwhelming progress that figures to move the needle where Heisman buzz is concerned, but for a young, pocket-bound QB in a run-first system those are year-over-year returns you can take to the bank. Even after the setback in Baton Rouge, Fromm ranks eighth nationally vs. FBS opponents in both yards per attempt and overall efficiency, virtually identical to last year's finish (eighth and 10th, respectively) on both counts. The offense as a whole is slightly ahead of its 2017 pace in terms of scoring offense, total offense, and yards per play; in Offensive S&P+, UGA is up from 14th to sixth.
A full season vs. a half-season isn't a foolproof comparison, especially given that in the latter case Fromm has only faced one really significant test to date and flunked it. For the most part, though, the arrows are pointing solidly in the right direction.
A full season vs. a half-season isn't a foolproof comparison, especially given that in the latter case Fromm has only faced one really significant test to date and flunked it. For the most part, though, the arrows are pointing solidly in the right direction.
2. … Including the deep ball
As aspiring first-rounders go, Fromm isn't huge (6-2, 225 pounds, officially) and generally gets more credit for his accuracy and touch than for having the type of big, next-level arm that keeps safeties on high alert. (For comparison's sake, it probably didn't help that the guy he replaced as QB1, Jacob Eason, had a rep for possessing one of the biggest arms in the country.) Although he had his moments last year — almost always on play-action, against defenses so preoccupied with stopping the run they left themselves ripe for the picking — glimpses of Fromm's downfield prowess were relatively few and far between.
This year, that perception is beginning to look outdated. Fromm kicked off 2018 with the sweetest throw of his entire freshman campaign, an on-the-money, 3rd-and-long lob to Mecole Hardman Jr. that covered nearly 50 yards in the air …
… and seemed make a pointed effort over the first half of the season to keep going long on a regular basis. Almost all of his top targets have had their turn on the receiving end of a bomb. Jeremiah Holloman got his in Week 3, on a 65-yard connection that may as well have been a friendly toss across the patio:
Jake Fromm with the beautiful throw to Jeremiah Holloman pic.twitter.com/Mt5FkU6fj1

— WeRunThisState (@garunsthisstate) September 15, 2018
Hardman (who usually specializes in turning short passes into long gains after the catch) got his bomb on against Missouri, on a deep post that hit pay dirt from 54 yards out:
9/22/18—Georgia's Jake Fromm 54-yard TD pass to Mecole Hardman vs. Missouri pic.twitter.com/RuDrFUfk7b

— College Football Clips (@CFB_Clips) October 16, 2018
And Terry Godwin, who has been largely absent due to nagging injuries, showed up in a big way against Vanderbilt, on a 75-yarder that hit him in such perfect stride it all but carried him into the end zone:
https://twitter.com/SECNetwork/status/1048728659186655233
Fromm benefits enormously from throwing to that group, which — along with Riley Ridley and Demetris Robertson — stacks up pound-for-pound with the best receiving corps in the college game. It's no coincidence, either, that nearly all of his successful deep shots this year have come on first down (see below), with copious amounts of time to scan the field and set his feet. But they also benefit from his ability to deliver a catchable ball that takes advantage of their speed, a dimension that makes the entire offense more dangerous by implication.
3. Georgia's offense is still at its best when the quarterback is asked to do the least
For skeptics, the major knock on Fromm as a freshman was that he was too often propped up by a dominant ground game that made his life easy: No other full-time SEC starter accounted for a smaller share of his team's total offense for the season, and the Bulldogs' only regular-season loss, a 40-17 wipeout at Auburn, coincided with their worst rushing performance of the year, by far. (Without his usual run support, Fromm struggled vs. the Tigers to a much greater extent than his final stat line indicated.) In that vein, it was hardly surprising last weekend that the worst passing performance of his young career came in the same game in which he set a career high for attempts.
The flop at LSU was the worst-case scenario for Georgia's offense unfolding in slow motion, because it was partly self-inflicted. As I pointed out in my Monday review, LSU didn't stop the Bulldogs from running so much as the Bulldogs accidentally abandoned it. On its second possession of the game, UGA ran on nine consecutive plays for 71 yards, driving inside the LSU 20-yard before the drive stalled out on back-to-back incompletions by Fromm and ended with a fake field goal attempt that was doomed from the start. From that point on, the ground game was almost irrelevant. On the Bulldogs' next series, they went 3-and-out on three consecutive Fromm passes; on the next two series after that, they opened with runs on first and second down and bowed out with an incomplete pass on third.
By drive No. 6, Georgia trailed 16-0 with time running out in the first half, and any pretense of running their way back into the game was out the window — altogether, D'Andre Swift and Elijah Holified averaged a robust 6.7 yards per carry between them, yet barely touched the ball after the first quarter. Fully half of the team's 139 rushing yards for the day (not including sacks) came on that early possession alone.
In Georgia's offense, when the quarterback is dropping back to pass twice as often as he's handing off to his top backs, something has gone very wrong. For his part, Fromm was a dismal 2-of-11 passing on Georgia's first five possessions and erratic thereafter, including two interceptions in the second half. Again, when pressed into serving as the focal point of the offense, the offense largely ground to a halt.
Top story: @CBSSports: 'Goodness gracious.
Kristian Fulton pulled off something special on this @LSUFootball interception. ' pic.twitter.com/9Pt1KSlb18, see more https://t.co/8ZWNooRy5j

— Gabriel Klause (@gabreilklause58) October 14, 2018
4. Third downs are an issue
The numbers pretty well speak for themselves, most loudly on 3rd-and-long:
Yes, almost all quarterbacks struggle on obvious passing downs, but even conceding the small sample size, that's a significant gap. It's also a huge decline from 2017, when Fromm led the SEC in third-down efficiency. (This year he ranks 13th out of 16 qualified passers.) Those numbers paint a very different, much less encouraging picture than the steadiness in his overall production: On first and second downs — i.e. running downs — his efficiency is significantly up; when the offense falls behind schedule, it plummets to an alarming level.
5. There's a role in the offense for Justin Fields
The scope of that role isn't yet clear, and it would be way premature to relegate Fromm to the scrapheap after one bad afternoon against a top-shelf defense on the road. At this point, the clamor for Fields seems to have less to do with anything he's actually accomplished off the bench — coaches clearly don't trust him yet to put the ball in the air in a game that matters — than with fulfilling some overarching narrative about the State of the Position for teams aspiring to a title: Alabama only prevailed in the championship game because it was willing to bench its plays-within-the-offense incumbent for his 5-star understudy on the biggest stage, a move Clemson has already replicated this year with a freshman who was only marginally more touted than Fields. If a blue-chip QB is a prerequisite for winning it all, why should Georgia delay the inevitable?
But the notion that Fields is the chosen one likely overstates his deficiencies at this point as an every-down option: A guy who has attempted a grand total of three passes vs. South Carolina, Missouri, Tennessee, and LSU is not being groomed to take the reins in the Playoff. And it underestimates Fromm, who after all came pretty highly touted in his own right and acquitted himself well last year in three maximum-stakes postseason games. He's 18-3 as a starter and remains entrenched. For now.
Fields is a no-brainer asset in the running game, where Fromm is a nonentity, and offered a promising glimpse of his potential in that department in closing out the win over Tennessee. His presence alone forces defense to play 11-on-11 vs. zone-read looks, thereby creating space for Georgia's other backs even on obvious running downs. The ideal scenario down the stretch would be a clearly defined division of labor like the one Florida employed en route to the national championship in 2006, with Fields assigned to Tebow-esque cameos opposite Fromm's Chris Leak.
Bottom line, it's impossible to win a championship in 2018 being one-dimensional. And while the Bulldogs' path back to the top still begins with establishing the run, it ends with Fromm's ability to extend drives with his arm in obvious passing situations. If he turns that corner, Georgia is fully equipped to run the table and make good on the promise that narrowly slipped from its grasp last year. If not, 2019 looms as a full-blown controversy.
Matthew Stafford Arm of the Week: Tua Tagovailoa
Tua and his dynamic wide receivers are so far ahead of the pack that at times this season it has seemed like the only thing stopping them from scoring on any given play is some sense of decorum. Alabama is not in the Big 12. That sort of wanton touchdown mongering is simply not done, you see. But when the reins come off, the results are spectacular.
That strike, covering 81 yards in all, goes in the books as a career long for Tagovailoa and his target, Jerry Jeudy, although with these two it's probably best to leave an extra space or two above that entry to be filled in shortly — Jeudy already has five other receptions covering at least 40 yards and leads the nation in yards per catch; one of every three receptions is a touchdown.
On this one, notice a) how easily Tua is able to move the Tigers' single-high safety out of the middle of the field by initially feinting a quick throw into the flat, and b) how much time he has to reset in the pocket, survey the coverage, put on some coffee, and check his e-mail before letting it rip. The defense that can account for that level of protection, for that level of quarterback, throwing to that level of receiver, has yet to be invented.
QB Curve Power Hour!
Ranking the league's starting quarterbacks heading into Week 8.
1. Tua Tagovailoa, Alabama. Bama has gone out of its way to get Jalen Hurts involved with Tua still in the game each of the past two weeks, presumably for no other reason than to give defensive coordinators one more thing to lose sleep over. Against Missouri the Tide brought Hurts in to take a jet sweep handoff to the left, then wheel around and throw a bootleg pass in the opposite direction, which is the kind of thing you could only come up with when you're spending most of your time figuring out new ways to screw with people. (Last Week: 1)
2. Jordan Ta'amu, Ole Miss. I've been hesitant to get too carried away over Ta'amu's raw production, which has come mostly at the expense of rock-bottom defenses; in losses to Bama and LSU, Ole Miss' offense shriveled up and died. I also decided to take midseason as an opportunity to reassess the pecking order in this section, specifically by rating each starter in four categories — pass efficiency rating, Total QBR, total yards (passing and rushing), and individual share of his team's total offense — and by those measures Ta'amu is easily outpacing every mainlander in the conference: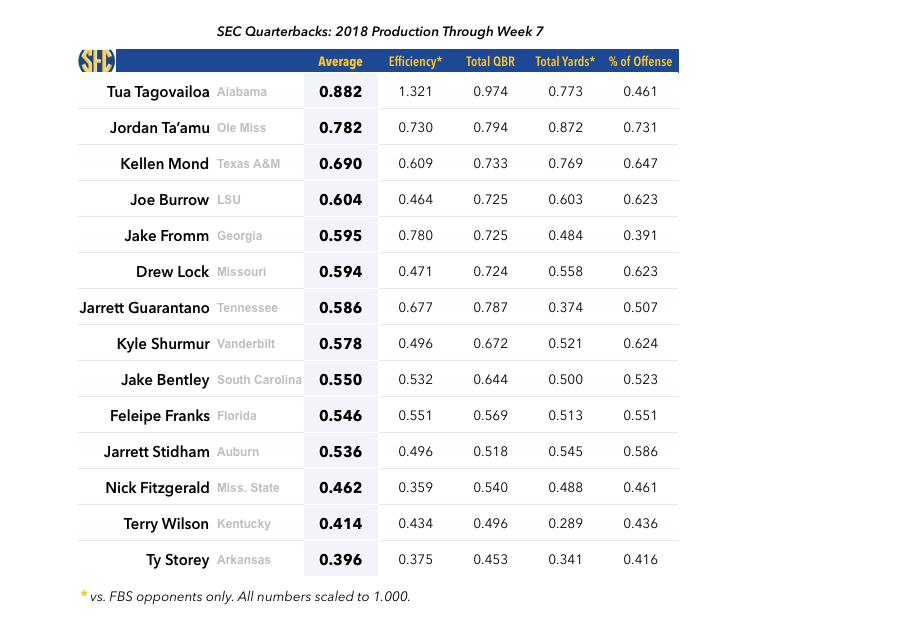 That's more of a baseline exercise, so the rest of the rankings don't follow that order exactly. (The chart doesn't account for everything, and the middle rungs are as tightly packed there as they are off the top of my head.) But with so many of the league's most high-profile QB trending down at the moment, anybody who comes in that far ahead of the curve in the wake of a career night deserves the benefit of the doubt. (LW: 4)
3. Kellen Mond, Texas A&M. Last year, Mond's completion rate was just 51.5 percent, worst in the conference. This year, he's eclipsed 60 percent in five of seven games, coming up short of that mark only against Clemson (which he otherwise carved up for 430 yards and 3 TDs without an interception) and Alabama. (LW: 6)
4. Jake Fromm, Georgia. I fully expect Fromm to move back into the first runner-up slot over the next few weeks. But the Bulldogs can't keep him in 1st-and-10 forever. (LW: 2)
5. Drew Lock, Missouri. Lock is coming off a miserable three-game stretch, mitigated only by the fact that most other quarterbacks playing Georgia, South Carolina in a monsoon, and Alabama in consecutive weeks also would come out of it looking the worse for wear. Considerably fewer of them would manage to do this …
Drew Lock is patient pic.twitter.com/8JR5iX3M47

— Represent Mizzou (@RepresentMizzou) October 13, 2018
… which happens to be Lock's only touchdown pass in a month but no less impressive for it. (LW: 3)
6. Joe Burrow, LSU. In possibly the most LSU statistic of all-time, Burrow has led three wins over top-10 opponents (based on their ranking at the time) despite failing to complete more than 50 percent of his passes in all three games. I'm tempted to say that's not going to cut it against Bama, but for once I'll give grit the last word. (LW: 9)
7. Feleipe Franks, Florida. Franks' year-over-year improvement is second only to Mond's, and he arrives at the Gators' off week riding a 5-game winning streak. When he takes the field against Georgia he'll be about as far away from where he was at the same point on the calendar last year as it's possible to be. (LW: 8)
8. Jake Bentley, South Carolina. Saturday's 26-23 loss to Texas A&M was the Gamecocks' eighth consecutive against a ranked opponent, a streak dating to their 2016 win over Tennessee in Bentley's second career start. How much Carolina as a team or Bentley individually has improved in that span is debatable. (LW: 10)
The Week 7 National Team of the Week on offense is headlined by Tennessee QB Jarrett Guarantanohttps://t.co/bh1GM96m4g pic.twitter.com/X7JRM9iH68

— PFF College (@PFF_College) October 14, 2018
9. Jarrett Guarantano, Tennessee. Guarantano came in for a litany of weekly awards on the heels of Tennessee's 30-24 upset at Auburn, including SEC Offensive Player of the Week, Maxwell Award Player of the Week, and an appearance on Pro Football Focus' National Team of the Week, where he received the highest Week 7 grade of any offensive player in the country at any position. That might be a bit excessive, but if it's a sign of things to come Vol fans might have to face the possibility that they'll soon experience what some might interpret as positive emotions. (LW: 12)
10. Kyle Shurmur, Vanderbilt. In quintessential Vandy fashion, the Commodores jumped out to a 21-3 lead over Florida in a game they eventually lost by 10. With that, they're off to an 0-3 start in SEC play for the sixth year in a row. (LW: 11)
11. Nick Fitzgerald, Mississippi State. Fitzgerald suffers the biggest fall in the midseason realignment, due entirely to his horrendous stat line as a passer. It has never been good, but for a guy who has been looking to turn it around for a couple years now, the fact that his overall efficiency rating has continued to decline would seem to rule out a dramatic about-face over the second half of the season. (LW: 5)
12. Jarrett Stidham, Auburn. I don't think it makes sense for Auburn to bench Stidham, who ended last year at No. 1 in this section and started out there this year, but the fact that it's even up for debate is a grim reminder of how far his stock has fallen in just a few weeks. If the plunge continues against an Ole Miss defense allowing almost 500 yards per game — with Texas A&M, Georgia, and Alabama still on deck — it might be time to turn the page. (LW: 7)

13. Terry Wilson, Kentucky. Wilson has attempted fewer passes (113) for fewer yards (703) and touchdowns (3) than any other opening-day starter in the SEC who still has the job. The longer it stays that way, the better for the Wildcats. (LW: 13)
14. Ty Storey, Arkansas. Storey reportedly returned to practice Tuesday after taking a big, avoidable hit against Ole Miss that knocked him out of the game and arguably cost his team the game. (The Razorbacks watched a 33-24 lead evaporate in his absence into a 37-33 loss, sealed by a last-gasp interception from the arm of backup Cole Kelley.) Storey has clearly separated himself from Kelley after a month of musical chairs to open the season, but it hardly matters if he's unable to remain in one piece. (LW: 14)