SEC
QB Curve: Feleipe Franks is better than you remember. Is that enough for Florida to take the East?
Quarterbacks: There are a lot of them! Each week, QB Curve will keep you up to speed on the game's most important position by putting a different SEC signal-caller in the spotlight and putting the rest of the field in perspective. Previously: Tua Tagovailoa vs. Jalen Hurts … Jake Bentley … Jordan Ta'amu … Drew Lock … Jarrett Guarantano … Joe Burrow … Jarrett Stidham … Jake Fromm
QB of the Week: Feleipe Franks
Typecasting: The Comeback Kid
There's no way to put it nicely: As a redshirt freshman, Franks was a wreck. He started slow, hit bottom in a coach-killing loss to Georgia, and never recovered. Among full-time SEC starters, he finished dead last (by a wide margin) according to ESPN's QBR metric, and next-to-last in pass efficiency; as a team, Florida lost 6 of its final 7 — the only win coming at the expense of UAB — averaging barely 16 points per game in the losses.
That kind of descent goes far beyond "growing pains." By the end of the year, the situation was desperate enough that it seemed fair to ask whether Franks was broken beyond repair, and whether the new coaching staff might be better off hitting reset behind the gem of the incoming recruiting class, Emory Jones, who defected from his commitment to Ohio State last December with the implicit promise that he'd have every opportunity to supplant Franks at the top of the depth chart. But that did not happen, and it's not going to anytime soon: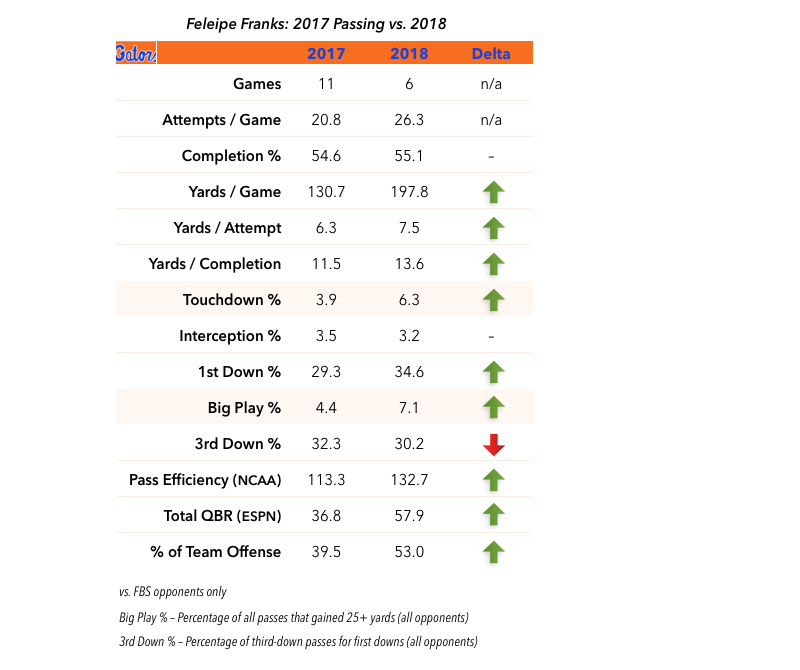 The numbers in the middle column aren't anything to write home about on their own; Franks still falls squarely in the middle of the pack across the board. When you're starting from the bottom, though, the middle of the pack represents a solid step forward.
In the context of the rest of Florida's team, middle of the pack is viable: Halfway through Dan Mullen's debut season, the Gators are 6-1, ranked in the top 10, and — for one more week, at least — very much in the thick of the SEC East race heading into their annual showdown with Georgia. Scoring is up by almost two touchdowns per game. Franks ended last season with nowhere to go but up, and the first half of this season is what up looks like.
The good
Mullen's offense is a decidedly run-first affair, as advertised, averaging just shy of 200 yards per game on the ground and coming off a series of identity-establishing games against Tennessee (201 yards on 5.9 per carry), LSU (215 on 5.0 per carry), and Vanderbilt (292 on 4.6).
Franks' contributions on that front have been modest but effective, especially in short-yardage; no one's about to confuse him for an every-down running threat on the order of Dak Prescott or Nick Fitzgerald in the zone-read game, but at 6-6, 240 pounds he's every bit as big as the typical Mullen grinder, and he's converted 6 of his 7 carries on 3rd-and-3 or less into first downs. On the Gators' late, go-ahead touchdown drive against LSU, he took a QB draw for a key first down on 3rd-and-7, followed immediately by a trick-play reception that set up the score. He's willing to lower his shoulder on a goal-line plunge, as well, which helps to open up the playbook in other ways.
With the ground game taking center stage, it comes as no surprise that the lion's share of Franks' improvement as a passer has come on first down, where he's averaging a healthy 8.5 yards per attempt with 9 TDs to just 1 interception, much of that the result of defenses forced to respect play-action. Given time, he also has enough functional mobility to extend plays outside of the pocket and throw accurately on the run, one result of which was the Gators' biggest gain of the year to date against Tennessee:
9/22/18—Florida's Feleipe Franks 65-yard TD pass to Freddie Seain vs. Tennessee. pic.twitter.com/QEWPd45KNo

— College Football Clips (@CFB_Clips) October 24, 2018
From the pocket, Franks has shown encouraging flashes as a downfield passer that were almost entirely missing from his game in 2017: Improved accuracy and touch on deep balls, better awareness on intermediate routes, and an increased willingness to give his blue-chip receivers a chance against man coverage. When he's on point, it looks like a scout's dream.
10/6/18—Florida's Feleipe Franks 49-yard pass complete to Joshua Hammond vs. LSU pic.twitter.com/wKuqCuINwJ

— College Football Clips (@CFB_Clips) October 24, 2018
Even a concept as basic as a smash route would have been a dicey proposition last year; this year, it worked for a big gain in the Gators' win over LSU, with a perfect read and throw from Franks to set up an easy touchdown on the next play (Hammond stepped out of bounds at the 3):
9/22/18—Florida's Feleipe Franks 35-yard pass complete to Joshua Hammond vs. LSU pic.twitter.com/QeZGR4wAIn

— College Football Clips (@CFB_Clips) October 24, 2018
That's a coverage bust by LSU, but one Franks was able to anticipate and exploit by delivering the ball on time into a relatively small window. As long as the running game is producing, Florida only needs a couple of these types of throws per game to keep secondaries honest, and so far it's getting them.
The not-so-good
Complaints about Franks are the usual ones for a young, plays-within-the-offense QB: He's still inconsistent with his reads, often slow to pull the trigger, and reliably struggles to make good things happen on obvious passing downs. (On 3rd-and-7 and longer he's converted just 5-of-25 attempts.) His overall completion percentage has hardly budged. And occasionally very bad things still happen, too, including red-zone interceptions in each of the past two games against LSU and Vanderbilt.
Grant Delpit said his interception against Florida was the second-easiest opportunity of his career, thanks to pressure from Breiden Fehoko. The first: he dropped it against Miami in week one.

Also says his celebration was a nod to Kodak Black. pic.twitter.com/vfu5k8WCWs

— Cody Worsham (@CodyWorsham) October 8, 2018
Red-zone efficiency notwithstanding, though, the next major step on the growth curve is becoming a more consistent threat to connect on big plays downfield. If there's anything we know for an absolute fact about Franks athletically, it's that he boasts a monster arm …
… which one would think he'd and his coaches would be eager to show off as often as possible. But Franks rarely went long last year — for example, the Hail Mary bomb to beat Tennessee was his first completion of the entire game that traveled more than 5 yards in the air — and finished with just 13 passes that gained at least 20 yards; that ranked 16th in the SEC.
The new-and-improved Franks has hit 16 passes that covered 20 yards, which ranks 10th. Three of those came in the season-opening win over Charleston Southern; several more have come on run-after-catch opportunities, including a screen pass against Vanderbilt that broke for a 63-yard gain and a short, quick slant against the Commodores that went for a 38-yard touchdown. Those two plays alone accounted for than a third of Franks' career-high 284 passing yards in that game.
It's to Mullen's credit that he's been content to coax Franks out of his shell gradually, and the running game's credit that the Gators haven't needed him to heave it deep to be productive. If they have any hope of making it to Atlanta, that will probably have to change beginning this weekend.
Takeaway
From a confidence standpoint, it's impossible to overstate how different this season feels heading into the last weekend in October compared to the same point on the calendar last year. In 2017, the Gators were 3-3, reeling from back-to-back losses to LSU and Texas A&M, and facing a double-digit point spread against a Georgia team that was hitting its stride en route to the conference title; the result was a 42-7 massacre that stood as Franks' most hopeless performance of the season, Florida's worst loss in the series in 35 years, and the last straw for embattled coach Jim McElwain. This time around, it's the Gators coming in on a winning streak, the Bulldogs coming off a deflating loss, and the East Division crown right there for the taking. Vegas pegs Georgia, the overwhelming frontrunner in the East to open the season, as just a 7-point favorite.
That might turn out to be optimistic, but if Florida makes good on the optimism it will likely be with the running game and defense shouldering most of the load and Franks making a handful of timely plays, a la the victory over LSU. Franks was just 12-of-27 for 161 yards against the Tigers, easily his worst stat line of the season; he also made at least one indispensable throw on all three of Florida's offensive scoring drives. He can't get it done alone, but he can get it done, which at this point in his career is all the Gators can ask.
Quick outs
Justin time? Kirby Smart was opaque about Georgia's QB situation during his weekly Monday press conference, sticking with boilerplate quotes — "We want to play the guy that gives us the best opportunity to be successful, and that comes from a lot of reps in practice, a lot of work in practice." — rather than explicitly stating that Jake Fromm will remain the starter against Florida, or that Justin Fields will get more reps, or anything else.
Presumably that means the Gators can expect the status quo, with Fields effectively limited to a Wildcat/zone-read role, if he sees the field at all; he's only put the ball in the air 25 times this season, 22 of those attempts coming in garbage time of wins of Austin Peay, Middle Tennessee State and Vanderbilt. For coaches to take the reins off in a rivalry game that will likely decide the East (not to mention Georgia's Playoff chances) would be a major leap of faith.
But that assumes the game unfolds more or less according to plan, which seems much less safe after the Bulldogs' flop at LSU. If things start to go sideways again, fan sentiment for the freshman will graduate from modest proposals to a full-on clamor in the stadium that Smart will be able to feel on the sideline.
Last week, I wrote that Fromm had more than earned the right to a mulligan and remained the best option to get UGA back to the national title game. A second consecutive loss, though, would send that goal up in smoke, along with any realistic chance of repeating as SEC champ; even if Fromm struggles in a win, going forward confidence in his ability to maneuver a one-dimensional attack past Alabama or LSU in Atlanta would hit a new low. (Again, that's not even considering the implications for what it will take to win two Playoff games.) Short of sharing the spotlight, Leak/Tebow style, the only way to put Fieldsophilia to bed is to make plays.
Clang for Keytaon: Mississippi State coach Joe Moorhead was also cool this week on the notion of pulling the plug his starter, Nick Fitzgerald, although not so blind to Fitzgerald's obvious shortcomings as a passer that he was willing to rule out an appearance from sophomore Keytaon Thompson against Texas A&M.
Fitzgerald has been a disaster in SEC games, bottoming out Saturday in an 8-for-24, 59-yard, 4-interception debacle at LSU. Less patient State fans were done with Fitzgerald weeks ago; after his second pick of the first quarter in Baton Rouge, even the more forgiving segments of the base had seen enough. Why Moorhead and his staff continued to ignore Thompson and allow the senior to play out the inevitable is anybody's guess.
Thompson (6-4, 222) is nearly as big as Fitzgerald (6-5, 230), runs about as well, has been productive in his two career starts against Louisville (in last year's bowl game) and Stephen F. Austin (in this year's opener), and isn't eligible to redshirt, having already appeared in 5 games this season. (Although he's yet to attempt a pass in a conference game.) Fitzgerald is a fifth-year senior who is obviously regressing. The switch has been a long time coming, and the first time it happens the cowbells are going to come unglued.
Stay safe out there: Jalen Hurts had minor surgery over the weekend to repair a high ankle sprain suffered at Tennessee, which ought to be a footnote for Alabama's upcoming trip to LSU: Hurts is expected to be available, and as long as Tua Tagovailoa is healthy and dealing Hurts' presence is a luxury, anyway.
If at any point Tua is not healthy, though — remember, he left the Tennessee game favoring the same sore knee that ended his night against Missouri — then Hurts' status suddenly becomes very relevant. On the list of remotely plausible scenarios in which Bama's buzzsaw of an offense grinds to a halt in a big game, "both QBs are hurt at the same time" might be at the very top.
Matthew Stafford Arm of the Week: Tua Tagovailoa
Which is not to suggest Tagovailoa's knee is an ongoing issue. On the contrary: Prior to taking a shot on his last play of the game (a touchdown pass, of course), Tua displayed no lingering effects whatsoever in Knoxville, bombing the Vols into oblivion at the same merciless rate he has everyone else.
Tua Tagovailoa can put the ball wherever. he. wants.

(via @CBSSports) pic.twitter.com/0wnVodimhg

— SI College Football (@si_ncaafb) October 20, 2018
That was his second TD passes for the game, pushing the Tide's lead to 21-0 less than midway through the first quarter, and the credits might as well have started rolling. Most first-round picks make just a handful of these kinds of throws in an entire season; Tua's dropping them on a weekly basis.
QB Curve Power Hour!
Ranking the league's starting quarterbacks heading into Week 9.
1. Tua Tagovailoa, Alabama. Going into the bye week, Tagovailoa remains on pace to break Baker Mayfield's single-season records for yards per attempt (by a full 2 yards per) and pass efficiency (by 40 points.) But the same is also true at the moment for Mayfield's successor at Oklahoma, Kyler Murray, the only other player right now who's even on the screen with Tua in the Heisman race. (Last Week: 1)
[long pause to more accurately represent the difference between Tua and the rest of this list]
[this might take awhile]
[honestly this could go on for like 40 more paragraph breaks]
[fine]
2. Jordan Ta'amu, Ole Miss. Ta'amu still suffers from a huge drop-off in production against the top half of the schedule, even more so after a the Rebels managed just 16 points in a loss to Auburn. (This after scoring just seven against Alabama and 16 at LSU; against everyone else they average 53.6 points.) But nearly every other QB in the league is struggling in a similar way, and this week's statistical tale of the tape — combining pass efficiency, Total QBR, total yards, and individual share of the team's total offense — continues to show Ta'amu leading the sub-Tagovailoan pack: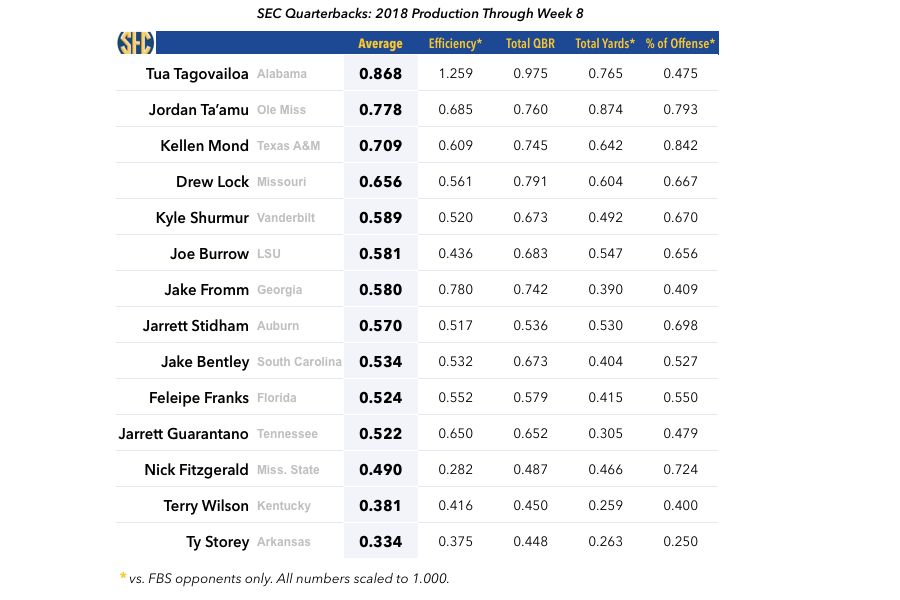 There's a whiff of quantity-over-quality in those past two columns, given how disproportionately Ole Miss' offense relies on his arm. Still, in a year where the quality behind center has fallen far short of the preseason hype, quantity will have to carry the day. (LW: 2)
3. Drew Lock, Missouri. Ditto for Lock, who continues to feast on the UT-Martins and Wyomings of the world while faring no better against the Georgias and Alabamas than anyone else. Saturday's 350-yard, 4-TD barrage against Memphis was a return to form after a 3-game skid; this weekend's date with the league's No. 1 scoring defense is another opportunity to break the pattern. (LW: 5)
4. Kellen Mond, Texas A&M. Mond is the most improved QB in America from 2017 to '18, and owner of one of the best individual performances of the year to date, against Clemson. He hasn't replicated that yet, but if he comes anywhere near his season averages this weekend at Mississippi State — the Bulldogs are the league's only top-10 unit nationally in total and scoring defense, as well as pass efficiency D — he'll almost certainly vault into the No. 2 spot next week behind Tagovailoa. I couldn't have imagined writing that sentence two months ago. (LW: 4)
5. Jake Fromm, Georgia. There aren't many situations in which a sophomore with a 20-3 record as a starter should feel like he's playing for his job, but the expectations for Georgia and for Fields are too high right now for Fromm to afford a second regular-season loss. It's Playoff or bust, and if it's bust might as well get the 5-star talent up to speed for 2019. (LW: 3)
6. Joe Burrow, LSU. Somehow Burrow is 4-1 against ranked opponents with a single touchdown pass in those five games. (Well, unless you count TD passes to the opposing team.) That sounds like a triple-option stat, but in the games in question he's put it in the air 150 times. (LW: 6)
7. Jarrett Stidham, Auburn. Stidham temporarily quieted the speculation over his status with a solid, 215-yard, interception-free performance against Ole Miss. Auburn emotions are gauged on a week-to-week basis, though, so if it goes poorly in two weeks against Texas A&M, anything goes. (LW: 12)
8. Feleipe Franks, Florida. I had my doubts about how well a gangly pocket type like Franks would fit into Mullen's offense, specifically, but early returns suggest the partnership is going to be productive for the next two-plus years. (LW: 7)
9. Jake Bentley, South Carolina. I'm not sure if or how much Will Muschamp is to blame for Bentley's disappointing lack of progress over the past two seasons, but it is …  uh, consistent with Muschamp's track record with touted quarterbacks. (LW: 8)
10. Kyle Shurmur, Vanderbilt. Shurmur is going to break every Vandy passing record and probably get drafted, but he remains 1-11 in SEC games over the past two years. (LW: 10)
11. Jarrett Guarantano, Tennessee. Guarantano is tentatively expected back for Saturday's trip to South Carolina after getting knocked out in of the first half against Alabama, but after Keller Chryst's performance in relief — 9-of-15, 164 yards, 2 TDs, no INTs — there's no hurry. (LW: 9)
12. Nick Fitzgerald, Mississippi State. Fitzgerald has had a solid career and remains an integral weapon in the running game, but MSU fans are rightly frustrated that a championship-level defense has gone to waste in another Music City Bowl-level season. The Bulldogs have given up a grand total of two touchdowns in the past three games, one of which was mostly Fitzgerald's fault. (LW: 11)
13. Terry Wilson, Kentucky. Wilson's passing production has dwindled to the point that it barely registered in Kentucky's 14-7 win over Vanderbilt, putting backup Gunnar Hoak on notice that his time might be coming. Wilson adds value as a runner, which counts for a lot in UK's heavily run-based scheme, but at some point his arm is going to have to resurface or the Wildcats' dark horse run in the East is sunk. (LW: 13)
14. Ty Storey, Arkansas. Storey missed the Razorbacks' shutout win over Tulsa with a concussion but has been cleared to play this weekend against Vanderbilt. At this point just getting out of the season in one piece should be the top priority. (LW: 14)