SEC
Top 50 stories of 2014: No. 45-41
As we approach the end of the 2014 calendar year, we're looking back at the top 50 stories in college football for the year. Today, we look at No. 45-41.
Previous Articles
No. 45 – NCAA helps out Penn State, James Franklin
NCAA imposed penalties and the removal of them is typically a wonderful topic if your goal is to put your audience to sleep, but in the case of Penn State, it is worth mentioning that Penn State had its Sandusky related violations dropped in 2014…just in time for former Vanderbilt head coach James Franklin to take over the program.
With the news dropping in early September, a bowl game for the current season immediately became a possibility for Franklin and his new team. With a 6-6 record, Penn State became bowl eligible and will square off against Boston College in the Pinstripe Bowl. I'll pause while you go set your DVRs… Ok, let's continue.
Franklin has work to do, but the Penn State faithful are optimistic on the program's future under James Franklin leaving the Sandusky mess behind. Vanderbilt, on the other hand, without Franklin at the helm is searching for answers…
No. 44 – Alabama flag at Kyle Field
A few years ago in the wake of the Toomer's Corner fiasco, some wondered what might be next in the string of reckless, questionable acts done by fans in the name of team pride.
During construction on Kyle Field this past summer, a construction worker hung an Alabama flag on the stadium itself: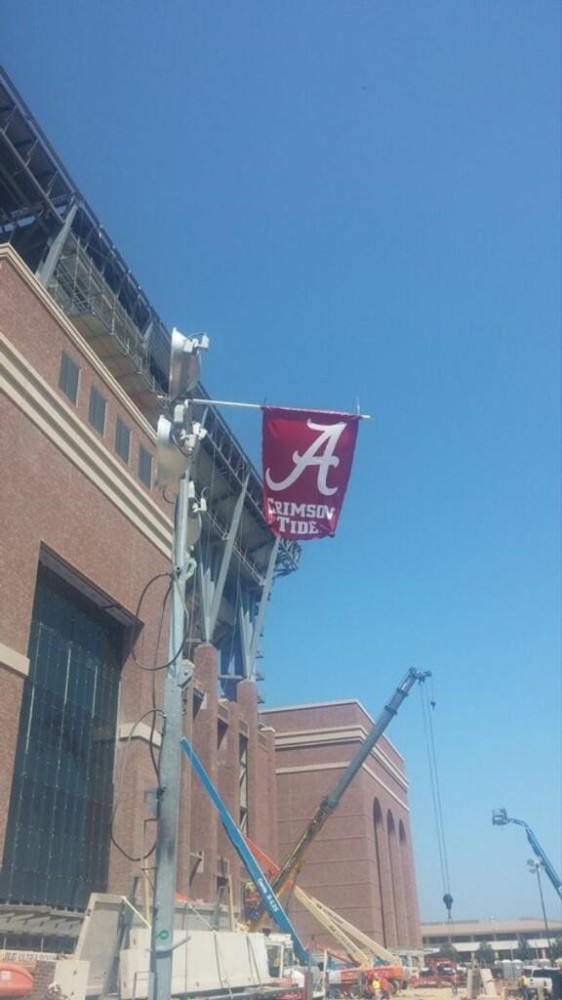 Of course the internet went wild, and the worker ended up getting fired. The story which began as a fun fan prank took a serious turn when the worker, Bobby Livingston, put up comments on Facebook claiming to have sabotaged the structural integrity of the stadium itself:
This stadium will never be ready for this. Season (sic),I'm putting iron in backwards and wrong holing everything!!

If you ever attend a Texas A&M football game, don't sit at the Northeast End Zone, it was raining today and I made 2 very "questionable" welds!!
Oh, boy. SEC Football…where the extreme fanaticism can lead to questionable welding.
While I can't confirm whether it is true, there were tweets that surfaced later in September that Bobby Livingston took his own life.
The story began as a hilarious photo of an Alabama flag hanging high up at Kyle Field in College Station, but ultimately turned to a more serious and possibly tragic situation. Moving on to No. 43…
No. 43 – The SEC Network Launches
Jointly announced back in May of 2013 by the Southeastern Conference and ESPN, the SEC Network officially launched on August 14, 2014. The network also aired the opening game of the season of Texas A&M vs South Carolina two weeks later.
It was called the largest launch ever for a network with over 90 million homes having access to its programming upon launch. ESPN invested heavily in the talent prior to launch which included Brent Musburger, Joe Tessitore, Tim Tebow, Greg McElroy, Tony Barnhardt, Paul Finebaum and more.
For a conference used to large television contracts and revenue, the SEC Network will generate millions in additional revenue for the member schools helping to solidify the SEC as the premiere conference in college athletics.
No. 42 – The Dorial Green-Beckham Saga
In April of this year, Dorial Green-Beckham (DGB) was dismissed from the Missouri Tigers football team following a number of legal incidents including drug-related problems and an event in which he allegedly pushed a girl down some stairs.
After being dismissed, DGB transferred to Oklahoma and requested a waiver from the NCAA rule requiring him to sit a season after transferring. In August, his waiver was declined, and DGB was forced to sit out the entire 2014 season.
DGB remains on the Oklahoma roster, but he is now eligible to enter the NFL Draft in 2015. It's quite likely that his college career is over.
No. 41 – Leonard Fournette makes his debut
As a high school recruit entering the SEC, Leonard Fournette debuted with arguably the most hype since Jadeveon Clowney began his career at South Carolina.
Thankfully, the assumed all-world Fournette gave us much to talk about when he struck the Heisman pose in his first collegiate touchdown… against the mighty defense of Sam Houston State.
After the hype and the Heisman pose faded, Fournette delivered a strong season of 891 yeards on 176 carries (5.06 avg), but the sensation of Leonard Fournette ultimately fell victim to another SEC freshman running back… a kid from Georgia named Nick Chubb.
What's Next?
As we release the next five top stories from 2014, we'll hit on some tragedy, an epic season collapse, two major programs going in opposite directions and much more. Check back tomorrow for No. 40-36 on our list.