SEC
Underdog Fantasy SEC Tournament first-round player over/under picks
The SEC basketball tournament tips off on Wednesday night in Nashville with a pair of games pitting the No. 12 seed against the No. 13 seed and the No. 11 seed against the No. 14 seed.
Here's a breakdown of the matchups and where to watch them:
No. 12 South Carolina vs. No. 13 Ole Miss — 7 p.m. ET on SEC Network
No. 11 Georgia vs. No. 14 LSU — 9 p.m. ET on SEC Network
Over at Underdog, there are ways for fans in states where sports betting isn't yet legal to get in on the action and win real money by making player over/under picks for the SEC Tournament Round 1 games.
What is Underdog and why should SEC fans care?
Underdog Fantasy is a daily fantasy platform backed by investors such as Mark Cuban, The Chainsmokers, Kevin Durant and Adam Schefter. Find out more about the fantasy platform here.
Through Underdog's "Pick'em" contests, you can bundle a few selections of player prop picks similar to what you find at sportsbooks, and yes, you can put real money against these picks.
Underdog Fantasy is available in 41 states, so a lot of those SEC states where sports betting is not yet legal? You can do Underdog Fantasy picks for real money, as we're outlining here.
Underdog Fantasy is not available in the following states: CT, DE, HI, ID, IA, LA, MI, MT, NV.
Underdog is available in these states, but Pick'em contests as we outline here are not available: AZ, CO, MD, MO, NH, NJ, OH, PA, TN, WA, WV.
College sports Pick'em contests are available in these SEC states: AL, FL, GA, KY, SC, TX.
If you want to get started, Underdog will match your first deposit up to $100 by clicking here or using promo code SOUTH.
My picks for SEC Tournament Round 1 games
GG Jackson "lower" 1.5 3-pointers made. Jackson comes into the SEC Tournament with only 2 3-pointers made (in 12 tries) in his last 3 games. In his last game against Ole Miss, he went 1-for-2 from beyond the arc. He's been a solid player in the paint for the Gamecocks, but he's inconsistent from long range. Take the "lower" option on his 3-pointers made against the Rebels.
Kario Oquendo "higher" 12.5 points. Don't bother adding Oquendo's rebounds and assists to the mix, as he doesn't do much of either. In fact, in his last 7 games, he has a grand total of 6 rebound and 4 assists. He's averaging fewer than 1 rebound and 1 assist per game. He's a one-trick pony, but that trick is scoring, and he's pretty good at that. Look for him to light up the scoreboard against the Tigers.
Terry Roberts "lower" 20.5 points+rebounds+assists. Picking the under on Roberts' points+rebounds+assists total has been rather profitable recently. In fact, he hasn't combined for a total of 21 points+rebounds+assists in his last 8 games. The last time he did it was against South Carolina all the way back on Jan. 28. He hasn't been the same since missing time with an injury. Keep riding the under with Roberts until he proves he's back to 100%.
How many picks should you make?
The more picks you string together, the higher the "multiplier" or payout. Of course, the more you string together, the less likely you are to win because all of the picks have to hit in order for you to win.
A 3-way parlay of the picks I listed above would pay out $60 on a $10 bet: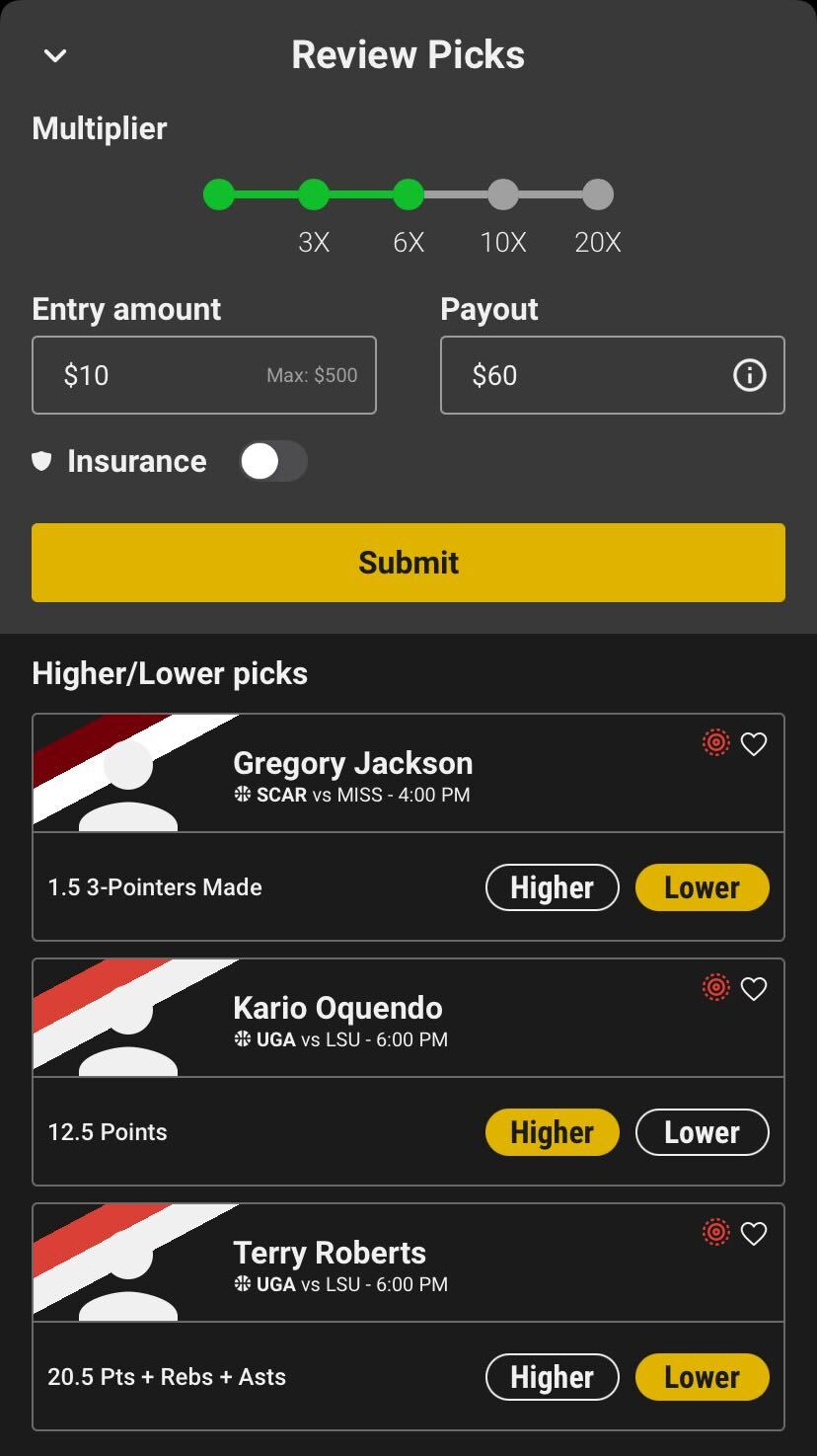 If you want to play it a bit safer and go for a 2-way parlay, I'd suggest eliminating Oquendo's points total from the contest and going with Roberts and Jackson only. Either way, we're in for some exciting basketball in Nashville!
Get started on Underdog by clicking here and make your picks for Wednesday's SEC Tournament Round 1 action or other CFB, CBB, NFL and NBA games. Using this link means Underdog will match your deposit up to $100. If you deposit $25, you'll get an extra $25 to start playing right away.