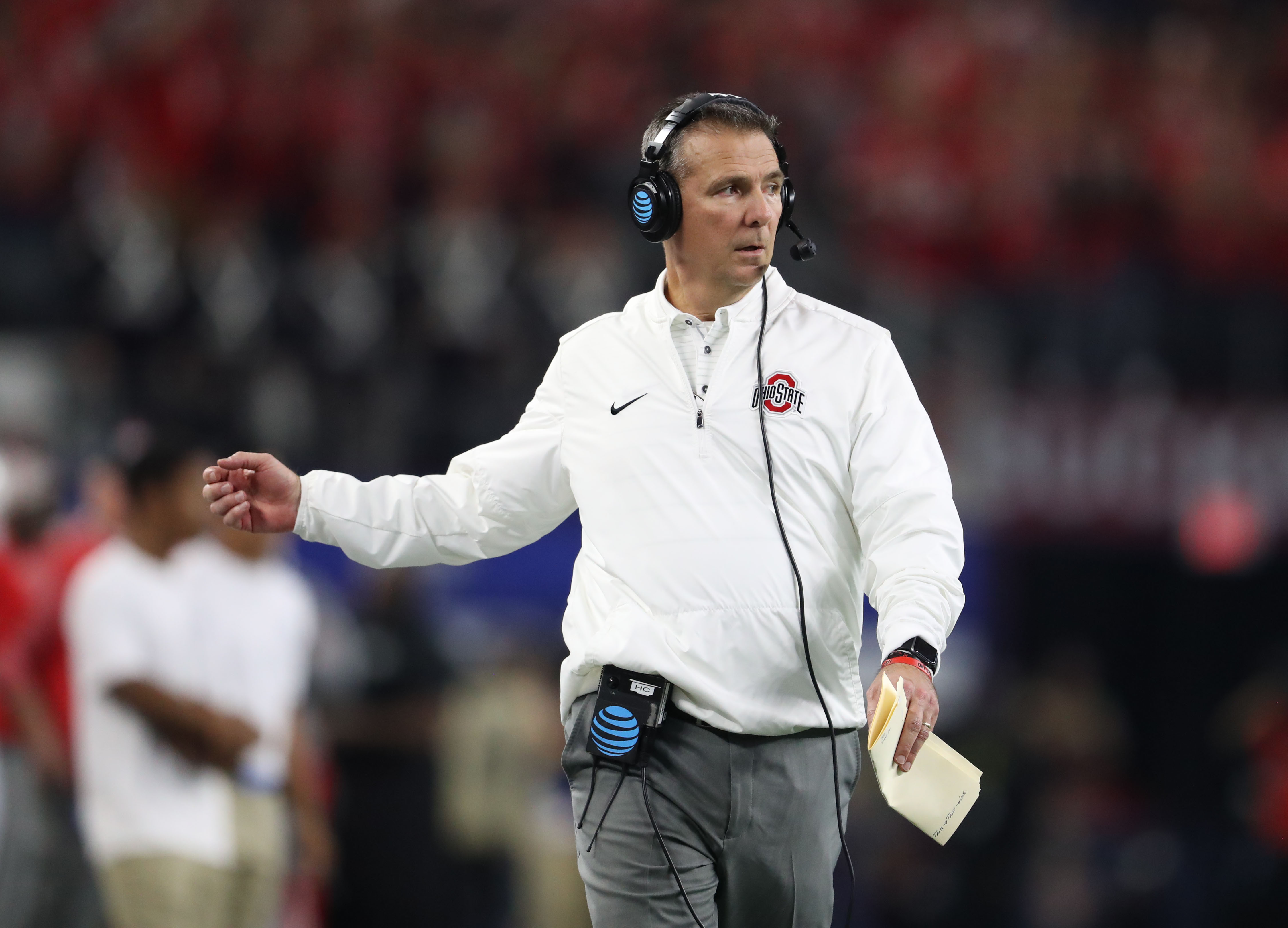 SEC
In failing to heed his own core values, Urban Meyer the Moralizer might leave another program broken
Wednesday should have been about football, the light of August making way for the beginning of fall practice on campuses across America, and with it, hope renewed for countless fans who can almost taste the first tailgate.
Instead, Wednesday became one of the more stunning and yet also hopelessly predictable days of the seemingly interminable college football offseason.
Brett McMurphy's exclusive report that strong evidence suggests Urban Meyer knew about domestic violence allegations against former Ohio State assistant coach Zach Smith in 2015, contrary to Meyer's statements made a week ago at Big Ten Media Days.
Given Meyer's imperious status as one of the sport's two best active coaches, the inarguable position of Ohio State as one of the sport's elite programs, and the rightfully increased societal attention given to identifying, preventing and combatting violence against women in any form, this is a story likely to dominate the college football landscape well into the new season, with institutional ramifications for Ohio State that will almost certainly be felt beyond this autumn.
The obvious immensity of the story should resonate even before you get to the fact that at bottom, this is a story about Urban Meyer, who has spent the entirety of his tenure at Ohio State carefully cultivating the image of a family man who puts family, faith and core values ahead of football.
Why has Meyer worked so hard, often with moralizing indignation, to cultivate this image?
Probably because he had projected it before, while head coach at Florida, and by his own admission failed so miserably to uphold his core values, whether to family or his employer.
When Meyer left Florida, he acknowledged that the program was "broken," a toxic hellscape of a culture where the players ran the team. Among the problems Meyer conceded pervaded the culture: rampant drug use, preferential treatment for star players, and an overall sense of entitlement at a program that tumbled back to Earth in Meyer's half-hearted 2010 campaign after losing only 10 games between 2005-2009.
Meyer took the job in Gainesville promising to follow Steve Spurrier's example of winning with integrity, building a culture on and off the field that would make Florida alumni proud.
At an early Gator Club meeting with prominent boosters, Meyer addressed the difficulty of being admitted to the University of Florida. Meyer noted he'd sell Florida as being "in the top one percent of academics," then, to put a bow on it, said he'd target "the top one percent of people." What Florida wanted, Meyer said, was "the top one percent of the top one percent."
There's no doubt that definition fits the authentic, kind, irreproachable personalities of Tim Tebow or the selfless Joe Haden. But Meyer's Florida was so broken culturally that from his 2008 national championship team alone, 41 of the 121 members Meyer recruited and coached have been arrested and charged with assorted crimes, from simple misdemeanor errors of youth to capital murder.
Meyer didn't commit these crimes. This fact is obvious. But in his relentless pursuit of excellence, in his insatiable desire to win, he had forgotten what he professed were his core values. Meyer had been a win-at-all-costs firecracker, burning brightly and grandly and then exploding with little regard for the collateral damage he left behind. The shame of leaving behind that type of scorched Earth — from which Florida football has, by any reasonable account, yet to recover — has relentlessly dogged him at Ohio State since the day he took the job. Before that, really.
Meyer attended countless of his kids' baseball and volleyball games in the year he spent away from coaching and took inventory of himself and what went wrong at Florida. He even went on 60 Minutes to explain the importance of that time, and how it helped him re-center himself on what really mattered: family, core values, developing young men for success, on the field and in life.
On Day 1 in Columbus, Meyer faced questions about his past, about whether his mistakes would be replicated. He insisted they wouldn't. He insisted he was different. Fans, recruits, players and many in the media wanted to believe him.
"Since when are you an expert on career burnout," they growled.
"Florida is a brutal culture; Ohio State would be better," some asserted, a claim as earnest as it is ridiculous.
For a while, Meyer really did seem different. His demeanor was different. He was calmer. In interviews, Meyer was refreshingly self-critical, pensive, reflexive.
The only thing that didn't change was the winning. In six years at Ohio State — the same amount of time he spent at Florida before the walls came tumbling down — Meyer is an absurd 73-8. In his first 4 seasons, he lost only four games, pummeling Alabama and Oregon in the inaugural College Football Playoff en route to his third national championship.
The assumption was made by many, including multiple ESPN features, one by the great Wright Thompson in 2012, and another in 2015 — that Meyer had found the right balance between family, football, in work and life.
Maybe even Meyer felt that way. He had implemented family days for coaches and players. He had started a mentorship program and admirably monitored and encourage players to tend to their mental health. He had even started selling the tale about only winning championships with people of character again.
Meyer the moralizer was back, and better than ever, a new Urban.
Two days after the Oct. 25, 2015 alleged domestic violence incident involving Courtney Smith and Ohio State assistant Zach Smith resulted in the filing of a police report, Meyer's second book (co-written with Wayne Coffey) — "Above the Line: Lessons in Leadership and Life from a Championship Season" — was published.
In the book, Meyer reflects on what he feels is the dominant trait of highly successful people. He writes:
"We don't control the events in life, and we don't directly control the outcomes. But we always have control over how we choose to respond. How we respond means everything.
"How we respond means everything."
In 2015, Meyer was, according to an immense amount of circumstantial evidence presented by McMurphy, afforded the chance to respond to violence against the wife of one of his assistant coaches. This wasn't just any coach either. By 2015, Smith had developed into one of Meyer's top assistants, relentless on the recruiting trail and a rising star in the profession. Complicating matters even more, Smith was a young man with whom Meyer has long had a special relationship. Smith had been on Meyer's staff at Florida and his grandfather, Earle Bruce, is one of Meyer's self-proclaimed heroes.
According to McMurphy, however, despite the availability of a first-hand account of the incident and the existence of photographs of a bruised and battered Courtney Smith, Meyer opted to believe Smith.
Meyer opted to believe Smith despite knowing of and actively intervening and counseling the couple six years before, after a similar domestic violence incident occurred between Smith and his then 24-year-old pregnant wife in Gainesville in 2009.
Meyer responded to an accusation of domestic violence, five years removed from only suspending a Florida player who texted "Time to die" to a woman in Gainesville, by listening to a man's denial of repeated abuse and asking no more questions. Smith remained on staff — until last month — when he finally ran out of chances.
Confronted by the stormy past of Smith, who had long considered Meyer a father figure, at Big Ten Media Days, Meyer responded with pious indignation. He flatly denied knowledge of the 2015 incident, an account called into serious question today thanks to the direct evidence that his wife, best friend and confidante, Shelley Meyer, knew of the allegations.
Maybe he just wanted to believe Smith. Maybe he really never heard about it, and Shelley never told him. Maybe — hopefully — he didn't know and the alleged sit-down with Smith never occurred. Maybe, despite having two daughters, Meyer opted to simply believe Smith, despite overwhelming academic weight of studies that show only 5-7 percent of domestic violence accusations that are actually reported (most aren't) are fabricated.
Even if he didn't know, isn't that also a problem? Isn't part of creating a culture of accountability knowing what people need to be accountable for?
Maybe Meyer just thought the problem would go away.
That reminds me of another section of Above the Line, where Meyer the Moralizer pontificates on the importance of confronting problems, not covering them up. He writes:
"Talk straight and demand accountability. Run toward problems. If you ignore them, they only get worse."
If only Meyer had listened to his own advice.
Maybe his job wouldn't be rightfully at stake.
Maybe he wouldn't be facing another situation where the Urban Renewal of a program quickly fades to Urban Decay. Maybe Ohio State wouldn't be staring down the barrel of a public relations fiasco and a lengthy Title IX investigation, given the law's directive that colleges and universities that receive federal funding can be legally liable for damages when they know about and ignore sexual assault, harassment or gendered violence in their programs and activities. Maybe then we'd all still be talking about the "new Urban Meyer."
Meet the new boss. Same as the old boss.
How we respond is everything.