SEC
Week 10 SEC Primer: In an unpredictable year, Alabama vs. Auburn arrives on time with a regularly scheduled dose of hate
Everything you need to know about this weekend's SEC slate.
Game of the Week: Auburn at Alabama (-24.5)
The stakes
If you're reading this, then the Iron Bowl needs no introduction. The SEC's premier rivalry has radiated heat across the South for more than 70 years, ever since it returned from a 4-decade hiatus from 1907-48 over fears that tensions between the two sides were just a little too hot to allow them to get together. Over the past decade, the temperature has reached all-time highs as the game has carried immediate national championship implications for one side or the other (or both) on an annual basis. The 2020 edition, unlike virtually everything else in this bizarre year, is no different.
Bama is Bama: As usual under Nick Saban, who actually will miss the game while recovering from COVID, the Crimson Tide come into Thanksgiving weekend undefeated (for the 7th time in 13 years) and ranked No. 1 in the major polls (for the 6th time). They boast the SEC's highest-scoring offense, its stingiest defense, a legitimate Heisman front-runner in QB Mac Jones, and more than a half-dozen first-round prospects across the lineup. Even the kicking game, a decisive factor in last year's loss at Auburn and Alabama's most notorious Achilles' heel, in general, suddenly looks like a strength on the leg of homegrown sophomore Will Reichard.
In contrast to last year's Iron Bowl, when they limped in plagued by injuries, the Tide will arrive Saturday with the 2-deep almost fully intact — aside from WR Jaylen Waddle on offense, the only notable absence will be Saban himself, who'll be watching from home after testing positive for the coronavirus. (For real this time.) Head coaching duties will fall to offensive coordinator Steve Sarkisian; in response, the point spread has not budged.
At 5-2, Auburn is effectively reduced to the familiar role of spoiler, although the Tigers do technically have a path to the SEC Championship Game — and therefore potentially the Playoff — if they sweep their last 3 games and Alabama somehow manages to drop its regular-season finale at Arkansas to finish with 2 losses. (How likely is all that? As it stands, ESPN's Football Power Index calculates Auburn's odds of winning the SEC West at 0.1%, and of making the Playoff at 0.0%.) But that's a role they've relished under Gus Malzahn, most recently in 2017, when they knocked then-No. 1 Bama out of the SEC title game, and again last year, when they snuffed out what was left of Bama's Playoff hopes in arguably the best game of the entire 2019 season. Make it 3 out of 4, and the Tigers' postseason fate is all gravy, anyway.
The stat: 3.9 yards per play
That's the average gain vs. Alabama's defense over the last 14 quarters — that is, since halftime of the Georgia game — a dramatic improvement over the season's first 3 1/2 games and a convincing response to the notion that the vaunted Bama D just ain't what it used to be. In all, the Tide have allowed just 20 points in that span, the fewest they've allowed in any 3-game stretch since 2016, while scoring more touchdowns on defense (3) than they've given up (2).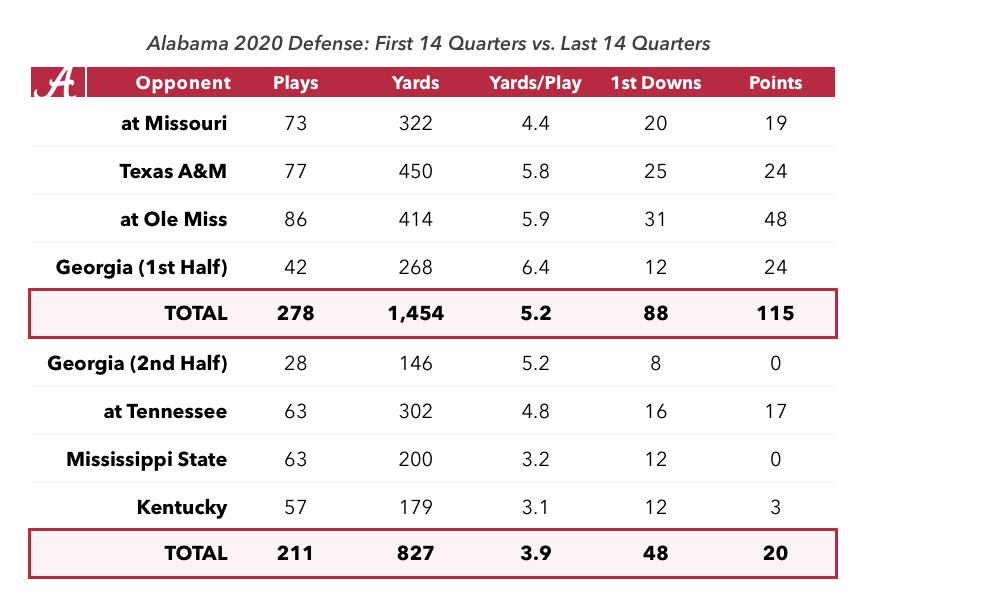 With that turn, Pete Golding's unit has come full circle from its part in the highest-scoring regulation game in SEC history to reassume its familiar place as the league's top-scoring defense for the season at 19.3 ppg. It also ranks No. 1 overall in pass efficiency D; No. 2 in both yards per play and first downs allowed; and No. 3 in total defense, all in spite of its mediocrity over the first 3 1/2 games. It looks, in other words, more or less like an inflation-adjusted version of your standard-issue Bama defense.
Now, how much of that turnaround is merely the result of playing Tennessee, Mississippi State and Kentucky — the SEC's bottom 3 teams in terms of total offense — as opposed to the far more credible attacks at Texas A&M, Ole Miss and Georgia?
Auburn's offense isn't a perfect gauge for answering that, coming in squarely in the middle of the pack in yards and points per game. But the Tigers are a significant step up from the bottom-feeders, most obviously at wide receiver: Seth Williams and Anthony Schwartz are easily the most dangerous and productive tandem Alabama has faced this side of Ole Miss' Elijah Moore and Kenny Yeboah, who combined to torch the Tide for 224 yards on 18 catches.
Williams vs. Patrick Surtain II, specifically, is a big-league matchup on the outside of a couple of guys almost certain to be high draft picks next spring. (Surtain, a first-round lock on athleticism, length and lineage alone, is also the highest-graded DB in the nation this season per Pro Football Focus.) Last year, a far more experienced Bama secondary held Williams, Schwartz and Eli Stove relatively in check to the tune of 8 receptions for 110 yards between them. In most circumstances — i.e. ones that don't involve the opposing defense returning 2 interceptions for touchdowns — those are winning numbers, and a good bar for gauging how far the Tide have come on the back end against the kind of next-level receiving talent they'll encounter down the line against a Florida or Ohio State.
The other looming question mark for Auburn's offense is the status of workhorse freshman RB Tank Bigsby, who left last week's 30-17 win over Tennessee early with a hip injury that could sideline him entirely in Tuscaloosa; he's questionable to play and his effectiveness will be in doubt even if he does.
The Tigers' 2019 upset was fueled in large part on the ground, where the departed Boobee Whitlow racked up 114 yards on 7.1 per carry, Bo Nix chipped in another 44 yards, and Shaun Shivers posterized Alabama's leading tackler en route to a go-ahead (and ultimately game-winning) touchdown on his only carry of the game. Bigsby has treated opposing tacklers in similar fashion all year, breaking at least one tackle on a league-best 41.3% of his carries. (For comparison, Bama's Najee Harris is second at 38.7%.) If Tank is a non-factor, the onus will be on Nix, Shivers and D.J. Williams to fill the void.
The big question: Can Auburn cover DeVonta Smith?
The Tigers have faced 3 of the SEC's top 5 receivers so far this season — Ole Miss' Elijah Moore, South Carolina's Shi Smith and LSU's Terrace Marshall Jr. — and more than held their own: Moore (5 catches for 16 yards) and Marshall (4 for 28 yards) were limited to their least productive outings of the season, by far, while Smith (8 for 76 yards) came in well below his season average for yards per catch.
Aside from a spectacular, juggling grab by Smith that accounted for a significant chunk of his stat line, that trio's other 16 receptions against Auburn averaged just 5.5 yards a pop. And over the course of the Tigers' current 3-game winning streak the opponent's top wideout has been essentially erased from the game plan: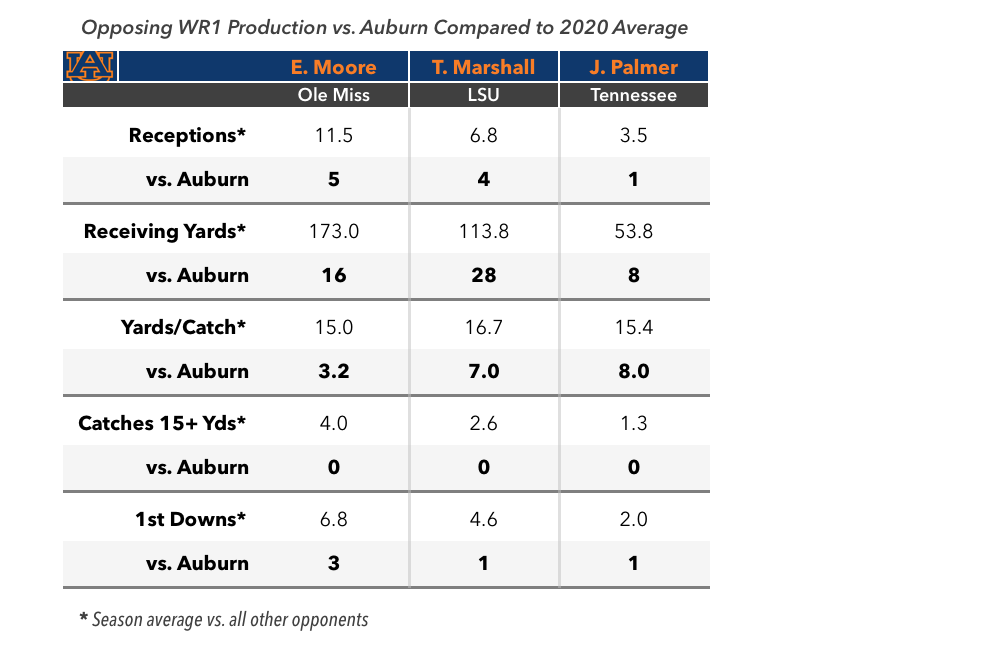 Again, though, it's important to note their recent success represents a U-turn from the first month of the season, when the same secondary was repeatedly victimized by Kentucky's Josh Ali (9 for 98 yards, both career highs), Georgia's Kearis Jackson (9 for 147, also career highs), and Arkansas teammates De'Vion Warren and Mike Woods (11 for 176, career highs as a combo). While Elijah Moore was held in check in the Tigers' trip to Oxford, Kenny Yeboah went off for 83 yards on 20.8 per catch. Shi Smith, in addition to his standard stat line, drew a pair of pass interference penalties that weren't reflected in his output.
The optimistic take from Auburn's perspective is that the secondary was shorthanded in the early going — Smoke Monday missed virtually all of the Georgia game following a quick ejection for targeting; starting corner Jaylin Simpson didn't play at all against UGA or Arkansas due to injuries; safety Jordyn Peters played just one snap against the Razorbacks; backup CB Marco Domio didn't see the field until the Ole Miss game — and has finally gelled with the entire 2-deep intact. A nod is also in order for the pass rush, which recorded a combined 8 sacks and 9 QB hurries in the wins over LSU and Tennessee, pressure-wise Auburn's 2 best games of the season.
But DeVonta Smith, who is rapidly ascending the ranks of the most prolific receivers in Alabama history, is a different kind of challenge. In theory, Waddle's absence should give defenses that much more incentive to zero in on Smith. In reality, the 2 games that Waddle has missed have been 2 of the most productive of Smith's already wildly productive career: An 11-catch, 203-yard, 4-TD performance against Mississippi State, followed by a 9-for-144, 2-TD effort against Kentucky.
Four years in, the fact remains that the next college corner who can consistently handle him 1-on-1 over the course of an afternoon will be the first.
DeVonta Smith is an excellent route runner. That slight hesitation with the foot fire causes the DB to come down and BAM he blows by him pic.twitter.com/wPohD0KF1v

— Seven Rounds in Heaven (@7RoundsInHeaven) October 31, 2020
The last 2 years against Auburn, Smith hauled in a combined 9 catches for 152 yards and 1 TD — a solid line for a guy who finished as the Tide's 3rd-leading receiver in each of those games. This time, he'll be looking to match those numbers in one go. Auburn does have to be concerned with John Metchie III's deep speed on the opposite side of the field and Slade Bolden's possession game in the slot, although Bolden is questionable with a sprained ankle. And there's always Harris, who is anything but an afterthought. But the past 2 weeks have made it abundantly clear where Mac Jones' bread is buttered in the post-Waddle rotation. If Smith gets loose for his usual returns, that's all she wrote.
The verdict
The 24.5-point spread is an eye-opener in a game between ranked opponents, a reflection of just how dominant Alabama has been for much of this season. Bama has only won by that large a margin once against a Malzahn-coached team (a 52-21 victory in 2018) but has already cleared it 4 times this year, including a 52-24 romp over Texas A&M that looks even more impressive in retrospect than it did at the time.
Barring an abrupt regression by the defense, the Tide have no glaring weaknesses.
The same has been said before plenty of previous ambushes, sure. Auburn has the horses on offense to put points on the board if Alabama's defensive revival turns out to have been more about the opposing offenses than the Tide turning a corner, especially if Bigsby is healthy enough to anchor the ground game. Waddle, the indisputable offensive star of last year's game, is a significant loss. If it comes down to a field goal … well, you know. But Auburn hasn't come close to replacing its best player from last year's win, departed DT Derrick Brown, either, and it's a very safe bet that the Tigers will not have the benefit of 2 defensive touchdowns to offset Bama's explosiveness. At the end of the day, Mac Jones is a better quarterback than he was at this time last year. Is Bo Nix?
– – –
Alabama 41, Auburn 23
LSU at Texas A&M (-14.5)
A&M landed exactly where it hoped it would in the initial Playoff committee rankings, coming in at No. 5 – the on-deck circle if any of the current top 4 are knocked out of the running. There's plenty to be said about exactly how the rest of the season might break in the Aggies' favor – specifically, they're banking on Alabama and Ohio State holding it down in the SEC and B1G while either Clemson or Notre Dame falls by the wayside in the ACC – but first there's this: Just how good is this team, anyway?
We're about to find out. At 5-1, frankly there's not a lot to go on for an outfit that didn't appear in the CFP rankings at any point last year and is still just 4 games removed from a blowout loss at Alabama. (More to the point: A predictable blowout loss at Alabama.)
The subsequent upset over Florida was a game-changer in terms of national perception, if only because it forced most poll voters to honor the head-to-head result. But the advanced metrics remain skeptical: Going into the weekend, the Aggies are 9th per Kenneth Massey, 10th in FPI, 10th according to Jeff Sagarin, and 12th in SP+. FPI gives them just a 29% chance of winning out over their final 3 games against LSU, Auburn and Tennessee, and an 11.8% chance of making the Playoff.
Those numbers may not matter to the committee as long as the Florida win holds up, but the next few weeks are crucial ones for shoring up any suspicions about A&M's staying power as an at-large contender with one marquee win. (Again, any infinitesimal chance the Aggies have of playing in SEC Championship Game hinge on Bama dropping both of its last 2 games.) Even against a greatly diminished version of LSU, a convincing final score could go a long way toward that end.
– – –
Texas A&M 36, LSU 30
Kentucky at Florida (-23)
Just what Kentucky needed after giving up 63 points to Alabama: Kyle Pitts is back. Not that Florida missed him – in the 2 games he sat out due to the concussion he suffered against Georgia, the Gators hung 63 points on Arkansas and 38 on Vanderbilt with Kyle Trask throwing 9 touchdown passes to 6 receivers. The fact that an All-American, first-round weapon like Pitts turned out to be just one more replaceable cog in the machine only makes this offense that much more terrifying.
– – –
Florida 44, Kentucky 17
Mississippi State at Ole Miss (-9.5)
It's a shame this game wasn't scheduled for its rightful home on Thanksgiving night. The NFL's decision to push its Thursday night game back to Sunday left a massive void where the Egg Bowl has existed for most of the past decade: When engorged Americans collectively collapse into their recliners this year the only live football on offer anywhere on the dial will be an off-brand cable game between New Mexico and Utah State. Not as bad as Dallas-Washington, but still …
Anyway. When it actually does kick off on Saturday, the collision of a suddenly sentient MSU offense and a badly charred Ole Miss defense promises some fireworks opposite the Matt Corral show. True freshman Will Rogers seized the quarterback job in the Bulldogs' 31-24 loss at Georgia, their first remotely encouraging outing on offense since the season-opening upset at LSU. The Rebels' offense, meanwhile, has resumed a furious pace over the past few weeks that puts it within striking distance of the single-season SEC record for total offense set by LSU last year. (The Tigers averaged 568.4 yards per game overall and 550.0 in conference play; Ole Miss is putting up 564.9 ypg vs. a conference-only schedule.)
Based strictly on how the season has unfolded to date, the smart money clearly favors Ole Miss. But anyone who has followed the Egg Bowl over the years knows full well that the only thing they can always count on is that just about anything can happen and probably will.
– – –
Ole Miss 35, Mississippi State 31
Georgia (-21.5) at South Carolina
How aggressive will Georgia be offensively after JT Daniels' 401-yard, 4-touchdown breakthrough against Mississippi State? On one hand, Kirby Smart's teams have never pushed the throttle unless absolutely necessary, and this week UGA will likely be looking to get its ground game back on track after an abysmal effort (8 yards on 0.3 per carry, including sacks) against MSU. On the other, Daniels clearly looks like the focal point of the offense for the foreseeable future and South Carolina's shorthanded secondary is ripe for the picking. You waited more than half the season to put him on the field and you're already resigned to playing for a consolation bowl – let JT cook!
– – –
Georgia 33, South Carolina 13
Vanderbilt at Missouri (-14)
Vanderbilt's only SEC win in 2019 was a shocker at Missouri's expense, and with only 1 more game remaining on the schedule after this one (at Georgia), this is the Commodores' last, best shot at a W in 2020.
Vandy has been trending up offensively over the past month, thanks in large part to true freshman QB Ken Seals' emergence as a viable starter with 3 300-yard passing performances in the last 4 games; by all appearances he's going to be entrenched for a good long while. Whether the same can be said for Derek Mason after he wraps up his 7th consecutive losing season is still anyone's guess, but an end to the Dores' nine-game road losing streak would be an undeniable sign of progress.
– – –
Missouri 27, Vanderbilt 19
SCOREBOARD
Week 9 record 5-1 straight-up / 2-4 vs. spread
Season record: 38-11 straight-up / 24-25 vs. spread