SEC
SEC Week 9 Primer: Auburn is on its way up. Jeremy Pruitt may be on his way out
Everything you need to know about this weekend's SEC slate.
Game of the Week: Tennessee at Auburn (-11)
The stakes
Vibes, mostly. At 4-2, Auburn is feeling pretty good – or at least better than it was a month ago, anyway, when it looked like the season was sinking fast following an upset loss at South Carolina. That seems like a long time ago. The Tigers' most recent game, a Halloween humiliation of LSU, flipped the script from dread to opportunity: With division leaders Alabama and Texas A&M on deck, Auburn would love to come out of the weekend looking a team hitting its stride at exactly the right time to pull off a late, dark-horse run in the SEC West.
Tennessee's season has taken a much darker turn, with the optimism of a 2-0 start rapidly disintegrating over the course of a 4-game losing streak. The Vols were barely competitive in rivalry dates against Georgia and Alabama and listless in double-digit losses to Kentucky and Arkansas. They rank in the bottom half of the SEC in nearly every major category on both sides of the ball. The quarterback situation remains perpetually unsettled. And the schedule only gets steeper to close out the year.
In a normal year, the din surrounding Jeremy Pruitt's future would be too loud to ignore and the buyout clause in his contract would be required reading across the state. Tennessee went through all of this last year. As it actually stands in 2020, which is about as far from normal as it could be, the situation is clouded by both the seat-of-the-pants aspect of the season in and the financial fallout – despite the precedent set by Will Muschamp's $13 million ouster at South Carolina, Pruitt and his staff could be literally too expensive to fire. But at the rate it's going, without some hint of progress on the field they're surely about to find out.
The stat: 27.4%
That's Tennessee's success rate on 3rd-down conversions, dead last in the conference this season and on pace to be the worst of any SEC offense in a decade. (The last SEC team to come in below 28% on 3rd down over a full season: Vanderbilt in 2010.) The Vols have failed on at least 2/3s of their conversion attempts in every game but one, topping out at 46.2% against Missouri.
Numbers that bad are an all-purpose issue. Even on a more granular level, the Vols come in well below the Mendoza line in almost every specific 3rd-down situation, rushing and passing, regardless of the distance to gain: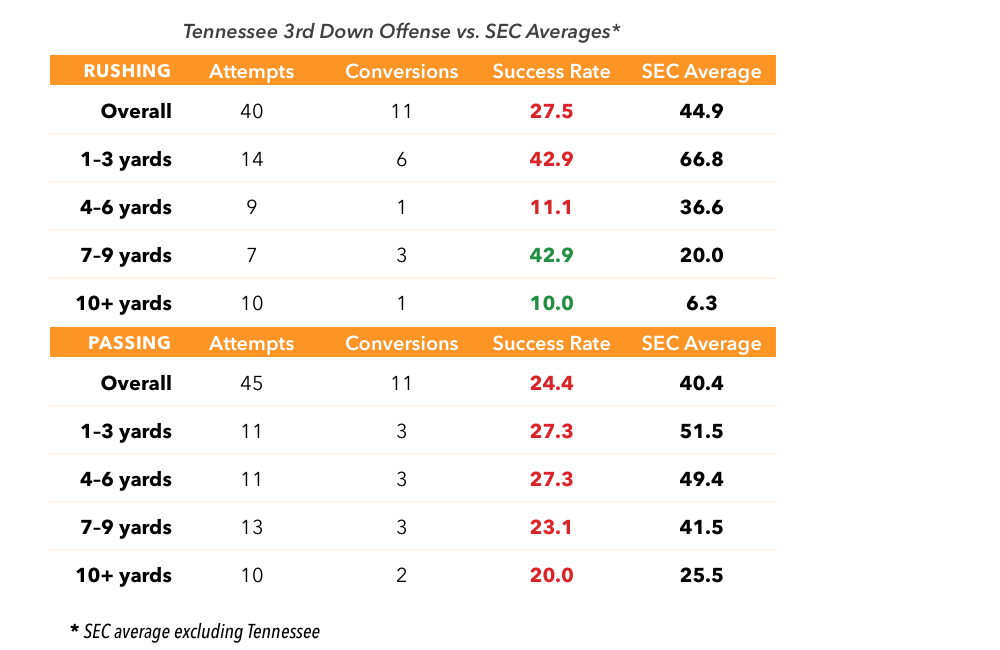 The margin on passing downs is especially pronounced, reflecting another glaring, season-long trend in the splits: The huge gap between QB Jarrett Guarantano's production on 1st down vs. his output on 2nd and 3rd downs. On 1st downs, with the full playbook at his disposal, Guarantano has generally looked like the battle-tested senior that he is, averaging 9.6 yards per attempt with 9 completions of 25+ yards and 5 touchdowns to 1 interception. (Passer rating: 169.9.) On 2nd and 3rd downs, when he's more likely to be putting the ball in the air out of necessity rather than by choice, his line plummets to 5.2 yards per attempt, 3 completions of 25+ yards, and a single touchdown vs. 2 INTs. (Passer rating: 103.4.)
Guarantano's favorite target, Josh Palmer, in particular, has done virtually all of his downfield damage this season on 1st-and-10 – most notably on 4 TD receptions in the 25-to-40-yard range, all opposite man-to-man coverage, that account for some of the best throws of Guarantano's career.
QB Garrett Guarantano pour WR Josh Palmer. TD Vols !

South Carolina 24, Tennessee 31 pic.twitter.com/zBKIY4FVae

— TBP College Football (@thebluepennant) September 27, 2020
Josh Palmer just went up and got it. pic.twitter.com/CJFXj2Ihcd

— CBS Sports (@CBSSports) October 10, 2020
After further review TD Josh Palmer! @Vol_Football #PoweredByTheT pic.twitter.com/Lono7M13ME

— CBS Sports HQ (@CBSSportsHQ) October 10, 2020
Josh Palmer with his 4th TD of the season #Stateside5 @FlowerCitysOwn pic.twitter.com/2VwlDXxe5J

— Krown Gridiron Nation on TSN (@KGNonTSN) October 24, 2020
Given the opportunity, that's a throw Guarantano can make on a more or less routine basis against any defense (see also: his other TD pass vs. Alabama, a 38-yard rainbow to freshman Jalin Hyatt), a significant point in his favor in defending his status as the de facto starter over an unknown quantity like true freshman Harrison Bailey. Obviously, after 4 years and 31 starts, the fact that the pro-Guarantano column can be largely boiled down to one narrow set of circumstances is not encouraging, to say the least. But if it's too late for sustained, consistent growth on passing downs, the occasional flash could still be the difference in a 4-quarter game that Tennessee has a chance to win late and yet another lopsided slog.
The big question: Has Bo Nix turned the corner?
Speaking of sustained, consistent growth! Nix's 381-yard, 4-touchdown romp against LSU came at exactly the right time for him, reviving his flagging stock and resetting expectations over the second half of the season. Now the hard part: Carrying that momentum through an extended break into what can still be a very meaningful stretch run.
It's important to keep in mind Nix is still just a sophomore. But his 18 consecutive starts ranks 2nd among active SEC QBs behind only Kellen Mond, and the one thing no one has accused him of in that span is consistency.
According to ESPN's QBR metric, his grades in the last 2 games against Ole Miss (85.1) and LSU (92.9) represent the best back-to-back performances of his young career – hot on the heels of 2 of his worst days in losses at Georgia (52.0) and South Carolina (50.6).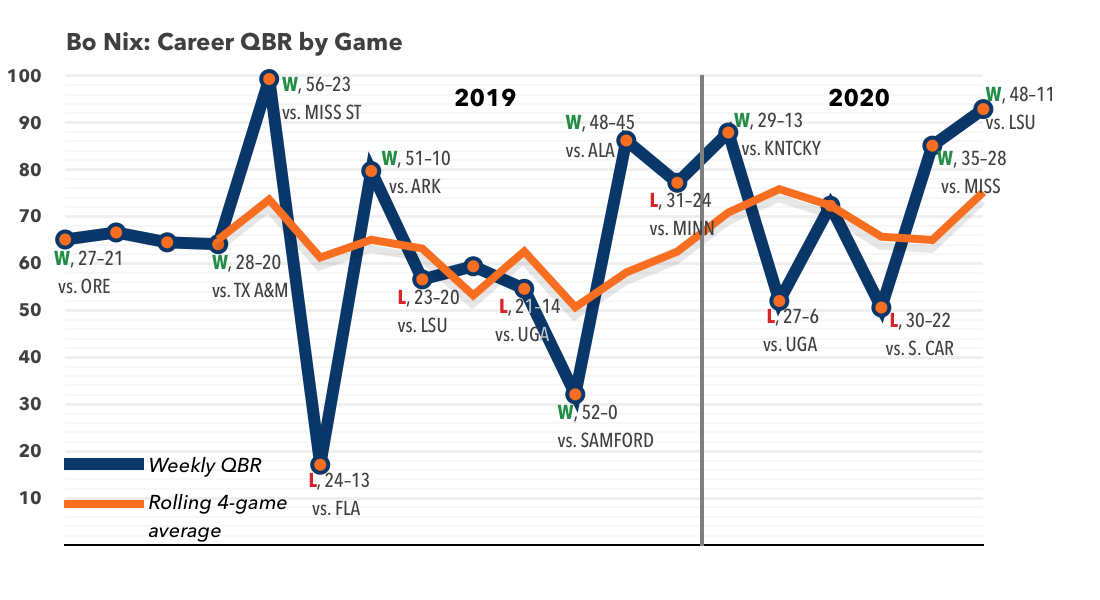 Quite the ride. Volatility notwithstanding, Auburn has invested in Nix for the long haul, and he's still at the stage when the peaks tend to justify the valleys. Keeping the arrow moving in the right direction in 3 straight games would be another reassuring step toward that investment actually paying off.
An underrated reason for the uptick: Nix's mobility. Excluding sacks, the last 3 games against South Carolina (12 carries for 85 yards), Ole Miss (8 for 59), and LSU (11 for 81) are the 3 most productive rushing outings of his career, a timely reminder of why he was billed as a dual-threat as a recruit. (On the other side of the coin, Guarantano, who also came in with the dual-threat label, has never looked comfortable or been notably productive as a runner.) First-year coordinator/play-caller Chad Morris doesn't emphasize designed QB runs to the extent Gus Malzahn typically has in the past, but it's always nice to know it's there.
The verdict
Although Nix is trending up as a passer, Auburn's offense has really been defined so far by the resurgence of the ground game, which has racked up 200+ yards in 4 straight games since settling on aptly named freshman Tank Bigsby as the feature back.
Bigsby ranks 3rd in the SEC in all-purpose yards and leads the league with broken tackles on 38.2% of his carries; only Kentucky's Christopher Rodriguez and Texas A&M's Isaiah Spiller average more yards after contact. He's the kind of workhorse that Malzahn's best teams have always had, and that they've sorely missed the last 2 years.
Meanwhile, Tennessee's defense has trended steadily downward against the run, allowing a slight increase in yards per carry in every game. Pruitt canned first-year d-line coach Jimmy Brumbaugh after an embarrassing second half against Kentucky, assuming those duties himself only to give up virtually identical numbers in the losses to Alabama and Arkansas. If the Vols continue to struggle to hold up against Auburn's bread and butter between the tackles it could be one of those kinds of nights in Jordan-Hare.
– – –
Auburn 33, Tennessee 17
Kentucky at Alabama (-30)
Kentucky's veteran secondary has been a strength this season, currently sitting atop the SEC in yards allowed per game and per pass, and only narrowly trailing Bama in pass efficiency. Will that make any difference when it comes to covering DeVonta Smith and John Metchie III? Survey says no. But even if the Tide's receiving corps is missing some pop minus Jaylen Waddle, the Wildcats' mediocre run defense is at the mercy of Najee Harris, who's due for a big day.
– – –
Alabama 41, Kentucky 16
LSU (-2.5) at Arkansas
More surreal: That Arkansas, a team barely a month removed from the end of a 20-game conference losing streak, actually opened as a slight favorite over the defending national champs? Or that the bets subsequently flipped that spread in favor of a short-handed LSU outfit in disarray? Even in the context of a year in which almost anything seems possible, the idea of rating this game as essentially a pick 'em 6 weeks ago would have been too absurd to consider.
And yet. Here we are. The X-factor on Saturday will be LSU' s true freshman quarterback, TJ Finley, who has one very good outing in relief of the injured Myles Brennan (17/21, 265 yards, 2 TDs/1 INT, 208.9 efficiency vs. South Carolina) and one very bad one (13/24, 143 yards, 0 TDs/2 INTs, 87.6 efficiency vs. Auburn), which he's now had an extra week to mull over.
Whatever hope might have existed of LSU's defense rounding into form was extinguished in the loss to Auburn; meanwhile, Arkansas' offense has found itself on the suddenly steady arm of Felipe Franks, who's posted a stellar 191.3 passer rating over the last 3 games with 8 TDs and no turnovers. (Not coincidentally, the Razorbacks have also eclipsed 200 yards rushing as a team minus sacks in each of those games.) The only question is whether Finley is able to keep pace against the Hogs' opportunistic-but-vulnerable secondary.
– – –
Arkansas 36, LSU 31
Florida (-31.5) at Vanderbilt
Last year's meeting in Gainesville was the most lopsided game of the conference season, a 56-0 slaughter in which Florida outgained Vandy by 442 yards and limited the 'Dores to a long gain of 17. This one will not be that bad, if only because Vanderbilt has an actual quarterback now in true freshman Ken Seals, who is visibly growing into the job as the year wears on. The 11 a.m. local kickoff isn't ideal for the Gators, either, but at the end of the day Kyle Trask will get his numbers, Vandy will crack the scoreboard, and everyone will forget this one ever happened by sunset.
– – –
Florida 48, Vanderbilt 13
Mississippi State at Georgia (-25)
Georgia's defense will win this one by itself against an MSU offense that ranks dead last in the SEC in scoring and yards per play. Worse than Tennessee, even worse than Vanderbilt … and that's including the output from the Bulldogs' opening-day bonanza at LSU, which is already in the books as one of the most misleading performances of all-time. In the weeks since, MSU has been a slow-motion wreck with no end in sight.
The real drama here is on Georgia's offense: All signs out of Athens this week point to USC transfer JT Daniels making his long-awaited season debut as UGA's starting quarterback, a move the fan base has been clamoring for since Daniels was medically cleared to play in late September. Presumably, his health and mobility have prevented him from seeing the field in the meantime, since the steadily deteriorating play of Stetson Bennett IV and D'Wan Mathis certainly has not. If Daniels is a hit, it will be a huge boost to the Bulldogs' championship prospects in 2021; it will also spark a new round of recriminations for keeping him nailed to the bench in their losses to Alabama and Florida.
– – –
Georgia 32, Mississippi State 10
Missouri (-6.5) at South Carolina
Both rosters are in dire straits. At South Carolina, the Gamecocks are down 5 defensive starters for various reasons, most notably starting cornerbacks/top draft prospects Jaycee Horn and Israel Mukuamu, who opted out of the rest of the season after Will Muschamp was shown the door over the weekend. At Missouri, the Tigers are reportedly down to 54 available scholarship players following WR Dominic Gicinto's exit from the program earlier this week – just 1 player above the SEC-mandated 53-man minimum required to make the trip. If they still manage to get the game in it might be the most grim spectacle of corona ball yet.
– – –
Missouri 27, South Carolina 24
Scoreboard
Week 8 record 3-0 straight-up / 1-2 vs. spread
Season record: 33-10 straight-up / 22-21 vs. spread