SEC
Week 12 SEC Primer: Is reeling LSU a spoiler of Florida's Playoff plans or just a small speed bump?
Everything you need to know about this weekend's SEC slate.
Game of the Week: LSU at Florida (-23)
The stakes
Does either team really want to be here? Sure, Florida-LSU is consistently one of the SEC's most intense, competitive and marketable rivalries, and keeping it on the schedule after the original Oct. 17 date was pushed back due to COVID-19 has been a priority. But let's be real: As the regular season winds to a close, it's hard to come up with anything either side has to gain from playing this game on this particular Saturday.
For Florida (8-1), of course, the focus is already squarely on next week's SEC Championship Game, where Alabama looms with a golden Playoff ticket and very likely the Heisman Trophy on the line. Since their lone loss at Texas A&M, the Gators have cruised through their last 6 by an average margin of almost 21 points per game, looking just as dominant against Georgia as against Vanderbilt. At this point, a lame-duck version of LSU is just one more obstacle to clear – another routine win gets them nowhere they weren't already going, while the prospect of an out-of-the-blue loss or (heaven forbid) an untimely injury threatens to tank the postseason. If this was the NFL, you'd happily sit the starters. Instead, the only way Kyle Trask's evening ends early is a summary blowout.
Then again, with this LSU team, a blowout is a very real possibility. Among many other indignities this season, the Tigers have already suffered their worst loss at the hands of Alabama in nearly 100 years and their worst ever loss against Auburn, period. The roster has been gradually decimated by one wave of attrition after another – by a mass exodus for the draft, by key returnees opting out of the season in August, by a mid-season injury to the starting quarterback, and most recently by the team's top two receivers deciding to call it a year over the past 2 weeks. At 3-5 and having self-imposed a bowl ban, LSU is 1 loss from clinching its first losing record since 1999, and arguably has never been at a lower point in the meantime than it is right now.
So: Maybe let's just honor the seniors and everybody get through this thing in one piece and move on, huh? Florida has bigger fish to fry. LSU has every reason to put 2020 in the rearview as quickly as possible.  In this year, especially, just getting to cross it off as another game that got played is occasion enough.
The stat: 11.8%
That's the percentage of Kyle Trask's total attempts this season (38-of-322) that have resulted in touchdowns, the best rate in the nation among Power 5 quarterbacks and on pace to go down as one of the best in the modern era of ever-more-efficient passing offenses.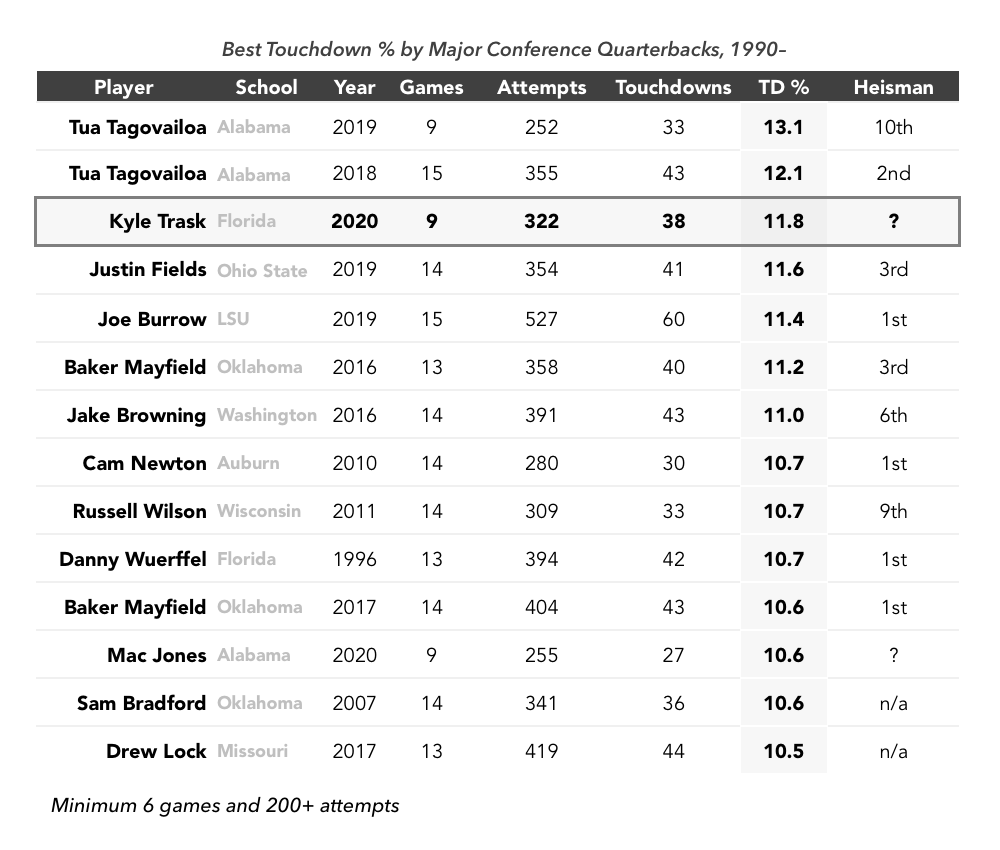 Officially, Trask is 1 touchdown shy of Danny Wuerffel's school-record 39 TD passes in his 1996 Heisman year, which should fall early on Saturday evening. (Wuerffel's mark doesn't include 3 additional TDs in the bowl game, but at his current pace Trask could match or surpass the real number by the end of the night, too.) His primary targets, Kyle Pitts (11 TDs), Kadarius Toney (8) and Trevon Grimes (8), have found the end zone on an astounding 22.7% of their total receptions – that's a touchdown for every 4.4 passes they haul in – with Pitts leading the nation at just north of 30% despite being held without a TD last week at Tennessee.
Opposite that group is an LSU secondary coming off another abysmal night against Alabama, and which ranks last or next-to-last in the SEC in pass efficiency defense, yards per pass allowed, and passes allowed of 20+ yards.
Last year's game in Baton Rouge (a 42-28 LSU win) was a breakout night for Trask and especially Pitts, who turned a lot of heads for the first time with a season-high 108 yards on 5 catches. Notably, much of that production came at the expense of then-freshman Derek Stingley Jr., who for all his gifts was as physically outmanned by Pitts' 6-6, 245-pound frame and powerful hands in single coverage as pretty much any other college corner with the misfortune of drawing the assignment.
Kyle Trask's best trait is his ball placement/accuracy but he understands how to use his eyes to create throwing windows

Each snap is TE Kyle Pitts vs Derek Stingley. Watch Trask eyes initially making sure to clear/hold backside LB – then the excellent location on in-breakers pic.twitter.com/epXGHExg3h

— Ben Fennell (@BenFennell_NFL) December 5, 2020
Stingley got the night's last and biggest laugh on a game-changing interception in the end zone in the 4th quarter, which effectively broke Florida's serve in a tit-for-tat shootout. This year, although Stingley has suffered a bit of a sophomore slump amid nagging injuries, he remains one of the few athletes at this level whose length and elite ball skills give him a fighting chance of holding his own vs. Pitts, if that's how LSU elects to deploy him. But Florida's passing game is far more diverse than the Kyle-to-Kyle connection, and regardless of who he lines up across from on any given play even Derek Stingley can't cover everybody.
The big question: What's left of LSU's offense?
Injuries and opt-outs have taken a severe toll on a lineup that was already short on experience: Exactly 1 starter from last year's win over Florida, RT Austin Deculus, still appears on the current depth chart. The Tigers haven't settled on a starter between true freshman QBs TJ Finley and Max Johnson, both of whom remain very much in survival mode.
The wipeout loss at Alabama was encouraging in one respect and one respect only, thanks to a pair of explosive first-half touchdowns via sophomore RB John Emery (who hit paydirt on a 54-yard run, easily LSU's longest of the year) and true freshman WR Kayshon Boutte (who technically did not score on a breakaway 44-yard reception only because he dropped the ball just short of the goal line, leaving it to senior Jontre Franklin to scoop it up for the official TD). The abrupt departures of the Tigers' leading receivers, Terrace Marshall Jr. and Arik Gilbert, leave Boutte as the go-to guy with a team-high 26 catches for 319 yards on the year. Only senior Racey McMath has more catches for his career (33).
Ideally, Emery, Boutte, and the young QBs would still be biding their time behind upperclassmen rather than being thrust into central roles virtually overnight. Their long-term potential is intriguing; for now they're just trying to keep their heads above water.
The verdict
It's tempting to imagine Florida replicating Alabama's 55-point bonanza against LSU's beleaguered defense, just to show it can. But the Gators aren't quite as explosive as the Tide or anywhere near as balanced, with roughly 3/4 of their total offense coming through the air. Dan Mullen's approach to the passing game is more methodical, less oriented around deep shots, and ruthlessly efficient at finishing drives in the red zone.
That said, if the Gators are inclined to go big, a home date against a reeling opponent is certainly an opportunity for a statement win heading into the defining game of the year. Their monster first half against Georgia is an example of what it looks like when Mullen and Trask keep their feet on the gas. That might not be the mindset in a game they're likely to win with a merely average night on offense, but if it is there's likely not much LSU can do about it.
– – –
Florida 41, LSU 23
Alabama (-32) at Arkansas
Arkansas' secondary has had some success this season with an umbrella zone approach that emphasizes limiting big plays — the Razorbacks have allowed just one pass of 40+ yards this season in 9 games, tied for best in the nation among teams that have played more than 4. (On the other side of the coin, they've allowed 100 passes of 10+ yards, or about 11 per game, most in the SEC.) Of course, whether that's relevant at all against an Alabama attack that has fully embraced and quite possibly perfected the long ball is a different question. DeVonta Smith alone has 6 catches that gained 40+ yards in the Tide's last 4 games.
– – –
Alabama 51, Arkansas 17
Georgia (-13) at Missouri
Missouri QB Connor Bazelak is a much different player now than the overwhelmed true freshman who helped oversee a shutout loss against Georgia last year in the first significant action of his career. This time around the Tigers are more concerned with their defense, which was just ripped to shreds by Arkansas for a season-high 566 yards (292 rushing, 274 passing) in a 50-48 shootout. (Before Mizzou fans object, recall that the Razorbacks had already finished off the first 3 of their 7 touchdown drives before All-SEC LB Nick Bolton was ejected for targeting late in the 2nd quarter, and were well on their way to No. 4.) Georgia's offense is unlikely to match that number only because it's unlikely to run 84 plays. But if the Bulldogs' ground game carves out a niche, the results will feel the same.
– – –
Georgia 31, Missouri 20
Auburn (-6.5) at Mississippi State
For a team whose only win in the past 2 months is a fluky decision over Vanderbilt, Mississippi State is feeling relatively good about itself these days coming off back-to-back 31-24 losses vs. Georgia and Ole Miss. At least those games were competitive. The same can't be said for Auburn, which followed up an Iron Bowl thrashing at the hands of Alabama with last week's 4th-quarter collapse vs. Texas A&M. The Bulldogs are on the opposite end of the standings from the Crimson Tide and Aggies, but the trajectory of the point spread — it took barely 24 hours for the opening line on Monday, Auburn –9, to plunge to Auburn –6.5 — tells you all need to know.
– – –
Auburn 30, Mississippi State 26
Tennessee (-15) at Vanderbilt
A win in Nashville is extremely unlikely to affect Jeremy Pruitt's job security in any notable way, but suffering a 7th consecutive loss to one of the worst Vanderbilt outfits in recent memory — one that's already fired its own head coach amid a 12-game conference losing streak — would be an automatic death knell. (Based on Sports-Reference's Simple Rating System, the 2020 Commodores are in fact the worst team in school history, which is really saying something.) The Vols may be in a historically bad place themselves, but it cannot be that bad.
– – –
Tennessee 34, Vanderbilt 16
SCOREBOARD
Week 11 record 4-1 straight-up / 2-3 vs. spread
Season record: 48-12 straight-up / 29-31 vs. spread