SEC
Week 11 SEC Primer: Finally, a Texas A&M game that matters in December. Can the Aggies make it count?
Everything you need to know about this weekend's SEC slate.
Game of the Week: Texas A&M (-7) at Auburn
The stakes
When was the last time Texas A&M played a meaningful game after Thanksgiving? However you define "meaningful," it's been a good long while.
Prior to this year, the Aggies haven't been relevant in the national championship race at any point in the BCS/Playoff era, and haven't played for a conference championship since their memorable 1998 upset over Kansas State for the Big 12 crown. (Memorable mainly for knocking the undefeated Wildcats out of the inaugural BCS title game in dramatic fashion.) In the decades since, they've played exactly 1 December/January game as a top 10 team in the AP poll, in the Jan. 4, 2013 Cotton Bowl vs. Oklahoma to cap their first season in the SEC. Their last December/January game as a top-5 team: The 1993 Cotton Bowl vs. Notre Dame to cap the 1992 season — a month after Johnny Manziel was born.
So yeah, even on the COVID-adjusted calendar, a game with legitimate Playoff Implications at this point in the season is the kind of program milestone Jimbo Fisher is getting paid for. A&M (6-1) held at No. 5 in the latest Playoff committee rankings following its offensively challenged win over LSU, leaving the Aggies in prime position to fill a vacancy in the top 4 of any of the current occupants drop out. A few specific stars must align to make that possible, beginning with A&M running the table over its last 3 games against Auburn, Tennessee, and – pending an official announcement – Ole Miss. (The Ags will also need Florida to suffer a 2nd loss along the way, preferably in the SEC Championship Game, among other things.) ESPN's Football Power Index puts their odds of winning out at just 36.2%, without even factoring in the still-to-be-confirmed Ole Miss game. A win at Auburn, though, would flip that number well into the black in one swoop.
At 5-3, Auburn is unranked and potentially unmotivated coming off a blowout loss in the Iron Bowl that ended any chance of chalking this strange season up as a success. But the Tigers still pose a challenge as spoilers: They're unbeaten (4-0) at home, they rival A&M in terms of raw talent, and they're the first (and last) opponent the Aggies will face since their season-defining win over Florida with a winning record.
To some extent, they're also playing to keep Gus Malzahn off the hot seat entering what already promises to be a long offseason. There's no Playoff berth or backdoor run on the division title in play, but there is the fact that 6-3 feels a whole lot better than 5-4.
The stat: 3.02 yards per carry
That's the average gain on the ground by opposing offenses vs. Texas A&M's defense (including negative yardage on sacks), good for 2nd in the SEC and 7th among all Power 5 teams nationally. It also represents the Aggies' best effort against the run since joining the conference, by far, making it the area that has made the most obvious strides under Fisher and defensive coordinator Mike Elko: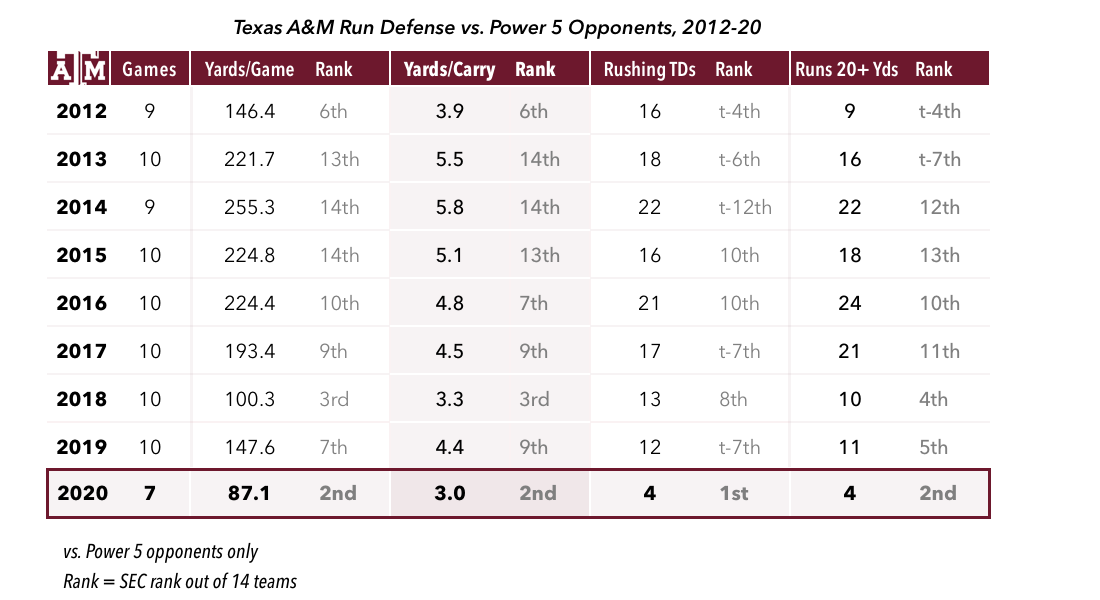 Not that talent up front has ever been an issue, at least as far as the NFL is concerned: A&M's defensive line alone has produced 5 draft picks in the last 4 years (headlined by Myles Garrett, No. 1 overall in 2017), all of whom were recruited and signed by Kevin Sumlin. That's more than Auburn, Georgia or LSU's d-line in the same span. Unlike the Sumlin years, the results on Elko's watch speak for themselves. In Year 3, A&M has held 6 of 7 opponents (all except Arkansas) below its season averages on the ground, while limiting the 2 best individual backs they've faced, South Carolina's Kevin Harris and Alabama's Najee Harris, to their season lows. The lineup is a solid mix of veteran holdovers from the previous staff — 5 of the front 7 starters are 4th- and 5th-year players, most notably heat-seeking LB Buddy Johnson, the reigning SEC Defensive Player of the Week for his effort at LSU — alongside a pair of future pros in junior Bobby Brown III, a 325-pound anchor on the interior, and true sophomore DeMarvin Leal, a cut-from-the-mold strongside/3-4 end who can play inside or out and is only beginning to scratch the surface of his 5-star potential.
LSU can't block Demarvin Leal (@boimarv9 ) right now.

The #Aggies sophomore has blown up a couple plays in the backfield already in the first half. pic.twitter.com/8Nwa694NxW

— Mike Lucas (@KAGS_Lucas) November 29, 2020
At full speed, Auburn's ground game has plenty of potential in its own right. But that's a significant caveat: The Tigers' production has slumped the past 2 weeks due largely to a hip injury that's limited hard-charging freshman RB Tank Bigsby to just a handful of touches; he looked like a shadow of his usual self in the Iron Bowl, logging 11 carries with a long gain of just 6 yards, and remains questionable to play Saturday. Ditto sophomore RB D.J. Williams, who didn't touch the ball at all against the Tide due to a lingering ankle injury. A couple of starting offensive linemen, Brandon Council (knee) and Alec Jackson (hand), are officially on ice. There's a chance that Bo Nix finishes as the team's leading rusher, which is not a promising scenario.
The big question: Where are A&M's wide receivers?
Predictably, much of the blame for A&M's offensive woes against LSU — 267 yards, 11 punts, 7 3-and-outs, 2-for-16 on 3rd-down conversions, zero pass plays of 20+ yards — fell on senior QB Kellen Mond, who turned in one of the worst outings of his career after a 3-week layoff. Mond has started 41 games is unquestionably the face of the offense. But the wide receiver rotation has been a season-long void that is nowhere near being filled.
To begin with, the top 4 wideouts in last year's rotation, all of whom were eligible to return, were instead scattered to the wind before the season even started, having either declared early for the draft (Kendrick Rogers, Quartney Davis), opted out due to COVID-19 (Jhamon Ausbon), or been ruled out due to injury (Camron Buckley). The leading candidate to emerge in the early going, sophomore Caleb Chapman, suffered a torn ACL in the midst of a breakout performance in the win over Florida. The only other wideout with double-digit receptions, redshirt freshman Chase Lane, left the LSU game with an apparent shoulder injury and is questionable for Saturday. The rest of the WR depth chart has 19 combined catches for 189 yards and no touchdowns.
Given the situation on the outside, it's a testament to the rest of the offense that it's operated as efficiently as it has for much of the season. Mond's most productive targets, TE Jalen Wydermyer (32 for 342 yards, 4 TDs) and utility back Ainias Smith (29 for 348 yards, 5 TDs), have risen to the occasion as true sophomores, with Wydermyer serving as the reliable, move-the-chains option underneath — 20 of his 32 receptions have gone for first downs, including 11 of 12 on 3rd down — and Smith serving as the de facto big-play from out of the backfield …
https://twitter.com/thecheckdown/status/1312492737074089984?s=20
… or the slot:
https://twitter.com/AggieFootball/status/1322693234901110784?s=20
But relying so heavily on a tight end who is not the next Kyle Pitts and a running back who is not the next Alvin Kamara can only take you so far. Altogether, A&M has just 16 completions on the year of 20+ yards, which ranks 13th in the SEC ahead of only Kentucky. Even Vanderbilt (20) and Tennessee (18) have connected for more. The Aggies' long gain through the air vs. LSU covered just 18 yards via Smith as its outside receivers were effectively erased by the Tigers' long, athletic corners.
Their only answer was to continue feeding sophomore RB Isaiah Spiller, a 225-pound thumper who supplied A&M's only offensive touchdown on an eye-opening, 52-yard run in the first quarter but averaged just 3.0 yards on his other 27 carries. Spiller's emergence as a viable 100-yard back on a weekly basis has been a boon to the play-action game, as has a long-in-the-tooth offensive line that's allowed just 3 sacks this season, easily the fewest in the SEC.
The win over Florida, in which the Aggies ran for 213 yards, passed for 338, converted 12-of-15 3rd downs, racked up a nearly 10-minute advantage in time of possession, and scored on 7 of 9 offensive possessions, is the blueprint for how this offense is ideally designed to work.
The win over LSU is the example of how quickly it can go off the rails. If Spiller is plowing into crowds and Mond is firing wide of blanketed wideouts on 3rd-and-long, brace for another slog.
The verdict
Home-field advantage is a fuzzy concept to begin with, all the more so in a stadium at 20% capacity. But Auburn is a different team in Jordan-Hare, boasting a 10-1 record over the past 2 years vs. 4-6 in road/neutral games, and Bo Nix, specifically, is a different quarterback: His passer rating at home this season (a stellar 163.2) is nearly 60 points higher than on the road (an abysmal 104.8). His TD-to-INT ratio improves from 2/6 to 8/1. Partly that's the result of the 2 toughest games on the schedule to this point (Georgia and Alabama) both coming on the road; partly it's just plain randomness within a small sample size. And partly it's a young quarterback who's found his comfort zone in a friendly, familiar setting.
That said, both quarterbacks in this game are ultimately operating on a "spin the wheel" basis. Where she stops on any given Saturday, no one knows. Like Nix, Mond is a highly capable but fundamentally erratic type coming off a debacle. Unlike Nix, though, he has the benefit of a healthy bell cow in Spiller running behind an intact offensive line, opposite a defense that can stop the run and get after the quarterback. If Nix responds, Auburn has a shot. But A&M is where it is because of its capacity to keep Mond out of those spots in the first place.
– – –
Texas A&M 27, Auburn 24
Alabama (-29.5) at LSU
Early in the year, it was LSU's offense holding its own while the defense was getting lit up by the likes of Mississippi State and Missouri. Now that the defense is rounding into form, it's the offense's turn to flail. With QB Myles Brennan out for the year, WR Terrace Marshall Jr.'s decision to opt out of the remainder of the season, and WR Racey McMath unavailable for the second week in a row, the skill positions are overwhelmingly in the hands of true freshmen and sophomores.
That includes both candidates to start at quarterback, TJ Finley and Max Johnson, neither of whom has given any indication to this point that he's capable of holding it together for any extended period of time against Alabama.
If it wasn't immediately obvious that this is going to be one of those kinds of games against a rejuvenated Bama defense: It's going to be one of those kinds of games.
The most compelling matchup is on the other side of the ball, where LSU CB Derek Stingley Jr. is coming off his best game of the year against Texas A&M going into a long-awaited rematch across from Alabama's DeVonta Smith. Last year, Smith repeatedly torched Stingley for big plays, including a pair of long touchdowns, in what was undeniably the most humbling afternoon of an otherwise spectacular freshman campaign for the gifted young corner.
THIS GAME IS BONKERS! pic.twitter.com/67CL9Q8944

— CBS Sports (@CBSSports) November 10, 2019
This year, Stingley has been relatively quiet amid early health concerns and an LSU secondary that has often looked lost as a unit, while Smith has embarked over the past month on one of the great individual tears in SEC history despite being the primary focus of opposing secondaries in the absence of Jaylen Waddle. If he's healthy and dialed in, Stingley is an ideal specimen in press man coverage and a no-questions-asked first-rounder once he's eligible for the NFL Draft in 2022. But if anyone in the college game right now is literally uncoverable, it's DeVonta Smith.
– – –
Alabama 45, LSU 13
Florida (-17.5) at Tennessee
Someday, I promise, this rivalry will be relevant again. In the meantime, it is what it is: Florida has claimed 14 of the last 15 in the series, including the first 2 meetings between Dan Mullen and Jeremy Pruitt by margins of 26 and 31 points, respectively. This year, the Gators boast their highest AP ranking entering the Tennessee game (6th) since 2009, while the Vols wash in on a 5-game losing streak that could end with Pruitt becoming the latest casualty of the UT coaching churn after just 3 years.
This is the 3:30 pm CBS game, and if Tennessee stands any chance of turning it into something other than another high-profile, stat-padding entry in Kyle Trask's Heisman campaign it will be on the strength of its ground game. Sophomore RB Eric Gray has emerged as one of the few reliable positives on offense with 4 100-yard rushing games to his credit, including a 173-yard romp against Auburn on 7.9 per carry his last time out.
But the Vols are just 1-3 in those games, averaging barely a dozen points in the losses due to a dismal, disaster-prone passing game. (Since halftime of the Vols' loss to Georgia, the game that kicked off the losing streak, QB Jarrett Guarantano has actually been responsible for more touchdowns for opposing defenses (4) than he's accounted for himself (3).) When you're still waffling on your starting QB at this point in the season, the only surprises in store are usually bad ones.
– – –
Florida 38, Tennessee 16
Vanderbilt at Georgia (-35.5)
How ugly is UGA willing to let this one get? The usual talent gulf on the field plus an interim head coach on Vanderbilt's sideline – the second week in a row Georgia has encountered an interim situation, following last week's blowout win at South Carolina – means the Bulldogs can pretty much name their score and their preferred means of getting there. Knowing Kirby Smart, that most likely means another big day for the running back rotation, if not necessarily for any of the individual backs, in particular.
Otherwise, the only suspense here is whether Vandy kicker Sarah Fuller will get her first shot at knocking through a field goal or extra point after the offense failed to generate a single opportunity in last week's 41-0 loss at Missouri. Don't count on the latter.
– – –
Georgia 44, Vanderbilt 6
Arkansas at Missouri (-3)
Saturday will be a homecoming of sorts for Arkansas defensive coordinator Barry Odom, who was fired after 4 years as Missouri's head coach last November following a season-ending win over … Arkansas. It also brings us one of the narrowest point spreads we've seen in any game this season, an accurate reflection of just how evenly matched these two sides are. The Razorbacks have dropped 4 straight to Mizzou and 5 of 6 since the cross-state matchup became an annual rivalry, but when in doubt I believe in riding with the better quarterback. In this one, that's Arkansas' Feleipe Franks, who's in the running with Miami's D'Eriq King as the most valuable grad-transfer QB in the 2020 class.
– – –
Arkansas 24, Missouri 23
South Carolina at Kentucky (-11.5)
Barring a last-minute curve, the Gamecocks (2-7) and Wildcats (3-6) will both wrap up their seasons Saturday, right on schedule, mercifully becoming the first SEC teams to complete the COVID gauntlet. As much of a roller coaster as the past 3 months have been for Carolina in almost every other respect – fired head coach, QB controversy, wave of key players opting out – in the end the Gamecocks will go out as the only SEC team that somehow managed to play all 10 games on their original dates without a postponement. (Kentucky had to rearrange midseason dates vs. Missouri and Georgia.) That may not be exactly the kind of distinction the fan base was hoping for back in August, but in this year especially there's a lot to be said for just getting it over with.
– – –
Kentucky 26, South Carolina 17
SCOREBOARD
Week 10 record 6-0 straight-up / 3-3 vs. spread
Season record: 44-11 straight-up / 27-28 vs. spread