SEC
Week 5 SEC Primer: Another year, another wipeout looms. Is Tennessee vs. Alabama even a rivalry anymore?
Everything you need to know about this weekend's SEC slate.
Game of the Week: Alabama (-21) at Tennessee
The stakes
How lopsided does a "rivalry" have to be before it loses the distinction? Alabama-Tennessee has to be pushing the outer limits of the term.
The Crimson Tide haven't just won 13 straight in the series under Nick Saban: They've dominated to an unprecedented extent, winning by 25 points per game in that span with 7 wins by 30+ points and only 2 (in 2009 and 2015) decided by single digits. Out of 101 meetings since 1903, 7 of the 10 most lopsided margins in either direction have come in the past decade.
At no point in that span has Tennessee appeared to be on the verge of narrowing that gap, much less closing it – even the 2016 team, which came into the game ranked in the top 10, was trounced 49-10 in what would turn out to be the beginning of the end of the Butch Jones era in Knoxville – and in 2020 it remains as wide as ever.
Whatever case the Vols might have made went up in smoke the past 2 weeks in demoralizing, turnover-fueled losses to Georgia and Kentucky, snapping the momentum of an 8-game winning streak dating to last year's loss in Tuscaloosa. Instead, they'll limp in (again) with a flashing red vanacy sign at quarterback, no coherent identity and nothing in particular to play for except pride and coach Jeremy Pruitt's job.
As for Bama, the Tide are out to tick off another box on their annual march to the Playoff and maybe advance the Heisman case of QB Mac Jones after passing their big regular-season test against Georgia. You know: Business as usual.
With each passing year, it gets a little harder to remember when the Third Saturday in October (which falls on the fourth Saturday this year, actually) was ever anything else.
The stat: 72.3%
That's the percentage of all available yards Alabama's offense has accounted for this season, per drive efficiency guru Brian Fremeau, just another one of the many, many offensive metrics in which the Tide rank as the best in the nation. Available yards percentage is calculated by dividing yards gained on a given offensive possession by the total number of possible yards based on starting field position — a touchdown drive accounts for 100% of available yards, a drive that begins at the offense's own 20-yard line and gains 40 yards accounts for 50%, a drive that begins at the opposing 40 and gains 10 yards accounts for 25%, etc. Only 2 other FBS teams, BYU and Florida, are above 70% for the year.
Based on that accounting, in which 50% is roughly average, Bama has turned in an upper-percentile performance each week: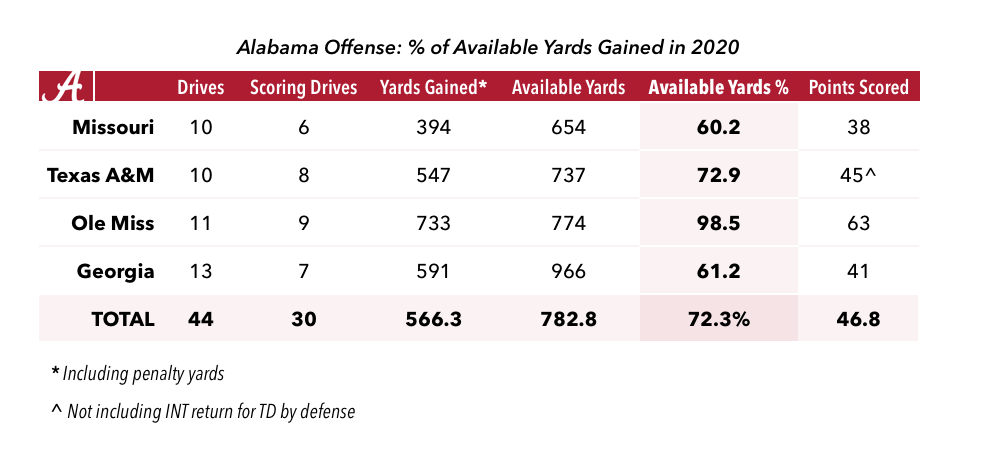 Historical data isn't available on this kind of statistic, but that number in the Ole Miss game must rate among the most efficient ever recorded in an SEC game. Alabama scored touchdowns on 9-of-11 possessions in Oxford and came up just a yard shy of a 10th due to a goal-line fumble by the usually sure-handed Najee Harris in the 1st quarter. (The only lost fumble of his career on more than 500 touches.) Bama's only other non-scoring drive of the night ended with a punt from the Rebels' 40-yard line on the subsequent possession, after which the Tide's final 8 possessions all reached the end zone. Ergo, a grand total of 41 yards left on the table out of the nearly 800 available for the entire game.
Last week's 41-24 win over Georgia was an impressive feat of efficiency in its own right, and not only due to the degree of difficulty opposite Georgia's suffocating defense, which came in allowing fewer than 30% of available yards over its first 3 games. After a relatively slow start in the 1st quarter — an interception on the first play from scrimmage, plus 3 consecutive punts following a quick-strike touchdown — Bama hit the gas, accounting for 417 of a possible 507 yards (82.2%) over its next 7 possessions, a streak that yielded 4 touchdowns, 2 field goals and 1 punt (and even then only after moving the ball 49 yards into UGA territory). Only a deliberate clock-killing drive to end the game prevented that number from being even higher.
For its part, Tennessee's defense has allowed respectable 44.3% of available yards — a better number than Alabama's surprisingly mediocre defense to date (54.4%), but not nearly good enough to offset an offense that has accounted for just 39.5% and is trending in the wrong direction. Bending without breaking would be a significant accomplishment.
The big question: Can Tennessee keep it interesting?
It's easy to forget, but there was a fleeting moment in last year's game when the Vols, trailing 28-13 early in the 4th quarter, threatened to make a game of it by embarking on a 14-play, 66-yard drive that drained 8 minutes off the clock and left them facing 4th-and-goal at the Alabama 1-yard line. What happened next is arguably the defining moment of the past dozen years of Tennessee football.
At that point, it was easy enough to assume that Jarrett Guarantano, who had to come off the bench against the Tide after being demoted from the starting job a couple of weeks earlier, had taken his last snap as a Volunteer. A year later, the fact that Guarantano remains atop the depth chart may be even more stunning now than it would have seemed in the immediate aftermath of Pruitt yanking his facemask in frustration.
Officially, the QB situation is "undecided." But while much of the fan base may be in Literally Anyone Else mode after watching Guarantano commit 6 turnovers over the past 2 weeks – including a pair of pick-6 INTs on back-to-back possessions in the loss to Kentucky – Pruitt seems reluctant to play musical chairs. The top backup, sophomore J.T. Shrout, appeared for 1 play vs. the Wildcats, immediately served up a pick of his own, and returned to the bench for the rest of the game. True freshman Harrison Bailey made his first career appearance in garbage time; he's also barely gotten his feet wet in practice due to being shelved for part of the preseason under COVID-19 contact-tracing protocols but has the apparent endorsement of LB Henry To'o To'o. Sophomore Brian Maurer, who started last year at Alabama, hasn't seen the field at all.
At various points this season Tennessee has had the rough outline of a competitive team. The offensive line, the focus of so much offseason optimism, lived up to the hype in a run-oriented win over Missouri. Guarantano was efficient (and turnover-free) in that game and in a season-opening win over South Carolina. He's flashed a rapport with his favorite receiver, Josh Palmer, most notably on a couple of long-ish TD strikes against Georgia before things went sideways. RBs Eric Gray and Ty Chandler are a solid 1-2 punch capable of sustaining and finishing long drives. The defense has been mosty fine even with its back against the wall.
As long as the QB situation remains where it is, though, inconsistency and combustibility will continue to be the rule. Realistically, the best-case scenario against Bama is a retro effort in which the ground game manages to chew clock and Guarantano (or whoever) can take advantage of play-action without being forced into a situation where he's trying to trade touchdowns with the nation's most explosive offense. But that's not very interesting unless it's executed to absolute perfection, in which case it probably ceases to be realistic.
The verdict
Based on the recent track record in this series, the 21-point spread is conservative – Alabama's margin of victory has exceeded that in 8 of the past 10 years, including each of the last 4. On paper, this matchup isn't markedly different than any of those, with the possible exception that Bama's defense is not the monolith it was prior to last year.
But Bama's offense hasn't suffered at all in the transition from Tua Tagovailoa to Mac Jones and doesn't figure to start here. The most pressing question is who among Najee Harris, DeVonta Smith, Jaylen Waddle and John Metchie III is going to steal the show, or whether they'll share the spoils equally.
– – –
Alabama 44, Tennessee 17
Auburn (-3) at Ole Miss
Auburn fans who watched Bo Nix put the ball in the air 47 times with 3 interceptions in last week's loss at South Carolina were left pulling their hair out over the play-calling, for good reason: True freshman RB Tank Bigsby touched the ball just 16 times despite averaging more than a full yard more carry (6.9) than Nix averaged per pass (5.8). In general, Bigsby has wasted no time establishing himself as exactly the kind of versatile workhorse Gus Malzahn's best offenses have always tended to ride as hard as they can. Through 4 games, he leads the conference in all-purpose yards and is breaking tackles at a higher rate (48%) than any other SEC back with at least 25 carries.
If Auburn wants to turn its season around they should recognize the potential superstar they have in true freshman running back Tank Bigsby and get back to hard-nosed, blue-collar, better bring your hard hat & lunch pail football #WarEagle pic.twitter.com/QFOmZkgCE4

— Power of Dixieland (@Power_Dixieland) October 20, 2020
Against Ole Miss, which ranks 75th out of 77 teams nationally in rushing defense and 76th in pass efficiency D, the Tigers should be able to move the ball pretty much however they want. But for future reference, clearly the fan base wants to see a lot more of No. 4.
– – –
Auburn 34, Ole Miss 29
South Carolina at LSU (-6)
The x-factor in Baton Rouge is the status of LSU quarterback Myles Brennan, who is doubtful to play due to a lingering abdominal injury he suffered in the Tigers' loss at Missouri. That puts the onus on a pair of true freshmen, T.J. Finley and Max Johnson, who have been competing for first crack at the job in Brennan's absence, as well as on LSU's underwhelming ground game.
Although Ed Orgeron insisted on Wednesday that the offense would not change regardless of who happens to be receiving the snaps, you know the prospect of calling 40 passes for a fledgling QB with zero career attempts to date while South Carolina CB Jaycee Horn licks his chops across the line of scrimmage has to set his jaw on edge.
The Tigers have struggled badly on the ground in their losses to Mississippi State and Mizzou and were largely forced to abandon the run anyway when both games turned into shootouts. South Carolina should be much more amenable to slugging it out behind 225-pound thumper Kevin Harris, who's logged at least 25 touches for 100+ scrimmage yards in 3 consecutive games. If either quarterback accounts for a substantial majority of his team's total offense something has likely gone very wrong.
– – –
LSU 26, South Carolina 23
Kentucky (-5.5 ) at Missouri
Bazelak is coming off an eye-opening debut against LSU that earned him the distinction of national quarterback of the week from the Davey O'Brien Foundation in his first career start. But Kentucky's defense is on a roll: In their wins over Mississippi State and Tennessee, the Wildcats allowed a meager 4.0 yards per pass with 9 INTs, outscoring both the Bulldogs and Vols via 3 pick-6 INTs alone. Even as the offense struggled, Kentucky won those games by a combined margin of 49 points.
That's a long way from the defense that gave up 42 points in an overtime loss to Ole Miss 3 weeks ago, a wild game that suggests the Wildcats could still be vulnerable. Mizzou will find out a lot more about its redshirt freshman QB on Saturday afternoon.
– – –
Kentucky 27, Missouri 20
Scoreboard
Week 4 Record 2-3 straight-up / 3-2 vs. spread
Season Record: 17-9 straight-up / 13-13 vs. spread