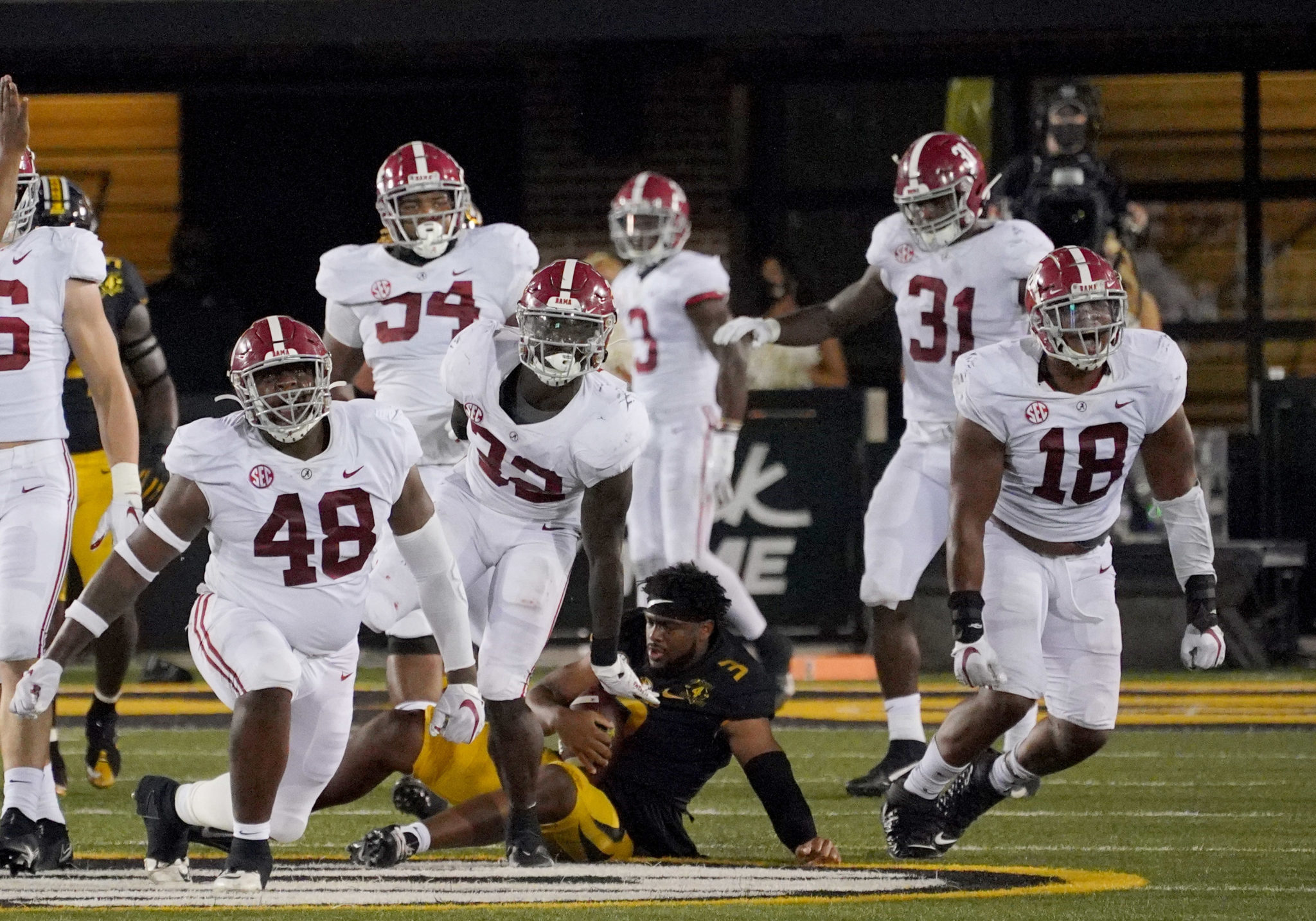 SEC
Week 4 SEC Primer: The Tide's game has changed, but the stakes for Alabama-Georgia remain the same
Everything you need to know about this weekend's SEC slate.
Game of the Week: Georgia at Alabama (-4)
The stakes
As high as they could conceivably be for a midseason game in any sport. These days, Tide/Dawgs speaks for itself: A guaranteed collision of the two most talented rosters in college football with explicit Playoff Implications on both sides, regardless of where it happens to fall on the calendar. Saturday's edition, the first regular-season meeting since 2015, will match the No. 2 and No. 3 teams in the AP poll – not to mention the only remaining undefeated teams in the SEC – and set the winner on the path to a title.
For Georgia, especially, every opportunity to vanquish the Tide feels like a defining moment. Although they've met just 5 times since 2008, each of those games has carried high stakes, and one way or another all of them have ended with the Bulldogs suffering the kind of defeat that leaves a scar. Painfully lopsided or painfully close, the common denominator on the UGA side of this series has been pain.
The last two meetings, in the 2017 National Championship Game and the 2018 SEC Championship Game, were instant classics in the genre – on both occasions, Georgia controlled the first three quarters, building a seemingly solid 14-point lead, only to wither in the face of a late, dramatic Alabama rally sparked by the backup quarterback.
Bama outscored UGA by a combined 30-3 in the 4th quarter and overtime of those games, raising the specter of high-stakes flops as one of the recurring themes of Kirby Smart's tenure. Last year's blowout loss to LSU in the SEC title game, the capper to one of the few 11-win regular seasons on record that can be charitably described as "joyless," only amplified the point.
Alabama has more immediate concerns: The defense is coming off arguably its worst performance of the Nick Saban era in last week's wild, 63-48 win at Ole Miss, and Saban himself is coming off a positive COVID-19 test that will force him to miss the game due to quarantine. (He's reportedly asymptomatic, and as of this writing no other Bama players or coaches are thought to be affected; offensive coordinator Steve Sarkisian, former head coach at Washington and USC, will reportedly assume Saban's game day duties. All of this remains surreal.) It's quite the adjustment to acknowledge Alabama, currently the nation's highest-scoring team, as the shootout-friendly side with a suspect defense. The extent of that vulnerability is very much TBD.
Still, after the way the last 3 seasons have ended, Georgia is the team with something to prove. Only a handful of upperclassmen on the current roster played a role in the 2018 game, and only one starter (5th-year senior OL Ben Cleveland) remains from 2017. But the urgency of ending UGA's 40-year national championship drought comes with the territory, and ultimately that road goes through Bama. Saturday may not be a straight-up elimination game, depending on how the rest of the season unfolds, but at this point every shot they miss just makes the goal seem that much farther away.
The stat: 21.7%
That's the percentage of Alabama QB Mac Jones' passing attempts this season that have gained at least 20 yards, the best rate in the nation and a slightly higher share than Tua Tagovailoa posted either of the past 2 seasons.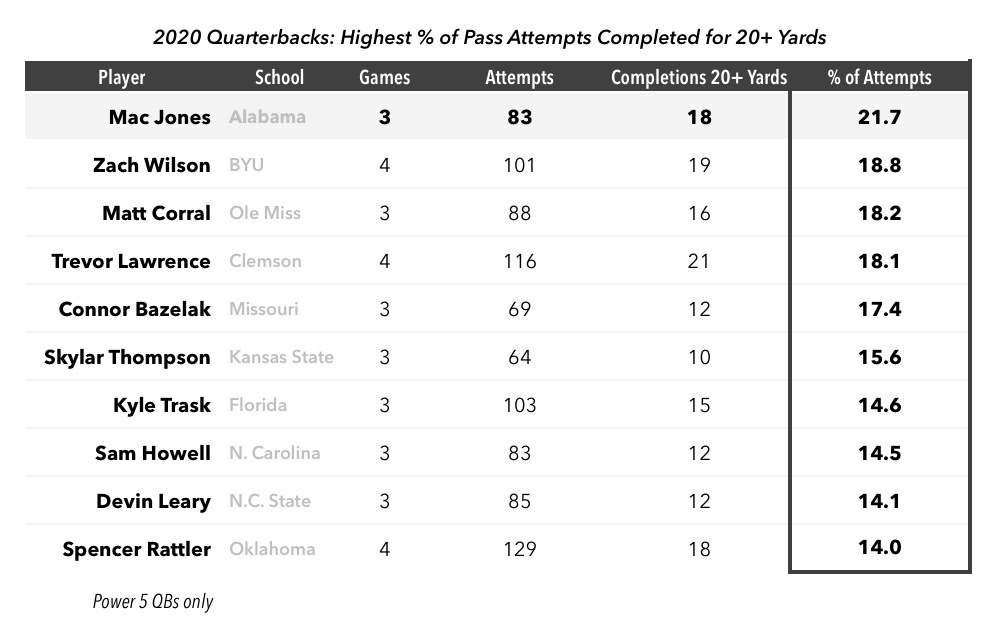 In more conventional terms, Jones is also No. 1 nationally in yards per attempt and overall efficiency, all of which tells the same story: Despite losing Tua and a pair of first-round wideouts, Bama's offense is as explosive as ever. The resident deep threats, Jaylen Waddle and John Metchie III, have averaged an eye-popping 23.1 yards per catch with 5 TDs and a dozen receptions of 20+ yards between them; the "possession" guy, DeVonta Smith, is the only Power 5 player to date who's gained more than 200 yards after the catch, according to Pro Football Focus. (Smith also led the nation in average YAC in 2019.) Collectively they're the only FBS receiving trio to crack 1,000 yards on the season.
Jaylen Waddle's acceleration is silly pic.twitter.com/Z7tHghIn8c

— Dalton Miller, Same as on Tik Tok?️ (@DaltonBMiller) October 8, 2020
Georgia's defense, playing the role of the Immovable Object in this analogy, has some stats of its own: The Bulldogs are No. 1 among Power 5 programs in pass efficiency D and No. 2 in yards per attempt allowed despite giving up a couple of touchdown passes in Saturday's win over Tennessee. Just as important, they've been relentless in their pursuit of quarterbacks, registering 8 sacks and an astounding 48 QB hurries in their wins over Auburn and Tennessee. (Hurries are an unofficial stat left up to the discretion of each school's own box score, but that number gibes with the experience of watching those games, and presumably of playing in them, too, as Bo Nix and Jarrett Guarantano can likely attest.) UGA's pass rush also forced an interception and 3 fumbles against the Vols, recovered 2 of them and returned 1 for the icing touchdown.
With Alabama's outrageous deep speed, disrupting Jones' rhythm in the pocket will be a priority. If the Tide o-line succeeds in keeping him clean, even a secondary as talented as Georgia's will be forced to pick its poison.
The big question: What's up with Alabama's defense?
Ole Miss rang up more yards (647) and points (48) against Bama than any opposing offense in Saban's tenure, and not the cheap garbage-time variety, either: The Rebels matched the Tide touchdown for touchdown most of the night – from the 2nd quarter on, the offenses combined to score on 14 consecutive non-half-ending possessions through the end of the game – and all 6 of their TD drives covered at least 75 yards. They lit up the stat sheet rushing, finishing with 291 yards and a pair of 100-yard rushers, and passing, averaging a gaudy 13.1 yards per attempt. (Another Saban-era high for an opposing offense.) Alabama flailed when Ole Miss went up-tempo, struggled to generate pressure, and looked increasingly lost and/or exhausted as the game went on.
An off-night doesn't necessarily qualify as a trend or a portent of doom. (See LSU's defense last year, which endured its own historic meltdown against a much different Ole Miss offense, and much later in the season, en route to a championship.) But coming off easily their most generous season under Saban in 2019, it was the clearest sign yet that the Crimson Tide can't expect to rely on the defense to anywhere near the extent they have in the past to bully cutting-edge spread offenses. Including the shootout in Oxford, Alabama has allowed 450+ yards of total offense eight times in its last 19 games dating to the end of 2018, a mark it allowed just 7 times over the previous decade.
But then, Georgia's offense is not in any danger of being accused of being cutting-edge. Stetson Bennett IV's emergence as the Bulldogs' starting quarterback is a great underdog story, and there's been no discernible drop-off from Jake Fromm over the first 3 games. (Bennett has especially excelled on 3rd down.) But he hasn't made any progress toward solving the most frustrating aspect of last year's offense, either: Where are the explosive plays?
So far, Georgia has managed just 13 plays of 20+ yards (11 passing, 2 rushing) on 239 snaps, which is tied for 10th in the SEC and actually lags slightly behind last year's rate. Only one player, sophomore WR Kearis Jackson, has multiple entries in that column. The running backs collectively have just 1 – a 20-yard gain by Zamir White against Arkansas. Otherwise "Zeus" is averaging 3.6 yards per carry as the primary back, a significant decline from D'Andre Swift's 6.1 ypc in 2019.
Bennett's composure, mobility, and efficiency are appreciated. He's been impressive in the intermediate, 10-15-yard range and can certainly drop it in a bucket on short fade routes. When it gets right down to it, though, there's a reason Georgia hit the offseason transfer market for a couple of ostensible pro prospects in Jamie Newman and JT Daniels rather than hand the keys to a former walk-on in the first place: Can they trust Bennett's arm to challenge a blue-chip secondary like Alabama's downfield? The jury is out. But if he's got it, this is the game to flaunt it.
The verdict
Breaking news of Saban's absence on Wednesday nudged the point spread a couple of points, from Alabama –6 to Alabama –4, but apparently won't threaten Bama's streak of 70 consecutive games as the betting favorite. The Tide haven't been underdogs at kickoff since October 2015 … at Georgia. They won that game easily, 38-10, igniting their run to the national title and sounding the death knell for the Mark Richt era in Athens.
This time around the result should be much closer to the last two in the series, which would fulfill the hype and then some. There won't be a better good-on-good matchup anywhere in the country than Alabama's offense vs. Georgia's defense until the Playoff, at least – unless, of course, it's in a rematch in the SEC Championship Game. Given the likelihood of that happening, there's a distinct "Round 1" quality to this matchup that should only add to the sense that this is the kind of test a championship outfit must pass. Neither team can get where it wants to go without going through the other.
But only one of those teams has both Najee Harris and the luxury of not having to force-feed him 25 times per game to keep the offense running at full capacity. Bama's firepower on offense is too explosive for the Bulldogs to consistently contain or hope to match.
– – –
Alabama 31, Georgia 26
Texas A&M (-6.5) at Mississippi State
Two teams moving in opposite directions, with A&M coming off its most encouraging win in years over Florida, and Mississippi State coming off its second humiliating defeat in as many games at Kentucky. Losing at home to Arkansas, a team riding a 20-game losing streak, was egregious enough; serving up 6 interceptions in a 24-2 loss in Lexington was a landmark moment in futility.
Meanwhile, Texas A&M's offense looked like a finished product against the Gators, piling up 200+ yards rushing and 300+ passing against an FBS opponent for the first time in Jimbo Fisher's tenure. Sophomore RB Isaiah Spiller was a revelation, churning out 174 yards on a career-high 27 carries; Kellen Mond, who had never enjoyed that kind of support against a ranked opponent, responded with the best game of his career.
Mississippi State may be capable of anything at this point, but if the Aggies are capable of sustaining their newfound balance they're going to be very tough to beat going into a suddenly very winnable stretch of the schedule over the next 6 weeks.
– – –
Texas A&M 34, Mississippi State 24
Kentucky at Tennessee (-6)
Tennessee's vaunted offensive line was overrun in the loss to Georgia, regressing from emerging force to emergency in the course of a few hours. Jarrett Guarantano was a sitting duck after halftime; including sacks, the Vols netted -1 yard rushing for the afternoon.
Demoralizing as that experience was, the reset will likely be a better gauge of the direction of Jeremy Pruitt's team going forward. Kentucky's front 7, while solid, is not Georgia's, and Tennessee's o-line remains essentially the same unit that physically whipped Missouri in Week 2 en route to a lopsided win. That's the identity Pruitt has worked most of his tenure to establish, even in the years when the line was widely regarded as a wreck.
Assuming Guarantano is not about to turn into a prolific passer as a 5th-year senior, getting the season back on track begins with Trey Smith, Cade Mays, Wanya Morris et al reasserting themselves as the offense's primary strength.
– – –
Tennessee 24, Kentucky 20
Auburn (-3) at South Carolina
The Tigers and Gamecocks both discovered workhorses over the past 2 weeks in Tank Bigsby and Kevin Harris, each of whom has eclipsed 100 scrimmage yards in consecutive games. Bigsby, a true freshman in the Kerryon Johnson mold, has quickly ascended the list of the league's most versatile and productive players, accounting for an SEC-best 484 all-purpose yards in his first 3 games and endearing himself to Auburn fans in the process for a hard-charging, slippery running style worthy of the nickname.
Tank Bigsby is a created player in NCAA 14

— PFF College (@PFF_College) October 10, 2020
Tank (given name Cartavious) was only slightly less touted as a recruit than Bo Nix was last year, and if he continues to assert himself as the focal point of the offense with Nix assuming a supporting role no one rooting for the Tigers is going to complain.
– – –
Auburn 27, South Carolina 17
Ole Miss (-1.5) at Arkansas
Rebels/Razorbacks is responsible for some of the wildest SEC games of the past decade, including a 4-year run from 2015-18 in which both teams averaged exactly 39 points in a series of shootouts that were each decided in the final minute. Based on what we've seen so far, this year's edition is likely to unfold along the same lines, along with every other game involving Ole Miss this season. Arkansas' offense has improved dramatically with the addition of QB Feleipe Franks lending stability behind center, and may need to wring every drop of that progress just to keep pace.
– – –
Ole Miss 39, Arkansas 34
SCOREBOARD
Week 3 Record 4-3 straight-up / 3-4 vs. spread
Season Record: 15-6 straight-up / 10-11 vs. spread