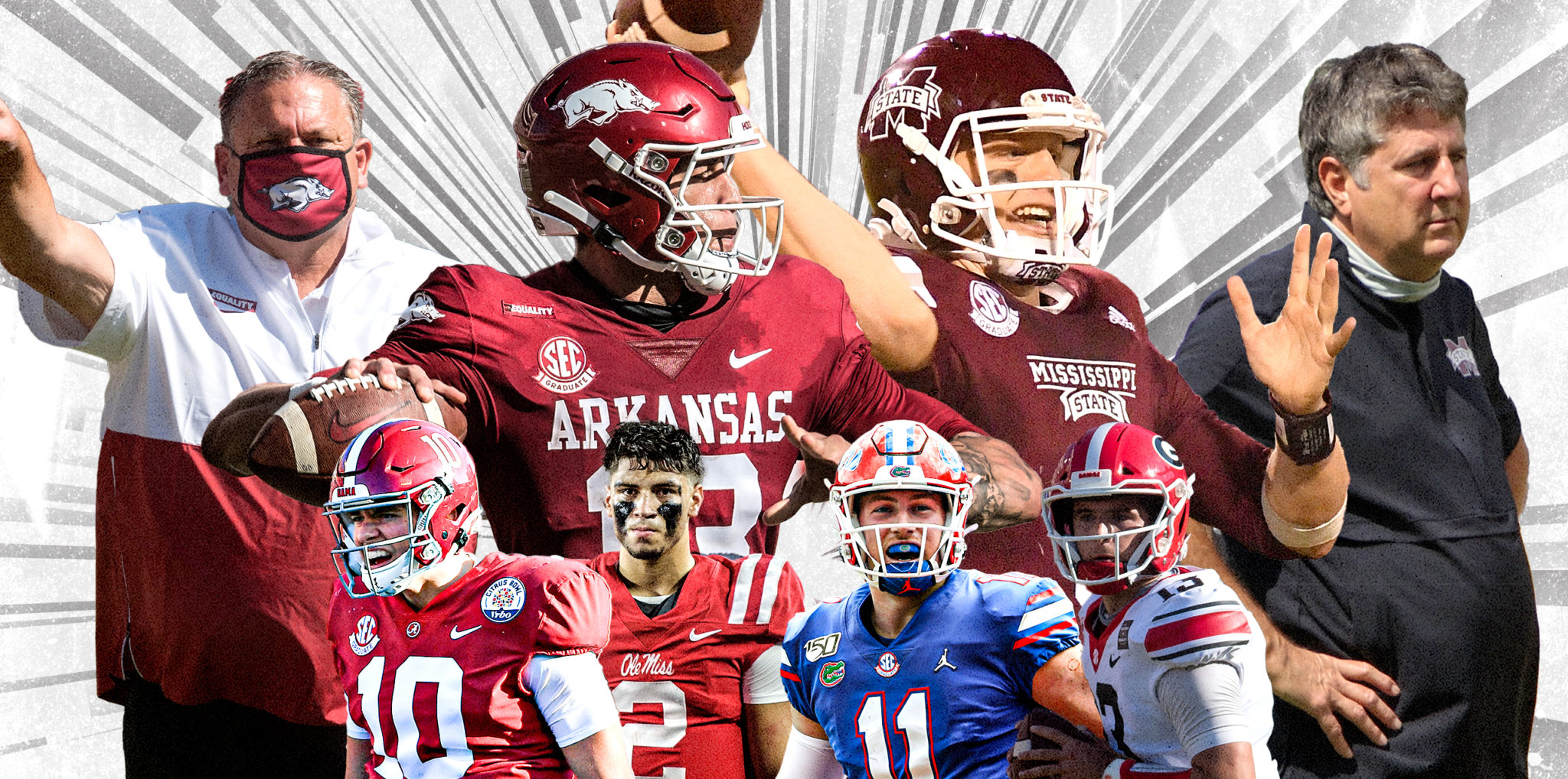 SEC
Monday Down South: Welcome, Mississippi State, to the Mike Leach Experience
Weekly takeaways, trends, and technicalities from the weekend's SEC action.
Mississippi State gets what it paid for
Arkansas 21, Mississippi State 14: Mississippi State wanted Mike Leach. It got Mike Leach. Two games into the Air Raid era in Starkville the Bulldogs are full immersed in the Mike Leach Experience.
For the same team to follow a historic road upset over the defending national champion with a home loss to a doormat riding a 20-game conference losing streak on consecutive Saturdays is quite an achievement. But it's also one in keeping with the old line about the team taking on the personality of its head coach. Leach is a mercurial figure whose reputation for molding overachievers has always been tinged with bouts of volatility and frustration, and his first MSU outfit has rounded into form in record time.
In one sense, yes, Mississippi State looked like a completely different group from Week 1 to Week 2, and not in the good way. The same offense that triumphantly racked up 44 points on 632 total yards in Baton Rouge limped in with just 14 points on 400 yards on Saturday night. Against the Tigers, quarterback KJ Costello averaged 10.5 yards per attempt with 11 completions of 25+ yards and 5 touchdowns; against the Razorbacks, he averaged just 5.3 per attempt (that despite an improved overall completion percentage) with a single pass that gained 25+ yards and one TD.
The Bulldogs came up empty on 5 of their 7 trips into Arkansas territory, including 4 opportunities inside the Hogs' 35-yard line. Trailing late in the 4th quarter, they failed on back-to-back 4th-and-short attempts in the red zone and coughed up a punt in the final minutes that all but sealed their fate. And those were far from the night's most indelible mistakes.
K.J. Costello NOT picking up where he left off…

— PFF College (@PFF_College) October 3, 2020
In a broader sense, though, a team capable of beating LSU one week and losing to Arkansas the next is very much a Leach team. At Washington State, the Cougars' rise from doormat to respectability on his watch was filled with the same sort of cognitive dissonance.
To his credit, Leach delivered a winning overall record across 8 seasons and oversaw 8 wins vs. ranked opponents – including multiple wins over USC, Stanford and Oregon – at a program that, prior to his arrival in 2012, had managed just 1 win over a ranked opponent in the previous 8 years. But those same teams were prone to random implosions: At various points along the way, they dropped 3 consecutive season-openers from 2014-16 to Rutgers, Portland State and Eastern Washington; blew a 32-point lead vs. a bad UCLA squad in less than 12 minutes; and followed up the single biggest win of Leach's tenure – a September 2017 upset over then-No. 5 USC that vaulted Washington State into the top 10 – with a blowout loss at the hands of unranked California 2 weeks later that derailed the Cougars' hopes for a special season. Mississippi State's crash may not have been predictable (the Bulldogs were 18-point favorites for very good and obvious reasons), but to anyone who has followed Leach's career, that was only one more reason that it made a twisted kind of sense.
The 2020 season was an uneven, disjointed effort before it ever kicked off, and looking around the country it's obvious already that consistency and depth are going to be even more volatile from one weekend to the next than usual. It's going to be a weird year. It's also obvious already that Arkansas is a vastly improved outfit under first-year coach Sam Pittman, one that's finally found some measure of stability at quarterback in Feleipe Franks as well as enough backbone on defense to keep games from getting out of hand. The first half of the opening-day loss to Georgia (final score notwithstanding) was as close to a step in the right direction as any entry yet in the losing streak, and to break through only a week later – on the road, at the expense of a division rival on the upswing – is a milestone on the path back to respectability. The Razorbacks might not win another game this year. But they can't be dismissed anymore as laughingstocks, which was the only realistic goal, anyway. Barring a complete collapse, it might already be possible to chalk up Pittman's debut as a success.
Mood ? pic.twitter.com/HbnINTtuUv

— Arkansas Razorback Football (@RazorbackFB) October 4, 2020
Of course, 48 hours ago, some Mississippi State fans might have been thinking more or less the same thing. In the long run, the bet is that the peaks under Leach will outweigh the valleys, that the offensive highs will be more sustainable than the defensive lows, that the upsets will outnumber the flops, that over the course of a season or a handful of seasons or a decade the ledger will show the Bulldogs coming out ahead. But a certain degree of volatility was always part of the bargain. And the emotional whiplash of his first two games should serve as a lasting reminder that, from one week to the next, the range of possible outcomes is as inscrutable as the man himself.
Georgia has a quarterback (for now)
Georgia 27, Auburn 6: We already knew pretty much everything we needed to know about Georgia's defense, which confirmed its bona fides by holding Auburn to 216 yards on 3.5 per play and generally crushed the Tigers' will to live. What we didn't know: Who is Georgia's quarterback? And for how long?
The answer to the first question has a clear if improbable answer: Stetson Bennett IV. Compared to the hype surrounding the Bulldogs' other, significantly more touted QBs, Bennett was an afterthought in the offseason speculation, a former walk-on turned career backup who was destined for another season on clipboard duty behind a couple of gems off the transfer market, Jamie Newman and JT Daniels. But then, one by one, all of those assumptions fell by the wayside: Newman opted out, Daniels was held back by a lingering knee injury, and opening-day starter D'Wan Mathis looked lost last week in his first career action. The last man standing, Bennett saved the day in Fayetteville, got the start in Saturday night, and may not leave the lineup again.
The stat line (17-of-28, 240 yards, 1 TD, no turnovers) was unassuming, but in the context of the defense's dominance and the re-emergence of the ground game, it was exactly what the Bulldogs needed, when they needed it. After going 3-and-out to open the game, UGA scored on each of its next 4 possessions, all of them extended efforts on which Bennett converted 5-of-6 3rd-down attempts to keep the drives alive. He made plays on the move …
Stetson Bennett spins away from Big Kat Bryant?

— PFF College (@PFF_College) October 4, 2020
… showed off exceptional touch in the red zone …
Right in the bread basket to George Pickens ? pic.twitter.com/xbZJjOSrTB

— ESPN College Football (@ESPNCFB) October 4, 2020
… and even flashed some a little downfield juice, just to prove he's got it when he needs it:
Stetson Bennett with a beauty! (@JC_Bobcats) #JUCOPRODUCT pic.twitter.com/iyMJgcfbVI

— JUCO Football Frenzy (@JUCOFFrenzy) October 4, 2020
Just as important, he didn't commit a turnover, passing the most important test for any QB on a team with the will and the means to turn every game into a slugfest. Georgia pulled the reins at the halftime with a safe 24-3 lead – this game could still be going on right now and Auburn would have not have 24 points – limiting his opportunities in the box score. But everyone saw what they needed to see to feel comfortable with the idea of Bennett taking over as the full-time starter until further notice.
Now for the real question: Can Georgia win a championship with this guy? At (officially) 5-11/190 pounds, Bennett doesn't inspire any ready comparisons, even to a guy like Jake Fromm, and certainly not to a Justin Fields or Jamie Newman, both of whom were brought on at different points as Fromm's heir apparent and neither of whom stayed around long enough to actually start a game. Bennett has stayed, and to the extent that he looks like essentially a smaller, slightly more mobile version of Fromm he should be good enough to keep a well-balanced team in the thick of the SEC and Playoff races. And after Saturday, putting them over the top is not out of the question.
The Crimson Tide are who we thought they were (so are the Aggies)
Alabama 52, Texas A&M 24: It says a lot about how far Alabama's offense has come over the past few years that the Tide can lose 4 first-round draft picks on that side of the ball, headlined by the most prolific passer in school history, and still make dropping half-a-hundred on a ranked opponent feel like just another routine day at the office. They struck early, on a 78-yard bomb from Mac Jones to John Metchie on their third play from scrimmage …
Hello, Mac Jones. Hello, John Metchie. Hello, end zone. pic.twitter.com/RN1aVjYHXY

— CBS Sports (@CBSSports) October 3, 2020
… and kept on striking, averaging just shy of 10 yards per play for the game on only 55 snaps. (Alabama finished with a 16-minute deficit in time of possession, a statistic that might have mattered to past Bama attacks but certainly does not to this one.) If anything has been lost in the transition to Jones from Tua Tagovailoa, it hasn't been evident in the first 2 games and might not be for a while.
But frankly this one said a lot more about how far Texas A&M has not come. Saturday's blowout was A&M's 8th consecutive loss vs. Bama since the Manziel miracle in 2012, and the most lopsided of those defeats since a 59-0 debacle in 2014. In their third crack under Jimbo Fisher the Aggies looked as overmatched as ever, to the surprise of absolutely no one.
At this point, the routine has to hurt at least as much as the score itself. Forget winning these types of games: At the very least, shouldn't they be closer by now? The talent gap, entrenched as it is, is not necessarily as wide as it looks. Fisher and Kevin Sumlin before him have recruited well enough stock the 2-deep almost entirely with 4-star recruits – excluding the offensive line, all but 2 starters at Bama were former 4-stars. (And even the OL featured 5-star sophomore Kenyon Green among a group that returned four 2019 starters.) 247Sports rates the current roster as a whole 10th nationally according to its annual Team Talent Composite, just behind Oklahoma and Notre Dame and just ahead of USC, Penn State and Auburn. But that talent hasn't made so much as a dent on the scoreboard.
Recruiting rankings aren't destiny, but they're a good place to start forming expectations. One of the blue-chips was Kellen Mond, a senior making his 36th career start and his 28th under Fisher. And yet:
The Wright Stuff pic.twitter.com/Gw4oDLmYyT

— CBS Sports (@CBSSports) October 3, 2020
This was a classic Mond game vs. an elite opponent, in which his final stat line (25-of-44, 318 yards, 3 TDs/1 INT) is inflated by a) the need to keep throwing in a game A&M trailed from the jump and b) the absence of any reliable playmakers around him to pick up the slack. Sophomore RB Ainias Smith did his bit on Saturday, accounting for 152 scrimmage yards and 2 TDs, including a balletic run along the sideline that got the Aggies on the board in the first quarter. Otherwise, it was the same slow, steady drip toward defeat that has characterized their efforts in big games throughout Fisher's tenure.
In 10 games vs. Alabama, Auburn, Clemson, Georgia and LSU, his teams are 1-9 – the lone win coming in the epic 7-overtime game vs. LSU in 2018 – and never led in 8 of the 9 losses. Seven of those now have been decided by double digits.
This is the point in the proceedings where I'm required by Sportswriter Law to gesture toward Fisher's salary and the infamous national championship plaque from the university president with the date to be filled in later and the enormous investments A&M has made toward that end and gesture toward some vague implications for Fisher's future. The fact is that those same investments likely make Fisher's seat one of the SEC's safest for the foreseeable future. His own recruits, talented as they may be, remain underclassmen who are largely biding their time behind the holdovers recruited by Sumlin. Time is not running out.
But the team isn't moving forward, either, not on the scoreboard and not in any of the intangible ways that might lend themselves to some optimism even if they don't show up in the final record. It's Year 3 and in the games that matter the Aggies are still hanging on by their fingernails by halftime. If at any point Fisher decides to move on from Mond (who, remember, has another year of eligibility in 2021, if he wants it) in favor of true freshman Haynes King, it might have to get worse still before it can get better. But if long-term progress is the priority, there maybe no other choice.
Tennessee turns the corner?
Tennessee 35, Missouri 12: Is it a little bit ironic that Jarrett Guarantano, whose most infamous moment at Tennessee involves one of the most botched quarterback sneak attempts ever recorded, has emerged as the King of the Sneak? Yes. Is it effective? Also yes. Faced with 4 separate 4th-and-1 situations against Mizzou at different points in the game and on the field, the Vols called Guarantano's number on all 4 occasions and reaped the benefits: He converted all 4, beginning with a tone-setting conversion at their own 34-yard line on the first possession of the game, all of which extended drives that ultimately yielded touchdowns.
In general, the socially distanced vibes in Neyland Stadium were as good as they've been in a long time. The Volunteers have won 8 straight (!) dating to last October, and depending on how good Missouri turns out to be, this might have been the most impressive performance in the run. The offensive line was fully intact for the first time, bolstered by the newly eligible Cade Mays, and was as good as advertised – RBs Ty Chandler and Eric Gray churned out 195 yards and 2 TDs on 5.6 per carry, underpinning one of the best team rushing efforts of Jeremy Pruitt's tenure.
Eric Gray getting shifty for a @Vol_Football TD ? pic.twitter.com/2wpoecHFk8

— SEC Network (@SECNetwork) October 3, 2020
In short, the Vols looked like an outfit on the verge of establishing the smashmouth presence Pruitt has worked to instill from Day 1. This weekend's trip to Georgia will be the real test of just how far along that much-anticipated front has come and how much further it may still have to go.
Wildcats, wild stats, wide kick
Ole Miss 42, Kentucky 41 (OT): How does a team run for 400+ yards in a game and lose? Painfully.
UK bettors turn your heads ?

This extra point miss costed them the game and made Kentucky -6.5 virtually impossible pic.twitter.com/HG9wGGp9I6

— Pickswise (@Pickswise) October 3, 2020
Normally, the story out of Lexington would be the ongoing dominance of Kentucky's ground game, which doesn't have an individual headliner on the order of Benny Snell Jr. or Lynn Bowden Jr. but clearly may not need one to defend its title as the SEC's most prolific rushing offense. On Saturday, the Wildcats piled up 408 yards and 6 touchdowns rushing on 7.3 per carry, with 3 players (Christopher Rodriguez, A.J. Rose, and QB Terry Wilson) eclipsing the century mark on a combined 49 attempts. And unlike last year, when Bowden's limitations as a passer largely forced them to abandon the concept of the forward pass altogether after midseason, Wilson's efficiency on Saturday (14-of-18, 151 yards, 0 INTs) was a plus.
Kentucky outgained Ole Miss by 100 yards, had 4 touchdown drives of 75+ yards, a 5th as result of a short field, and amassed a 12-minute advantage in time of possession — across the board, as productive an outing against an SEC defense as any in Mark Stoops' tenure as head coach.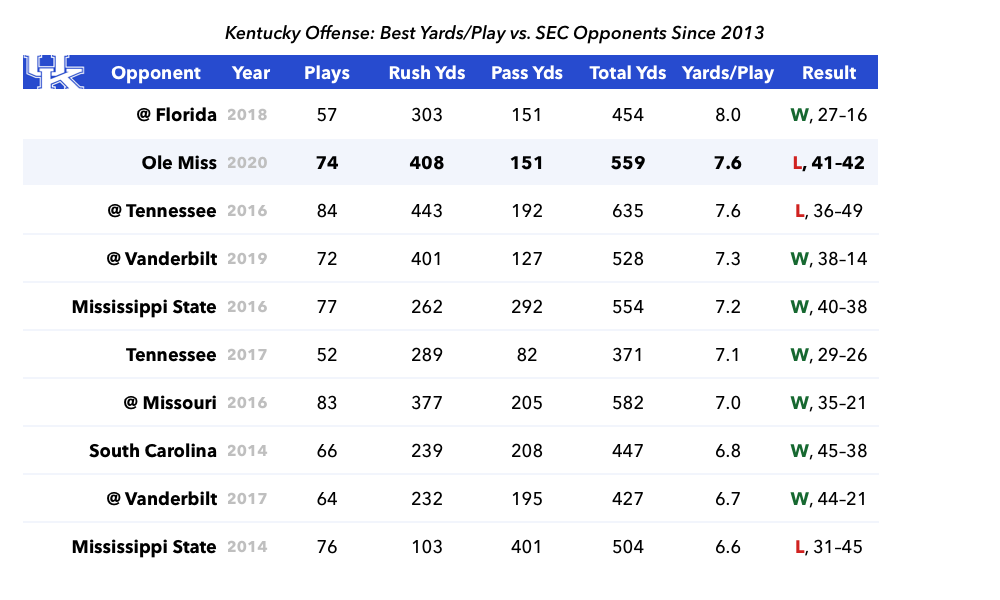 It takes an awful lot to go wrong to turn that kind of effort into an L, and an awful lot did, especially after the Wildcats scored to go up 28-14 early in the 3rd quarter. From that point on, Ole Miss ripped off 21 consecutive points on touchdown drives that covered 75, 54, and 53 yards, respectively, on a combined 13 plays. QB Matt Corral was close to perfect after halftime, finishing 12-of-14 for 204 yards (14.6 per attempt) with 3 touchdowns, including the game-winner in overtime, and not including a pair of crucial pass interference penalties against Kentucky that set up the last two.
That looks like the beginning of a season-long trend for Corral, who put up even more ridiculous numbers last week in extended comeback mode against Florida and so far ranks among the top 3 nationally in completion percentage, yards per attempt, yards per game, and overall efficiency — opposite a defense that ranks dead last in both yards per game and yards per play allowed.
But Kentucky had much higher expectations for its defense, which has been well above average the past 2 years and was again expected to hold the line while the offense settled into its post-Bowden identity. As it turns out, the philosophy that helped make Bowden a star last year appears to have carried over more or less intact, minus the individual star power. If those roles are reversed the Wildcats could be in for a long season.
Superlatives
The best of the week.
1. Alabama QB Mac Jones. Jones came out hot against Texas A&M, connecting with John Metchie for a 78-yard touchdown on his first attempt of the game, and ended hot, too, hooking up with Metchie again for a 63-yard on his last attempt of the game. Altogether, the results were straight up Tagovailoan: 21-of-27, 435 yards, 4 TDs/1 INT, and the nation's No. 1 passer rating through 2 games.
Honorable mention nods this week for Metchie, a first-year starter (yeah), and the unstoppable Jaylen Waddle, who together combined for 323 yards (just shy of 75 percent of Jones' total) and 3 touchdowns that averaged 73 yards apiece.
There is fast and then there is Jaylen Waddle ⚡️ @AlabamaFTBL @D1__JW

(via @CBSSports) pic.twitter.com/50D5iqnSW4

— The Checkdown (@thecheckdown) October 3, 2020
2. Georgia LBs Azeez Ojulari and Adam Anderson. Georgia's defensive front owned the line of scrimmage against Auburn, and occasionally behind the line, too, where Ojulari and Anderson combined for 3 sacks and 5 tackles for loss off the edge. That kind of production would be a welcome step up on a defense that surprisingly has finished in the bottom half of the conference in sacks and TFLs per game each of the past three seasons.
3. Florida DEs Zachary Carter and Brenton Cox Jr. Florida's offense was the spark (again) in the Gators' 38-24 win over South Carolina, but the defense made its share of plays, too — none more so than Carter and Cox, veterans off the edge who combined for 13 tackles, 3 sacks, and 5 of Florida's 9 QB hurries.
4. Ole Miss QB Matt Corral. Corral turned in a near-flawless stat line in the Rebels' come-from-behind win at Kentucky (24/29 for 320 yards, 4 TDs + 59 yards rushing), and fared even better according to ESPN's QBR rating, which graded his performance as the best of any FBS quarterback over the weekend. Honorable mention goes to his top 3 targets: Jonathan Mingo, Elijah Moore and Kenny Yeboah, who hauled in 21 catches between them for 258 yards and all 4 of Corral's TDs.
5. Kentucky offensive line. The Wildcats' starting 5 of Landon Young, Darian Kinnard, Luke Fortner, Kenneth Horsey and Drake Jackson is one of the longest-tenured groups in the country and one the best, paving the way for 427 yards, 6 TDs rushing (7.3 ypc), and 3 100-yard rushers in the loss to Ole Miss. Honorable mention nods to RBs Chris Rodriguez, A.J. Rose and QB Terry Wilson, who was also 14-of-18 passing for 151 yards in addition this output as a rusher.
Honorable Mention: Arkansas LBs Bumper Pool and Grant Morgan, who combined for a whopping 35 tackles (11 solo) and 3 PBUs in the Razorbacks' win over Mississippi State. … Arkansas DB Joseph Foucha, who picked off KJ Costello twice and returned one INT for Arkansas' first touchdown. … Arkansas punter George Caratan, who averaged 42.9 yards on 7 punts while dropping 3 inside the Mississippi State 20-yard line. … Texas A&M RB Ainias Smith, who accounted for 154 scrimmage yards at Alabama with a 47-yard TD catch. … Georgia WR Kearis Jackson, who turned in career highs for catches (9) and yards (147) in the Bulldogs' win over Auburn. … LSU DEs Andre Anthony, BJ Ojulari, and Ali Gaye, who combined for 12 tackles, 3 TFLs, and 5 QB hurries in the Tigers' blowout win at Vanderbilt. … Tennessee RBs Eric Gray and Ty Chander, who ran for 195 yards and 2 TDs between them on 5.6 per carry… Missouri LB Nick Bolton, who was credited with 17 tackles (8 solo) in Mizzou's loss to Tennessee. … South Carolina RB Kevin Harris, who ground out 127 scrimmage yards with 2 TDs in a losing effort at Florida … And Florida QB Kyle Trask, whose 21-of-29, 268-yard, 4 TD/1 INT outing against the Gamecocks reinforced his rep as one of the league's rising stars.
– – –
The scoring system for players honored in Superlatives awards 8 points for the week's top player, 6 for 2nd, 5 for 3rd, 4 for 4th, 3 for 5th, and 1 for honorable mention, because how honorable is it really if it doesn't come with any points? The standings are updated weekly with the top 10 players for the season to date.