SEC
Week 1 SEC Primer: LSU picks up its title defense far from where it left off
Everything you need to know about the SEC's opening week slate.
Game of the Week: Mississippi State at LSU (-16.5)
The stakes
Who are these teams? Both sides are starting over in very different ways for very different reasons, and Saturday will be the first glimpse into how their respective overhauls are likely to play out.
For LSU, last year may as well be in the distant past. The 2020 edition is shaped less by the historic national championship run than by the historic exodus that followed: Between the draft, where the Tigers tied records with 10 players selected in the first 3 rounds and 14 players selected overall, and preseason opt-outs due to COVID-19, the starting lineup will be barely recognizable from the one that triumphed over Clemson in January.
In addition to Joe Burrow – the most valuable player in school history – LSU lost its leading rusher, 3 of its top 4 receivers, 4 of 5 starters on its starting offensive line, 8 full-time starters on defense and coordinators on both sides of the ball. With the exception of senior DB JaCoby Stevens, essentially everyone who had the opportunity to leave for greener pastures between the end of last season and the start of this one took it.
The result is a lineup that is both supremely talented and alarmingly green, with many of the new starters coming from one of LSU's back-to-back top-5 recruiting classes the past 2 years. As such, the extent of the "rebuilding" phase is an open phase – it's the kind of team that can conceivably win any game on its schedule or could conceivably go 5-5. (Or conceivably win any given game on its schedule while going 5-5.) Exactly where the Tigers will ultimately fall on that spectrum is one of the most compelling storylines of the season.
For Mississippi State, the debut of Mike Leach's Air Raid scheme will mark a new way of life. The Bulldogs' decision to embrace the most gonzo passing offense in football was a direct response of the past 2 seasons under Joe Moorhead, whose lifeless offenses betrayed no hint of the innovative reputation that got him the job. His teams went 8-12 vs. Power 5 opponents and were mostly dull in the process.
In some respects Leach is a gamble. In 18 seasons as a head coach, his teams have never won a championship of any kind, and in 8 years at Washington State the Cougars managed to crack the final AP poll just once, behind Mississippi native Gardner Minshew II in 2018. His personality isn't for everyone, and there were signs at the end that his shtick had worn out its welcome in Pullman. At the end of the day, though, his teams are winners – 49 games over .500 for his career at a couple of out-of-the-way stops where, like Mississippi State, that kind of record can't be taken for granted. And his brand of volatility comes with one sure-fire guarantee: Whatever else it is, it will never be boring.
The stat: 239.7 yards per game
That's the difference between the output of Mississippi State's passing game in 2019 (179.5 ypg), which ranked 12th in the SEC, and Washington State's (437.2), which led the nation for the 4th time in Leach's tenure. The Cougars' lowest total through the air (252 yards in a loss to Utah) still exceeded the Bulldogs' highest (238 yards vs. LSU).
To be clear: The gap was substantially a matter of quantity, not quality. On a per-play basis, Wazzu averaged a just-OK 7.4 yards per attempt against Power 5 opponents vs. MSU's 7.3 yards per attempt. Still, factoring in just how heavily Leach's scheme relies on short, safe passes that effectively function as a high-efficiency running game, over time the high-volume approach tends to add up. In the same games, Washington State averaged 35.8 points vs. Power 5 opponents to Mississippi State's 23.8 with more or less equivalent talent.
How effectively that translates opposite blue-chip SEC defenses like LSU's, of course, is TBD. The previous staff made upgrading the Bulldogs' underwhelming receiving corps a priority, adding a couple of towering targets from the JUCO ranks (6-3 Malik Heath and 6-5 Caleb Ducking) as well as shifty freshman Lideatrick Griffin in the early signing period; Leach subsequently landed Alabama transfer Tyrell Shavers. (Count on RB Kylin Hill playing a prominent role out of the backfield, as well.) More important, he took a big swing on grad-transfer QB KJ Costello, who's hoping to rejuvenate his once-promising career after an injury-ravaged 2019 at Stanford.
If the o-line can protect him – a serious red flag early in Leach's Washington State tenure, but a strength at the end – Costello has the tools to emerge as a star. Unlike at Stanford, there won't be any question of the system holding him back.
The big question: How good is Myles Brennan?
Almost every aspect of LSU's team has a question mark hovering over it right now, but none more so than the guy charged with replacing the most prolific passer in SEC history. Brennan, a redshirt junior, has yet to start a game and taken just a handful of snaps outside of garbage time.
Another way to frame the question is how much of last year's aggressive downfield mentality will carry over to the (mostly) new personnel? For all time talent the Tigers lost in the passing game – collectively, Ja'Marr Chase, Justin Jefferson, Clyde Edwards-Helaire and Thaddeus Moss accounted for more than 70% of last year's receiving yards – there's still an abundance of potential between veteran holdovers Terrace Marshall Jr. and Racey McMath and 5-star freshmen Kayshon Boutte and Arik Gilbert, both of whom are listed as starters on the initial depth chart. And although departed passing-game coordinator Joe Brady got more attention, co-coordinator Steve Ensminger played an equal if not greater role in and provides crucial continuity on the headset.
The key variable is Brennan. Although he was a 4-star recruit who set prep passing records for the state of Mississippi, he's always been on the gangly side athletically (LSU currently lists him at 6-4/210, up from 6-3/180 as a recruit) and likely projects to the "game manager" end of the spectrum in terms of arm strength and mobility – an inevitable step down from the No. 1 overall pick in the draft, at any rate. Obviously, the Tigers want to carry over as much of last year's playbook as possible; the extent to which they succeed will hinge on how much they trust Brennan's decision-making out of the gate, and even more so on how much they trust his arm.
The verdict
LSU opened as a 19.5-point favorite; gamblers took one look at that line and immediately bet it down by a field goal, signaling more faith in Mike Leach's ability to field a competitive team right away than in Ed Orgeron's ability to keep a rebuilt lineup on a dominant course. Beyond the head coaches, the uncertainty here extends well beyond the fact that it's the season opener: Between the attrition in Baton Rouge and the regime change in Starkville, these teams are blank slates.
As always, LSU's baseline talent edge alone is worth a double-digit spread; the Tigers are 24-3 in the series since the divisional split, including a routine 36-13 win last year in Starkville. It's reasonable to expect some rust on the part of both offenses. Beyond that, almost anything is possible.
LSU 34, Mississippi State 21
Florida (-14.5) at Ole Miss
Georgia (-26) at Arkansas
I was a little bit surprised earlier this week when SEC media types collectively tabbed Florida as a narrow favorite to win the East over Georgia. It's easy to grasp why some folks might be bored with Georgia after 3 years of essentially unchallenged dominance over the division, and why others might be skeptical after watching the Bulldogs look stagnant at times last year even in wins. The offense was mediocre, suffered significant attrition, and still hasn't ID'd a starting quarterback since the presumptive starter, grad transfer Jamie Newman, opted out of the season earlier this month. Meanwhile, Florida has ticked up from 10 wins in Dan Mullen's first season to 11 in Year 2, returns a proven senior QB in Kyle Trask, and has significantly cut into its margin of defeat vs. Georgia each of the past 2 years.
But have the Gators actually closed the talent gap that has defined the rivalry? That's a harder sell. According to 247Sports' Team Talent Composite, an annual rating of each team's entire roster based on the original recruiting ratings of active players, if anything the gap has arguably widened: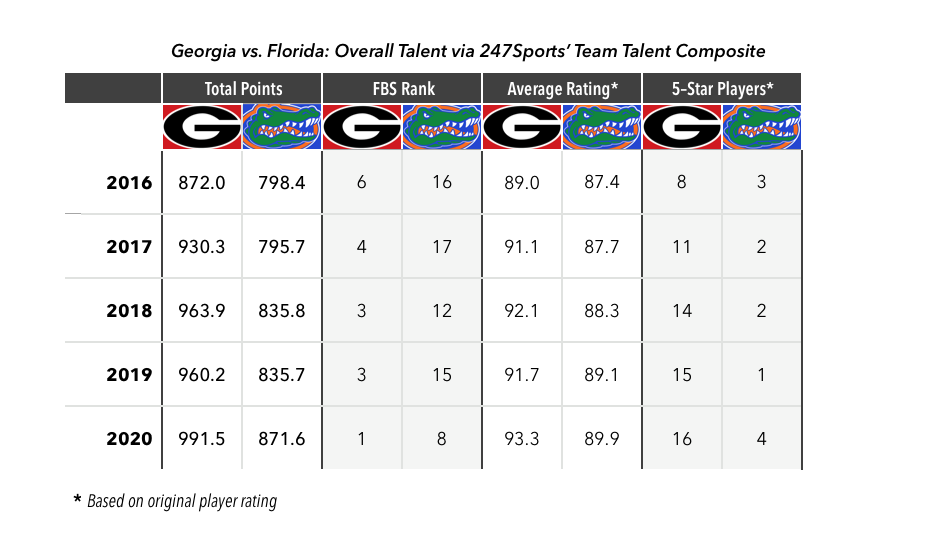 Recruiting ratings aren't the be-all, end-all, but they are useful for evaluating talent levels within and between programs, and in Georgia's case in particular they reflect the Bulldogs' ascension into the top rung of national recruiting powers under Kirby Smart. Florida has improved since the low point of the Jim McElwain era, which saw recruiting crater just as Smart was ramping up, in part because Mullen has successfully pursued blue-chip transfers from Ohio State (WR Trevon Grimes), Miami (RB Lorenzo Lingard), Texas (OL Jean Delance) and, yes, Georgia (DE Brenton Cox Jr.). Based on their original rating, Grimes, Lingard and Cox are among the highest-rated players on the team, coming in behind only 5-star freshman DT Gervon Dexter. But Georgia is loaded with those guys — it boasts at least one former 5-star recruit in every position group, including tight end.
It remains to be seen how smoothly UGA's offensive overhaul goes under new OC Todd Monken, especially now that the quarterback situation has been abruptly thrown into the air. Consistency was an issue in 2019. In the end, though, this is an Ohio State-Michigan situation: A 5-star program vs. a 4-star program that's broadly outmanned. It may not stay that way for much longer, but until further notice file this one away under "believe when I see it."
Florida 36, Ole Miss 23
Georgia 34, Arkansas 13
Kentucky at Auburn (-7.5)
The subplot on The Plains is the status of former Auburn-to-Kentucky transfer Joey Gatewood, whose eligibility somehow remains in limbo more than 9 months after he announced his decision to enroll in Lexington. The NCAA has given its blessing, according to coach Mark Stoops; instead, the hang-up is reportedly with the SEC, which is holding the line against intra-conference transfers per league bylaws. (Tennessee and Ole Miss are fuming over the same policy concerning Georgia transfers Cade Mays and Otis Reese, respectively, both of whom have described a toxic environment in Athens in an effort to advance their appeals.) Stoops said Wednesday he still has confidence Gatewood, a former top-100 recruit whose size and athleticism led to inescapable comparisons to Cam Newton, will be cleared to play within the next 72 hours; if so, he'll almost certainly factor into the Wildcats' plans as a package player behind starter Terry Wilson, and possibly more.
Meanwhile, the guy who beat out Gatewood for the starting job at Auburn, Bo Nix, is embarking on his sophomore season with heightened expectations under new offensive coordinator Chad Morris, fresh from his brief, disastrous run as head coach at Arkansas. Nix was a predictably boom-or-bust QB in 2019, generating a huge split between his performance against ranked teams (5.4 yards/attempt, 7 TDs, 6 INTs, 101.6 efficiency) and unranked (8.3 yards/attempts, 9 TDs, 0 INTs, 151.2 efficiency) while also leading dramatic wins over Oregon to open the season and Alabama to end it. Ultimately the good vibes from those wins surpassed the numbers, which placed him in the bottom half of the conference in completion percentage, yards per attempt, overall efficiency and QBR. A steadier hand against an always solid UK defense would be a very encouraging sign that he's on his way to moving up in the pecking order.
Auburn 27, Kentucky 17
Alabama (-27) at Missouri
For Bama, this figures to be the equivalent of an NFL preseason game, in which getting a good first look at some of the younger guys is just as interesting the score, which should be out of reach fairly quickly. The most anticipated of the rookies, obviously, is 5-star QB Bryce Young, who will start out behind incumbent Mac Jones on the depth chart but should be on the field early and often in his bid to supplant Jones as the starter over the course of the season. But there's intrigue on defense, too, where true freshmen are vying for starting roles at Jack linebacker (Will Anderson Jr., Drew Sanders) and nickel (Malachi Moore, Brian Branch) without the benefit of any reported injuries or opt-outs to clear the way. That's a better situation than last year, when multiple freshman were thrown into prominent roles early due almost exclusively to injuries.
On Missouri's side, the Tigers have reinstated 5 of the dozen players who had initially been ruled out for the opener due to exposure to COVID-19, which is 5 more players who will get the chance to enjoy some much needed fresh air and exercise.
Alabama 45, Missouri 10
Tennessee (-3.5) at South Carolina
Tennessee's high-flying, 41-21 win over South Carolina last year was the turning point in the Volunteers' season — the first entry in their 6-game winning streak to close the year, as well as the game that began QB Jarrett Guarantano's rehabilitation after he was benched in the course of a 2-5 start. It would have been difficult to convince anyone at the time that Guarantano would be back in 2020 as a more or less entrenched starter, but here we are.
If the Vols hope to have any chance of salvaging some of that momentum against a schedule that added Auburn and Texas A&M to a slate that already included Alabama, Georgia, and Florida, this is a must-win game. Partly that's due to sustaining a sense of optimism; in large part it's just that there are too few wins on the schedule to let any of them slip away, a lesson they learned the hard way last year. A win over Carolina could be crucial to finishing .500, which itself might be crucial in determining if Jeremy Pruitt is back in 2021.
Tennessee 24, South Carolina 19
Vanderbilt at Texas A&M (-30.5)
There's a sense of morbid curiosity surrounding Vanderbilt's quarterback situation, which was one of the worst in America last year and accordingly is starting over from scratch. The Commodores brought in 4 new QBs in the 2020 recruiting class (2 freshmen, 2 JUCO transfers) but declined to designate any of them as the starter on the initial depth chart released earlier this week, listing all 4 separated by the dreaded or. Derek Mason said Tuesday that he'd personally narrowed the competition down to 2, but didn't tip his hand any farther. Close observers of the program haven't established a favorite, either. Frankly, this may be interesting as Vandy gets all season — once it kicks off, it's all downhill
Texas A&M 41, Vanderbilt 6