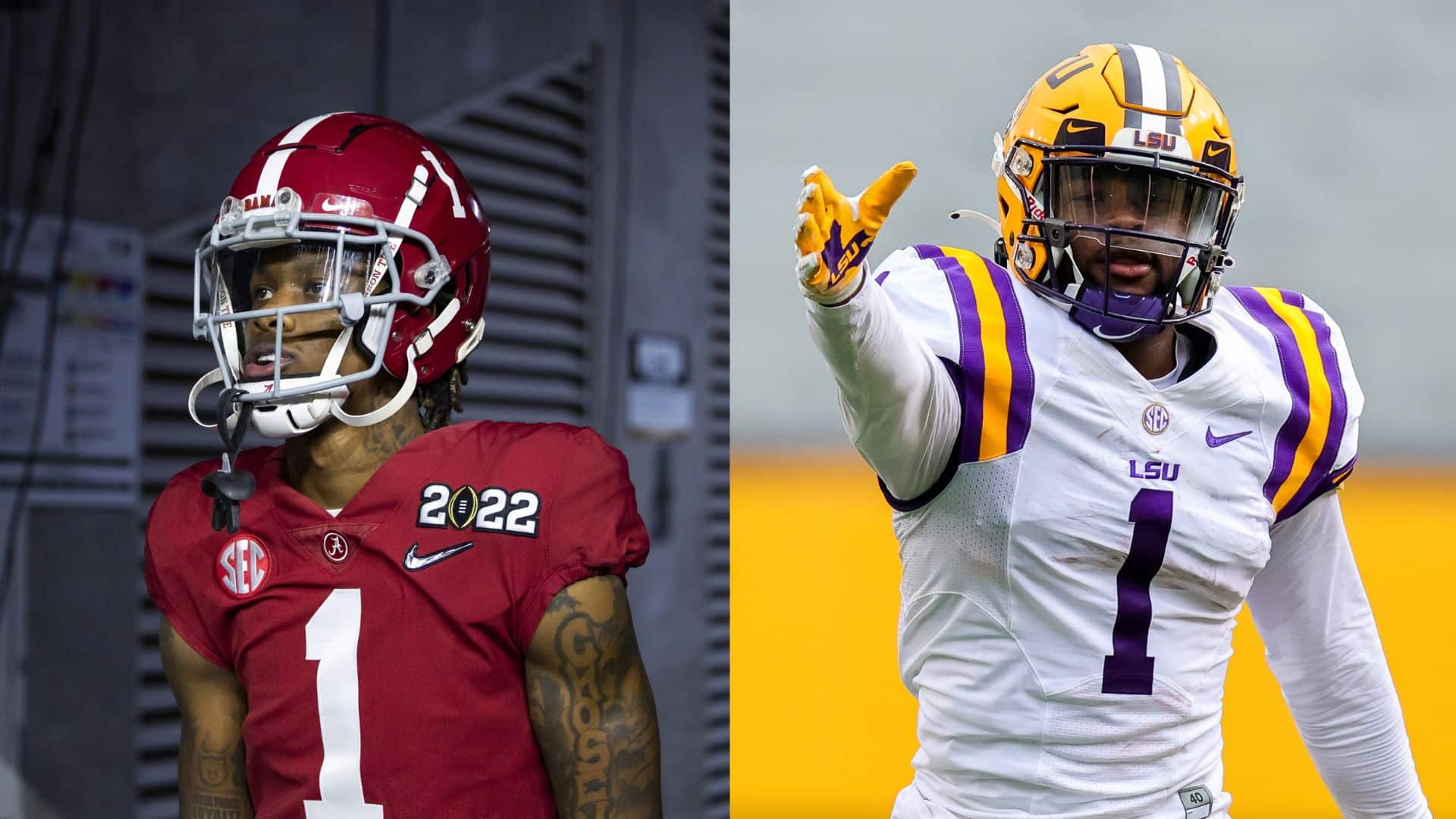 SEC
We've been in a golden era when it comes to SEC receivers, but will that continue in 2022?
There's really not much debate.
Yes, the SEC has been in a golden era of receivers. There's plenty of evidence that illustrates that point.
From 2018-20, an SEC player won the Biletnikoff Award as the nation's top receiver, including DeVonta Smith, who also won the Heisman Trophy.
In the modern NFL Draft era, which began in 1993, there were 6 instances in which multiple SEC receivers were drafted in the 1st round from 1993-2019. So far in the 3 NFL Drafts in the 2020s decade, the SEC had multiple 1st round receivers every year, including a record 4 in 2021.
Let's take it a step further. In the 2020s so far, the SEC had 9 receivers selected in Round 1 (that doesn't include a tight end like Kyle Pitts or a receiver who went No. 34 overall like Elijah Moore). In the entire 2010s decade, the SEC had 8 receivers selected in Round 1.
If the golden age of SEC receivers continues, the current pace projects that 30 will come off the board in the 1st round of the NFL Draft by the time the 2020s are over. Will that happen? History suggests it won't considering that 9 already tied the 2000s for the most 1st round SEC receivers in a decade. From 1990-2019, the SEC had a total of 23 1st round receivers. Then again, the modernization of passing offenses combined with the influx of recruiting talent doesn't make that an impossible outcome.
That question worth asking is if the SEC's golden era of receivers is still present, or if we'll look back on the late-2010s and early-2020s as the beginning and end of it. I mean, it'll be hard to top an era that included the likes of:
DeVonta Smith (Alabama)
Ja'Marr Chase (LSU)
Justin Jefferson (LSU)
Treylon Burks (Arkansas)
Jerry Jeudy (Alabama)
Jameson Williams (Alabama)
Kadarius Toney (Florida)
Jaylen Waddle (Alabama)
Henry Ruggs (Alabama)
Those were the aforementioned 9 SEC receivers who went in Round 1 from 2020-22. Add in the Round 2 selections like Moore, John Metchie and George Pickens along with the pass-catching prowess of Pitts and future pro Brock Bowers, both of whom had unprecedented seasons at the tight end position.
With the exception of Bowers, who has another 2 years in college before he's eligible for the NFL Draft, all of those guys are gone. It's a changing of the guard when it comes to SEC pass-catchers. Why?
Here are the SEC's top returning receivers in terms of career receiving yards (only counting yards in the SEC):
Jaden Walley (Mississippi State), 1,346 yards
Ainias Smith (Texas A&M), 1,321 yards
Austin Williams (Mississippi State), 1,245 yards
Kayshon Boutte (LSU), 1,244 yards
Cedric Tillman (Tennessee), 1,205 yards
Josh Vann (South Carolina), 1,056 yards
Jaray Jenkins (LSU), 966 yards
Tauskie Dove (Mizzou), 924 yards
Jermaine Burton (Alabama), 901 yards
Jonathan Mingo (Ole Miss), 897 yards
Boutte and Tillman are the only household names in that group, which doesn't include a single postseason All-SEC selection. That's telling. It's also telling that Tillman ranks No. 5 on that active list despite the fact that heading into October 2021, he had 202 career receiving yards. If you didn't follow Tennessee down the stretch, Tillman might not even be on your radar.
Both Tillman and Boutte have All-America upside. Nobody else in that group is on that level. At least not entering 2022.
Having said that, last year showed us that transfer receivers can absolutely take off in the SEC if they get into the right system with the right surroundings. After coming to the SEC from proud Big Ten programs with a combined 1,180 career receiving yards, Williams and Wan'Dale Robinson took off in their respective offenses.
Perhaps that means the golden era will continue with transfers like Tyler Harrell (Louisville to Alabama), Jadon Haselwood (Oklahoma to Arkansas) or Tayvion Robinson (Virginia Tech to Kentucky). Maybe a transfer quarterback like Spencer Rattler will allow a veteran like Vann to take off, just as we saw with the Hendon Hooker-Tillman connection in the latter half of 2021.
The depth at quarterback in the SEC in 2022 suggests that we should see breakout pass-catchers (Jalin Hyatt and Adonai Mitchell are 2 of my favorite picks to click). Quarterback play might be at a better place than it's been since at least 2013, and maybe longer.
Scheme and having elite offensive minds at the controls is part of that. Since the end of the 2019 season, we watched SEC teams add Mike Leach, Lane Kiffin, Jeff Lebby, Josh Heupel, Todd Monken, Kendal Briles and yes, even Bill O'Brien. In addition to the influx of elite offensive minds in the 2020s, Kentucky, Georgia, South Carolina and Tennessee all modernized their offenses in pretty significant, sustainable ways, too.
After watching LSU do what it did with a revamped spread offense in 2019, it made sense that others were willing to shake things up. Chase and Jefferson were a revelation after they were more of flash players in 2018 (Jefferson was extremely underrated entering 2019 but Chase had a quiet true freshman season). Obviously they're a major part of this golden era. Even with Chase and Jefferson established in the NFL as elite receivers, it could be LSU that has the best chance to extend the golden era. That goes beyond the aforementioned Boutte, who is the only SEC receiver consistently showing up in way-too-early mock drafts but is also coming off 2 ankle surgeries in the past 9 months.
At this time last year, Ed Orgeron dubbed then-true freshman Brian Thomas as "the next great LSU receiver." The 6-3 wideout certainly looked the part in Year 1, albeit for an LSU team that was lost offensively at times in 2021. The silver lining of that — as well as the season-ending ankle injury to Boutte — was that the Tigers' true freshmen pass-catchers got plenty of run. Here were the SEC's true freshmen leaders in receiving in 2021:
Brock Bowers (Georgia), 882 yards
Jack Bech (LSU), 489 yards
Adonai Mitchell (Georgia), 426 yards
Malik Nabers (LSU), 417 yards
Brian Thomas (LSU), 359 yards
That group has a solid chance of continuing the golden era. If you want to eliminate Bowers and Bech because they're listed as tight ends, that's fine. I'd still bank on Mitchell, Nabers and/or Thomas becoming stars.
Perhaps the best indicator of a continued golden era would be at least 1 Biletnikoff finalist and at least 2 1st-round receivers in 2022-23. The last time the SEC failed to check both of those boxes was the 2018 season. Jeudy won the Biletnikoff Award, but the SEC failed to have a receiver selected in the 1st round of the 2019 NFL Draft.
Oh, wait. Deebo Samuel, AJ Brown and DK Metcalf were all Round 2 guys that year … so maybe the SEC's golden era of receivers does date to 2018.
Whatever the case, the recent surge in receiver talent in the SEC is obvious. So too is the fact that since the golden era began, the SEC has its fewest number of proven receivers heading into a season. That conversation could change in the next few months. Or we could realize that superstar receivers are by no means a given in the SEC, despite what recent memory suggests.
Either way, we're about to find out how golden this era of SEC receivers really is.