SEC
Which SEC teams have best chance to improve win total by 3 in 2017?
No team stands still. It improves or pays the punishing consequences of playing in the SEC.
In the past five seasons, 10 of the SEC's 14 teams have enjoyed at least one season in which it won three more games than the previous season.
Florida has had three such three-win improvements, but there has been at least one team (and as many as four) every year since Texas A&M and Missouri entered the league in 2012.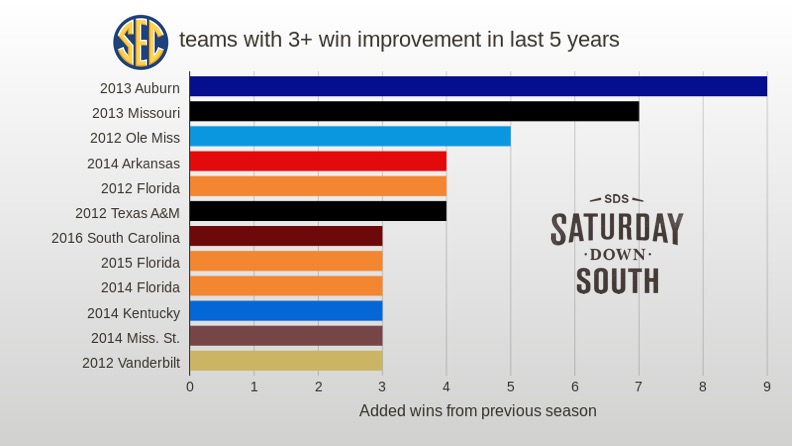 It's logical to assume that streak will continue. As our focus shifts toward spring ball and preseason camp, the question is: Which SEC team stands the best chance of having a three-game improvement in 2017?
Hint: It won't be Alabama. The Tide simply don't play enough games to expand on their average 12-win season.
No other team won more than 9 games in 2016, though, meaning everybody else has room to grow.
These three, in order, have the best chance to add at least three more wins to their 2017 total.
1. Ole Miss: The most obvious reason is the Rebels won just five games in 2016 after winning at least 8 in each of the previous three. So just an average Hugh Freeze season will hit the target. We're projecting more than that.
Part of it is personnel — led by breakout candidate Shea Patterson — and part of it is the schedule. It's friendly.
Cross-over games against Vanderbilt and Kentucky and a non-conference game at Cal (5-7 in 2016) appear more conducive to winning than playing Florida State and Georgia in 2016. Playing LSU, Arkansas and Texas A&M — must wins — certainly is easier at home than the alternative.
2. Georgia: The Bulldogs will be the heavy favorites to win the East. No team in the division brings back more NFL prospects. Georgia won 8 games in 2016, so there isn't much wiggle room in the quest to win 11 or more. But Mark Richt won 10 or more games nine times, and anything short of 10 wins in 2017 for Kirby Smart would qualify as a 2016 Tennessee-type disappointment.
Jacob Eason enters Year 2 of what is expected to be a 3-year college career. Johnny Manziel won the Heisman at that stage of his career. Jameis Winston not only won the Heisman, but also the national title in his second year in college. Deshaun Watson was a Heisman finalist and led Clemson to the national title game as a true sophomore.
That's the new bar. That's the new timeframe.
If Eason is indeed as good as he was projected to be, he needs to have one of those kinds of seasons as a sophomore.
3. Mississippi State: When in doubt, trust the quarterback. Dan Mullen went all-in on an unproven Nick Fitzgerald in 2016 and it's impossible to see that scheme changing in 2017.
As quarterbacks go, Fitzgerald isn't a conventional playmaker, but he accounted for more total yards than anybody in the league. His way isn't Eason's way, but his way works.
The Bulldogs surprised many last season by winning six games. They jumped from seven wins in 2013 to 10 wins in 2014, so there's precedent. Better still, recent precedent, under Mullen.
Playing LSU early helps, given the Tigers' unsettled situation at quarterback and key departures on defense. They'll be better in November than September.
The key to the Bulldogs' quest for nine wins could come Sept. 23 against Eason in Athens.