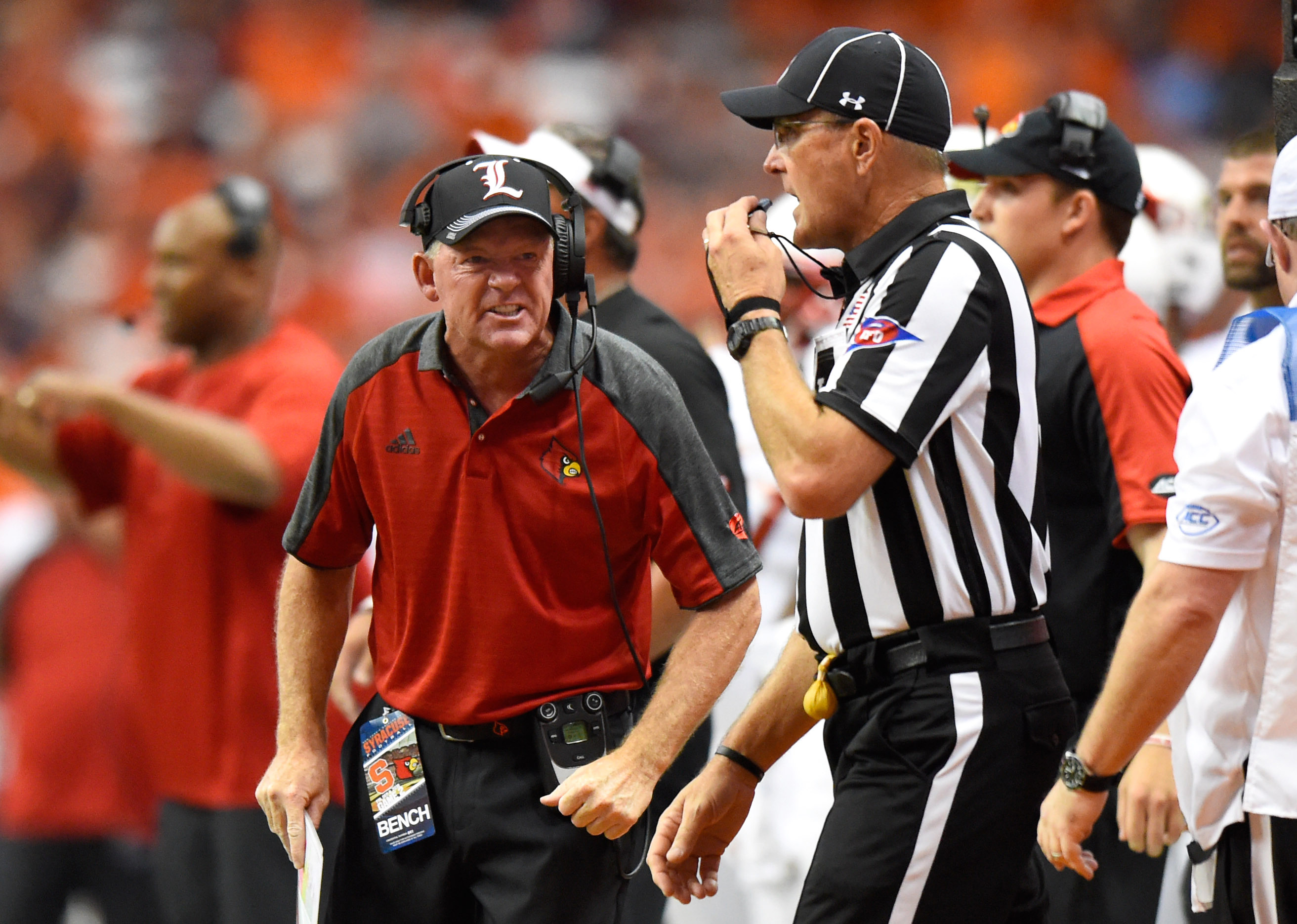 SEC
Who's haunting each SEC school?
No matter whether you're Bama or Vandy, there are a few ghosts hanging around, haunting your favorite college football program. It's only appropriate then, to name a standout ghost haunting each SEC squad on the spookiest day of the year.
Be aware — most of the "ghosts" are still alive.
Some are even still suiting up, but they are mere shadows of their former selves. Coaches, players, former stars, who is haunting the SEC this Halloween?
SEC West
Alabama: The ghost of Ray Perkins haunts the Tide. Huh? You see, after Bear Bryant finished roading the Bama sidelines for two and a half decades, some other unlucky sap had to step in. Enter Perkins, whose four uninspiring years (32-15-1 record) led to Bill Curry, Mike Dubose and David Shula among others. Just a haunting warning for the Tide that Saban will go … someday.
Arkansas: The ghost of a certain motorcycle accident. Sure, it was two-timing and not two-wheeling that got Bobby Petrino out of town, but happy as the Razorbacks are with Bret Bielema, the fan base has to wonder what if one of the hottest offensive minds in football were still in Fayetteville.
Auburn: The ghost of 2004 haunts the Tigers. That was the 13-0 Auburn team that got left out of the national title game. While the Playoff ends that, Auburn is a tough out in the West, but is subject to being forgotten behind more glamorous picks like Bama or LSU. Maybe it's sharing a state with Alabama, but the spookiest thing for Auburn is being unjust left in another's shadow.
LSU: The ghost of Jordan Jefferson is haunting folks down on the bayou. Jefferson was the last Tiger QB to beat Alabama, coming off the bench to lead that 9-6 slugfest in the 2011 regular season. Jefferson passed for under 100 yards in 34 percent of his career starts at LSU, but in light of the horrible passers who have gone since, the Tigers recognize that much of their hopes against the Tide are on Danny Etling conjuring up the ghost of JJ and being just good enough to squeak by Bama.
Ole Miss: Former Rebels coach Houston Nutt is haunting gridiron fans in Oxford. Nutt took the Rebels to two nine-win seasons and then the bottom fell out. Freeze's win totals had gone 7-8-9-10, but it's looking like the other shoe will drop, between underachieving football and possible NCAA issues. For the second time in two coaches, Ole Miss is perilously close to letting a good start be buried in a hurry.
Mississippi State: The ghosts of defenses past are swirling around Starkville, but let's be honest. Dak Prescott is haunting the heck out of his former team. Nick Fitzgerald has been fine, but without Dak, State has taken a big step back.
Texas A&M: The ghosts of once-declined SEC powerhouses are haunting College Station. A&M looked like a solid second place finisher in the West, but that was before somebody woke up Auburn and LSU. The Aggies may still finish second, but it may take a few knives through the hearts of tough ground games yet to come.
SEC East
Florida: With the talented Gators defense and a wide-open East that is begging to be won, the biggest ghost in Gainesville is that one with a visor. His real-life doppelganger is in town, but the ghost of 1990s Steven Orr Spurrier is haunting UF these days. If his potent offense could couple with this Gator defense, Alabama would finally have a fight out of the East again.
Georgia: The ghost of Nick Chubb hovers around Kirby Smart's 4-4 team. What happened to the back who had reeled off 13 consecutive 100-yard games between the latter half of his freshman season and his entire abbreviated sophomore campaign? This year, Chubb had 222 yards in the opener against North Carolina. And since? Yardage by week: 80, 63, 57, 3, 121, 40, 20. UGA is lost and the specter of the stud who used to reside in their backfield is haunting Athens.
Kentucky: The ghost of Paul "Bear" Bryant is still haunting Lexington. Bryant was by far the most successful football coach at Kentucky, until he felt slighted by the attention given to Adolph Rupp and left for greener pastures. As UK faces two more league games with a shot at just their second piece of an SEC title of any kind since Bryant left Lexington, and with another white-hot basketball coach in place over at Rupp Arena, Kentucky football backers better get on the Mark Stoops bandwagon, or get ready for another six decades of mostly disappointing football.
Missouri: The ghost of former coach Gary Pinkel is ruling Columbia. The transition to former defensive coordinator Barry Odom has been less than smooth. Pinkel wasn't flashy, but he kept tough Mizzou teams in their conference races and in New Year's Day bowl games more often than not. They're missing him right now.
South Carolina: The ghost of injured linebacker Skai Moore is haunting USC this year. Moore, who was by far the best player on the projected Carolina roster, suffered a pre-season neck injury that has him on the sidelines instead of in the middle of the Gamecock defense. Will Muschamp's squad is overachieving, but they might be more in the East division hunt if Moore were playing.
Tennessee: The ghosts of three weeks ago linger in Knoxville. Tennessee had pulled off a second consecutive historic comeback, was 5-0, and looked, at worst, a solid bet to go 10-2, and win the East. Now? 8-4 looks more likely, Jalen Hurd is gone, and Butch Jones' seat went from cool to toasty in sixty minutes against South Carolina. Scary stuff indeed.
Vanderbilt: The ghost of Jay Cutler is hanging around Vandy. Back in the days before Cutler was a statue-slow NFL bust, he was a stud QB in Nashville from 2002-2005. If Vandy could combine vintage Cutler's passing skills with RB Ralph Webb's ground game, the Commodores would be booking their bowl tickets. Kyle Shurmur is a good bit shy of even current old-man Cutler's passing skills.