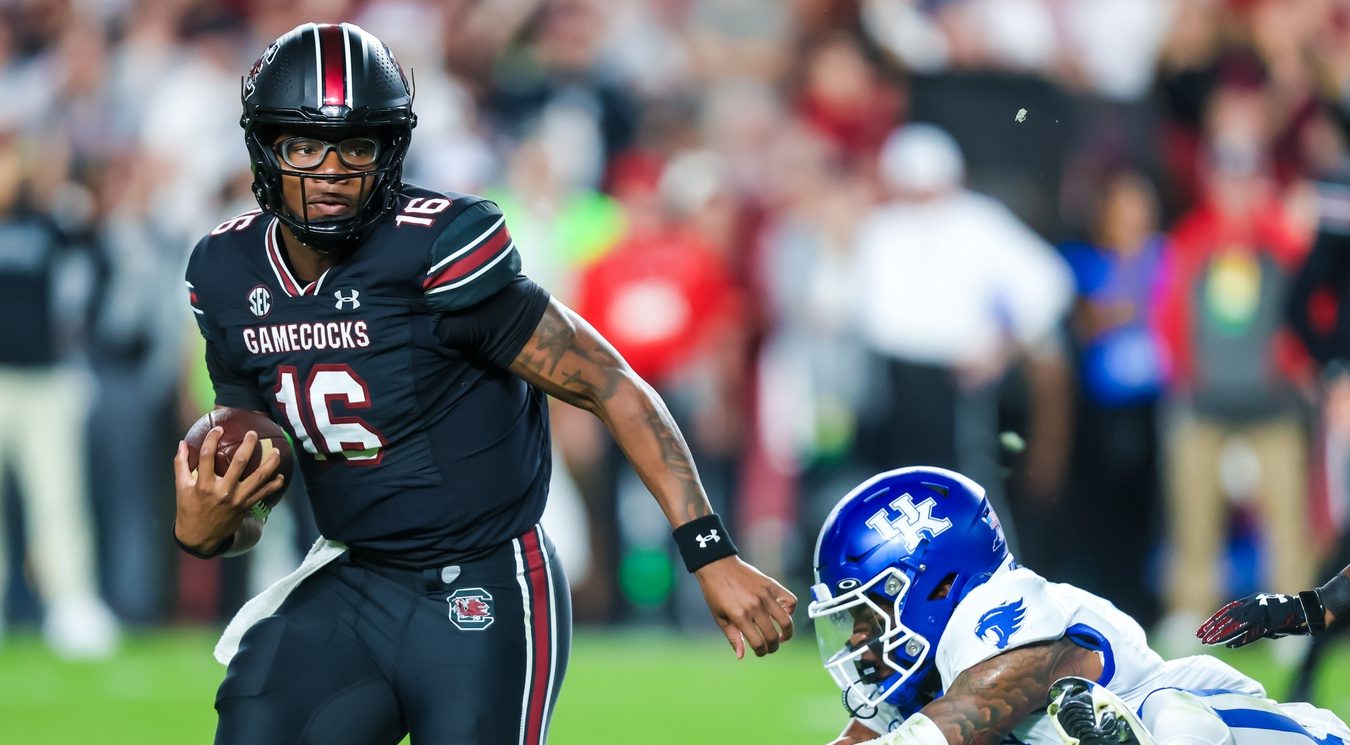 SOUTH CAROLINA
3 takeaways from South Carolina's white-knuckle win over Kentucky
With looming in-state rivalry games against ACC opponents next week, Kentucky and South Carolina came into Saturday looking to finish the SEC slate strong.
Kentucky came into the game hoping to avoid its 4th losing SEC season in the past 5 years. The Wildcats started 5-0 and were ranked as high as No. 20, but now they've lost 5 of their past 6 games. The Gamecocks' season unraveled during a 4-game SEC losing streak, but now there's a glimmer of hope
With just 2 scholarship running backs in the game for South Carolina, the Gamecocks had trouble running the ball, especially against Kentucky's Big Zero, Deone Walker.
But after a back-and-forth struggle as each team delivered punches and counter punches, it was Spencer Rattler who found Xavier Legette for a clutch 17-yard go-ahead touchdown to give the Gamecocks a 17-14 lead with 7:44 remaining.
Then the South Carolina defense made key plays down the stretch, including a Tonka Hemingway fumble recovery and pass deflection to ice the win. The Gamecocks, after a 17-14 victory over Kentucky, can make a bowl game with a win over Clemson next week.
Here are our 3 takeaways from the game:
South Carolina gets 2 first-half turnovers
In the 3rd straight game South Carolina has forced a turnover, the Gamecocks made 2 in the first half. Nick Emmanwori made an acrobatic play in the end zone on a dangerous throw by Devin Leary.
We'll take that ?? pic.twitter.com/6f59bLyXYg

— Gamecock Football (@GamecockFB) November 19, 2023
Jalon Kilgore also forced a fumble that the Gamecocks recovered.
Big-play receivers
Xavier Legette for South Carolina and Barion Brown for Kentucky are known commodities as big-play receivers for each team. They each lived up to the hype in the first half alone, as they each made a touchdown catch.
Legette backpedaled into the end zone and caught a wide-open pass to open the scoring. He made 3 catches for 32 yards, while Brown got Kentucky on the board with a 7-yard catch. Brown made 3 catches for 23 yards in the first half as well. Brown also passed 1,000 career receiving yards in the first half.
It's loud in here. https://t.co/QjJON3tywm pic.twitter.com/E6I5b2maQb

— Gamecock Football (@GamecockFB) November 19, 2023
.@DevinLeary1 ➡️ @BarionBrown for a seven yard TOUCHDOWN. PAT is GOOD. pic.twitter.com/caxblTQyi2

— Kentucky Football (@UKFootball) November 19, 2023
A throwback drive with a spin move
Ray Davis is one of the top running backs in the SEC, but his spin move to score in the 3rd quarter is one of a kind. Davis helped Kentucky deliver a 92-yard scoring drive, the team's longest of the season to give the Wildcats a 14-10 lead over the Gamecocks. The 31-yard run was made after he slipped away from the second-level defenders.
SPIN CYCLE ▶️ TD @UKFootball x ? @SECNetwork pic.twitter.com/0WfcEtE677

— Southeastern Conference (@SEC) November 19, 2023