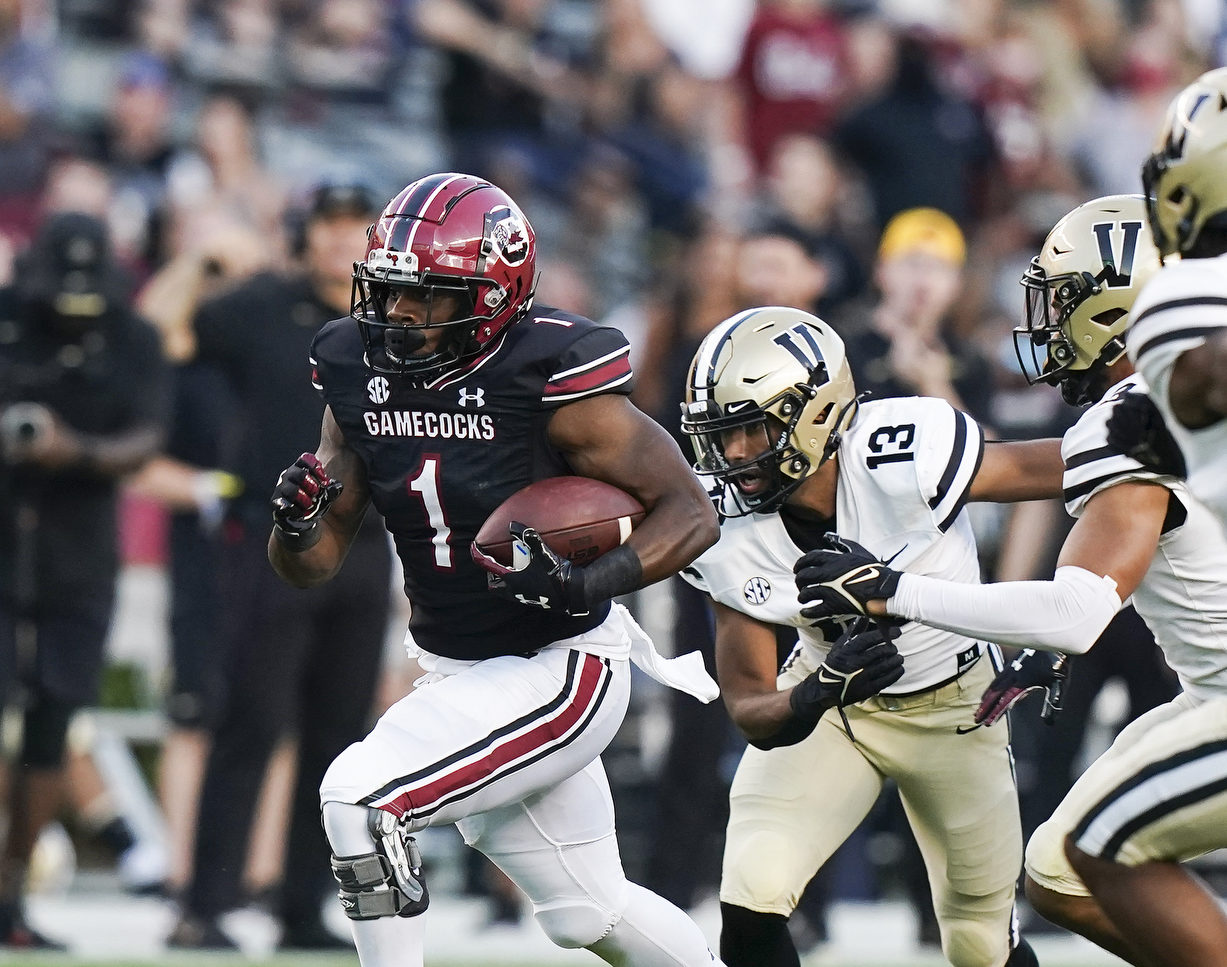 SOUTH CAROLINA
Better or worse? Previewing South Carolina's offense in 2022
All eyes are on Spencer Rattler as South Carolina looks to take the next step in its ascent back up the standings in the SEC East.
Rattler's transfer brings stability at quarterback, as the Gamecocks in 2021 seemingly had a revolving door with Luke Doty, Zeb Noland and Jason Brown. And while plenty of attention will be on Rattler, don't overlook the needed improvement by Marcus Satterfield. He was among the SEC coordinators who struggled the most in 2021 and notably didn't receive an offseason raise.
While the Gamecocks are expected to be ranked in the preseason polls, they're also projected to win just 6 games, which would be a step back from 2021. The schedule is not easy, especially early on with 2 potential land mines before Oct. 1: at Arkansas and vs. Georgia.
Overall, the Gamecocks are deeper across the board and have more dynamic players on offense that would fit in on other SEC teams. A dramatic improvement from last season, when they finished 13th in the SEC in scoring at 22.6 points per game.
"This year was a little bit different in a sense, we brought in all these transfers last year, we thought they were good players, but the general public is sitting there saying, 'Carlins Platel? Jason Brown? David Spaulding? Who are these guys?'" coach Shane Beamer said after spring practice, per the Post and Courier. "We felt good about them, but there wasn't the attention on them."
So what should we expect from the South Carolina offense in 2022? Let's dig into that:
Personnel: Better
Key returnees: WR Josh Vann, RB Juju McDowell, RB MarShawn Lloyd, OL Vershon Lee, OL Jovaughn Gwyn, OL Tyshawn Wannamaker.
Potential breakout players: QB Spencer Rattler, TE Jaheim Bell, TE Austin Stogner, Christian Beal-Smith.
Passing offense: Better
Did you know South Carolina threw more TD passes last season (22) than Lane Kiffin and Ole Miss (21)? Probably not. The Gamecocks threw more TD passes than Texas A&M, too. Passing clearly wasn't SC's offense's identity last year — only Arkansas in the SEC had fewer attempts than SC's 360 — but the Gamecocks were surprisingly proficient despite their QB carousel.
Now add Rattler, who is easily expected to be more dependable and dynamic than Doty, Noland and Brown, although the main questions are offensive line protection and available targets. He needs more than 1 player to assert themselves to have multiple pass-catching threats.
The running backs could add a necessary wrinkle, especially McDowell as the tight ends emerge. McDowell is easily a triple threat as a runner, pass catcher and returner on special teams. In 2020 at Oklahoma, Stogner had 26 catches for 422 yards and 3 touchdowns in just 8 games, and while injuries have slowed him at times, he has plenty of potential.
It's always a positive when the leading wide receiver returns, and that's what the Gamecocks have in Josh Vann. Improvement has to come from the tight ends, where Stogner or Xavier Legette need to step up. Transfer portal additions Antwane Wells and Corey Rucker are other options, though a second-team All-Sun Belt performer, and a former James Madison player.
The key will be Rattler, and whether he can handle the considerable weight to turn around this program and add to the 2021 momentum that exceeded expectations. The coaching staff has already said that Rattler is a sponge when it comes to digesting new information and translating it to the field. The turning point will be if that transfers to the rest of the teammates in the huddle. Confidence and momentum were surprising qualities of last year's team, and Rattler only adds to that.
Rushing offense: Better
This will be better based primarily on the belief that the veteran offensive line, which has had a checkered past in terms of production and consistency, can get the job done. That's a big question. What's not as much of a question is at running back where MarShawn Lloyd is due for a big breakout season, and McDowell has plenty of potential, too. It wouldn't be a stretch for them to combine for 1,500 yards. Lloyd showed some potential last season with a 40-yard run against Florida and a late touchdown against Texas A&M.
Christian Beal-Smith, as Wake Forest's leading rusher the past 2 seasons, brings an experienced back to offer competition for Lloyd. Beal-Smith is about as experienced as it gets coming out of the transfer portal with 43 games (and 22 starts) over the past 4 seasons. To win in the SEC, teams need more than 1 bruising running back, and Lloyd and Beal-Smith fit that bill.
CBS brings leadership and experience from a Wake Forest program that draws similarities to the Gamecocks. After all, Wake Forest was 4-5 in 2020, and then went 11-3 last season with an ACC Atlantic Division title.
Special teams: Worse
It may sound silly to write that a Beamer-led team would take a step back in special teams, but when a program leads its all-time leading scorer, it's difficult to fill that void. For the Gamecocks to beat almost any of the teams in the division, a clutch kicker is incredibly important.
The first step will be Mitch Jeter or Alex Herrera clinching the job during fall camp. But the next Parker White probably isn't on the roster, and a reliable kicker is one of those things that fans and media forget about until the next guy is shaky.
As far as returners, the kick returners include McDowell, Legette, Lloyd, Lovasea Carroll, but also Payton Mangrum and Wells. Vann can be a dual threat at punt returner and kick returner. The other punt returner possibilities are Ahmarean Brown and Trey Adkins.
Overall: Better
South Carolina was 13th in the SEC in scoring offense and yards last season. Improvement seems all but guaranteed. However, there's a sense that several players are at a crossroads. They're unproven or have not stepped into a contributing role because of injuries or being bogged down on the depth chart.
Beamer has long said that he promotes competition, and that's a clear line to getting better. It's been a while since the South Carolina offense secured a win for the program, and last year's main storyline was how the defense got plenty of takeaways and more or less stole the show. The bowl game last year against North Carolina and the Florida game are the kinds of games that need to happen more offense for Satterfield, Rattler and this offense to really strike fear in the hearts of SEC opponents.
After all, the Gamecocks haven't had an offense better than No. 10 in the SEC since 2018.
Having said that, the bar is relatively low and these new additions should help the Gamecocks easily clear it in 2022.