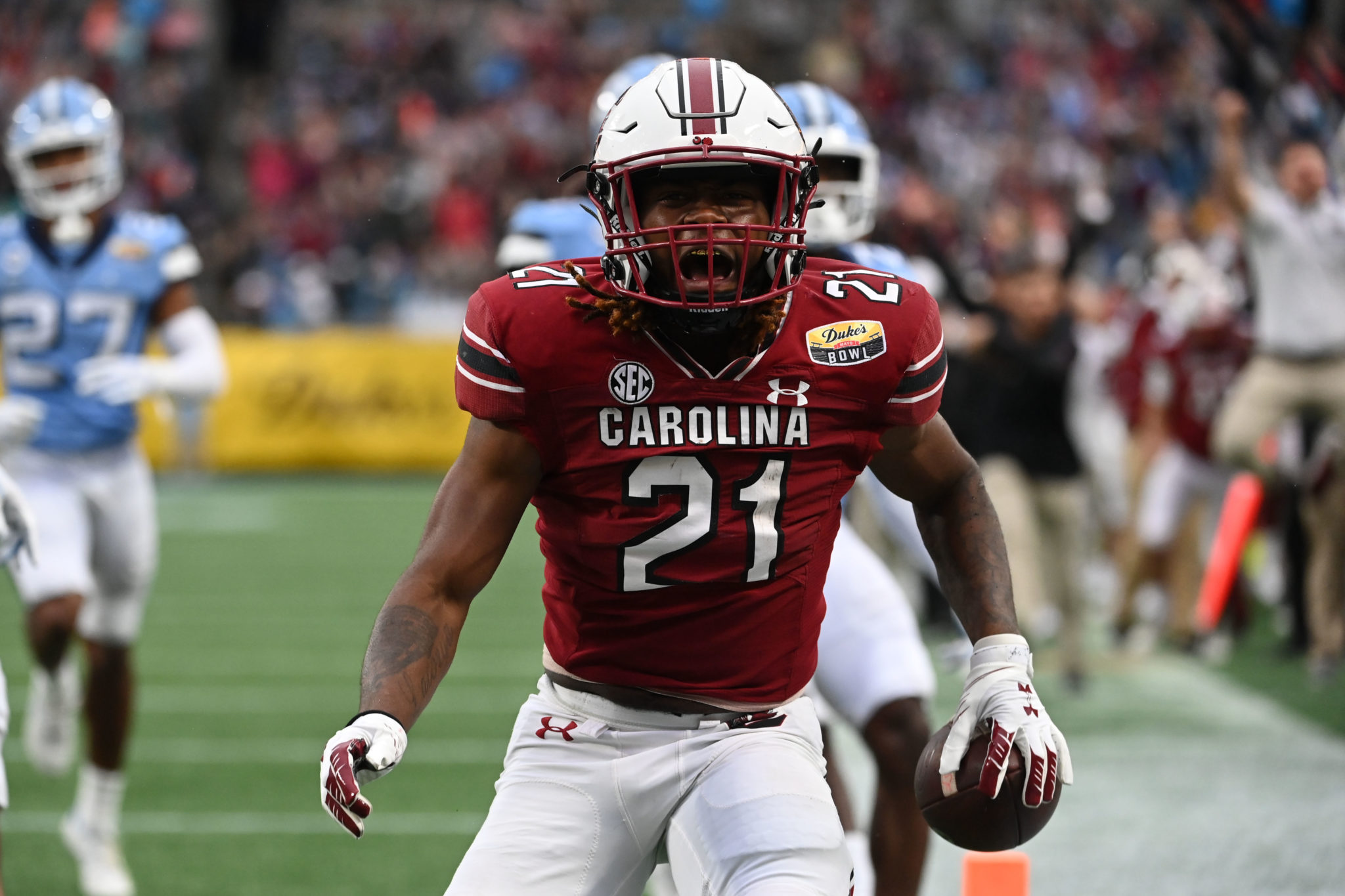 SOUTH CAROLINA
10 most critical questions South Carolina must answer in 2022
A 7-6 record in the SEC usually doesn't generate much excitement, and it normally raises some red flags for a football program.
In Columbia and throughout the state, the South Carolina fanbase is energized about last year's 7-6 campaign after a 6-16 compiled mark over the previous 2 seasons.
Shane Beamer took over the reins last season with high expectations generated by his father Frank's coaching legacy. The younger Beamer didn't disappoint with an uplifting season that culminated in a win over North Carolina in the Duke's Mayo Bowl last December.
So the proverbial question is, what will Beamer do for an encore? It is a pivotal year for Beamer and his Gamecocks to take another major step in laying a foundation.
What are some of the major concerns facing South Carolina this fall? Here are 10 crucial issues that will decide its fate:
1. Can they get past the 7-win mark?
There is plenty of optimism about the Gamecocks' rise out of obscurity, with Beamer fueling the outlook.
His next step will be to put the program on the right track to the top of the SEC, and there will be pressure to create the next grade this fall. In the process, Beamer can further establish his own identity and step out of his legendary father's shadow.
A minimum 7-win season seems necessary and plausible. The Gamecocks have plenty of experienced returnees, and they did well with the transfer portal to heighten expectations.
2. Does Spencer Rattler check all the quarterback boxes?
Rattler and Beamer have a history, spending 2 years together at Oklahoma. While there, Rattler had a breakout season in 2020, throwing for 3,031 yards with 28 touchdowns and 7 interceptions. Last season, Rattler played in only 5 games and threw for 1,483 yards with 11 touchdowns and 5 interceptions for the Sooners.
Rattler decided to enter the transfer portal, and both he and Beamer are excited about the possibilities. Offensive coordinator/quarterbacks coach Marcus Satterfield weaved through 4 quarterbacks last season, and he is also glad Rattler is in the fold.
3. Will the offensive line find chemistry?
The Gamecocks have everyone back up front from last year, and that should be a good sign. But the line play in the spring game left some doubts that they could be a cohesive unit. They gave up sacks to stop drives and struggled in the red zone.
Center Eric Douglas and guards Vershon Lee and Jovaughn Gwyn are solid with their pass protection. The real question lies in the development of left tackle Jaylen Nichols and right tackles Dylan Wonnum and Tyshawn Wannamaker, which will be the key to the unit's success.
4. Will MarShawn Lloyd be the featured running back?
The Gamecocks have some depth at the position, but Satterfield has indicated that he would like a featured back. Lloyd appears to be the frontrunner, but he struggled in the spring. He had 228 yards rushing last year in a limited role.
Besides Lloyd, Juju McDowell and Wake Forest transfer Christian Beal-Smith both have looked good and should be in contention for plenty of carries. Beal-Smith, a redshirt senior, had a team-high 604 yards last season with 7 touchdowns and had 1,871 yards rushing overall at Wake.
5. With Rattler, does the passing game open up more?
Unlike last year's multi-quarterback system, Satterfield has Rattler to lead the Gamecocks' passing attack, which has plenty of potential.
McDowell led the team with 53 receptions, and he'll again be an effective weapon out of the backfield. The Gamecocks also return Jaheim Bell (30 receptions for 497 yards), who will move to tight end.
Josh Vann (43-679), Dakereon Joyner (24-221) and James Madison transfer Antwane Wells Jr. can make a formidable corps. Wells set JMU season records in receptions (83), receiving yards (1,250) and touchdowns (15).
6. Can the pass rush make a difference?
South Carolina recorded 26 sacks last season, 12th in the SEC. This season, it will be all about the prospects of the defensive line and the pass rush.
The Gamecocks did lose Kingsley Enagbare and Aaron Sterling up front, and 5-star player Zacch Pickens returns as the main force with 4 sacks last year. Pickens is expected to double the mark this fall, and he will need to establish his presence.
The spotlight here will be on Jordan Burch, another 5-star recruit who hasn't bloomed as a game changer as expected. Burch had just 1 sack last season, but he will need to play a prominent role and meet expectations. Alex Huntley and Tyreek Johnson bring more experience back to the line.
7. Will the linebackers lead the defense?
Along with the defensive front, the Gamecocks' linebackers have the ability to solidify the unit.
Mohamed Kaba has the chance to be a leader and a playmaker. He received SEC All-Freshman honors, and he began to make his mark in the final 6 games of last season when he recorded the majority of his 32 tackles. Jordan Strachan and Debo Williams should make their presence felt.
Sherrod Greene was lost for the season in Week 3 last year, and his return is a boost. Brad Johnson, a sixth-year player, brings back steadiness.
8. Will the secondary raise its stock to another level?
The Gamecocks began 2021 with questions about their secondary, and they finished the year creating their own statements. They begin this season with plenty of depth and experience.
R.J. Roderick will be a mainstay at one safety, as he logged 60 tackles last season. Devonni Reed, a transfer grad student from Central Michigan, brings plenty of experience with 41 starts and 287 tackles.
Marcellas Dial and Darius Rush developed into high-caliber players by the end of the year and will look to continue their ascent. Cam Smith, who had 64 tackles, also is back and will likely play the nickel. Anthony Rose can play either position, but he will probably get a long look at safety.
9. Who will replace kicker Parker White?
White finished his career as the school's all-time leading scorer with 368 points, connecting on 152 extra points and 72 field goals. Over the last few seasons, he was among the best.
Mitch Jeter and Alex Herrera vied for Parker's spot in the spring, and Jeter appeared to have the edge. However, both have looked good, and it will be a matter of who is the most congruous.
10. Is their schedule a favorable one?
The Gamecocks have 4 home games in their first 6 contests, and they should be able to get off to a respectable start with Georgia State and a road date at Arkansas.
They will get an early litmus test with a home date against Georgia in Week 3.
November will be their proving ground with matchups against Vanderbilt, Florida, Tennessee and Clemson, having only Tennessee at home.