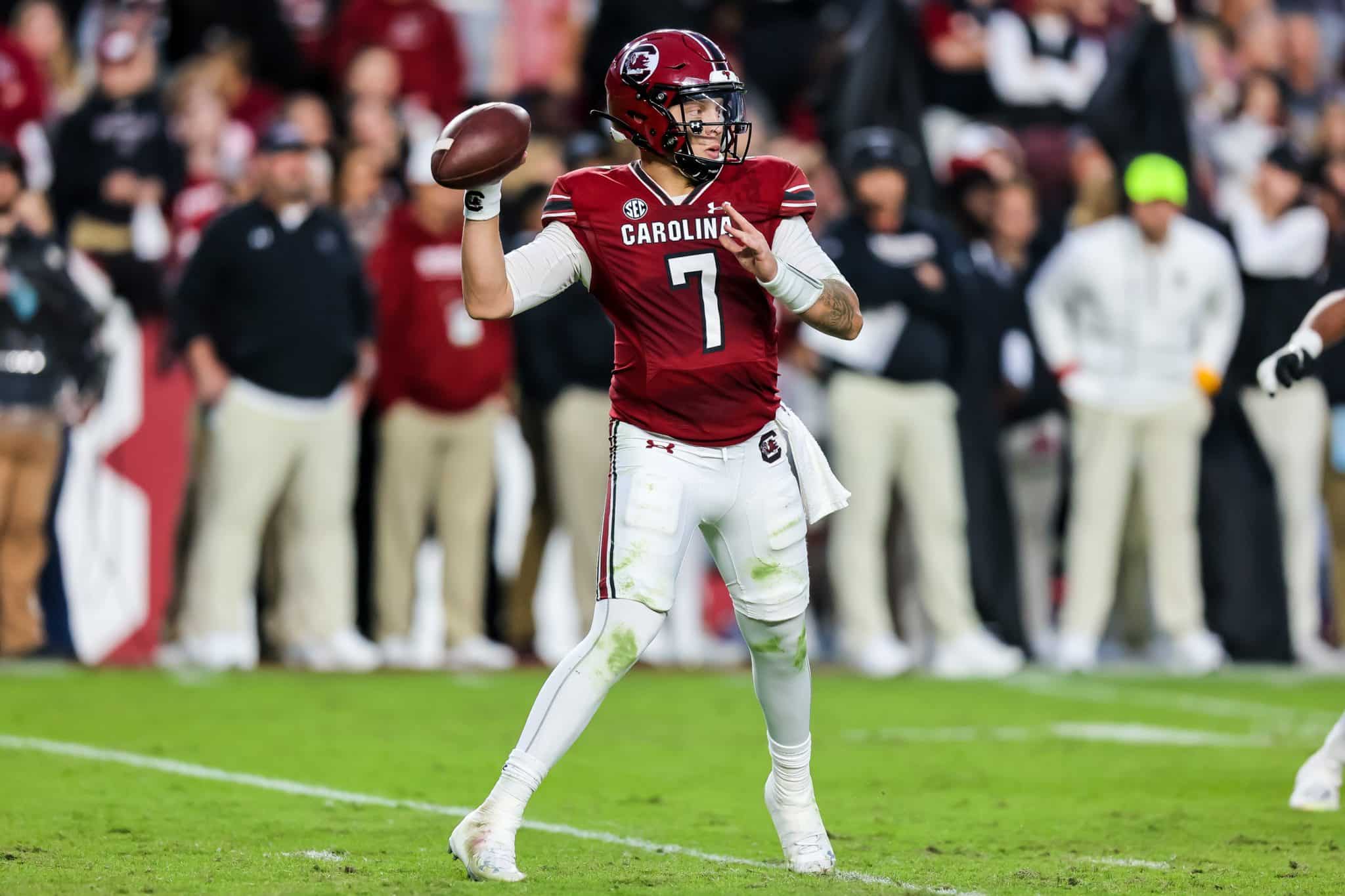 SOUTH CAROLINA
South Carolina football: Can Gamecocks regroup for stretch run?
At South Carolina, the grill has been turned on high again.
The Gamecocks' 23-10 loss to Missouri at Williams-Brice Stadium helped suddenly crank up the knob regarding issues that most assumed had flamed out. The issues on both sides are starting to sizzle once again.
USC's offense has been in question all season, with the bullseye on the back of offensive coordinator Marcus Satterfield. However, the questions and doubts find a way to keep a low profile when your team wins 4 straight games and sneaks into the AP Poll.
It wasn't that these issues weren't prevalent, but winning can be a temporary panacea.
It's just a reminder that an unforeseen loss on a Homecoming afternoon can quickly change the complexion of a team. USC (5-3) is now back in panic mode with 4 games to play.
The Gamecocks' running game had moved to the forefront of the offense, and sophomore redshirt back MarShawn Lloyd had lived up to his preseason expectations of being the program's next 1,000-yard rusher. Lloyd had amassed 451 yards and scored 7 touchdowns in his previous 4 games, and his contributions definitely opened up the offense. For the year, Lloyd has 556 yards with 9 touchdowns.
But Lloyd was bottled up against Missouri for just 30 yards on 7 carries. He saw limited time in the 2nd half, and it became obvious that he was in pain.
It was revealed after the game that Lloyd has a quad bruise, but head coach Shane Beamer expects him to be ready for Saturday's game at Vanderbilt (3-5), a team the Gamecocks have beaten 13 consecutive times.
Quad bruises can be tricky, and any length of time with Lloyd on the sideline puts a huge crink in their arsenal.
That might open the door for Jaheim Bell, who has basically disappeared from the offense since USC's opener against Georgia State, when the junior tight end was effectively running out of the backfield with 39 yards on 7 carries. Since then, Bell has 12 carries for 25 yards, but he has made himself effective as a passing weapon with 13 catches for 157 yards.
The social media crowd has rallied for Bell, as he can be a viable option in the offense with his power and speed. Both Satterfield and Beamer have raved about Bell, but he didn't have any touches against Missouri.
Some focus has been shifted back on quarterback Spencer Rattler, who has thrown for less than 200 yards the past 3 games. He last passed that plateau when he had a stellar 21-for-27, 212-yard effort against South Carolina State in a 50-10 rout.
Against Missouri, Rattler had shades of his slow start, going 20-of-30 for 171 yards with a bad interception.
With Lloyd and the overall elevation of the running game, Rattler has been more of a game manager over the past month. When the running game is shut down, as it was against Missouri, Rattler needs to take the game over.
Through 8 games, Rattler hasn't shown that he is a consistent playmaker, as he hasn't had a breakout game against a quality opponent. He has completed a respectable 64 percent of his passes, connecting on 144-of-225 for 1,637 yards with 5 touchdowns and 9 interceptions.
Even though he scored on a 7-yard run against Missouri, Rattler hasn't been effective scrambling out of the backfield, with just 8 yards on 46 attempts. His interception total will be a black mark that continues to hang over him.
Despite keeping a lower profile over the past month, Rattler is still the face of the football program.
The Gamecocks' offensive line took a step back in recent weeks, as it has allowed 10 sacks in the past 3 games, 4 of them last week. Overall, the Gamecocks have allowed 19 sacks.
USC's defense has registered 11 sacks, a number that needs to improve. Linebacker Sherrod Greene has had a steady season, leading the team in tackles with 40 , and edge rushers Jordan Burch (36 stops) and Zacch Pickens (30) have been improving steadily.
The Gamecocks' secondary was beginning to regain its respect among the nation's elite, but it was torched by Missouri's Dominic Lovett, who had 10 catches for 148 of the Tigers' 224 yards through the air. To its credit, it has 9 interceptions this season.
Then there is Satterfield. He is easily the faithful pinata at this point.
Against Missouri, the Gamecocks had 10 drives with 5 3-and-outs, and they netted just 203 yards of total offense. Currently, they sit 10th in the SEC in passing offense, 11th in rushing offense and 12th in total offense, and they average 30.3 points per game in the conference. Those are numbers that should create a high level of anxiety.
Satterfield's contract is up Dec. 31, and he likely isn't going anywhere until then. Beamer made that clear recently. The OC simply has to find a better way to spread the ball around and involve Bell and leading receiver Antwane Wells Jr., as well as Jalen Brooks. Running back JuJu McDowell's production has slowed over the past month since his quick start.
For Beamer, Satterfield and defensive coordinator Clayton White, it's time to find some solutions and other options. A bowl game still hangs in the balance, as well as the respectability of the program over the final 4 weeks.
It all will begin again in Vanderbilt Saturday night.