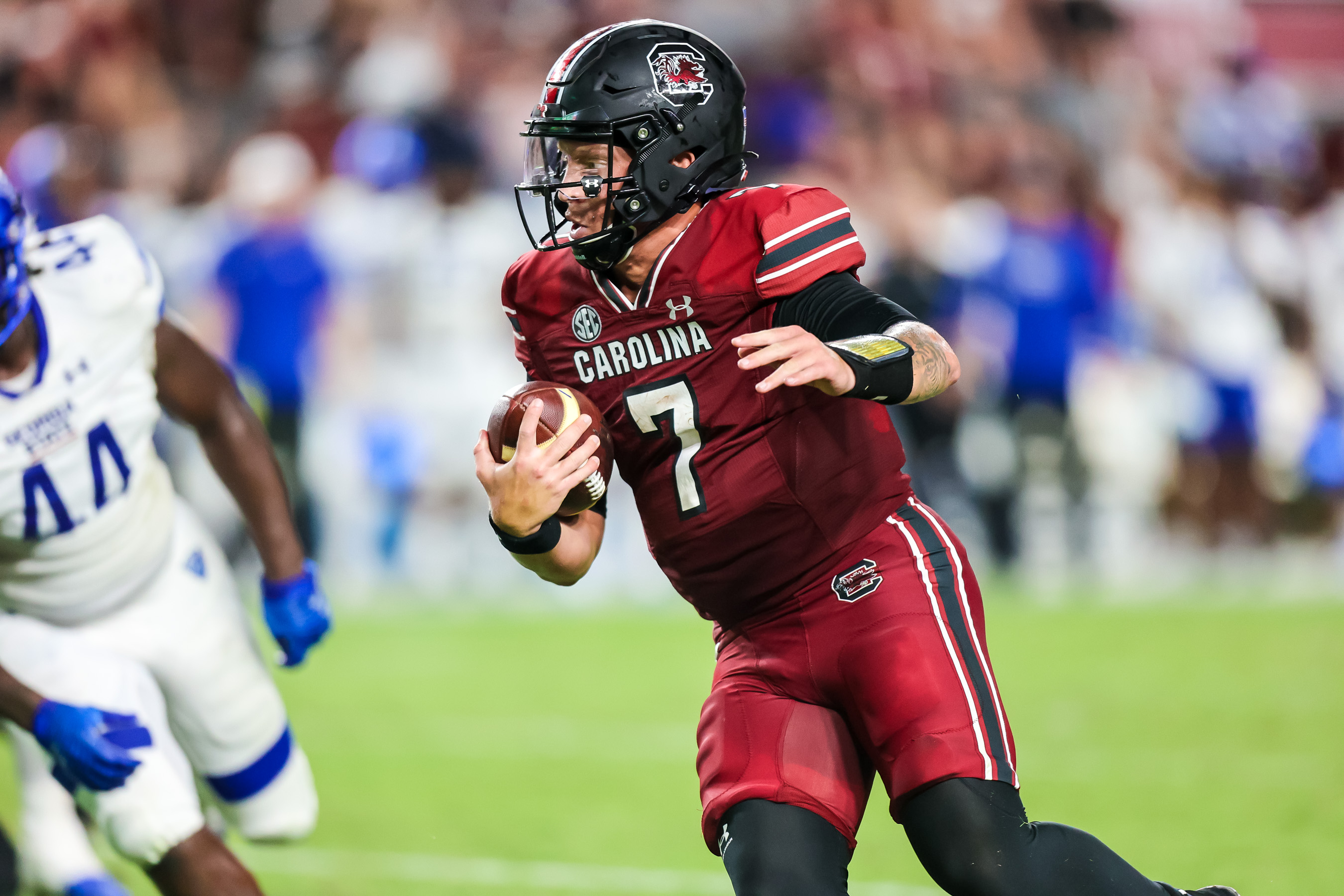 SOUTH CAROLINA
South Carolina football: How much from Week 1 matters moving forward?
South Carolina's 35-14 victory over Georgia State on Saturday night answered some questions on both sides of the ball, while it also left a few unanswered.
Here are some random thoughts heading into a key Arkansas matchup Saturday afternoon:
Don't judge Spencer Rattler yet
On paper, Rattler's numbers could have been deceiving. He was 15-of-24 for 147 yards in the first half. However, Rattler was hurried and chased on protection breakdowns on most of those misses and he did have a share of his own. He finished the game 23-of-37 for 227 yards with a score. Rattler threw 1 interception that was his fault, and another that was definitely his responsibility.
He showed the knack of escaping the pocket and also proved he could throw out of the pocket, highlighted by a nifty 39-yard completion. Over the years, the interceptions and inaccuracies have plagued him, and they will need to be curbed — starting Saturday against a very talented Arkansas defense that has playmakers at every level.
Clearly, Rattler's opening effort fell short of the hype surrounding his arrival.
However, it is too early to pass judgment on him. His presence and high profile have been a perfect injection for the program. Offensive coordinator Marcus Satterfield also needs to allow Rattler to move the ball up the field more with a talented and deep receiving corps.
It is all about seeing progress, and Rattler will need to continue to answer his critics and the Gamecocks' faithful.
More specials on the way?
The heroics of the special teams have been well publicized this week, but they still shouldn't be taken for granted. It is a night in a thousand that any team returns 2 blocked punts for touchdowns. That proved to be the turning point against Georgia State.
Now, special teams coach Pete Lembo's unit has to find a way to make a consistent contribution to the cause every week. The Gamecocks may have found a solution to replacing all-time leading scorer Parker White with Mitch Jeter, who immediately proved he has a strong foot.
Jeter went 2-for-2 on field goal attempts — both beyond 50 yards, making him the national leader in 50+ yard field goals this season.
Defense didn't rest
South Carolina's defense made the key stops, allowing the visiting Panthers to cross midfield only 5 times in their 15 possessions. The secondary of corners Marcellas Dial and Cam Smith, along with safety Darius Rush made their presence felt with jarring hits on Georgia State receivers, and the defense registered 9 pass breakups. Devonni Reed also had a good night with a team-high 5 tackles.
It was a good first-game showing, but the Gamecocks' pass rush will need to be more effective against Arkansas quarterback KJ Jefferson, who threw 3 TD passes in the Hogs' opening win vs. Cincinnati.
The biggest issue — beginning Saturday — is improving the run defense.
Georgia State ran for 200 yards — and GSU doesn't have anyone as potentially dangerous as Arkansas' Rocket Sanders, who ran for 117 yards against Cincy. Jefferson obviously is a threat, too. Remember, he led Arkansas in rushing last season with 664 yards. He opened 2022 by rushing 18 times for 62 yards.
Arkansas led the SEC in rushing last season and picked up right where it left off. They'll try to impose their will at the line of scrimmage.
Oh-fensive line and the running game
The Gamecocks' offensive line was just OK against Georgia State against a defensive line in which they had a size advantage.
They'll have to play significantly better Saturday.
Arkansas limited Cincinnati to 113 yards rushing and added 3 sacks. Linebacker Bumper Pool cleaned up with 13 tackles. Hard-hitting hybrid safety Jalen Catalon added 8. Transfer Drew Sanders registered his first sack as a Hog.
USC's o-line allowed 3 sacks, 6 hurries and 7 tackles for losses. The Gamecocks were limited to 76 yards rushing — averaging just 2.47 yards on each of their 32 carries.
South Carolina fans have been waiting for MarShawn Lloyd to break out. He was limited to 30 yards on 11 carries in the opener.
Lloyd, Jaheim Bell, and Juju McDowell appear to have the potential to get the running game in gear, but they will need more of a consistent effort from their teammates up front.