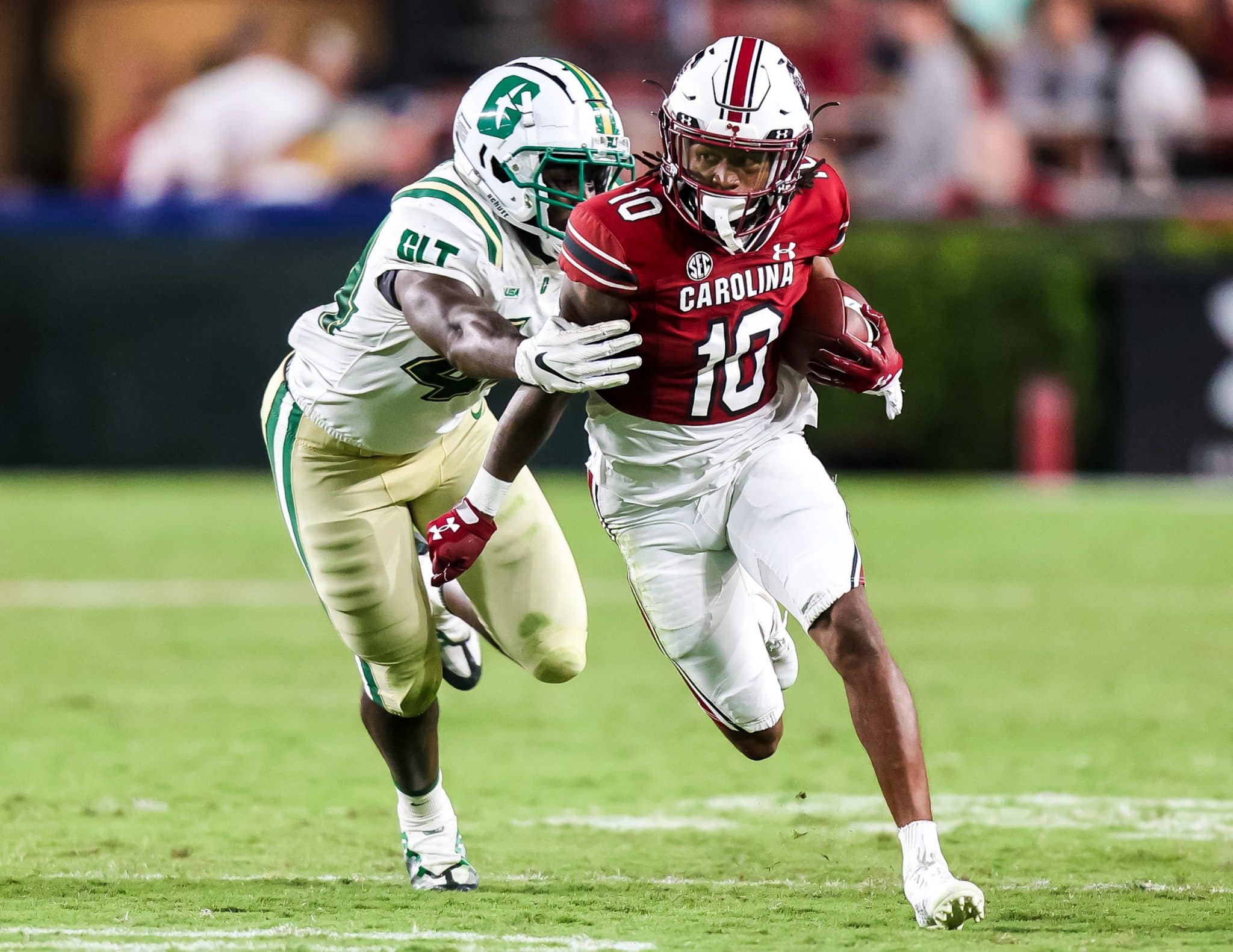 SOUTH CAROLINA
South Carolina: Rattler needs to improve, but he also needs help
When South Carolina (3-2) lines up against No. 13 Kentucky on Saturday night, most eyes will be focused on Gamecocks quarterback Spencer Rattler.
The junior Oklahoma transfer again will be heavily scrutinized to see if he can deliver against a ranked team. Under 2nd-year head coach Shane Beamer, the Gamecocks are 0-4 and have been outscored 176-64 in those contests.
Easily the centerpiece of the program, Rattler will be expected to deliver without any major mistakes, or be ready to be placed back on the rotisserie for the college football world.
However, maybe Rattler shouldn't be judged that quickly and harshly. He has more weapons at his disposal to have the ability to make better choices.
Against then-No. 16 Arkansas in the 2nd game of the season, Rattler held his own with a 24-for-39, 377-yard performance with 1 touchdown and 1 interception. It was his biggest yardage output of the season.
Rattler saw any chance against then-No. 1 Georgia quickly wither away in sun-splashed Williams Brice Stadium when he threw a bad interception in the opening quarter. It proved to have a jumpstart effect toward a 48-7 rout for the Bulldogs. Rattler finished the game 13-for-25 with 118 yards and 2 interceptions.
That showing lit the fuse for critics to rehash his inconsistencies from the past, and they began to question if he was the quarterback savior the Gamecocks had envisioned.
Facing the 2 ranked teams, Rattler was 37-of-64 for 495 yards with 1 touchdown and 2 interceptions.
Against Georgia State in the opener and recently in the routs of Charlotte and South Carolina State, Rattler went 61-for-87 for 626 yards with 3 touchdowns and 4 interceptions. The 2 against South Carolina State were catchable balls that bounced out of a receiver's hands.
For the season, Rattler has completed 98 of 151 attempts for 1,121 yards with 4 touchdowns and 7 interceptions. His quarterback rating is 126.7. He is within striking distance of his 3,031-yard accumulation in 2020, hen he had 28 touchdown passes.
Rattler didn't have to take a gunslinger approach against Charlotte and South Carolina State mainly due to the revival of the USC running game behind the more cohesive offensive line that has sprung holes for MarShawn Lloyd and his backfield mates.
With their recent blowouts, the Gamecocks have inflated their offensive numbers to a 6th-best 35.6 points per game in the SEC, an average of 257 yards through the air and 138.2 via the ground.
Against Kentucky, Rattler will face a stingy pass unit that has given up an average of 183 yards in its first 5 games. The Wildcats allowed 223 yards in a 22-19 loss to Ole Miss last week, which was their biggest allowance of the season. Over its past 3 games, Kentucky has allowed an average of 185 yards and 14.8 points per game.
If the Gamecocks' running game can get into gear, Rattler won't be forced to make plays and unnecessarily throw the ball into traffic downfield. Instead, Rattler should look to a more controlled approach and spread the ball around like he did when he hit 11 different receivers against South Carolina State.
Rattler will need to use his array of receivers and patiently spread the ball around against Kentucky.
Antwane Wells Jr. leads the team with 24 receptions with 1 touchdown, and Jalen Brooks has 17 grabs for 298 yards. In recent weeks, Brooks has emerged as a deep threat.
Out of the backfield, Lloyd (13 catches, 118 yards, 2 touchdowns) and Juju McDowell (113 catches, 97 yards) have surfaced as viable options, especially if the downfield options have been limited.
Tight end Austin Stogner caught his 1st touchdown pass last week, and his 10 receptions should double quickly. Xavier Legette has been seeing more playing time, and Ahmarean Brown and Josh Vann should be back in the mix after dealing with injuries. Jaheim Bell has been useful in the backfield as a short-yardage choice, but he can easily be in the slot.
Wells, Brooks and Legette can all make a huge difference with their playmaking skills. It will be a matter of Rattler making the timely, selective choices.
Over the past few weeks, offensive coordinator Marcus Satterfield has been more creative with his passing options as well as the running game. He has to continue to try to tap out the maximum from his unit to keep the Gamecocks in the hunt down the stretch.
To his benefit, Rattler has realized all of his possible outlets . After Kentucky, the Gamecocks will have a week off before they host Texas A&M on Oct. 22, beginning a pivotal 6-game run to determine their fate.
"We have at least 2 consistent guys on the field at any time," Rattler said. "There's times when we'll have 4 consistent guys on the field, and 1 of them is a big tight end. As well as running backs who catch.
"We're really deep in our skill positions, so that makes my job a lot easier. Just get the ball in their hands and they'll make plays. You have seen some of that."
For Rattler and his cast, they will have to see more.