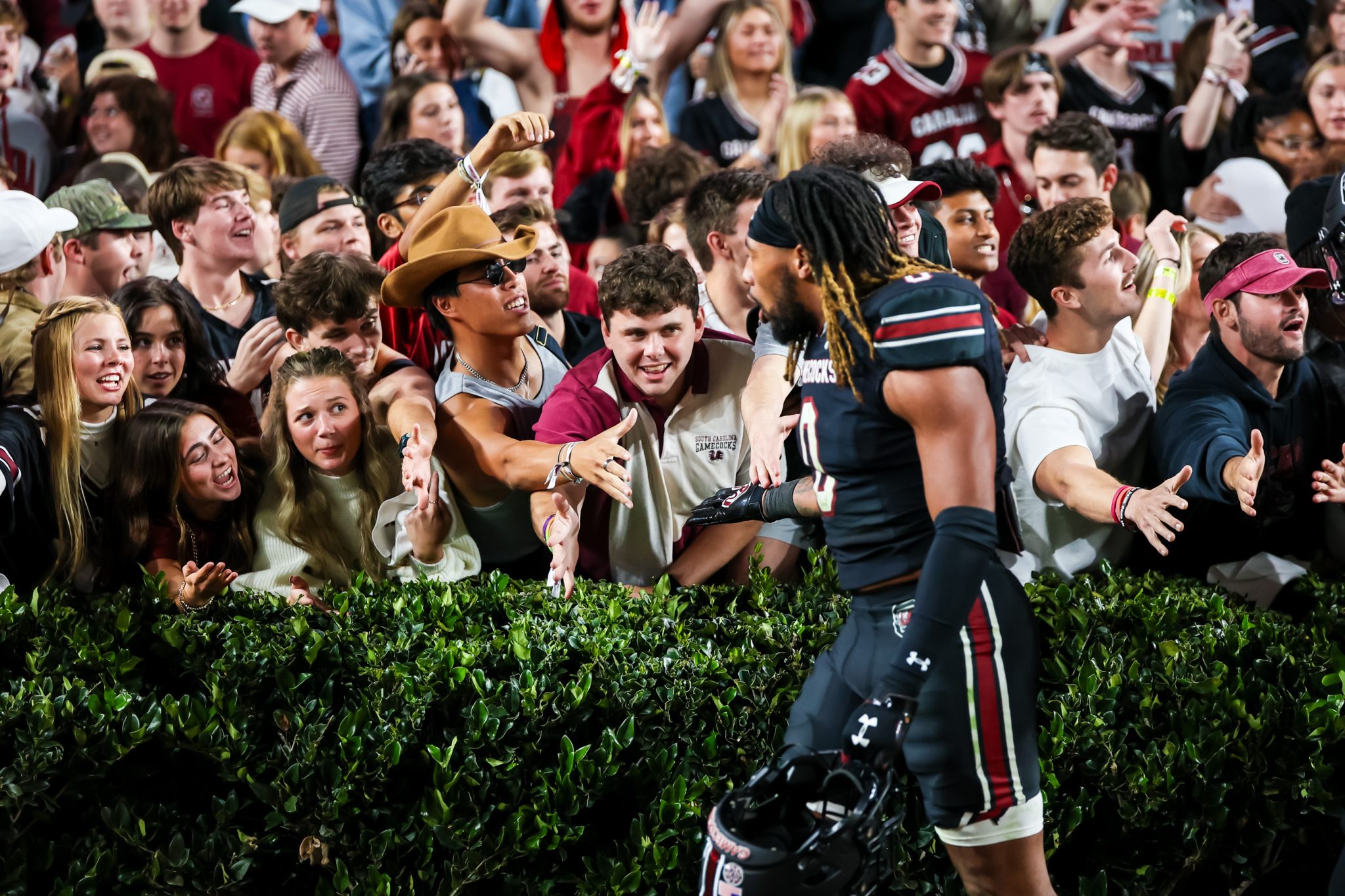 SOUTH CAROLINA
South Carolina football: Stock report following Week 12
Well, it all comes down to this.
South Carolina is 5-6 after a 17-14 win over Kentucky shut the door on its SEC slate. It was far from the season Gamecocks fans and players hoped for — especially after signs of momentum after an 8-5 mark in 2022 that saw them take down a pair of Top 10 teams in Tennessee and Clemson in successive weeks.
But a bowl game is still on the table. And to get there, the Gamecocks need to beat the Tigers, who are itching to turn the series back in their favor after falling to their archrival last year.
Here's the South Carolina stock report heading into a pivotal final week of the regular season:
Player of the Week: WR Xavier Legette
Xavier Legette's development since stepping onto the South Carolina campus has been remarkable. In the 2nd-to-last home game of his career, he was at it again, making 6 catches for 94 yards and 2 touchdowns.
Legette is currently 2nd in the SEC in receiving yards (1187). While he probably won't be among the headlining wide receivers in the NFL Draft this spring, whoever takes him off the board is going to be happy it did.
Freshman of the Week: DB Jalon Kilgore
Jalon Kilgore is 11 games into his college career, and he's continued to show that he'll be a player to watch in 2024 with a year of experience under his belt. He wss credited with 5 tackles and a pass defensed against the Wildcats on Saturday.
Kilgore also forced a key fumble late in the 4th quarter with Devin Leary and the Wildcats driving. While it didn't necessarily seal the game (South Carolina still had a little work to do depsite leading 17-14 with less than 2 minutes left), it certainly changed the tone of things as Kentucky had its eyes on tying the game with a field goal at minimum.
Biggest surprise: Student section leaves early…in a "dog fight"
Shane Beamer had a message for the Cockpit student section following the game.
"Cockpit, we love you, but if you're gonna come, please stay for the whole game," he said. "That end zone was amazing, but we don't need empty seats in a 4-quarter dog fight like that in our student section."
He's not wrong. Yes, the Gamecocks have taken a step back this season, and yes, Beamer said the crowd was at one point as loud as it's been since his arrival. But in front of a television audience and with a chance to keep their bowl hopes alive, it's not a good look to leave early.
Biggest concern: The penalties
Oh, the penalties. They continue to be a problem for South Carolina. It entered the game the 14th-most penalized team in the country (7.5 times a game). On Saturday, it committed 9 penalties for 95 yards, the 4th time this season it's been flagged 9 or more times.
Developing trend: South Carolina's opportunistic defense
Suddenly, Clayton White's defense is stringing together a streak of multiple-takeaway performances. In their first 5 games, the Gamecocks forced 7 turnovers before a streak of 3 games without a takeaway. They've totaled 9 in the last 3 games alone, including 3 on Saturday against the Wildcats: 2 fumbles and an interception.
Key stat: 1.5 yards per rush
The Gamecocks ran the ball with ease against Vanderbilt, taking 24 carries for 136 yards — an average of 5.7 yards per attempt — and scoring 3 times on the ground.
Dowell Loggains hoped that the same Wildcats unit that gave up 4 touchdowns and 4.1 yards a touch a week ago against Alabama would allow the Gamecocks the chance to do what they did against the Commodores. No such luck: 33 carries for 50 yards, an average of 1.5 yards.
That's been the story for South Carolina over the past 5 games, save against Vandy: an inability to get consistent production on the ground.
First impression about Clemson: Can Gamecocks take down a hot Tigers team?
Wouldn't you know it: Clemson is 3-0 since Dabo Swinney told Tyler from Spartanburg what he could do with his "$10.5 million to go 4-4" remark. Along the way, the Tigers have taken down a pair of nationally ranked teams: Notre Dame and North Carolina, tacking on a win over Georgia Tech that clinched bowl eligibility.
As if the Tigers needed more motivation, Swinney will be sure to remind his players of the last time they took on the Gamecocks. As if the Gamecocks needed motivation of their own beyond the fact that they're in a bowl with a win, Shane Beamer will be reminding his players of the last Palmetto Bowl contest.
A 2nd straight win over the Tigers – the Gamecocks haven't won consecutive games in the series since taking 5 straight from 2009-2013 – will take some of the sting out of what's been a year of unfulfilled expectations.