DraftKings Deposit Bonus: $1,000 in Bonuses for April 2023
The trademark DraftKings Deposit Bonus is a terrific method for new users to begin their legal sports betting journey. Using the standard DK new user promo code, bettors will unlock a two-part offer that provides a fast start for initial wagers. In addition to a bonus bet, the welcome offer will provide a generous deposit bonus to help new DraftKings Sportsbook users start off in a winning way.
While sportsbooks have not been legalized in all states, there are a number of states where legal sports betting has already been launched. Users located in states where online sportsbooks are available can take up any of the promos listed on this page to opt into an impressive $50 bonus bet + $1,000 deposit bonus when they sign-up for an account with DraftKings Online Sportsbook.

DRAFTKINGS SPORTSBOOK APP
States: MI, NY, NJ, PA, CT, AZ, CO, IL, IN, IA, MD, NH, TN, VA, WV
This DraftKings deposit-match bonus is one of the most lucrative ways to get started and will reward users when making their initial deposit. With the bonus amount scaled based in accordance to the amount the user funds their account, the DK new user bonus is simply the best way to play. DraftKings Sportsbook is without a doubt a preferred operator for Saturday Down South, with the sports betting platform expanding to more and more states nationwide.
Now let's check out some of the details surrounding the standard DraftKings Deposit Bonus.
DraftKings Sportsbook Promo Code
There's no question that DraftKings Sportsbook is among the top options in the industry for online bettors. In addition to an impressive and easy-to-use sportsbook app, players can take advantage of the DraftKings new user promo to receive a generous bonus at registration.
Using the standard DK Sportsbook bonus code, new users will receive a lucrative two-part offer when signing up to boost their newly created account. When the promo has been activated, a $50 bonus bet will be unlocked as the first part of the new user bonus. The next part is the profitable DraftKings Sportsbook deposit match bonus. With this, DraftKings will match the initial deposit at 20% up to a $1,000 limit.
To unlock the full $1,000, new users will have to deposit $5,000. But it's important to note that users are not required to deposit that much, as the $1,000 cap is simply the maximum amount. Any and all initial deposits will be matched by DraftKings at 20% regardless. To make things even easier, bettors won't need to worry about inputting the promo code, as they can simply utilize any of the linked offers on this page to automatically apply the bonus to their account at sign-up.
DraftKings Sportsbook Promo Code
Use our Exclusive Link: $1,050 Bonus!
States with the DraftKings Sportsbook App
Arizona, Colorado, Connecticut, Illinois, Indiana, Iowa, Kansas, Louisiana, Maryland, Massachusetts, Michigan, New Hampshire, New Jersey, New York, Ohio, Oregon, Pennsylvania, Tennessee, Virginia, West Virginia, Wyoming
Promo Details
1. New players can use our Exclusive Link: $50 BONUS BET

2. New players are also eligible for a $1,000 DEPOSIT BONUS

Bonus bet amount is not included in any returns or winnings. Bonus bet is also not redeemable for cash, non-transferable, and non-refundable.

3. Deposit bonus up to $1,000. Deposit is matched at 20% (bonus requires 25x play-thru)

Promo Last Verified On
May 28, 2023
DraftKings Sportsbook Legal States
Although not all states have legalized sports betting, there are a number of states where either online sports betting, retail sports betting, or both, have already been launched. Already operating a number of retail brick-and-mortar locations as well as an impressive online platform, DraftKings Sportsbook is currently available in some fashion in a variety of locations.
Here are all the states where DraftKings Sportsbook is legal in 2023:
Arizona
Colorado
Connecticut
Illinois
Indiana
Iowa
Massachusetts
New Hampshire
New Jersey
New York
Oregon
Pennsylvania
Virginia
West Virginia
Wyoming
As the legal sports betting industry continues to spread throughout the country, the list of DraftKings Sportsbook available states should continue to grow.
DraftKings Deposit Bonus & Promos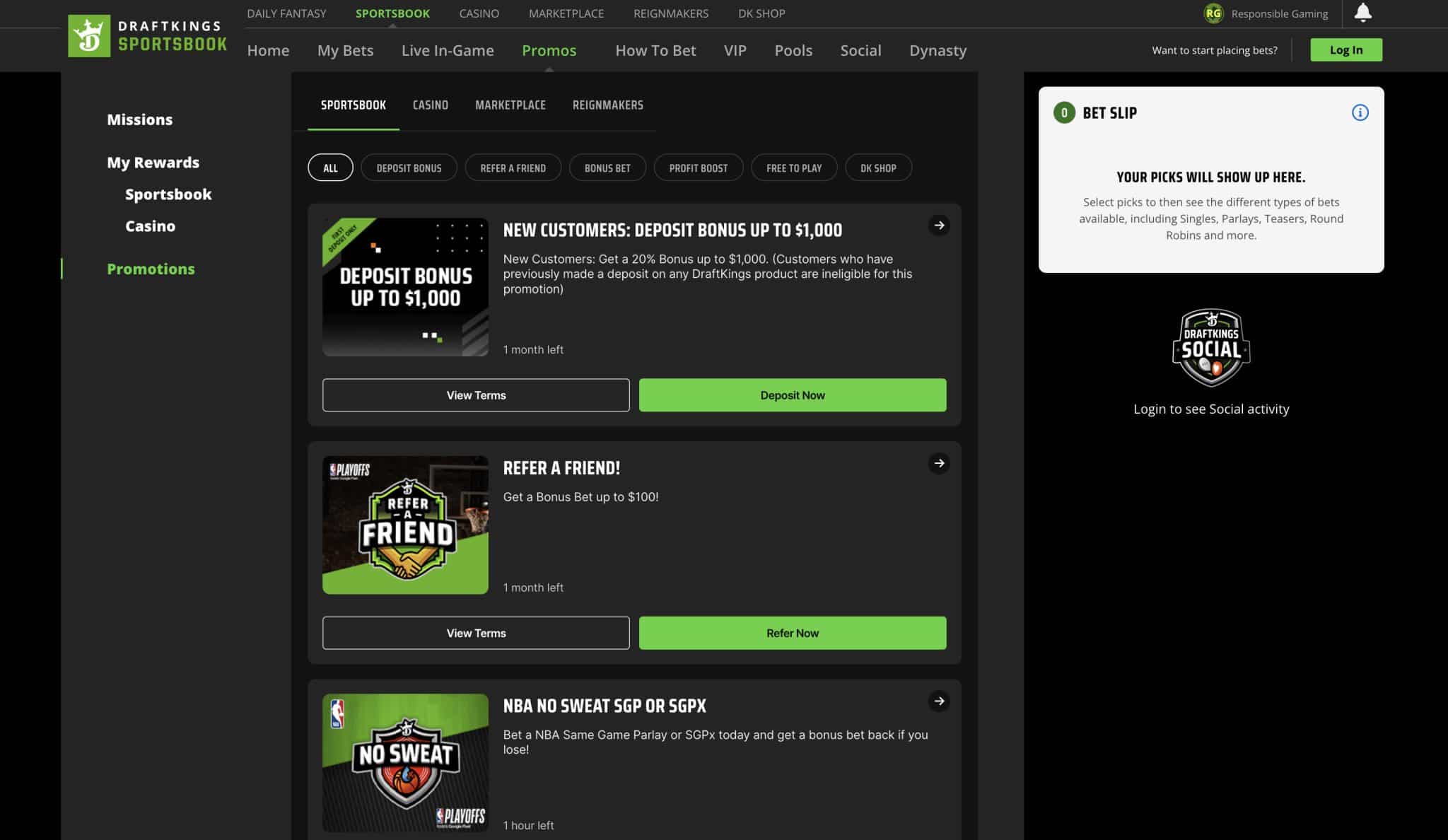 The sports betting mogul provides the DraftKings Deposit Bonus for new users, but that's not all, as existing players have a number of promos to take up as well. These bonuses arrive in many different forms including Refer A Friend, Bonus Bets, Profit Boosts, Free To Play, and more. It's very easy to get started, just click on the Promos tab located near the top of the screen to view all the available DraftKings promotions. An added touch, users who opt into the initial DraftKings deposit-match bonus will not be disqualified from any of the future bonuses and promos. Take a look here at all the available DraftKings promos for this weekend's games.
Deposit Bonus
Available to all new users as the trademark sign-up offer, the DraftKings Deposit Bonus will provide additional funds to your new sports betting account. Once activated, DraftKings will match the initial deposit at a 20% rate with bonuses to allow users more wagers on the sportsbook. The maximum amount any one user can receive via the deposit bonus is $1,000 which requires a $5,000 initial deposit.
Refer A Friend
DraftKings users can spread the sports betting fun by using the Refer A Friend feature. This will unlock a bonus for both you and your referred friend following some simple terms and conditions. To get started, click the Promotions tab in DK Sportsbook and select Refer A Friend. You will then see an option to Refer Now to copy and paste your exclusive referral code to send to a friend. When the referred friend has deposited a minimum of $25 you will both receive a bonus.
If the referred friend deposits $25-$49, both parties will receive (1) $25 bonus bet. Should the referral deposits $50-$99, both parties will receive (1) $50 bonus bet. If the referral deposits $100+, both parties will receive (1) $100 bonus bet. Do note that the referred friend must be new to DraftKings and not just new to the sportsbook (ex. previous DraftKings Casino player).
Bonus Bet
As mentioned in multiple listed DraftKings promos, users will receive Bonus Bets as rewards in a multitude of ways. These bets essentially operate as site credit, allowing users to place wagers on DraftKings Sportsbook without using deposited funds. One of the available ways for DK users to unlock Bonus Bets is by playing a Same Game Parlay. Typically themed based on a popular sport in-season, users will have the chance to place a specific type of Same Game Parlay and receive a Bonus Bet back if they lose.
Profit Boost
Users can also receive a Profit Boost by playing Steped Up Same Game Parlays to increase their winnings. Profit Boost tokens can then be applied to wagers on the bet slip to receive up to 100% more in bet payouts. Do note that Stepped Up Same Game Parlays unlocking Profit Boost tokens will be sport-specific (as selected by DraftKings) and often available in a limited-time window.
Free To Play
DraftKings Sportsbook users can also take part in daily Free To Play contests to potentially win big. These Free To Play pools offer a variety of different games like Pick'em where players attempt to pick the correct outcomes from a series of questions about a specific event or series. Next time your account balance is running low, head over to the Free To Play section to stack some sportsbook funds back up.
How To Register For DraftKings Sportsbook
Registering for a new account with DraftKings Sportsbook is very easy to do, even for first-time bettors. Already available in a number of states throughout the country, users can conveniently sign-up online by completing the simple process. Users must be at least 21 years old to be eligible and are required to provide some basic credentials at the time of registration.
DraftKings Deposit Bonus

DRAFTKINGS SPORTSBOOK APP
States: MI, NY, NJ, PA, CT, AZ, CO, IL, IN, IA, MD, NH, TN, VA, WV
Before signing up for your account with DraftKings Sportsbook, make sure to take advantage of the promos and bonuses listed on this page. This will unlock the impressive DraftKings Deposit Bonus providing a $50 bonus bet + up to $1,000 in deposit match bonuses to help the new player get started in the right direction.
Once you have opted into the DK Sportsbook promo, the offer will be automatically applied to your account at the time of registration.
DraftKings Sportsbook Sign-Up
Users will be required to provide the following information when they sign-up with DraftKings:
Full legal name
Email address
Date of birth (must be at least 21 years old)
Residential address
Phone number
Last 4 digits of Social Security
Prospective DraftKings users will also be required to enable the location services on their access device. This is so that DraftKings can verify the user is within legal state sports betting boundaries.
All Sports On DraftKings
DraftKings Sportsbook provides an impressive list of sports for users to bet on. Providing access to betting markets all across the globe, here are all the available sports to wager on with DraftKings Sportsbook:
Aussie Rules Football
Badminton
Baseball
Basketball
Beach Volleyball
Boxing
Canoeing
Climbing
Cricket
Cycling
Darts
Diving
Equestrian
Fencing
Field Hockey
Football
Golf
Gymnastics
Handball
Hockey
Judo
Karate
Lacrosse
MMA
Motorsports
Olympic Specials
Rowing
Rugby League
Rugby Union
Sailing
Shooting
Skateboarding
Snooker & Pool
Soccer
Swimming
Table Tennis
Tennis
Track & Field
Volleyball
Water Polo
Weightlifting
Wrestling
The selection of sports available to wager on with DraftKings is as impressive as any major sports betting entity in the industry.
Types Of Bets On DraftKings Sportsbook
In addition to the wide selection of different sports, DraftKings Sportsbook users also have a variety of options with which to bet on all the exciting action. New users looking for a quick 101, or returning bettors looking for a refresh can read up here to find out about all the available wager types on DraftKings.
Moneyline: The easiest way for users to bet on DraftKings is by playing a Moneyline bet. Moneyline bets simply represent either team to win the game outright (regardless of point differential). Odds for Moneylines are set pre-game to reflect the status of the teams taking part in the game. Favored teams will have (-) odds, while underdog teams will have (+) odds.
Point Spread: Playing a Point Spread bet is another very simple way to jump into the action. Point Spreads represent the difference in the score that the oddsmakers see between the two teams in the game. Favored teams will be giving (-) points, while underdog teams will be getting (+) points. To win your bet, the team you wager on must cover the spread on the final score, do note Point Spread bets that end in a tie are considered a push and the user is refunded.
Over/Under Total: Betting the Over/Under Total is a great play for users who may not have a rooting interest in either of the teams in the game. Over/Under Total bets combine the total score of both teams in the game to see whether the number falls under or goes over the pre-game set line. Over/Under Totals that end in a tie are considered a push and the user is refunded.
Parlay: One of the most popular, and potentially profitable ways to play on DraftKings Sportsbook is by betting a Parlay. With a Parlay bet, users stack together multiple wagers from various games to multiply the odds for a potentially massive payout. All legs of the Parlay must hit for the bet to cash, Parlay legs that result in a push are typically voided from the bet ticket.
Same Game Parlay: Another way to parlay the action is by playing a Same Game Parlay. With a Same Game Parlay, users stack together multiple betting lines from the same game to multiply the odds and stack the winnings higher. It's worth noting that Same Game Parlays can carry slightly different operational rules than traditional Parlay bets.
Futures: Users have the option to bet on events far in advance via the Futures markets. With a Futures bet, DraftKings Sportsbook bettors will have access to some of the longest odds available, meaning higher payouts. However, these can often come with long waits, as you are wagering on a future event.
Live Betting: Don't ever worry if you miss the start of the game, as DraftKings constantly provides Live Betting odds for ongoing action. Live Betting odds are updated by the moment to reflect the status of the ongoing game, and they provide some of the best value in sports betting, as live odds can quickly change.
DraftKings Sportsbook Customer Service
Users on DraftKings have multiple ways with which to contact the DraftKings customer support team. Two of the more popular and easy-to-access methods include the Live Chat feature as well as the Email option. Let's dive into some of the DK customer support details below.
Live Chat
One of the most basic DK customer support methods is the Live Chat feature. To access the Live Chat, scroll down to the bottom of the page on the DraftKings app or website and select the Help Center section, then click on the button that says Get Help. This will open a secondary window that features a Support tab in the bottom right corner. Click on the Support tab and enter the related term to further streamline your inquiry. Next, select the option to Get in Touch and the link to Live Chat. You can then get started messaging with a DraftKings customer support agent.
Email
Another very easy DK customer support option to use is the Email feature. Send an Email to the DraftKings customer service team by scrolling down and clicking the Help Center button, then the link to Get Help. Then scroll down to the bottom of the page where there is an option to Contact Support. Click this link and a secondary window will be opened where the Email can get started. Enter your email message as well as a return address so that the DraftKings team can get back to you. Users also have the option to draft and send an email from within their own personal inbox to the address: sportsbook@draftkings.com.
DraftKings Deposit Bonus FAQ
Where is DraftKings Sportsbook legal?
DraftKings Sportsbook is already legal and available in a number of states throughout the country, including: AZ, CO, CT, IL, IN, IA, KS, LA, MD, MA, MI, NH, NJ, NY, OH, OR, PA, TN, VA, WV, WY.
What is the DraftKings Deposit Bonus?
The standard DraftKings Deposit Bonus code will unlock an impressive two-part offer at the time of initial registration: users who opt in will receive a $50 bonus bet + up to $1,000 in deposit match bonuses depending on the amount of their initial deposit.
How do I place a bet on DraftKings Sportsbook online?
Find your wager by browsing through the sports categories, live betting lines, or search bar. Then, click on the game/team/player you want to bet on to add it to your bet slip. Next, pull up your bet slip, enter a risk amount for your bet, and confirm the wager: DraftKings Sportsbook offers a wide variety of different bet types for users to take up, including moneylines, point spreads, over/under totals, player props, parlays, and more.
What is a bet slip?
The bet slip is simply the page/hub where users can build/view their bets before confirming them: after adding a selected betting line to your bet slip, all available bet types will be displayed in addition to the odds for the selection.
How do I cancel a bet?
Users can 'cancel bets' either before or during the game they have wagered on by using the Early Cash Out feature: simply head over to your bet slip and cash out the ticket before the game starts to cancel a bet.
What does it mean when a market is unavailable?
When a market is unavailable, it simply means that the betting line is temporarily suspended: this is sometimes seen on the Live Betting screen, and is typically the result of the live odds updating.
We do not target any individuals under the age of 21. We support responsible gambling. If you feel like you're losing control over your gambling experience, call 1-800-GAMBLER (NJ, PA, WV), 1-800-9-WITH-IT (IN), 1-800-BETS-OFF (IA), 1-888- 532-3500(Virginia) 1-800-522-4700 (NV, TN), 1-800-522-4700 (CO, TN), 1-855-2CALLGA (IL), 1-800-270-7117 (MI).
About Saturday Down South | Ethics and Editorial Standards | Privacy Policy | Terms and Conditions | Do Not Sell My Personal Information