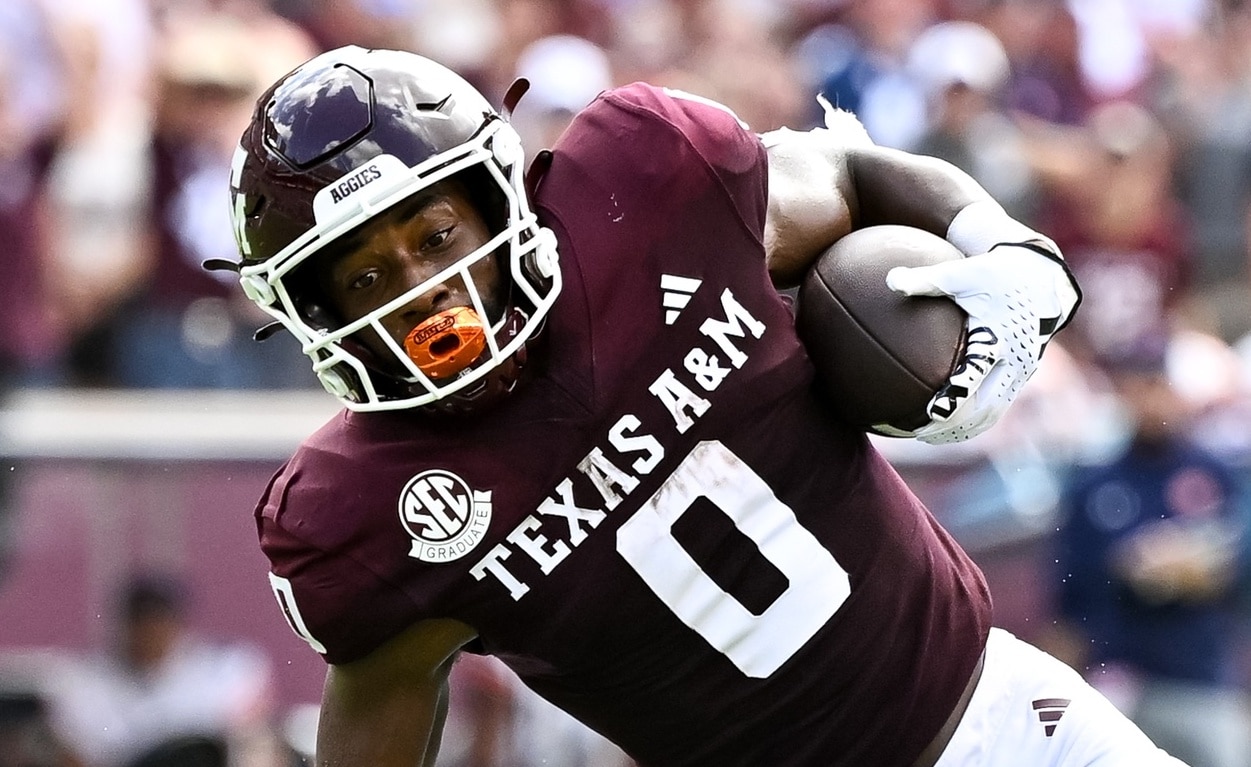 TEXAS A&M
3 takeaways from Texas A&M's win against Auburn
It wasn't pretty, but A&M will take it.
A 1-0 start to SEC play, and more importantly, avoiding that always-dreaded loss No. 2 on the season, was the goal for Jimbo Fisher's squad.
Mission accomplished.
The Aggies earned a 27-10 victory in their 2023 SEC debut while Hugh Freeze wasn't able to generate much of anything on the offensive side of the ball in his first SEC game since returning to the conference.
Here are 3 takeaways from a weird game in College Station:
1. Did the Conner Weigman injury create a QB controversy? It shouldn't have
Weigman went down with a left ankle injury just before the half. It was easily the worst start of his 2023 season with just 2 field goal drives led. Throwing windows were small and he wasn't as decisive as he needed to be.
With Weigman sidelined, Max Johnson entered and immediately led 2 touchdown drives, including a pass to his younger brother, Max Johnson, for his first career TD grab. Johnson looked solid in relief. He led 3 touchdown drives and prevented A&M from sweating that out. His touchdown pass to Evan Stewart was as good of a throw and catch as you'll see.
So if Weigman's ankle injury isn't serious and he's healthy enough to return, is he still the starter? Absolutely. One game shouldn't have changed that, especially when Weigman led 3 solid offensive efforts to start the season. This was more about Johnson, a former starter at LSU who started in relief last season, stepping up for an A&M squad that could've been staring at a disastrous SEC opener if not for his play.
Credit Johnson for stepping up in that moment. But it shouldn't have wiped out all of Weigman's progress. This was just a reminder that A&M is fortunate to have depth at the game's most important position.
2. Payton Thorne and the Auburn passing game are going to have issues
Woof. It was ugly.
Thorne was totally ineffective and in the third quarter, he gave way to Robby Ashford. Auburn's passing game was nonexistent on Saturday against an A&M secondary that's been disastrous at times in 2023.
Thorne was 6-for-12 for 44 yards, and he took 5 sacks. He missed open receivers, he couldn't escape pressure and ultimately, he couldn't string scoring drives together. Ashford was brought in simply because the ground game had some signs of life, but facing obvious passing game situations down the stretch, Freeze turned to Holden Geriner.
That didn't go any better. Auburn's passing game, with limited options on the outside, is going to have issues in SEC play.
3. A&M is going to win a lot of SEC games if its defense shows up like that
While the level of offense will certainly improve, Saturday's defensive showing was big for DJ Durkin. Edgerrin Cooper and that Aggie defense stepped up in a major way. They forced out the aforementioned Thorne and they adjusted well in the ground game. Auburn had just 2 total yards in the third quarter while Johnson got the Aggies offense going.
After the Miami loss, it wasn't a given that the Aggies were going to be able to hold their own defensively. Holding Auburn to 3.1 yards/play while racking up 7 sacks was as good of a sign as any.
if A&M can continue that disciplined approach, it's well on its way to that bounce-back season.