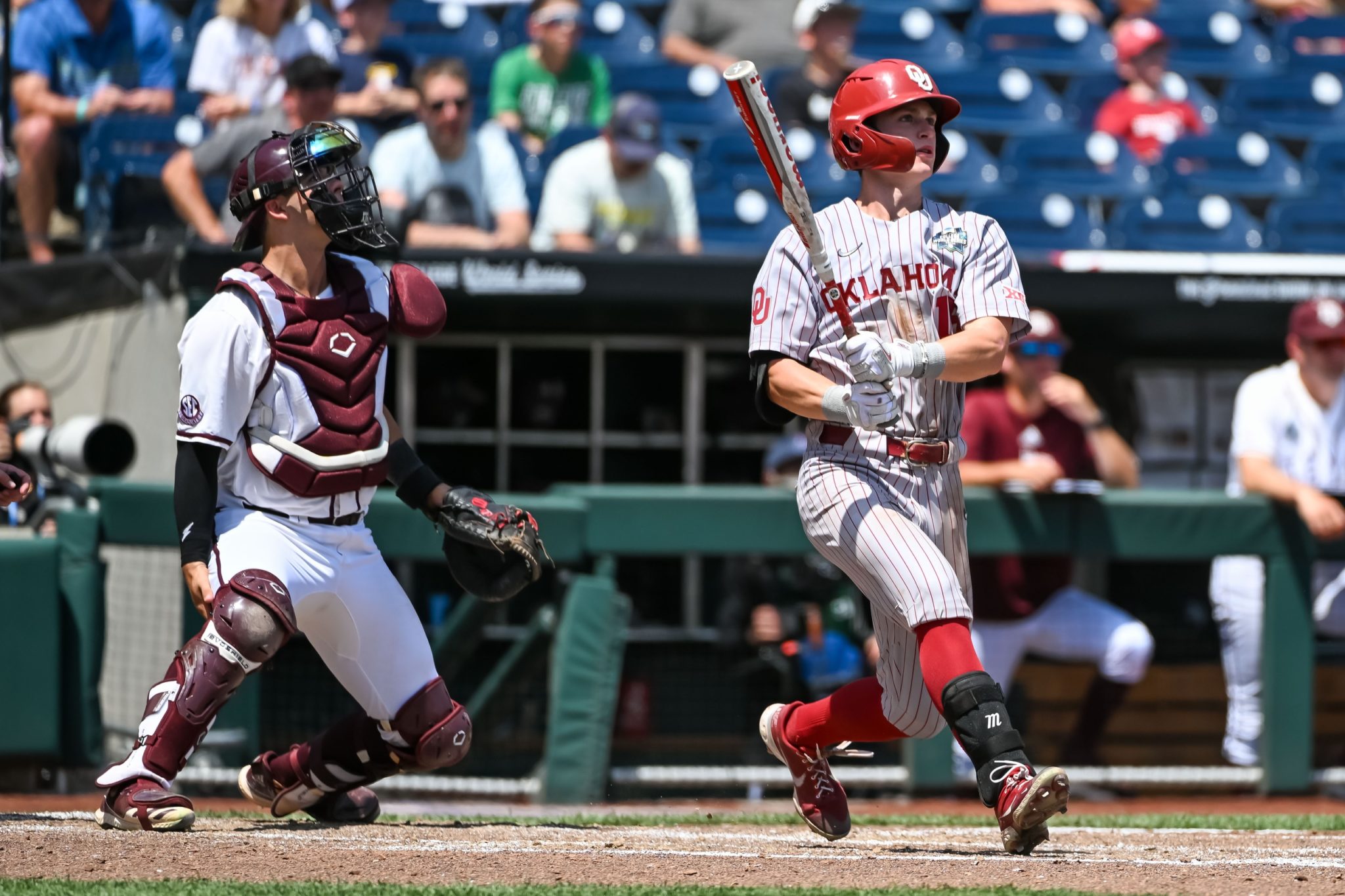 TEXAS A&M
After everything worked against Texas A&M in a blowout Game 1 loss, now, so is College World Series history
The decision to bring Jim Schlossnagle from TCU to Texas A&M was the reason the Aggies went from last place in the SEC West to a College World Series invitee 1 year later. Ross Bjork's execution of that move to poach someone with 5 CWS appearances and 11 victories in Omaha was monumental in overturning the roster in the transfer portal and ultimately getting the Aggies a crack at a national title.
But in order to get any closer to that feat, A&M had to win its first College World Series game since 1993. And as we found out on Friday, no decision worked out well for Schlossnagle and the Aggies.
The decision to nibble at the zone didn't work for A&M starter Nathan Dettmer, who was chased after just 1 2/3 innings in the midst of a 7-run 2nd frame. Perhaps the most backbreaking decision of the day for A&M came when Schlossnagle appeared he was set to pull reliever Joseph Menefee after he loaded the bases, but he ultimately let the lefty stay in the game.
One pitch later, grand slam, Oklahoma. Goodnight, Aggies.
Sure, it's possible that A&M could've climbed back after what was a record-setting amount of home runs in the NCAA Tournament. And yeah, the team who was tied for the national lead in come-from-behind victories who entered Friday having scored 27 of its 41 NCAA Tournament runs in the 7th inning or later could've made things interesting (the Aggies did have some late life).
But on Friday, it didn't feel like there was a card A&M could play to overcome a 9-run deficit.
And now, unfortunately for the Aggies after a Game 1 loss to Oklahoma, it appears the deck could be stacked against the Aggies' hopes of glory in Omaha.
What does that mean? Well, only 1 of the last 10 College World Series champs started with a Game 1 loss. In the 21st century, only 3 champions took an "L" to kick things off in Omaha.
2018 Oregon State
2010 South Carolina
2006 Oregon State
Even worse, 36 of the last 40 winners started off in the winners bracket. A&M won't have that luxury. The comeback kids will need a different kind of magic to avoid that overwhelming trend.
In a field in which 2 top-8 seeds remain — that's the lowest since seeding began in 1999 — A&M continued the theme of "it's anyone's tournament" that's been present since top-seed Tennessee was stunned by Notre Dame in the Super Regional.
Then again, maybe this year is bound to yield a breakthrough. In a year in which the long ball is being hit at a historic rate, perhaps the team who can put them up in a hurry can overcome defensive struggles and inconsistent starting pitching, both of which hampered A&M at times entering the CWS. They certainly did on Friday. A&M walked 10 and hit 3 Oklahoma batters. The Aggies pitching staff didn't make things easy on themselves.
Before Menefee served up that back-breaking grand slam in the 4th, he botched 2 dribblers. One was a failed attempt to field a ball hit in no-man's land near first base and Menefee delivered an errant throw on a bunt. That proved costly.
B💥💥MER S💥💥NER GRAND SLAM‼️

📺 ESPN#MCWS x @OU_Baseball pic.twitter.com/lIgeTmOPLK

— NCAA Baseball (@NCAABaseball) June 17, 2022
Five times in their 6 NCAA Tournament games, A&M made multiple errors. That hadn't really caught up to the Aggies until Friday. Perhaps the they could overcome that and end the losing streak in Omaha, but in order to turn around the Game 1 loss trend, one would think the defense has to be better.
And, you know, avoiding an 8-0 hole in the first 50 minutes would also be ideal.
As A&M saw, rallying back against teams who play clean baseball like Oklahoma is a daunting task. Outside of Troy Claunch mowing down a couple of Sooners attempting to steal 2nd, Oklahoma didn't give those opportunities away. The only gift the Aggies got was when Oklahoma coach Skip Johnson made a questionable move to pull starter Jake Bennett after it looked like he was rolling through 6 innings. It led to a 4-run 7th wherein the Aggies didn't need a single extra basehit.
If there's a positive to be taken from Friday's opening round haymaker from Oklahoma, it's that the Aggie bats woke up after a slow start. It wasn't a lineup full of guys trying to erase a 9-run deficit with 1 swing of the bat. That type of approach will be pivotal if A&M wants a longer stay in Omaha.
Two things can be true at the same time. One is that A&M's season was already a massive win just by virtue of turning things around in Year 1 with Schlossnagle. The other is that it would still be a letdown to be 2-and-out once again.
The Aggies will be fighting for their season on Sunday. It'll be their first elimination game of the postseason.
If all goes according to plan, A&M will take the approach that Jordan Thompson took after his 3-run bomb cut into that 8-0 deficit. When Thompson got back to the A&M dugout, he was fed a celebratory Pringle. ESPN cameras then caught Thompson heading over to the dugout trash can, where he spit the chip out and continued on.
Karl Ravech said on the call that A&M might have to take that same approach with spitting out that opening game. He's not wrong.
History is working against the Aggies after a Game 1 pill that was tough to swallow.