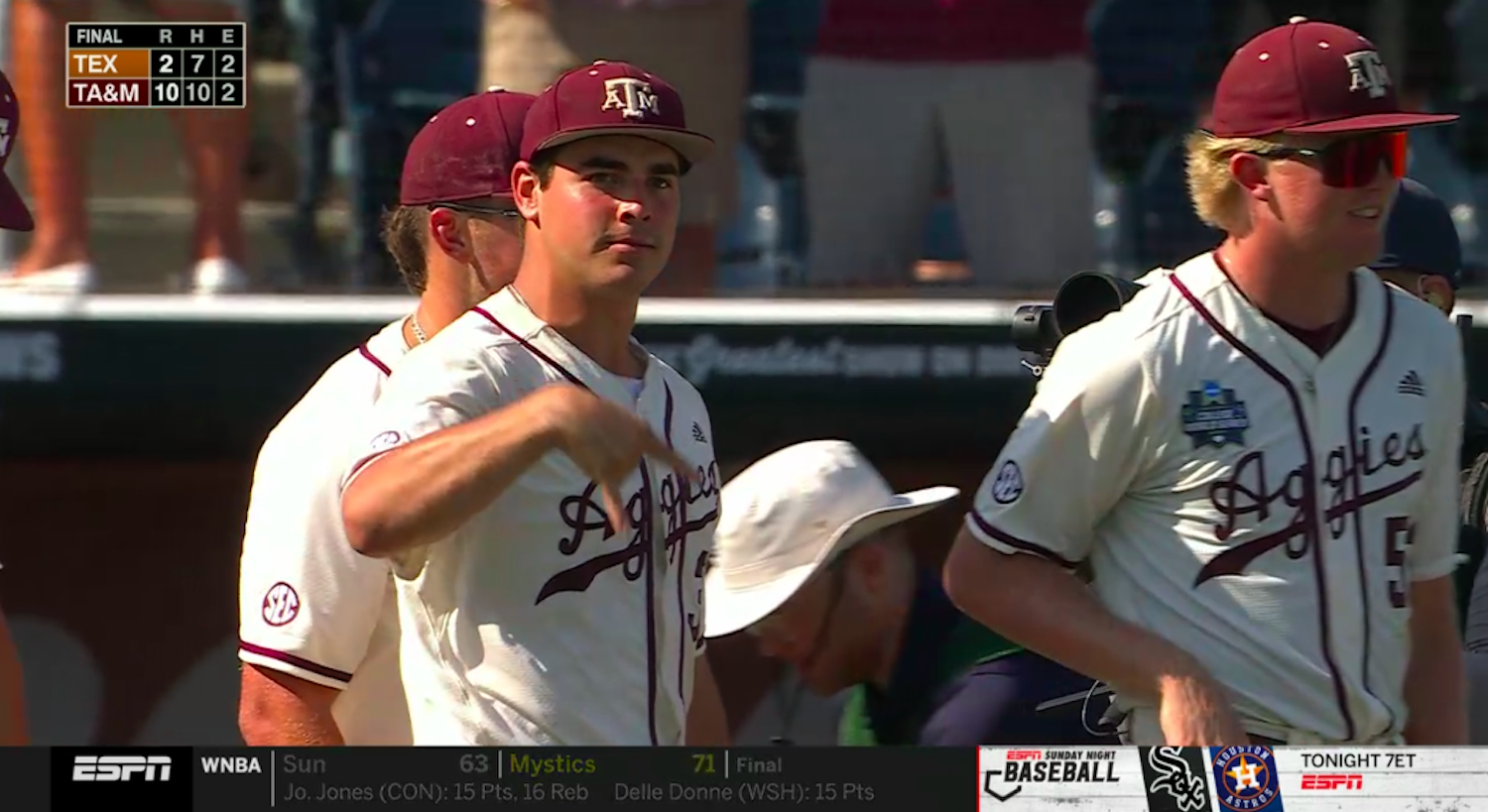 TEXAS A&M
Horns down, Aggies up for the task of sending Texas packing in dominant elimination game showing
Somehow, there was no panic from Texas A&M.
Facing elimination, the Aggies did everything in their power to avoid an early trip from Omaha back to the Lone Star State. As for Texas, well, let's just say there were a few more "Horns Down" signs than the alternative by late-Sunday afternoon.
A&M avoided elimination in convincing fashion with a 10-2 drubbing of Texas on a day when there were landmines scattered.
Never mind the fact that A&M hadn't won a game in Omaha since 1993 and it owned the nation's second-longest losing streak (9) in the College World Series. Irrelevant was the fact that A&M needed to end that streak against a Texas program who had made more trips to the College World Series than not.
Those weren't landmines so much as they were barriers. The landmines started once A&M and Texas got underway in a win-or-go-home showdown.
Landmine No. 1 came in the form of a 2-0 deficit going into the bottom of the 2nd inning. In theory, a 2-0 wasn't much of anything for a program who entered the weekend tied for the nation lead in comeback victories. Of the Aggies' 49 runs in the NCAA Tournament, 31 of them came in the 7th inning or later.
But after A&M started Sunday's game with a carryover of Friday's mistakes — walks and errors — a 2-0 deficit felt like a similar start to the Oklahoma game. A performance that Jim Schlossnagle called "embarrassing" could've repeated itself against a Texas offense who was No. 3 in the country in home runs.
So why didn't landmine No. 1 blow things up this time? Micah Dallas settled in.
Instead of having that 1 bad inning, Texas was held at bay. Forget a crooked inning. The Longhorns didn't have another run the rest of the day. Two days removed from the A&M bullpen pitching 7 1/3 innings, who knows how that could've spiraled if Dallas hadn't settled in. Chalk it up to the former Texas Tech pitcher having pitched multiple times in the College World Series or just chalk it up to the slider-throwing veteran keeping his composure in some tense early moments.
But landmine No. 2 could've easily blown that lead up right after Dallas was given the hook with 2 runners on and nobody out in the top of the 6th inning. Granted, A&M had an 8-2 lead (more on that in a minute). Still, Texas got that all-important window.
That is, until Jacob Palisch shut it.
Texas got exactly what it could've wanted down 6 runs. The bases were loaded with Longhorns when future Golden Spikes Award winner Ivan Melendez, AKA The Hispanic Titanic, came to the plate with potential to make it a 2-run game with 1 swing. That's when Palisch really went to work. Against the nation's leader in home runs, RBI and slugging, only 1 pitch missed the zone. A perfectly located Palisch fastball struck Melendez out looking to end the last real threat of the afternoon.
Melendez himself was a walking landmine. But A&M sank The Hispanic Titanic by day's end. His 4 at-bats were:
At-bat No. 1: Strikeout swinging on a breaking ball
At-bat No. 2: Lined out to left field
At-bat No. 3: Strikeout looking
At-bat No. 4: Groundout to shortstop
Melendez didn't work ahead on a count all day. That's a hat tip to the 3 A&M pitchers — Dallas, Palisch and Brad Rudis — who set him down without reaching base. An 0-for-4 afternoon certainly put Texas' biggest weapon on the back burner.
Trevor Werner might not be A&M's biggest weapon, but Schlossnagle called the senior third baseman A&M's "X-factor." If Palisch delivered the most important pitch of the day, it was Werner who delivered the most important swing of the day.
In a 2-2 game in the 2nd inning, A&M had 2 runners in scoring position with 2 outs. A 12-pitch at-bat finally ended with Werner lacing a base hit to left field to bring home Brett Minnich and Jordan Thompson.
Out came the Pringles. More importantly, out came the bats.
A&M scored 10 unanswered runs and continued its stellar offensive showing in Omaha. That actually set a program record for the best offensive output in a College World Series game. Fitting that it ended A&M's losing streak and gave the Aggies their first win in Omaha in nearly 3 decades.
Perhaps, though, the A&M landmines were more long-term than short-term considering that they typically bounced back within games and even more frequently, they avoided day-to-day landmines. They're now 17-1 coming off a loss in 2022.
In every spot, A&M responded not like a team trying to avoid landmines, but like a team trying to fight for its season. The Aggies might still have history working against them by starting with a loss — 36 of the last 40 CWS winners won their first game — and time will tell if they have enough arms to make a deep run in Omaha.
But no matter how the rest of this squad's run turns out, nobody can take away Sunday's flex against Texas. The Aggies are riding a 4-game winning streak against their future SEC foe, the last 2 of which came in 2022.
Sunday marked a turning of the corner for a team with a new coaching staff and 15 new players on its roster. One of those new faces was, of course, Dallas. The Texas Tech transfer was plenty familiar with facing the Longhorns. Sunday was actually the 4th time in his career that he faced Texas. It was the first time, however, that Dallas got to send end their season and fire off a double "Horns Down" as he celebrated with his teammates.
Clearly, he enjoyed being the landmine that Texas couldn't avoid.