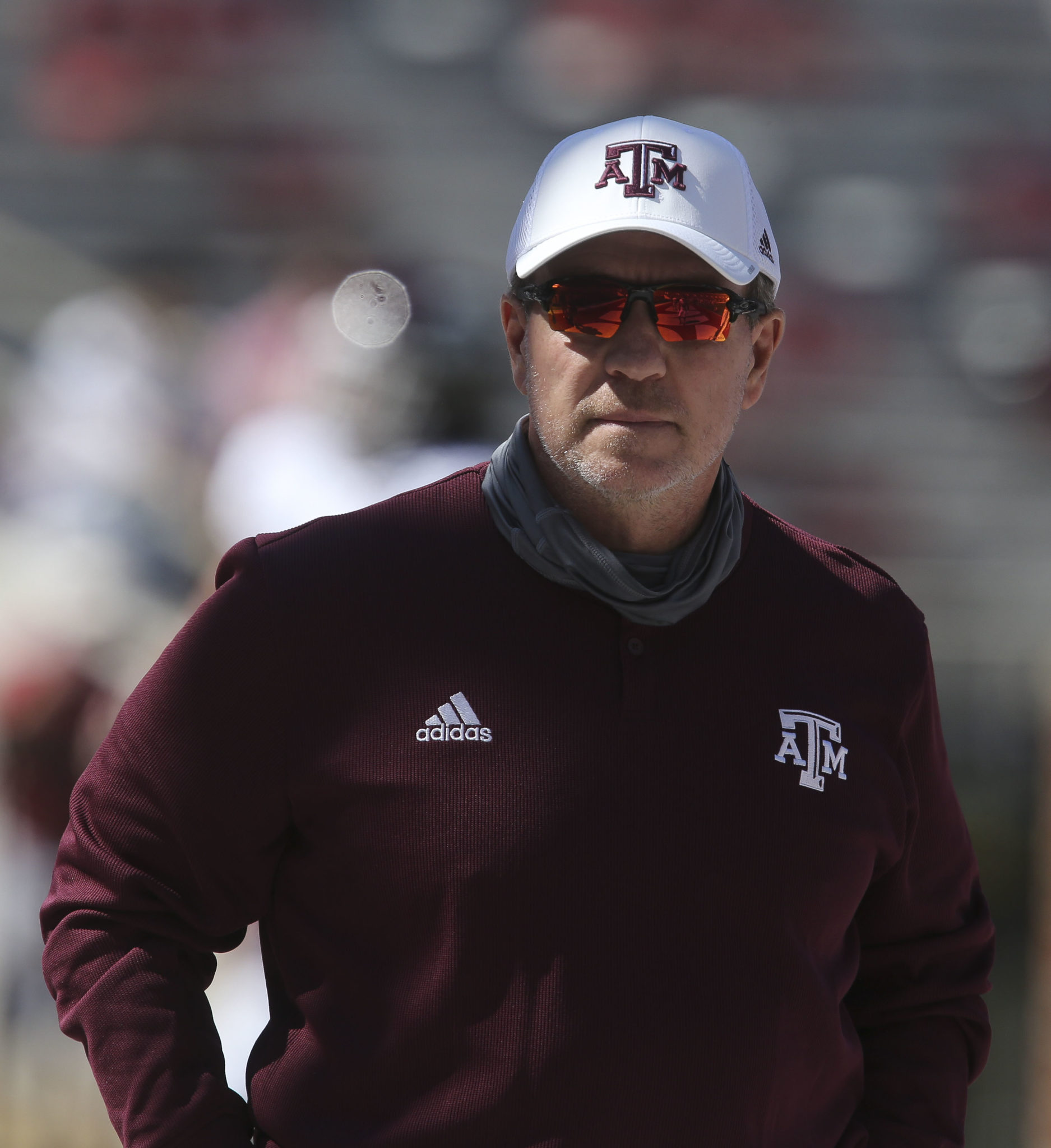 TEXAS A&M
Texas A&M football: Spring game reveals the new reality and possibilities for Jimbo Fisher's program
A bit of normalcy was restored Saturday when Texas A&M played its annual Maroon and White spring game.
The Aggies took to Kyle field to show off what they've been working on all spring. We got a glimpse into the quarterback battle between Zach Calzada and Haynes King, and if Saturday is any indicator, it's neck and neck.
King finished 16-of-31 for 211 yards, 1 touchdown and 1 interception while Calzada was 19-of-40 for 253 yards and a touchdown. All this en route to a 23-6 victory for the Maroon team, quarterbacked primarily by King.
We already knew a lot would change, but that was even more evident Saturday. Four of the five starters from last year's offensive line were gone, resulting in 5 sacks. There was no Kellen Mond. There was definitely a noticeable difference to the naked eye.
Still, this looked like a team to be reckoned with in the SEC next season.
The defense looked stellar, as the Maroon team didn't give up a touchdown. Both scores the White team allowed didn't come until the fourth quarter. So that wasn't all too different from 2020.
Another thing that didn't change was Ainias Smith led the team in receiving with 115 yards and a touchdown — all the while drawing Jimbo Fisher's ire for plays he didn't make. Chase Lane, Hezekiah Jones and Jalen Preston all made impacts as well. The real takeaway from the spring game was that this team will look a lot like last year's squad.
Some of the names will be different, but one important one is the same: Jimbo Fisher.
Like all teams in college football, the Aggies are going to experience up and down years. But what they found in Fisher is not only one of the best coaches in the game, but also a great fit for their program. Fisher speaks likes a Texan and has made football his way of life in the way so many in the Lone Star state have. He talked Saturday about believing in the process, trusting the process, and then expecting results. With his system in place, it seems unlikely A&M would ever find consistent mediocrity again like it did in the Kevin Sumlin era.
Defensively, there was a lot of talk about who would replace Buddy Johnson, and early on it looks like Edgerrin Cooper might fill that void. He led the team in tackles with 9, including 2 for loss and also had a sack.
The offensive line is almost complete new faces, but they will improve with time. Much of the broadcast Saturday focused on the depth and amount of talent, a combination coaches expect to overcome the lack of game reps. The Aggies are still in good hands with Isaiah Spiller, and I'd expect them to continue to lean on the run with a first-year starter at quarterback.
This is all to make the point that I expect this team to have a very similar identity to last year's. That doesn't mean with similar results — I'm not predicting the Aggies to be in the Playoff race again — but I do think the style will be familiar.
And that will allow the Aggies to have a good shot to finish as one of the SEC's best teams.
There have been times they have come in with high preseason expectations and failed to live up to them. That's why last year so many were skeptical about how worthy they were of being in the Playoff discussion. But it's impossible not to like the trajectory the program is on right now.
There will be some growing pains. They are younger, less experienced. Much like last year, A&M won't scream offensive firepower. But with Fisher there to ease them through it, and I expect them to get better as the season progresses.
Last year was only the beginning. I expect many more seasons at the top for Fisher in College Station.