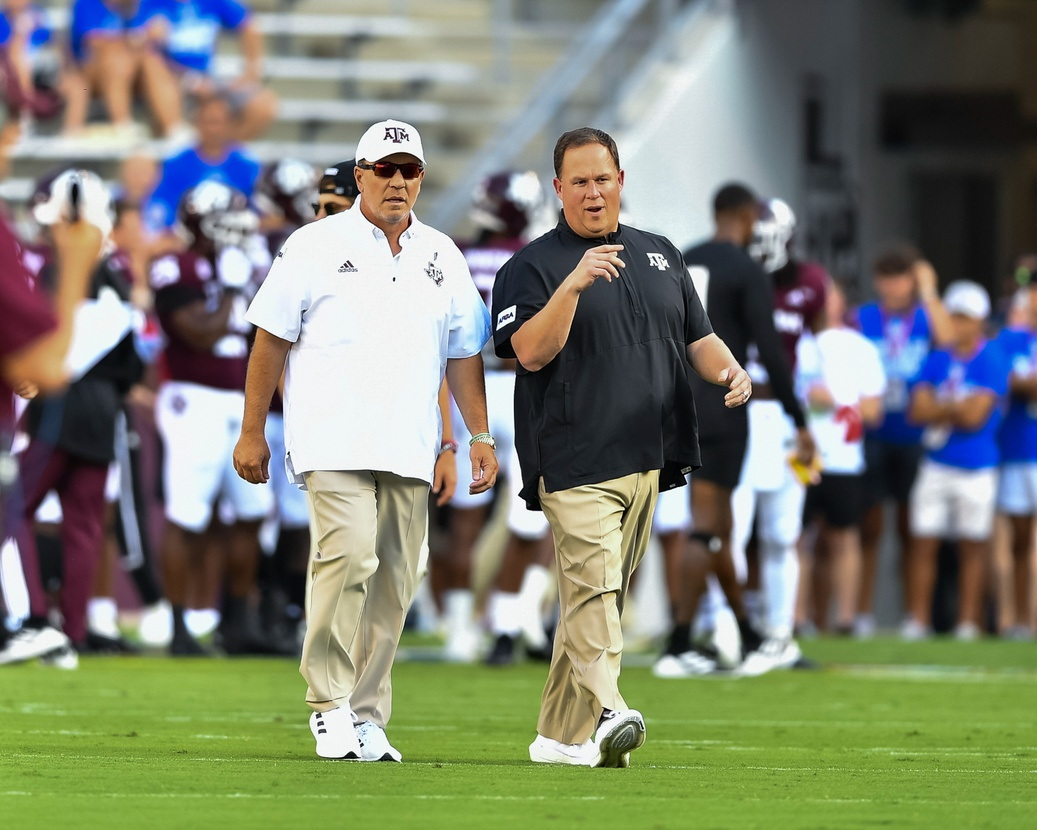 TEXAS A&M
Texas A&M football: Mike Elko's departure creates opportunity and concern for Jimbo Fisher, Aggies
Mike Elko is getting his chance. It was only a matter of time for the seasoned defensive coordinator, who has improved defenses everywhere he's coached. Late Friday, Elko was named head coach at Duke.
With 19 seasons of experience as defensive coordinator at 7 programs, including Wake Forest and Notre Dame before the past 4 years as Texas A&M's architect, Elko gets his first opportunity as a head coach.
He succeeds David Cutcliffe, who led the Blue Devils for 14 seasons before mutually agreeing to part ways with the school following the 2021 campaign in which Duke finished with a record of 3-9.
Elko, 44, will not coach the Aggies in their upcoming Gator Bowl game against Wake Forest on New Year's Eve in Jacksonville, Florida. Over a coaching career that began in 1999, Elko has coached in 8 bowl games and 2 NCAA Division I-AA quarterfinals as well as playing a role in four league championship teams.
He was twice (2017, 2021) a semifinalist for the Broyles Award, given to the nation's top assistant coach.
He leaves big shoes to fill for Texas A&M head coach Jimbo Fisher. The Aggies had the top overall defense in the SEC a year ago, yielding an average of 317.3 yards per game. This year, Elko's defense ranked 3rd in the country, giving up an average of just 15.9 points per game.
During his 4-year tenure at Texas A&M, Elko has sent 6 defensive players to the NFL, and DE DeMarvin Leal, who has opted out of the Gator Bowl, is a projected 1st-rounder in the 2022 NFL Draft.
It was that sort of continuity that helped build a strong defense that could play with any in America's most competitive conference.
Now, Fisher must make a home run hire to keep that defense at an elite level as he simultaneously continues to build the program with stellar recruiting classes, including this year's group which could be the best of all. Heading into the weekend, the Aggies' 2021 class ranked No. 3 in the country, according to 247sports.
Elko's departure shouldn't impact that class, one that could very well be Texas A&M's best recruiting class in many, many years. It's a defensive-heavy group that includes, among others, 5-star DL commits Walter Nolen and Gabriel Brownlow-Dindy.
It will be critical for Fisher to bring in the right fit to keep the talent in College Station and away from the transfer portal.
Fortunately, for the Aggies, in addition to reeling in some of the top talent in the country, Fisher has also attracted some of the top DCs over the years as well, hiring such names as Jeremy Pruitt and Mark Stoops.
Fisher will be tasked with pulling another top-notch coordinator to College Station not only to keep that group together, but continue the process toward becoming a championship program. That remains Fisher's ultimate goal and his next hire will play a key role in reaching that level.
It's an awkward time to be looking for a new DC, but the Early Signing Period, which begins Wednesday, Dec. 15, contributes to the game of musical chairs that college football coaches are currently involved in. With that and the bowl game coming up, it leaves Fisher and the Aggies seeking a new leader for a vastly improved defense under Elko.
It's a key time, to be sure, in the Texas A&M program. But with Fisher's experience in hiring the country's better DCs, and the financial backing to do so, the Aggies' shouldn't have a problem bringing in another winner to coach up some of the best talent in the country.