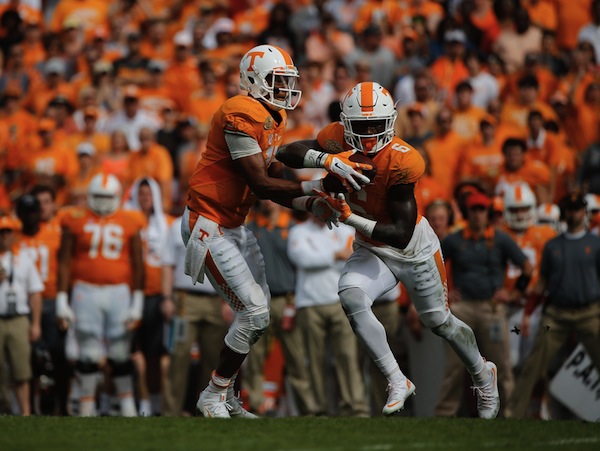 TENNESSEE
10 reasons to get on the Tennessee bandwagon in 2016
For the second straight offseason, Tennessee is receiving plenty of publicity as the team to beat in the SEC East. Up and down the roster, from quarterback to running back to offensive line, special teams and the front seven on defense, there is reason for optimism.
Here are 10 reasons to get excited in Big Orange country.
1. Joshua Dobbs
No other SEC East team — or many across the country — is in a better position at quarterback than the Volunteers. Of course the most well-known non-football aspect of Dobbs' life is he's majoring in aerospace engineering. But if 2015 was any indication, how Dobbs goes is usually how Tennessee finishes.
UT won seven of eight down the stretch last season as he had 18 total touchdowns and averaged 240.4 yards of offense. He led all SEC quarterbacks with 671 yards and 11 TDs rushing. Dobbs finished the season with 2,291 passing yards, 15 TDs to five interceptions.
All of that was against a backdrop where he rushed for less than 20 yards in three losses.
2. Bob Shoop is the new defensive coordinator
One assistant hire that received rave reviews, including from Fox Sports, was the hire of Bob Shoop. If anyone wondered about the upgrade, consider that Tennessee is paying him about double — $1.15 million — what it paid John Jancek, who he replaced, the Associated Press reported. Is he worth it? For five consecutive seasons, the former Penn State and Vanderbilt assistant has coordinated a unit ranked among the top 25 teams nationally in total defense.
3. Experience
Tennessee has 17 starters returning, including four offensive linemen, but what caught some eyes at the spring game was when it was announced the Vols would have permanent captains this season for the first time since 2011.
They are Dobbs, cornerback Cam Sutton, linebacker Jalen Reeves-Maybin and running back Alvin Kamara.
"You're only as good as the leaders on your football team," Jones told the spring game crowd. Tennessee is tied with LSU for the most returning starters in the SEC.
4. A top flight rushing attack
Dobbs isn't the only one to watch in the backfield. Jalen Hurd collected 1,288 rushing yards and 12 touchdowns, and Alvin Kamara, in less than half the carries, had 698 rushing yards and seven scores. As a whole, the rushing attack averaged 223.7 yards and accounted for 32 touchdowns. Like any memorable duo, Hurd and Kamara have a nickname, "Run CMG" and video to go with it.
5. Jones turned into a seasoned vet in the offseason
All of the coaching turnover in the SEC East left Jones, along with Kentucky's Mark Stoops, as the most experienced coaches in the division. Coming off Tennessee's best record since 2007, Jones is looking to continue the steady improvement in record, from 5-7 to 7-6 to 9-4. While games against Georgia and South Carolina are on the road, they both have first-year coaches, and the Alabama and Florida games are both in Knoxville.
6. A solid pass rush
What's a favorite thing to have for an incoming new defensive coordinator? How about 20 sacks and 33 tackles for a loss in two seasons. That's what Shoop has in defensive end Derek Barnett, who had 10 sacks last season, four more than any teammate. He was limited by an injured shoulder during spring practice, but the 6-foot-3, 257-pounder only figures to improve in 2016 in part because he only had 2.5 sacks in the first five games last season.
7. Croom means depth at tight end
Recovering from knee surgery in October, Jason Croom had the idea to move from wide receiver to tight end. And this spring, he lined up exclusively at the new position that now has depth behind Ethan Wolf.
Entering his fifth season, Croom and offensive coordinator Mike DeBord see a key role for him, they told the Knoxville News-Sentinel.
"He's a guy that can create mismatches," DeBord told the paper. "We can work to get him the ball down in the red zone and things like that. We're adding things as we go."
The 6-foot-5, 246-pounder from Norcross, Ga., is looking for his first catch since the 2014 season after he had 39 in 2013 and '14.
8. Is Preston Williams the next star at receiver?
Tennessee returns just two receivers, and injuries were an issue at the position throughout the spring. One player to step into that void is Williams, who slowly transitioned to playing regularly following a knee injury suffered in high school in the Atlanta area.
Wide receivers coach Zach Azzanni told 247Sports that Williams' adjustment to college included weight training and growing up.
"So he didn't do a lot of things well (last year). And I think that, coupled with just lack of maturity, understanding, what it takes to be an elite player at this level — all those things. … He's stronger. He's more confident."
Williams made three catches for 77 yards in the spring game.
9. Evan Berry and the special return teams
Berry, who missed spring practice, was an All-American kick returner who led the country with 38.3 yards per return on kickoffs. He was also second in the country with three TDs. The younger brother of Kansas City Chiefs defensive back Eric Berry, Evan Berry at one point averaged 42.6 yards per kickoff return in 2015.
In 2016, Evan Berry has his sights on the NCAA record for kickoff returns for TDs in a season (five) set in 2004 by Tulsa's Ashlan Davis.
10. Jalen Reeves-Maybin turns down NFL, returns versatility
One of the team's most versatile players, Reeves-Maybin had 129 solo tackles in the past two seasons, and had a team-high 105 tackles last season, including 14 for a loss. Though he's not at risk to miss time this fall, Reeves-Maybin missed all of spring and is expected to be sidelined into the summer.
But the fact he was named a season captain at the spring game should speak to the lack of concern toward the injury, which forced him to have his arm in a sling.
Read More
Tennessee online sports betting officially launched on November 1, 2020, and many of the largest sportsbooks are live and operating in the volunteer state. Tennessee is only one of a handful of SEC football states with legalized sports betting.