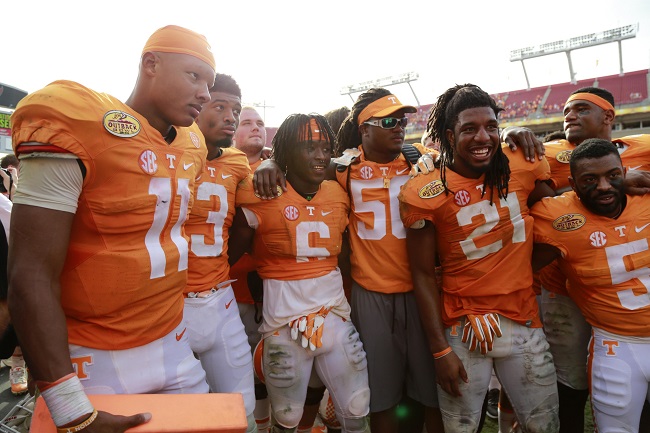 TENNESSEE
Early 2016 schedule outlook: Tennessee
After winning nine games this past season, it looks as if Tennessee coach Butch Jones' rebuilding job is nearly complete. With nine starters expected to return on offense and potentially eight starters returning on defense, the Volunteers might be the favorites in the SEC East in 2016.
The biggest reason Tennessee is a favorite to win the East is because it is the only team in the division with a solid starting quarterback. Joshua Dobbs (2,291 yards, 15 TDs, 5 INTs) needs to continue to improve as a passer, but he will be surrounded by talented skill players. Dobbs can also beat defenses with his legs, rushing for 671 yards and 11 TDs in 2015.
None of the SEC teams on Tennessee's schedule will be starting proven quarterbacks in 2016.
Florida doesn't have an obvious answer with Will Grier transferring and Treon Harris playing poorly after Grier was suspended.
Georgia will likely start early enrollee Jacob Eason — ESPN's No. 2 pocket passer and No. 16 overall prospect for 2016.
Kentucky has no proven options with Patrick Towles transferring to Boston College. Drew Barker — a four-star prospect in 2014 — started the last two games of the 2015 regular season but struggled mightily, passing for only 364 yards, 1 TD and 2 INTs.
Vanderbilt's Kyle Shurmur did all right when given the opportunity to start, but is a major work in progress.
Not to mention that Missouri's offense was atrocious in 2015, and no one has a clue who South Carolina's starting quarterback will be.
And Tennessee's two crossover opponents from the SEC West also have questions at quarterback. Alabama will be replacing its quarterback for the third consecutive season, and Texas A&M's situation is a mess after Kyle Allen and Kyler Murray decided to transfer.
Plus, the Vols nonconference schedule is manageable, with Virginia Tech being its toughest nonconference opponent. And the Hokies will also be starting an inexperienced quarterback.
Put simply, with this kind of schedule and the number of starters Tennessee has returning for its 2016 season, it finally feels like the stars are aligning for Butch Jones and his team.
Now let's take a closer look at the schedule.
SCHEDULE BREAKDOWN
Home games (7): Appalachian State (Sept. 3), Ohio (Sept. 17), Florida (Sept. 24), Alabama (Oct. 15), Tennessee Tech (Nov. 5), Kentucky (Nov. 12), Missouri (Nov. 19)
Road games (4): Georgia (Oct. 1), Texas A&M (Oct. 8), South Carolina (Oct. 29), Vanderbilt (Nov. 26)
Neutral Site (1): Virginia Tech (Sept. 10)
Longest home stretch: 3 games (Tennessee Tech, Kentucky, Missouri)
Longest road stretch: 2 games (Georgia, Texas A&M)
OPPONENT BREAKDOWN
2015 ranked teams (final regular season): No. 2 Alabama, No. 19 Florida
Potential ranked opponents in 2016: Alabama, Georgia
Potential trap games: Georgia (one week after playing Florida); Texas A&M (one week before playing Alabama — Tennessee's toughest opponent in 2016).
Toughest SEC games: at Georgia, vs. Alabama
FULL SCHEDULE
| WEEK | OPPONENT | VENUE |
| --- | --- | --- |
| 1 | App State | Neyland Stadium |
| 2 | Virginia Tech | Bristol Motor Speedway; Bristol, TN |
| 3 | Ohio | Neyland Stadium |
| 4 | Florida | Neyland Stadium |
| 5 | Georgia | Sanford Stadium; Athens, GA |
| 6 | Texas A&M | Kyle Field; College Station, TX |
| 7 | Alabama | Neyland Stadium |
| 8 | Open Date | |
| 9 | South Carolina | Williams-Brice Stadium; Columbia, SC |
| 10 | Tenn. Tech | Neyland Stadium |
| 11 | Kentucky | Neyland Stadium |
| 12 | Missouri | Neyland Stadium |
| 13 | Vanderbilt | Vanderbilt Stadium, Nashville, TN |
Read More
Tennessee online sports betting officially launched on November 1, 2020, and many of the largest sportsbooks are live and operating in the volunteer state. Tennessee is only one of a handful of SEC football states with legalized sports betting.