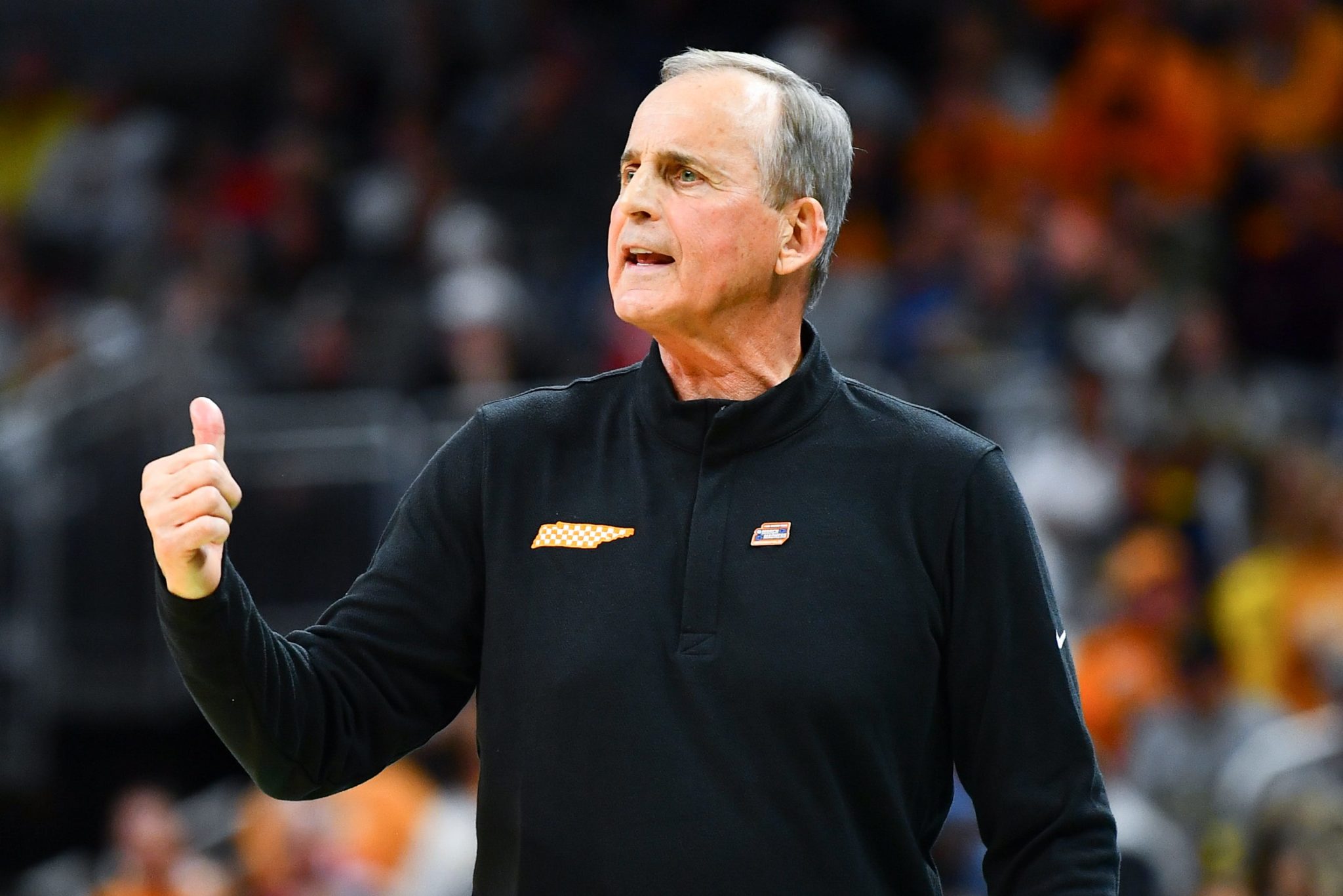 TENNESSEE
Fire Rick Barnes? Are you crazy? Tennessee doesn't need to hit the panic button
Tennessee basketball did it again. The Vols raised expectations only to come up short in March.
That shouldn't come as a surprise for longtime Tennessee basketball fans. It's a March tradition in Knoxville that is almost as prominent as St. Patrick's Day. However, there's no need to overreact — for several reasons. Keep the Irish Whiskey in the cabinet for now. Why shouldn't you drown the pain? Let us delve.
First, the Vols came up short in their 2nd-round loss because they missed shots. Period. That is why they lost a single-elimination game. Losing to Michigan in the NCAA Tournament on Saturday has nothing to do with Tennessee coach Rick Barnes' record in March, which is rather porous. Blaming Barnes is akin to blaming a caddie for a golfer missing a putt. No, the Vols didn't miss gimmes toward the end of the game, but they were shots that the Vols could have made and should have made — at least some of them.
Next, Tennessee basketball is still in good shape. No one is writing off Kentucky after its historic first-round upset loss on Thursday. The Wildcats will be back next year. So will Tennessee. Having Barnes as its head coach pretty much ensures that the Vols will be in the NCAA Tournament in 2023. That is both a gift and a curse. The Vols can be in the tournament every season under Barnes and people will continue to criticize his postseason legacy unless he at least makes the Final Four. Barnes' legacy is a bit more polished than it once was since the Vols won the SEC Tournament for the first time since Jimmy Carter was president. Barnes doesn't get a pass because he won the SEC's cash-grab postseason event, but the accomplishment does deserve some credit.
Perhaps the most important reason not to overreact is that Tennessee is — and always will be — a football school. The Vols will be powered by and, more importantly, funded by what happens on the football field. Imagine being a school like Duke or Kansas and getting bounced out of the NCAA Tournament in the first round. There's not much to look forward to after that. So, let's keep Tennessee's 2nd-round exit loss in perspective.
As I pointed out, Barnes isn't the reason the Vols lost on Saturday, no matter what you might have read on Twitter. Barnes' signed a contract extension last summer that will keep him on the sidelines through the 2026 NCAA Tournament.
There's a segment of the Tennessee fan base that went to bed Saturday screaming for the Vols to fire Barnes. That's ridiculous. Tennessee should hold onto the 67-year-old as long as he's willing to walk the sidelines.
When the time comes, whoever replaces Barnes won't likely be nearly as good of a coach. And he'll still have to come to terms with coaching at a football school with very little basketball pedigree. Before arguing about Tennessee's pedigree, let me assure you that I'm aware of Ernie and Bernie, Jerry Green's incredibly talented teams and Bruce Pearl's run of success. However, none of those crews managed to make it to a Final Four. That makes them highlights amidst a history of ineptitude.
Tennessee didn't take basketball seriously before Mike Hamilton became the athletic director in 2003. Hamilton saw the potential in Tennessee basketball that his predecessors didn't. He hired Pearl in 2005 and Tennessee was a topic of conversation in NCAA basketball circles. That was an accomplishment.
Other than the groups of players and coaches listed above, there are some pretty sorry days in Tennessee basketball history. The Vols made only 1 appearance in an NCAA Tournament from 1984 to 1997. It's actually very challenging to be that irrelevant, especially considering the NCAA started letting 64 teams in the field in 1985. Yet, the Vols managed to do so. They'll never be like that under Barnes, who is just the 4th Vols coach to reach 4 consecutive NCAA Tournaments.
I understand the frustration that Tennessee's fan base is feeling. Barnes is an easy target, too, given his career-long lack of NCAA Tournament success. UT's basketball program has had very good talent and appropriate expectations over the past 2 decades. Tennessee just hasn't cashed in. If there's a more cursed basketball program in the country, I'd like to see it — but just for a second. I'm a bit too squeamish to take a long gander. For all of the single-season failures that Tennessee has endured, the ultimate body shot has to be seeing Tennessee's adopted son having success at another SEC school. But, just so it is stated, Bruce Pearl isn't coming back to Tennessee. I once advocated for that, but the timing wasn't right and the time has now passed.
I'm well aware that there are a growing number of people in our society that are pretty exasperated with participation trophies. Include me in that group. However, it's hard for me to look back on all the work that was done in recruiting, player development and team building and think of Tennessee's 2021-22 basketball team as a failure just because of one cold shooting streak.
One could certainly argue that Barnes should have had a plan in place if the Vols went cold from outside. After all, they've done so before and far too often. However, the timing of Tennessee's sudden cold streak didn't give any coach much of a chance to respond. The final horn was just minutes away when the Vols went thud. So, for those that want to place the blame for Tennessee's heart-breaking loss on Barnes, go ahead. Count me out.
No one is saying the Vols deserve a participation trophy. No one is saying that Barnes deserves a Pearl-like contract. There are some questioning if he can ever get the Vols to a Final Four. The answer is, yes. He did so at Texas and he has his teams knocking on the door. That's proof enough. There are no guarantees — Mike Krzyzewski and John Calipari haven't been to the Final Four since 2015 — but a Final Four run by the Vols is certainly possible with Barnes at the helm.
Instead of bellyaching about Barnes, try praying that he's taking his daily vitamins. The longer Barnes feels like coaching, the better for Tennessee basketball. Hiring another coach at Tennessee won't be a cinch. Just take a look at football. Tennessee has been hiring football coaches on a trial-and-error basis for decades.
Soon after the Vols fell to Michigan, I saw a Tweet that compared Rick Barnes to Mark Richt, the former Georgia head coach who also didn't have much postseason success. It was a bone of contention among Georgia fans until Richt was fired. He was then replaced by Kirby Smart, who did win a national championship last season. The comparison is apt, but that doesn't mean a change is in order. Let's set aside the fact that Barnes seems like an incredible person and just think of any decision as one driven purely by best business practices. There's not as much at stake with basketball in Knoxville as there was with football in Athens, Ga.
Winning a national championship in football means vast economic growth for any school, especially in the SEC. Alabama is proof of that. Enrollment has skyrocketed since coach Nick Saban built his dynasty in Tuscaloosa. To the best of my knowledge, no one ever said, "Hey, I want to go to the University of Alabama because of that Mike Shula guy!" I could be wrong on that, but I feel very confident that is the case.
Winning a national championship in basketball (for SEC teams other than Kentucky) means there was something interesting to do in the offseason between national signing day and spring football. Florida won 2 national championships in basketball. Did it really affect its bottom line? Not like Steve Spurrier or Urban Meyer did.
So, as the tournament rolls on without the Vols, Tennessee fans should keep in mind that they have a really good basketball coach, a good basketball program and a football program on the rise. After all that Tennessee athletics has been through in the past decade-plus, that's something to appreciate.
It might be too soon to hear it, but there's no reason to panic and there's also every reason to keep expectations high.
Read More
Tennessee sports betting officially launched on November 1, 2020. Tennessee was the first SEC state to legalize sports betting.