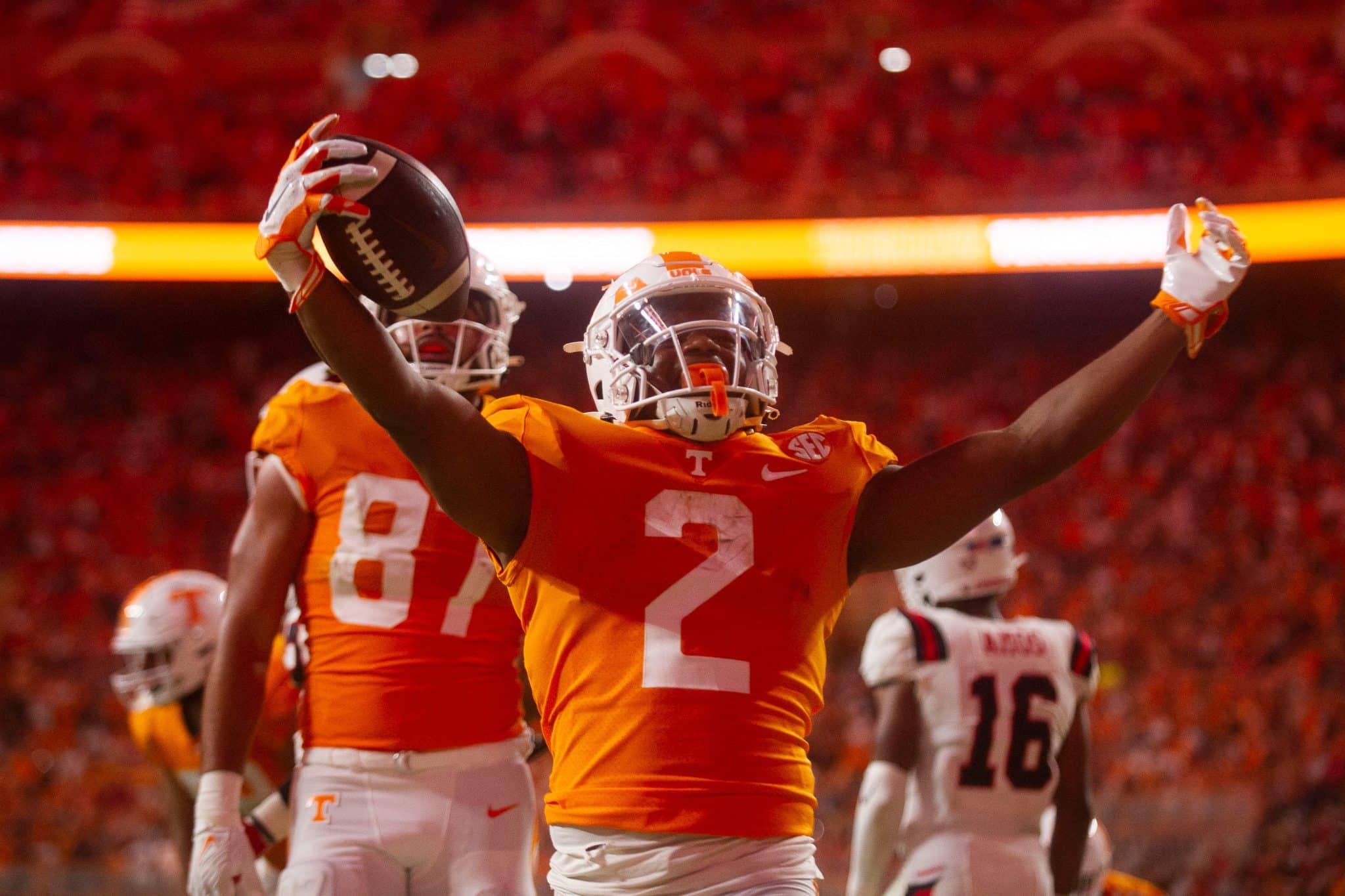 TENNESSEE
Hayes: Vols answered some key questions in opener, but Pitt will provide the real test
So let's look at this through the lens of what needed to get done, and what worked.
Play smart and be aggressive on both sides of the ball, and get out of a glorified scrimmage with no major injuries.
Check, on all fronts.
Now, reality: Tennessee's 59-10 rout of Ball State must be seen for what it is.
Ball State was picked to finish last in the MAC Conference East Division, which puts the Cardinals high in the running for worst team in the MAC — and the nation.
Next up: a tricky game at defending ACC champion Pittsburgh — a surging Pittsburgh after a thrilling come-from-behind victory over bitter rival West Virginia.
"We have to clean up some things," Tennessee coach Josh Heupel said in the postgame press conference. "But there was a lot of good."
At the top of the list:
1. 3rd-down defense
Tennessee was one of the nation's best teams in 2021 on 1st- and 2nd-down defense. And one of the worst on 3rd down.
The Vols gave up 53 percent of 3rd-down conversions in SEC games last season, and Thursday night against Ball State, gave up 5-of-14 (36 percent) and 5-of-16 including 4th-down stops.
The Vols also wanted to generate more turnovers (only 16 last season) and forced 3.
We won't really know how much better Tennessee is defensively until they face QB Kedon Slovis and the Pitt offense. At the very least, the Vols played fast and in control, and Ball State receivers struggled to gain separation.
All good things, but all things against one of the worst teams in college football.
2. Help for All-SEC WR Cedric Tillman
Jalin Hyatt took the first throw of the season from QB Hendon Hooker, and went 23 yards for a touchdown. He has been impressive since spring practice and has clearly become the Vols' No. 2 option.
USC transfer Bru McCoy, just eligible this week, showed the dynamic ability that 4 years ago made him a 5-star recruit. Jimmy Holiday and Ramel Keyton did some nice things, and TE Princeton Fant — who will be a significant matchup problem for defenses — drew an interference call in the end zone on a likely TD catch.
This group has to get open next week and make catches against a significantly better defense that has led the nation in sacks over the last three seasons — and harassed West Virginia QB JT Daniels into hurried throws all game.
The protection won't be as good as it was against Ball State, and the throwing windows will decrease. Pitt will likely roll a safety over the top of Tillman, and force another Tennessee receiver to win on the outside.
A big step for Hendon Hooker in Year 2 as the starter.
Hooker looked fantastic. He played clean, he was methodical and he didn't force throws. Heupel said this summer he wanted to work on Hooker's deep throws, and increase the overall accuracy.
Hooker completed 72 percent of his passes (18-of-25) and was accurate on a couple of deep throws (1 wasn't caught). He added 2 more TD throws and didn't throw an interception. Tennessee played vanilla because it could, and Hooker wasn't really a factor in the run game. He will be next week against Pitt.
Find a left tackle
Gerald Mincey and Jeremiah Crawford rotated for much of the game at the position, but Mincey — the transfer from Florida — is the better of the two players.
His job will get exponentially tougher next week at Pitt. The DE combination of Habakkuk Baldonado and Deslin Alexandre will be as good as anything Tennessee sees in the SEC outside of Alabama (and that includes Georgia). And Pitt brings pressure from everywhere in the front seven.
Or as one NFL scout texted me late Thursday night: "That West Virginia offensive line is really good. Those Pitt dudes are elite."
"The biggest thing is we played with effort," Heupel said. "If you play harder than your opponent, more times than not, you're going to win."
A year ago at this time, a late home loss to Pitt looked like a step back for Tennessee. No one knew just how good Pitt would become.
Now we all know what Pitt is.
Next week, we'll find out what Tennessee is.
Read More
Sports betting in Tennessee officially launched on November 1, 2020, and many of the largest sportsbooks are live and operating in the volunteer state. Tennessee is only one of a handful of SEC football states with legalized sports betting.