TENNESSEE
Music City Bowl apologizes after appearing to send out pro-Tennessee tweet
Sunday it was announced that Tennessee would be staying close to home for bowl season, soon to be making the trip from Knoxville to Nashville for the Music City Bowl against Big Ten opponent Nebraska.
One staff member of the bowl event became a little too excited over seeing that his or her Volunteers had accepted the invite and accidentally posted this message for public consumption: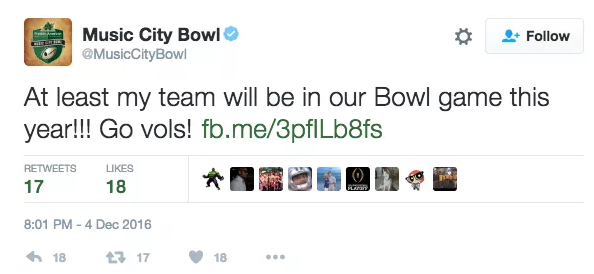 Bowl representatives quickly erased the tweet and responded with this statement:
"For transparency sake, we do have a couple UT alumni on staff who manage our social media platforms. There was a tweet that went out earlier this evening which was connected to a Facebook post from a staff member who thought they were posting from their personal page. While we hope mistakes like this don't occur — they sometimes do and at the end of the day we're all human (and sports fans). We couldn't be more excited about our match-up and hope you'll accept that this as an honest mistake."
Though the bowl is surely happy to have the biggest in-state team at its venue, I'm sure this truly was unintentional.