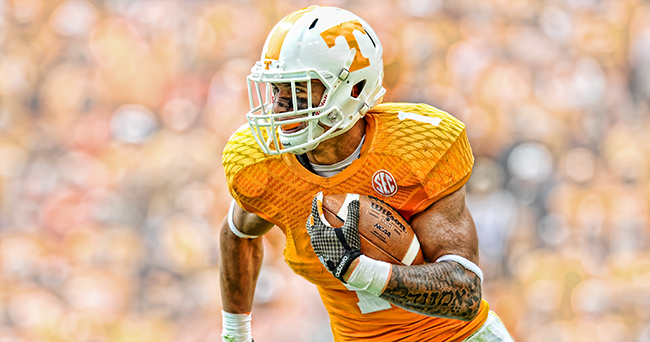 TENNESSEE
Post-spring strengths and weaknesses: Tennessee
Tennessee worked hard at keeping spring practice muted and under control. After all, the hype machine is rolling along and the Vols can't wait to get the 2016 season rolling. There are reachable goals in mind in Butch Jones' fourth year in Knoxville and those goals include titles, in the division, the conference and even nationally.
There are many pieces in place for that to happen and a 10-2 season or better aren't out of the question. Here are the Vols' strengths and weaknesses coming out of the spring:
Strengths
Running backs: Jalen Hurd should exit the 2016 as Tennessee's all-time leading rusher. All he needs is 891 yards and he probably will have that by mid-October. Factor in Alvin Kamara, and the Volunteers probably have the best 1-2 punch in the country. Neither got a ton of work in full contract drills during the spring but both will be 100 percent and ready to go with the fall rolls around.
We might see more of the balancing act in the fall, including passing downs. Last year, Kamara caught 34 passes to Hurd's 22, but we might see more of Hurd on third down this year as well. There's also plenty of talent behind them, so this will be a strength in the fall, without question.
Linebackers: Tennessee's defense will be very good and the linebackers should lead the way. The return of Jalen Reeves-Maybin is big. He could have turned pro but decided to return for one more season in Knoxville. Voted a permanent captain, he's a huge part of Tennessee's defense. It looks like sophomore-to-be Darrin Kirkland Jr. is emerging as a star. He started 10 games as a freshman and was fourth on the team with 66 tackles at middle linebacker.
The Shoop factor: When Bob Shoop was hired away from Penn State as the new defensive coordinator in January, it set the tone in Knoxville that Jones was doing everything possible to win, and win now. Shoop made an immediate impact in the spring, and the players are quickly adapting to his defense and his coaching style. Shoop likes to play physical and the players are more than happy to buy in to that philosophy.
Weaknesses
Offensive line order: The Vols lost one starter to graduation, and a few others – most notably right tackle Chance Hall – sat out the spring with injuries. Through much of the spring, the ever-rotating group of offensive linemen lost the daily battle with the defensive line. To say that this group is a weakness is probably a stretch – it can be hard to find on a loaded team – but there is some question as to how this line will come together in the fall. There are plenty of talented players, and there's more to come in the next recruiting class. How cohesive will they come in the fall? That's well worth watching.
Quarterback depth: Starting quarterback Joshua Dobbs has gone through two seasons at the helm and has avoided any major injuries. Can he do that for a third straight year, or is it too much to ask? Dobbs continues to grow as a top-flight quarterback, though some accuracy issues still remain. But what if he gets hurt?
Quinten Dormady has had a cup of coffee is six games but it's unknown how he would play if he were thrown into long stretches of games. There are others as well, including 2016 recruit, Jarrett Guarantano, the No. 1-ranked dual-threat quarterback in the class. Hopefully Dobbs stays healthy and we'll never have to answer this depth question. But if we do, can we really answer that question with confidence right now?
Confidence to close the deal: One thing that can get talked about in the spring but can't be fixed is instilling the mental strength to come through at the most critical of times. Jones is fond of talking about finding "clutch players who will make clutch plays" but that can't be answered until that critical moment in the fall.
During last fall's 9-4 season, there was an overtime loss with Oklahoma, a one-point loss to Florida and a five-point loss to national champion Alabama. At some point in 2015, Alabama was ranked No. 1, Oklahoma No. 3 and Florida No. 8. (The fourth loss was to Arkansas, by four points.)
In 2016, those losses need to be turned into wins, and it will be an attitude adjustment that makes that happen in the hyped-up '16 season. It remains to be seen if that "clutch player" will make those clutch plays.
Tom Brew is a correspondent for SaturdayDownSouth.com. Email him at tombrewsports@gmail.com.
Read More
Tennessee online sports betting officially launched on November 1, 2020, and many of the largest sportsbooks are live and operating in the volunteer state. Tennessee is only one of a handful of SEC football states with legalized sports betting.