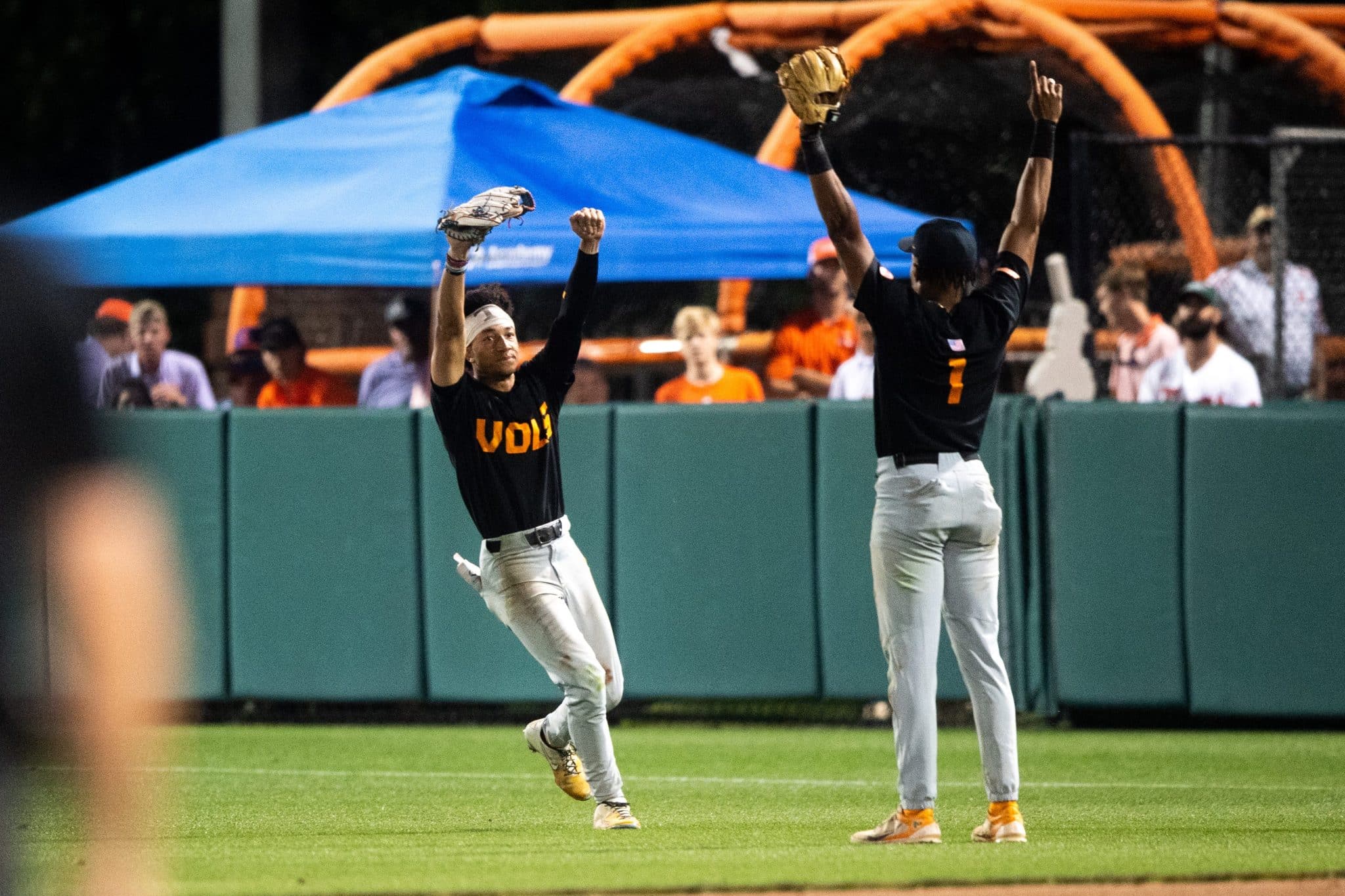 TENNESSEE
Tennessee baseball powers past Charlotte, advances to Super Regionals
Tennessee baseball powered past a tired Charlotte team Sunday afternoon, punching their ticket to the Super Regional round after sweeping through the Clemson regional.
That sweep wasn't without dramatics, however. The Vols needed 14 innings to down No. 4 Clemson in the winner's bracket Saturday night, finally downing the Tigers 6-5 in what felt like a must-win.
Charlotte proved that theory correct early Sunday afternoon. The 49ers downed Clemson in a close contest, 3-2, to keep their season alive for the time being. They would have needed to down Tennessee Sunday night then do it again Monday morning to advance.
Drew Beam, Christian Moore and the Vols left no doubt, however. Tennessee jumped to an early 4-0 lead and never looked back, winning 9-2. This will be Tennessee's 3rd consecutive Super Regional appearance.
Grab your daddy hat and fur coat…@Vol_Baseball is Supers bound!#RoadToOmaha pic.twitter.com/rnlX2cwjLw

— NCAA Baseball (@NCAABaseball) June 5, 2023
Drew Beam got the start on the mound and was dealing early. By the time his stint was up, Beam had thrown 67 strikes on 92 pitches with 10 K's (a career high), 4 hits and only 2 earned runs.
On the other side of things, Moore and Zane Denton picked up right where they left off from Saturday night. The pair combined to jack 3 home runs out of the yard, totaling 4 RBI. Christian Moore upped the combined RBI total to 5 with a sac fly in the fourth.
Tennessee's chances seemed slim a week ago, but the Vols are in good shape to host the Super Regional round against Southern Miss or Penn.
According to NCAA media representative Jeff Williams, via Ryan Schumpert of Rocky Top Insider, the decision process will be decided by Tuesday morning by the NCAA and, "would largely just be looking at the merits of the 2 bids (venue, hotels, guarantees, etc.)."
Considering Knoxville has hosted regionals before (so has Hattiesburg), is a larger town and features a team hailing from the SEC, it wouldn't be surprising if Tennessee won the bid over Southern Miss. Penn has even less of a case.
We'll know for sure by Tuesday.
Read More
Sports betting in Tennessee officially launched on November 1, 2020, and many of the largest sportsbooks are live and operating in the volunteer state. Tennessee is only one of a handful of SEC football states with legalized sports betting.