TENNESSEE
Embracing the rivalry: Tennessee commit trash talks Alabama, catches grief on Twitter
Tennessee defensive end commit Andrew Butcher isn't scared to rile up some Alabama fans on Twitter.
Butcher was watching when five-star defensive tackle Khalil McKenzie committed to Tennessee, and it helped inspire a little trash talking about the Third Saturday in October.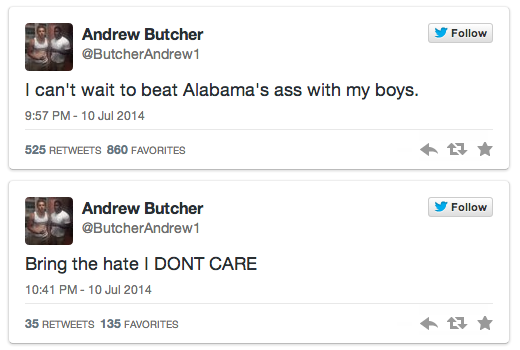 With McKenzie and Butcher committed, Tennessee is putting together a very promising and very talent-filled future in Knoxville. Is it safe to say Tennessee is making enough progress to win an SEC East division within the next three years?
Alabama-Tennessee is one of the best rivalries this conference has to offer, but it's been rather lopsided recently, with Alabama winning the last seven games.
Naturally, Butcher's tweets sparked more trash talking by Alabama fans on Twitter. Aren't rivalries awesome?
@Bama_Dynasty @ButcherAndrew1 He Better Watch what He's Saying ! Tide Will Get All Over Them ! Roll Tide ! pic.twitter.com/VFnvIb6FMh — Kenneth Tubbs (@kjnt38) July 11, 2014
@allvolgbo @ButcherAndrew1 need to get within 3 TD's first #babysteps — SHAKEY (@ShakeySdavis) July 11, 2014
@ButcherAndrew1 Just remember who owns the SEC, and the Vol's. #50-38-7#Dynasty#WorldDomination http://t.co/dAOm71zXcO — Cole Hodge (@ColeHodge15) July 11, 2014
"@ButcherAndrew1: I can't wait to beat Alabama's ass with my boys." Run that mouth, rook — Blake Hymer (@Blake_Hymer) July 11, 2014
If @ButcherAndrew1 thinks UT will beat Alabama, he is UT material, complete arrogance and ignorance, can't even beat VU. #OurState — #SmithBrosOnTheRise (@JVandy_15) July 11, 2014
If @ButcherAndrew1 thinks UT will beat Alabama, he is UT material, complete arrogance and ignorance, can't even beat VU. #OurState — #SmithBrosOnTheRise (@JVandy_15) July 11, 2014
@ButcherAndrew1 obviously didn't learn a lesson by watching @bowallace14 fail miserably after trash talking Alabama. It never works out bud — T.J. Ward (@tjwardd) July 11, 2014
@ButcherAndrew1 YOU WISH YOU COULD BEAT BAMA BUD! NOT GONNA HAPPEN! — Harvey Updyke (@Harveyrolltide) July 11, 2014
@ButcherAndrew1 hahahahahahahah!!! Are you delusional or do you have a drinking problem?!?! Y'all haven't been within 20 points in 5 years! — Will Lamar (@WillLamar1) July 11, 2014
2 hours ago @ButcherAndrew1 made the worst decision of his life tweeting about Alabama… He has to be low key regretting it… — Tucker Speer (@T_Speer3) July 11, 2014
@AuburnJokes @ButcherAndrew1 you were in elementary school the last time Tennessee beat Alabama. #childplease — John Wisdom (@SouSportscintst) July 11, 2014
@ButcherAndrew1 ??? you were like 9 the last time UT beat us! Let that sink in! — Cody Clements (@cclements_23) July 11, 2014
@ButcherAndrew1 @TideRecruits101 Tennessee has become the Mississippi State of the SEC East. #7inarow — Kyle Lollar (@Kyle_Lollar) July 11, 2014