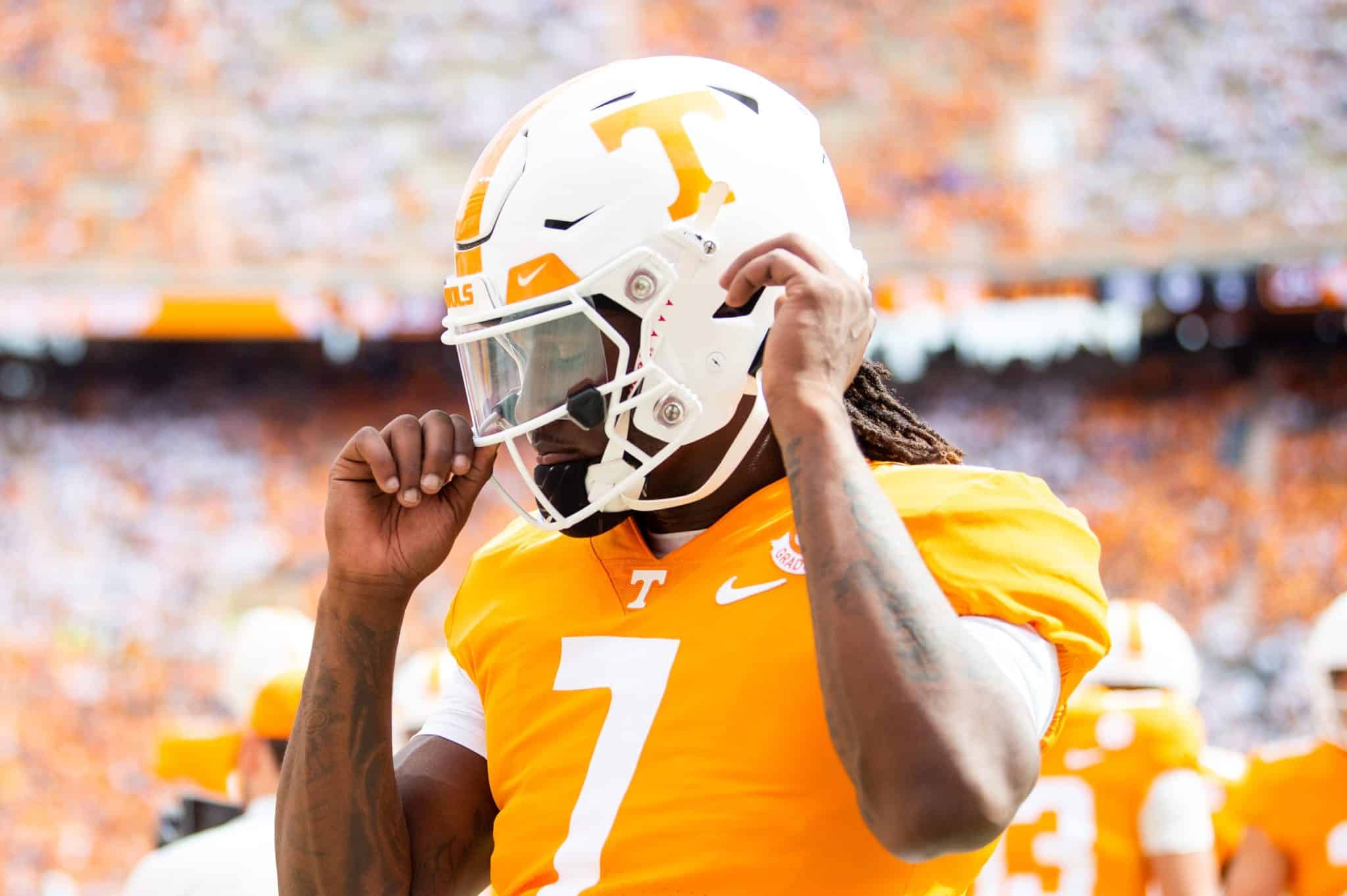 TENNESSEE
Fearless Prediction: Tennessee Volunteers vs. Vanderbilt
The Fearless Prediction could not have been more wrong about Tennessee's game against South Carolina. We take no solace in the fact that no one except maybe Frank Beamer (Shane's dad, and a pretty darn good football coach) picked the Gamecocks to win by 25 points.
But there's no crying in baseball, and no points for 2nd place. Use whatever cliche you like. It's time to pick the Tennessee-Vanderbilt game.
The Volunteers started the season 8-0 and were ranked at the top of the College Football Playoff. Since then, they've lost 2 of 3, lost their starting quarterback to a torn ACL and could miss out on a major bowl game with a loss to the Commodores.
Tennessee head coach Josh Heupel received some criticism for refusing to take a knee and run out the clock at the end of a blowout win over Missouri. But the reasoning was sound. The Vols needed to run their regular offense and get backup QB Joe Milton more snaps should he be called upon later in the season.
Milton, who started the 1st 2 games of 2021 for the Vols, will get the start against Vandy. He's a load for defenses to try to bring down, and he still shows the ability to throw the deep ball at an astounding level. Milton still struggles with accuracy and touch, and that will have to improve for the Vols to win on Saturday night.
The rest of the offense will need to pick up the slack with Hendon Hooker out for the season. Running backs Jaylen Wright and Jabari Small have rushed for a combined 1,243 yards and 18 scores. With Hooker out, the run game might take even more of a role in the Tennessee offense.
As for the defense, according to some reports there was a locker room incident that kept Tennessee linebacker Jeremy Banks at home and not in Columbia. Heupel expects Banks to play against the Commodores, but he wouldn't talk about why Banks didn't make the trip.
I don't know if South Carolina's offense would have been slowed down had Banks played. But his return should be a boost for the UT defense, which is now ranked 100th in the nation, allowing 411.9 yards per game.
Two weeks ago, Vanderbilt was 3-6 and seemingly headed toward a disappointing conclusion to its season. But the Commodores finally found some answers with a win over Kentucky, snapping a 26-game SEC losing streak. Then came an upset of Florida for the Dores' 1st back-to-back SEC wins since 2018.
Vanderbilt head coach Clark Lea has been trying to build the Commodores into more than an SEC doormat. Those were the 1st signs that just maybe, they can climb a couple of rungs in the years to come.
Mike Wright has taken over as the Commodores' starting QB. He won't light up the stat sheet, and he threw for only 108 yards on 10-for-18 passing against Florida. But he did make those completions count with 3 TD passes. He is a threat to run, with 51.9 yards per game on the ground. Running back Ray Davis is Vandy's best player on offense, averaging 89.3 rushing yards per game.
Defensively, the Commodores are one of the worst groups in the country, allowing 456.6 yards (125th nationally) and 34.18 points (118th nationally) per game. Senior LB Anfernee Orji doesn't make every tackle for this Vandy team, but it feels that way. Orji has made 103 tackles this season, including 7.5 for a loss.
Most years, this turns into a de facto home game for the Vols, and there will once again be a lot of orange present at FirstBank Stadium. But there are reasons to believe that this won't be the walkover that Tennessee fans expected.
Hooker had started the past 22 games for the Vols, and you wouldn't be surprised if this offense has some hiccups, even against a lousy Vandy defense.
This game could come down to simple motivation. The Vols no longer have the Playoff as an achievable goal, while Vandy needs a win to become bowl-eligible and keep its season going.
Those factors favor the home side. I just think there's too much talent on the visitor's sideline to lose this game.
Fearless Prediction time …
Tennessee 27, Vanderbilt 17
Read More
Tennessee sportsbooks are live in the Volunteer state since November 1, 2020. Tennessee was the first SEC state to legalize sports betting.