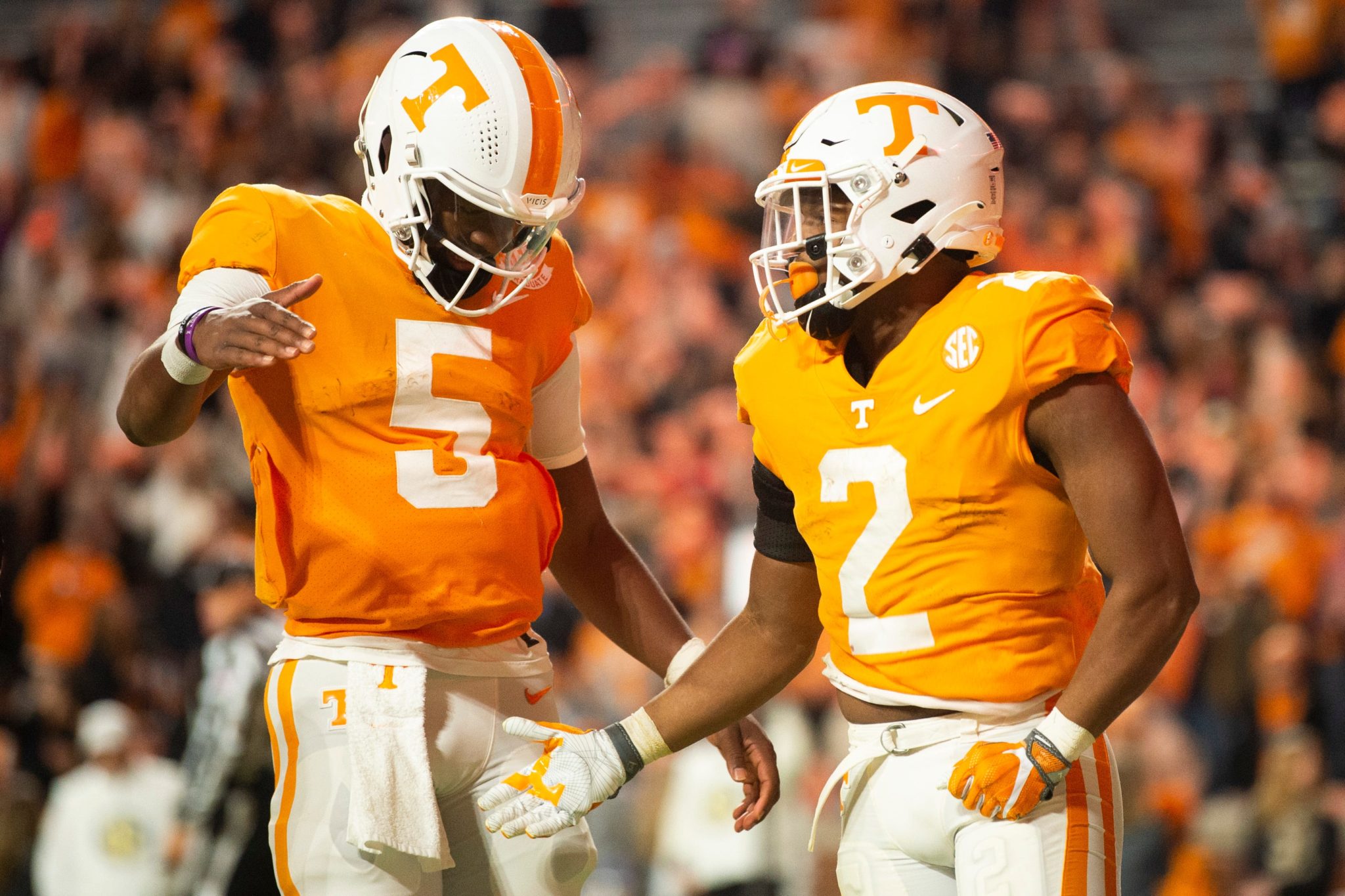 TENNESSEE
Tennessee football: Handing out superlatives for the 2021 regular season
The 2021 Tennessee Volunteers were all over the map, but they finished with a flourish. Their unexpected winning season gives Vols fans reason to feel good about the future of the program.
As we continue to talk amongst ourselves about the Vols' bowl destination, let's hand out some superlatives for a successful regular season, shall we?
Team MVP
This is the easiest of the bunch. There's no way that Tennessee goes 7-5 without quarterback Hendon Hooker.
Joe Milton was Josh Heupel's first choice, but once Milton was knocked out of the Pittsburgh game, this quickly became Hooker's team. The Vols finished the regular season ranked in the top 20 nationally in total offense and averaged nearly 39 points per game.
The Vols have scored 466 points. Their next touchdown will tie the program record for points in a season, set by the 2016 team.
Offensive MVP
Let's go into more detail on Hooker's impact. He threw for 2,567 yards and 26 touchdowns. He also rushed for 561 yards and 5 scores.
Those numbers rank among the best for a single season among Tennessee quarterbacks. He could also finish the season with the highest QB rating in UT history, depending on his performance in the upcoming bowl game.
Defensive MVP
When Henry To'o To'o transferred to Alabama, the Vols were in desperate need of someone to fill that role in the middle of the UT defense.
Junior linebacker Jeremy Banks has done the job admirably. He collected a whopping 109 tackles to lead the Vols, 29 more than anyone else. He also tied for team lead with 9 tackles for a loss, including 4.5 sacks.
True freshman of the Year
The Vols lost a lot in the running game when Eric Gray and Ty Chandler hit the transfer portal. Tiyon Evans and Jabari Small have been very good, but injuries have meant they didn't always see the field.
Jaylen Wright has been a solid contributor when he's been called upon. With a bowl game left to play, Wright is 4th on the team in rushing with 355 yards and 4 touchdowns. Wright should see even more playing time in the years to come, especially now that Evans has entered the transfer portal.
Transfer of the Year
It's obviously Hooker again, but let's get some other folks well-deserved attention.
Former Mississippi State receiver JaVonta Payton came up with some big plays in the passing game. He caught 16 passes for 378 yards and 6 touchdowns.
Most improved
Wide receiver Cedric Tillman was pretty much an afterthought during his first 3 years in Knoxville. With the exception of a highlight reel touchdown catch in the 2020 finale against Texas A&M, he wasn't much of a factor.
This season, Tillman was a force, leading the Vols with 57 catches, 931 receiving yards and 9 touchdowns.
Biggest surprise
The Vols lost so much on defense that predictions were dire. This is an undermanned group at every position that was forced to play much more due to the Vols' offensive pace.
And while the numbers aren't eye-popping, defensive coordinator Tim Banks is worthy of all accolades he is receiving.
Play of the Year
I could take a trip to negative town and pick Joe Milton running out of bounds with no time left at the end of the Ole Miss game, but we try to promote positivity.
Alontae Taylor's pick-6 proved to be the difference in the Vols' win over Kentucky. It was also a just reward for one of the team's senior leaders, a player who committed under Butch Jones, recommitted under Jeremy Pruitt, and decided to stick around to give Josh Heupel a chance.
Win of the Year
For many years, Tennessee has dominated the Kentucky series. Even when the Wildcats have had more talent, UT found a way to win almost every time.
This season, Kentucky was nationally ranked and playing at home. But the Vols found a way to win. That 45-42 victory puts the rivalry back on its traditional axis.
Read More
Sports betting in Tennessee officially launched on November 1, 2020, and many of the largest sportsbooks are live and operating in the volunteer state. Tennessee is only one of a handful of SEC football states with legalized sports betting.