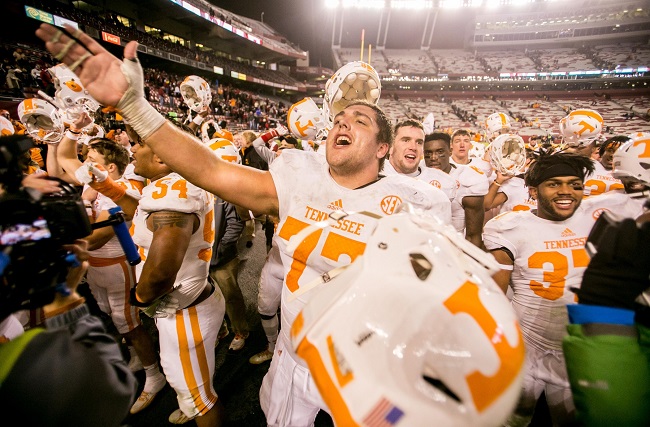 TENNESSEE
Tennessee's five toughest seniors to replace
Although Tennessee could return as many as 17 starters from its Outback Bowl-winning team, the Vols will still have to replace a few important players.
Let's take a look at who those players were and who might take over for them.
1. OT Kyler Kerbyson: Over the last two seasons, Kerbyson has started all 26 games, 23 at left tackle. He was the leader of a young patchwork offensive line this season. Freshman Chance Hall and redshirt junior Dontavius Blair will likely compete at left tackle in the spring.
2. Safety Brian Randolph: A senior leader on defense, he finished the 2015 season with 70 tackles, three pass breakups. two interceptions, and a forced fumble. Sophomore Todd Kelly Jr. will likely replace him.
3. WR Von Pearson: After only catching 15 passes for 164 yards during the first eight games of the season, Pearson collected 121 yards and his first touchdown of the season on eight catches on Nov. 7 in Tennessee's 27-24 win over South Carolina. He finished the regular season with three catches for 40 yards and two TDs against Vanderbilt. Amidst all the the injuries that wrecked havoc on Tennessee's pass catchers, Pearson was the most reliable wide receiver by the end of the season. Freshmen Preston Williams and Jauan Jennings are likely successors.
4. Safety LaDarrell McNeil: During a practice in August, McNeil made what he thought might have been his last hit on a football field. He felt numbness down his arms and his neck was swollen. Doctors initially suggested that he shouldn't play again, but he started healing and returned in Tennessee's third game against Western Carolina. In that game, he intercepted a pass in the second quarter and returned it 57 yards to Western Carolina's 8-yard line. McNeil finished the season with 31 tackles, two pass breakups and two interceptions. He will likely be replaced by sophomore Evan Berry.
5. DT Owen Williams: The senior came alive against South Carolina with six tackles, including three tackles for loss. Williams' most important tackle in that game occurred when he burst through South Carolina's offensive line and stuffed RB Brandon Wilds for a 2-yard loss on third-and-2 in the fourth quarter. The Gamecocks failed to convert the ensuing fourth-down play. He also stopped two running plays for no gain on two first downs as the Vols pitched a shutout in the final quarter. Williams finished the 2015 season with 35 tackles, one sack, and 6.5 tackles for loss. He will likely be replaced by freshmen Kahlil McKenzie and Shy Tuttle.
Read More
Tennessee sportsbooks are live in the Volunteer state since November 1, 2020. Tennessee was the first SEC state to legalize sports betting.