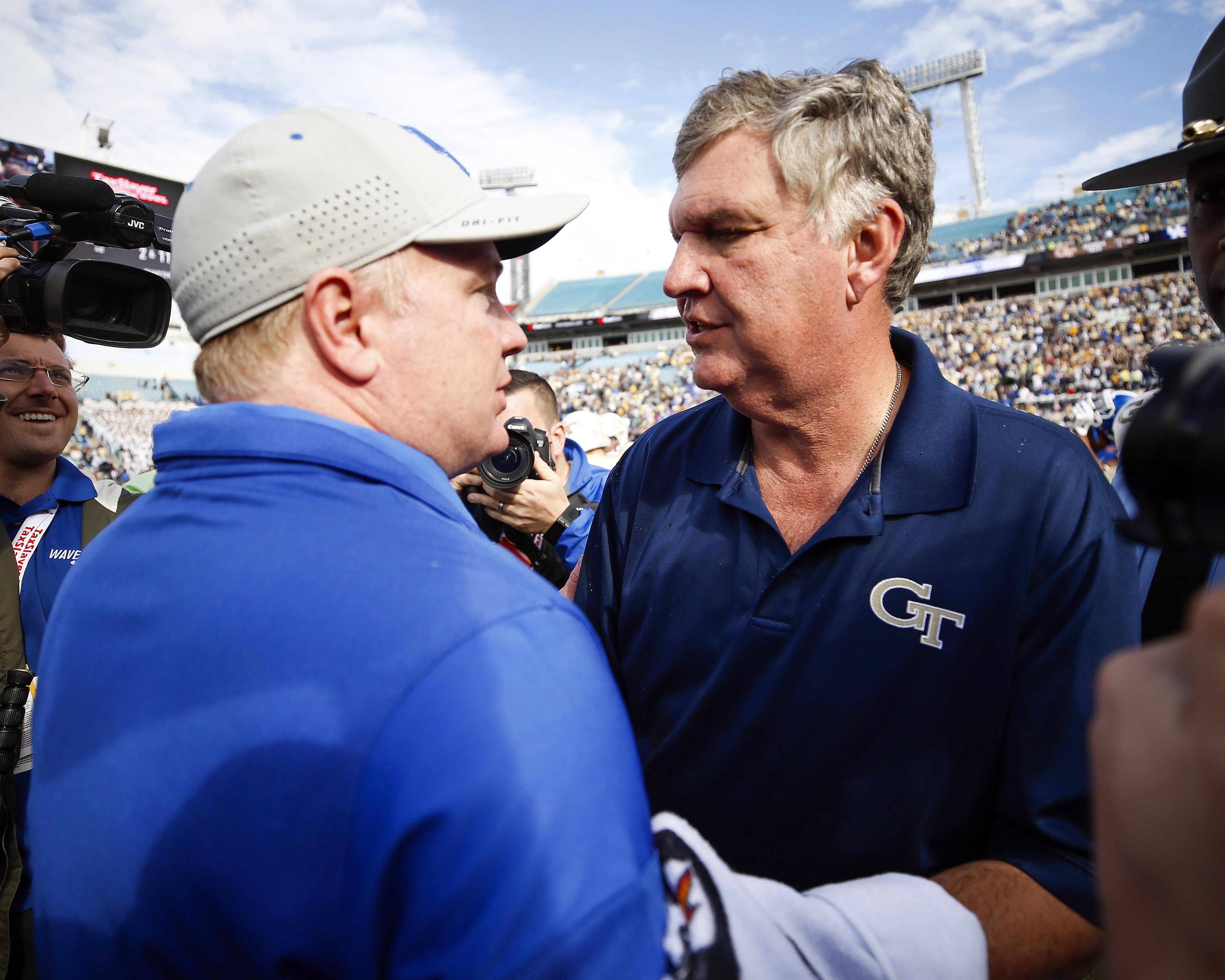 TENNESSEE
Understanding the Georgia Tech offense: What Tennessee will be facing on opening night
Fall camp will be different this year for Tennessee as the Vols prepare for a Monday night opener (Sept. 4, 8 p.m., ESPN) against the spread option offense of Georgia Tech at the new Mercedes-Benz Stadium in Atlanta.
Rod Mackenzie, who covers the Yellow Jackets for Scout.com, sat down with Saturday Down South to explain what Tennessee is up against.
In 2016, Georgia Tech ran the ball 611 times and passed 160 times.
Mackenzie says that ratio isn't likely to change as coach Paul Johnson works in new starting quarterback Matthew Jordan.
"A lot of coaches, you will see them out there with a laminated piece of paper for what their game plan is, but Paul Johnson does not have one of those," Mackenzie said. "He comes out on the field and looks at what the defense is giving him.
"If defenses try and take away the B-back, he will put the ball in the hands of the A-back. If defenses try and take away the A-back or the quarterback, the B-back will carry the ball more. If Johnson sees that the strong safety is cheating up to the line of scrimmage, he will throw the ball.
"In the opening game, it will all depend on what Tennessee wants to do defensively, and Johnson will adjust accordingly."
In the Georgia Tech spread option, there are two A-backs who line up in the slots — as a slot receiver would do in a pro-style offense. The A-backs go in motion, and the quarterback can pitch to them or fake the pitch and keep the ball. The A-backs can also become receivers.
The B-back is lined-up as a traditional tailback and must possess speed, toughness and durability. It is a position that requires ball security, hitting the hole at full speed, reading who is blocking for you, selling a fake handoff on a pass play, and blocking at all times when the ball is not in your hands.
Mackenzie said opposing defenses usually begin games with eight guys in the box and then adjust depending on the success Georgia Tech is having.
Tennessee linebacker Darrin Kirkland Jr. will play an important role against Georgia Tech. Butch Jones has described him as having a "photographic memory," which can play a factor against the option offense.
The middle linebacker is one of the keys. If he stays at home, he is trying to take away the B-back. If he runs to the perimeter on the snap, he is trying to take away the A-backs receiving a pitch. Securing the perimeter will also be key for the defensive line to get in the backfield quick, something Jonathan Kongbo can do.
Mackenzie points out that inexperienced quarterbacks in Tech's offense tend to keep the ball more than veterans do.
"It will be interesting to see how far Jordan has progressed," he said, "if he has the confidence in reading where the linebackers are and pitching at the last second."
Jordan saw limited action last year behind Justin Thomas, who is currently with the New Orleans Saints after signing a free agent contract. Thomas produced 1,559 passing yards, 604 rushing yards and scored 14 touchdowns in 2016.
Jordan filled in for Thomas when the Yellow Jackets traveled to Virginia Tech. He rushed for 121 yards and scored two touchdowns on 32 carries to lead Georgia Tech to a 30-20 upset over the No. 14 Hokies in Blacksburg. His run-first mantra was on display to avoid making mistakes, with only seven passing attempts.
"Georgia Tech has a lot of guys with game experience that return at the A-back, B-back and receiver positions, which is why Johnson wants to start someone with experience at quarterback being surrounded by people that know what they are doing.
"The important thing about the spread option offense is to not to put the ball on the ground. If they run the offense the way it's supposed to run, it's been at the top of the ACC the last three or four years in total offense."
Breaking down Tech's personnel
Quarterback: As noted, Jordan brings the most experience to the table heading into fall camp and the first game.
"He's a bigger, more physical-type quarterback, similar to one of Paul Johnson's first quarterbacks at Georgia Tech, Josh Nesbitt," Mackenzie said. "Jordan is a down-hill runner. … Against Virginia Tech, all he was asked to do was to control the ball and not do too much.
"In the spring, the coaches opened it up a little more with him, but the question mark with him is can he pass the ball like Justin Thomas did. Jordan is not as quick naturally, but he has a lot of veterans surrounding him, which will make his job a lot easier."
The only other question mark surrounding Jordan is him coming off a foot injury suffered during spring practices. He has just now started working out again.
"It will be interesting to see how things shake out in the fall with the position not settled, but Johnson likes to go with experience and Jordan is the guy with experience, and one would think he will be the guy, if he's 100 percent healthy, against Tennessee."
Junior TaQuon Marshall is also in the mix. In his freshman year, Marshall played at A-back. Similar to Thomas, he is a big-play guy who switched back to quarterback last year.
There are two red-shirt freshman quarterbacks in Jay Jones and Lucas Johnson who Mackenzie says Johnson really likes.
"They challenged the other guys in the spring. Jones is similar to Justin Thomas in size and Johnson is the better passer in the group and can make plays. This is probably the deepest group of quarterbacks that Georgia Tech has had since Johnson has been here."
A-back: The Yellow Jackets return their top three guys at A-back in Clinton Lynch, J.J. Green (Georgia transfer) and Qua Searcy.
Red-shirt sophomores Nathan Cottrell and Omahri Jarrett could emerge this season. Cottrell, who is from Knoxville and played at West High School, was not recruited by the Volunteers. He runs a 4.4-second 40-yard dash and is also a kick returner. He had an injury as a freshman and has yet to take the field for the Yellow Jackets.
Mackenzie notes that "Lynch has been the big-play guy who has a lot of 50-plus-yard runs and scores a lot of touchdowns."
B-back: With Marcus Marshall (brother of Keith who played at Georgia) transferring, sophomore Dedrick Mills will enter the season as the workhorse at the B-back position. The 5-foot-10, 227-pound Mills rushed for 227 yards and scored 12 touchdowns as a freshman. Mills took over toward the second half of the season and was the MVP of the TaxSlayer Bowl against Kentucky.
"They feel great at the running back position," Mackenzie said. "Mills is the kind of B-back that the more he carries the ball, the better he gets. He's really good at gaining a lot of yards after contact. If he gets a little space, he can take it to the house with his speed."
Red-shirt sophomores in Quaide Weimerskirch and KirVonte Benson are back and incoming freshman Jerry Howard also can compete for the backup job behind Mills.
"At the B-back position they normally do not go exclusively with one guy because even when the B-back is not running the ball, he is getting beat up by blocking," Mackenzie said. "They like to give this position a breather every now and then."
Wide receivers: Six-foot-3, 212-pound red-shirt senior Ricky Jeune and 6-foot-1, 197-pound junior Brad Stewart both started the entire 2016 season and are back to lead the receivers group. Jeune finished the 2016 season with 25 receptions for 427 yards. Stewart had 19 receptions for 382 yards.
Mackenzie notes that 6-foot-2, 213-pound sophomore Jalen Camp is emerging after playing in 11 games last season but not recording any statistics. "He is strong and can run good routes and will be the third guy in the rotation."
Offensive line: Georgia Tech returns 6-foot-4, 282-pound senior Andrew Marshall and 6-foot-2, 277-pound sophomore Jahaziel Lee at tackle. The guard position is held by 6-foot-4, 281-pound junior Will Bryan, 6-foot-3, 280-pound sophomore Parker Braun, and 6-foot-7, 380-pound senior Shamire Devine — who have all started games at guard. Six-foot-3, 307-pound sophomore Kenny Cooper started one game at center and played most of the bowl game.
The Yellow Jackets lose center Freddie Burden, who was third-team All-ACC.
Kicker: The Yellow Jackets will have to fill a big void in the kicking game. Harrison Butker is now with the Carolina Panthers after a 2016 season in which he made 15 of 17 field goals and did not miss an extra point in 46 tries.
"Butker is a big loss," Mackenzie said. "Freshman Brenton King is the heir apparent. He was a Max Preps All-American last year. Red-shirt sophomore Shawn Davis returns as the main competition."
Read More
Sports betting in Tennessee officially launched on November 1, 2020, and many of the largest sportsbooks are live and operating in the volunteer state. Tennessee is only one of a handful of SEC football states with legalized sports betting.