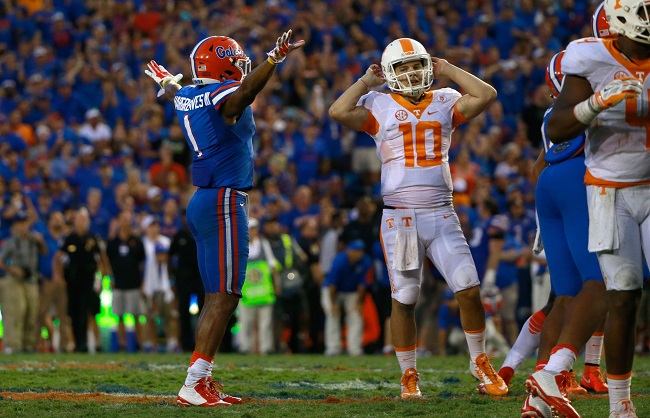 TENNESSEE
Why is there such a backlash against preseason hype over Tennessee?
Tennessee fans hate it when their team is labeled the "frontrunner" heading into a season. The fans of every other SEC team love it.
That's because whenever Tennessee has received hype before the season in past years, Volunteers' fans have ended up being disappointed.
In 2005, Tennessee started the season ranked third in the AP Poll, but finished 5-6 — failing to become bowl eligible for the first time during Phillip Fulmer's tenure as the Vols' head coach.
In 2012 — Derek Dooley's third and final year as Tennessee coach — the Vols were expected to compete for an SEC East title. They earned their first top 25 ranking under Dooley after a 2-0 start before falling to 5-7 on the season and 1-7 against SEC opponents.
And in 2015 — even though many around the program were adamant about 2016 being the year that Tennessee was supposed to complete its turnaround — the Vols were labeled a "sleeper" team in the SEC. But after a heartbreaking 2-3 start, it seemed like it was going to be another massive disappointment for one of the most cynical fan bases in the nation.
However, when the national spotlight faded away from Knoxville, the Vols quietly won six of their final seven regular-season games. Then they crushed Northwestern 45-6 in the Outback Bowl. And out of nowhere, Tennessee became the SEC East's best team — even though Florida won the division — and is now expected to be the favorite in the East in 2016. Tennessee will have plenty of talent on both sides of the ball and the East will be filled with suspect teams.
Indeed, it's finally 2016 — also unofficially known as "The Year" in Knoxville. Tennessee coach Butch Jones won't have any legitimate excuses if his team underpreforms. The Vols finally has depth after accumulating two top-five recruiting classes, and many of their starters will be experienced juniors and seniors.
Joshua Dobbs has the potential to be the SEC's best dual-threat quarterback. Jalen Hurd will return at running back after finishing his sophomore campaign with 1,288 yards and 12 touchdowns.
The Vols defense will return nearly all of its front seven, including DE Derek Barnett, who has 20 sacks and 33 tackles for loss in two seasons. Plus, OLB Jalen Reeves-Maybin and CB Cameron Sutton have decided to stay for their senior seasons. Not to mention that Tennessee hired Bob Shoop as its new defensive coordinator last week.
So yes, there are plenty of reasons to hype up Tennessee's 2016 team. But Tennessee fans are wondering whether their team will live up to the hype.
Read More
Tennessee sportsbooks are live in the Volunteer state since November 1, 2020. Tennessee was the first SEC state to legalize sports betting.