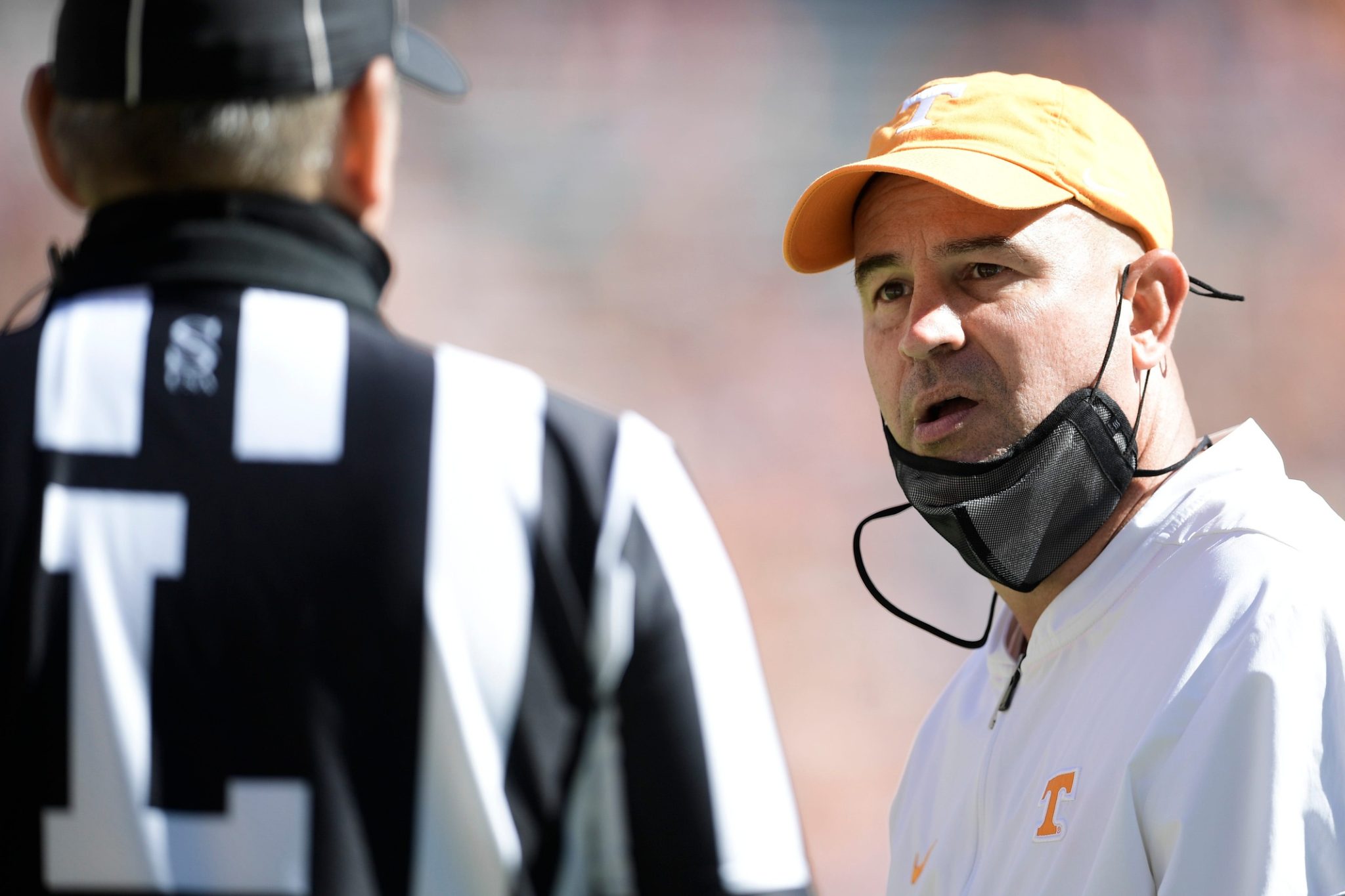 TENNESSEE
Yeah, Jeremy Pruitt was an awful hire, but Tennessee will have shot the moon if it escapes without a bowl ban
Before you get angry, reader of this column, understand that I have even less power than the NCAA. I'm not in charge of handing out a punishment for Tennessee's 18 Level-1 violations under Jeremy Pruitt. When the NCAA decides the Vols' fate, they won't consult me on what to make of the illegal spending on recruits with $59,598 going to fine establishments like McDonald's, Ripley's Aquarium of the Smokies and La La Nails (among others).
Keep that in mind because what I'm about to say might make any non-Tennessee fan yell at whatever device they're reading this on.
The Vols might've just shot the moon. Well, if they can get out of it without a bowl ban, that is.
Tennessee could be in position to tiptoe out of a disastrous hire and continue on as if they events that played out at the end of 2020 were all just business as usual. To be fair, there's no such thing as "business as usual" when it comes to a coaching change on Rocky Top. "Business" can be a 1-and-done of epic proportions (Lane Kiffin), or it can be a fan protest with riots in the streets before it ever happens (Greg Schiano).
Think about it, though.
The NCAA just concluded its investigation and it uncovered those 18 aforementioned Level-1 violations. I'm no legal expert, but the ongoing lawsuit that Pruitt has against the university to collect his $12.6 million buyout probably didn't help its cause with Friday's news. In terms of firing someone with cause — that's what Tennessee did to Pruitt in Jan. 2021 — I've gotta imagine 18 Level-1 violations fits the bill. You can say that Pruitt was a disastrous hire for having fewer wins than Level-1 violations, but not having to pay him an additional 8-figure buyout would certainly make that sting much less than watching Chad Morris collect $18 million from Arkansas to not win a single SEC game.
Then again, as we've seen countless times, there's no predicting what the NCAA will do. Schools like Mizzou cooperated when an NCAA investigation into a rogue tutor revealed that she provided impermissible benefits to 12 student-athletes (not all of which were football players). What did Mizzou get? A bowl ban, 3 years of probation, a 7-week recruiting suspension and a 5% scholarship reduction. Mind you, that was for a program who self-reported the issue after the tutor posted about her academic fraud on social media.
Shoot, in the NCAA's official notice of allegations into that case, it had the audacity to list in its 29-page report why UNC didn't get punished with a postseason ban for "honoring" its fake classes and fighting the NCAA:
The conduct at issue in this case is also distinguishable from the COI's decision in the University of North Carolina at Chapel Hill (2017). Among other differences, UNC stood by the courses and the grades it awarded student-athletes. In support of that position, UNC asserted that although courses were created and graded by an office secretary, student-athletes completed their own work. Here, by contrast, Missouri acknowledged that the tutor completed student-athletes' work and, in most instances, this conduct violated its honor code.
Consider that my way of saying I honestly have no idea what the NCAA will do with Tennessee, who wasn't found to have had a "lack of institutional control," according to the NCAA, but did have illegal contact with recruits during the COVID dead period. We could see a world in which the NCAA wants to wield what little power it has left, or we could see it play the part of "teacher approaching retirement."
Your guess is as good as mine. One thing I feel confident in? Tennessee isn't about to self-impose a bowl ban. Perhaps some self-imposed recruiting restrictions could be in store, but when you've got a bustling collective that can thrive regardless of how many visits a coach is allowed to make, how much does that really matter?
That's the potential loophole in all of this. The Athletic's Andy Staples wrote about how timing is crucial Tennessee's attempt to move on from Pruitt (sans buyout) after it received a tip that it was illegally hosting recruits during the COVID dead period. We're already into the NIL world, wherein providing $60,000 worth of benefits doesn't carry the same shock value it once did. We've become numb to those benefits. It's hard to drop the hammer on a program for something that's not being enforced the same way it once was.
And it's worth noting that in the grand scheme of things, a bowl ban is far from a death sentence, even in this era of loosening transfer portal restrictions. It's not like the Vols would be losing out on a national championship. The program who hasn't beat an AP Top 5 team in 17 years (that's 28 consecutive losses) and is 4-35 against its 3 biggest rivals during the post-Phillip Fulmer era isn't knocking on the door of a title.
But all things considered, is Tennessee actually at a relatively stable place? Sure. Josh Heupel has 4 consecutive seasons of top-10 offenses. Hendon Hooker could finish his career as the Vols' best quarterback of the post-Fulmer era. Tennessee was nearly picked to finish 2nd in the East (Kentucky had a 932-929 advantage).
This is an entirely different conversation if we were talking about the Vols coming off a 3-win season wherein the post-Pruitt departures made it feel more like a Year 0 for the Heupel era. That didn't happen, though. Instead, the Vols had an atypical season of exceeding expectations.
What's next is a total mystery. Lord knows we sold ourselves on Tennessee turning the program at previous times during the 2010s, only to watch it come crashing down in a hurry. Barring a surprise, it doesn't appear that the Vols are about to go down in flames as a result of this notice of allegations.
Dare I say, they're a whole lot closer to shooting the moon than shooting themselves in the foot.
Read More
Sports betting in Tennessee officially launched on November 1, 2020, and many of the largest sportsbooks are live and operating in the volunteer state. Tennessee is only one of a handful of SEC football states with legalized sports betting.