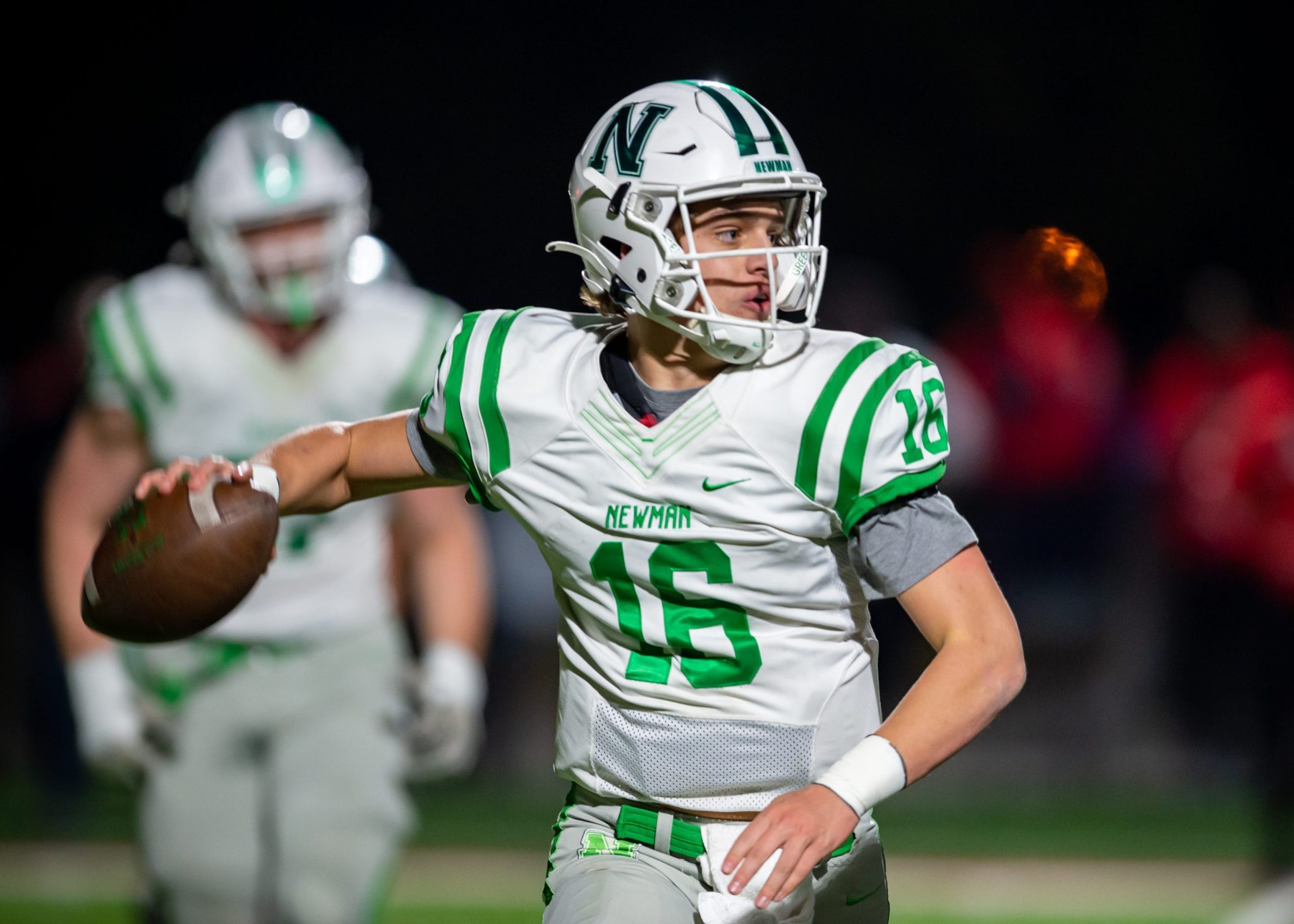 TEXAS
If Quinn Ewers and Arch Manning can't end 'Horns' QB curse, Texas will never be back
The conversation around football recruiting has never been known for perspective or restraint, especially in the years since it evolved from an obscure, local niche into in a full-blown online subculture. Even within that obsessive niche, though, it's not too much of an exaggeration to rank Arch Manning's college decision as the most anticipated since, well, the last generation of teenage QB prodigies named Manning, if not ever.
Besides his unimpeachable bloodlines, Arch has all the makings of the ideal quarterback recruit: Tall, sturdy frame, mature, polished, scouted, touted, and refined to the nth degree since before he hit puberty, and did we mention his uncles? Manning is one of only three quarterbacks in the 23-year history of the 247Sports database to earn a perfect score in 247's composite rating.
His recruitment has made national headlines from the moment he took over as the starting QB at Isidore Newman High in New Orleans as a freshman (he's still looking forward to his senior year) and his commitment was always going to land with the maximum impact.
So when it finally did Thursday, it was fitting that it collided head-on with one of the sport's other longstanding, overhyped obsessions: Is Texas — maybe, potentially, at some point in the not-too-distant future, actually, finally — back?
Committed to the University of Texas. #HookEm pic.twitter.com/jHYbjBaF5K

— Arch Manning (@ArchManning) June 23, 2022
Skepticism is duly noted and fully justified. Hell, it's mandatory. At this point, Texas has been entrenched in various stages of the rebuilding angst cycle for so long that "Texas Is Back" is a literal punchline, and a clichéd one at that. The Longhorns are perennial underachievers on their fourth head coach in 10 years, a decade that includes 4 losing records, a 3-7 mark vs. Oklahoma, and a single appearance in the Big 12 Championship Game. Only once in that span, in 2018, have they managed to end a season ranked higher in the final AP poll than they began it. And the 2021 team, which lost 6 of its last 7 under first-year coach Steve Sarkisian and bottomed out in an overtime humiliation against Kansas, was arguably the most deflating of them all.
Other than head coach, no position has defined the purgatory years more consistently than quarterback. For all the alleged talent that has flowed through Austin, the revolving door behind center began with the infamous shoulder injury that knocked Colt McCoy out of the national championship game against Alabama on the first possession in January 2010 and has never been fully resolved.
The best of the bunch, Sam Ehlinger, was a popular, productive captain and stable enough to start 43 games under Tom Herman from 2017-20, but he ultimately topped out as a second-team All-Big 12 pick who fell to the sixth round of the NFL Draft. The rest barely registered outside of Austin, coming and going without making a mark except as symbols of the program's wasted potential.
There's not much you can say here in the summer of 2022, optimism-wise, that exhausted Texas fans and their gleeful tormentors haven't heard many times before, least of all the untapped promise of an up-and-coming young quarterback. They'll believe it when they see it, and they're right.
Sam Ehlinger has a message for Texas fans ? pic.twitter.com/zWmYYHCV5V

— ESPN (@espn) January 2, 2019
That said, even hard-earned skepticism has its limits. In any context, a pledge from a widely coveted phenom with maxed-out recruiting grades is obviously good news for a program in desperate need of some. And in Texas' case, specifically, Manning's commitment feels like more than that. Coming hot on the heels of the arrival of another widely coveted phenom with maxed-out recruiting grades, Quinn Ewers, it feels like – brace yourself – actual momentum.
Ewers alone is a potentially transformative talent. A DFW product touted as the No. 1 overall prospect in the class of 2022, his decision to flip his commitment from Texas to Ohio State in November 2020 was a major blow, and reportedly contributed to Herman's exit a few weeks later at the hands of boosters who saw Ewers' defection as an insult and an indictment of Herman's ability to compete for elite in-state talent. Of the 17 5-star prospects from Texas high schools in the 2019, '20, and '21 classes, only 2 opted to play in Austin, compared to 14 who inked with Alabama, Ohio State, or (worst of all) Texas A&M.
Ewers graduated early last summer in order to enroll at OSU for what should have been his senior year of high school, and although he had little chance of getting on the field behind Heisman finalist CJ Stroud his value on the transfer market last winter was undiminished.
Incredibly, Ewers is the first 5-star quarterback at UT since Garrett Gilbert in the class of 2009. Convincing the one who got away under his predecessor to come back home with 4 years of eligibility intact was Sarkisian's biggest win on the job, including all 5 of Texas' actual on-field wins in his first season. Convincing Manning to join him barely six months later is a straight-up coup.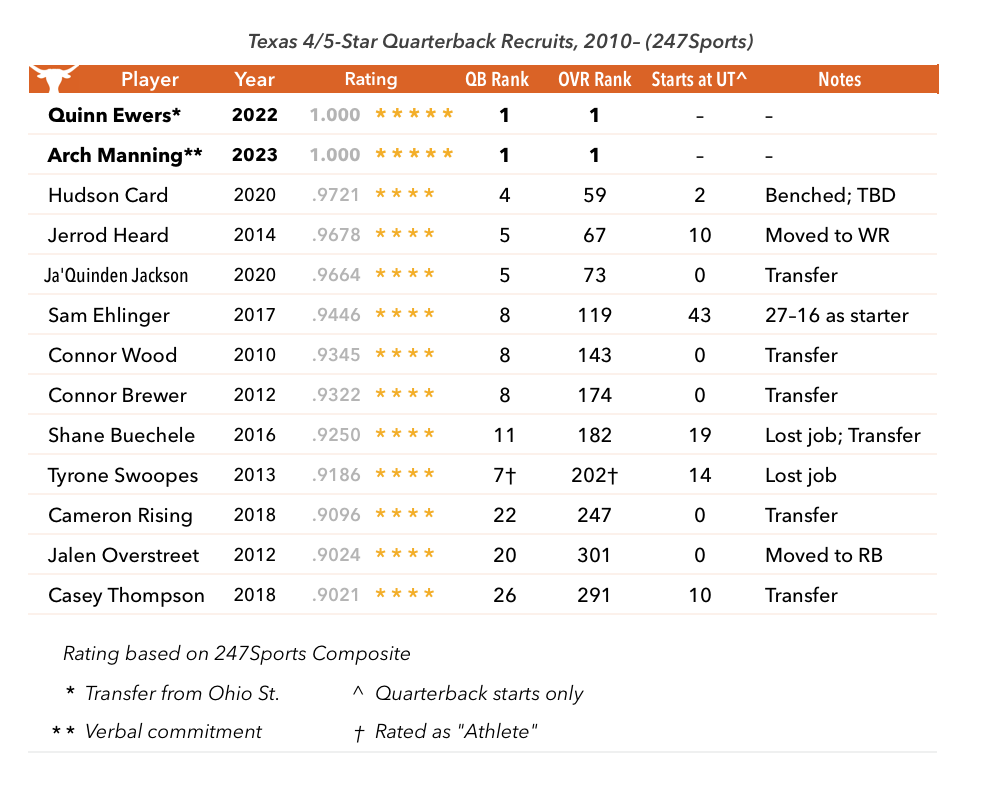 With Ewers in the fold, the position was already set with a blue-chip starter through at least 2023. With Manning, who'll enroll next spring, that window is now extended through at least 2025, with at least one year of overlap in '23 when they'll both be on the roster at the same time. Ideally, if Ewers is a star this fall, Manning will have the luxury of getting his feet wet as a true freshman without the burden of being The Guy as the program transitions to the SEC, pending a smooth hand-off if/when Ewers leaves for the next level in '24. If not, the competition next year will be as compelling as they come.
Either way, the Longhorns' long-term QB forecast beyond the upcoming season is suddenly as bright as anywhere in America, which is the kind of statement no one has been able to make about any aspect of Texas football in a long time.
Ewers will inherit an offense that already includes a couple of All-America types in junior RB Bijan Robinson and sophomore WR Xavier Worthy, who'll be back in 2023; either or both have a chance to snap a 17-years-and-counting drought since Texas had an offensive player drafted in the first round. A top-5 recruiting class in the 2022 cycle, bolstered by Ewers, was a much-needed contrast to the disappointment of Sarkisian's debut. (If you're wondering to yourself who's going to be doing the blocking, the incoming class is a largely trench-focused group featuring 3 top-100 offensive linemen, for what it's worth.) Barring a complete meltdown on the field this fall, Manning's addition all but guarantees the upwardly mobile energy will carry over on the other side. In lieu of results, the 'Horns have juice. For now, that qualifies as an enormous first step.
Put it this way: If two of the highest-rated quarterback prospects of the past two decades both turn out to be busts in succession, then it might be time to consider the program well and truly cursed and stage some kind of exorcism of the facilities. Maybe just tear them down and start over in a different part of town.
We've all seen how quickly injuries and transfers can wipe out well-laid plans, turning roster management into an ongoing, unpredictable grind. But as plans go, successfully stockpiling first-rate talent at the most important position is a pretty dang good one. If they can't make this work, they may as well pack up the idea of competing for championships in the SEC and store it in the attic until further notice.